They're definitely one of the most popular small breeds, but are chihuahuas hypoallergenic dogs?
That's something you might want to know if you have allergies and want to adopt a Chihuahua.
So, let's see how suitable the tiny Chihuahuas is for people allergic to dogs.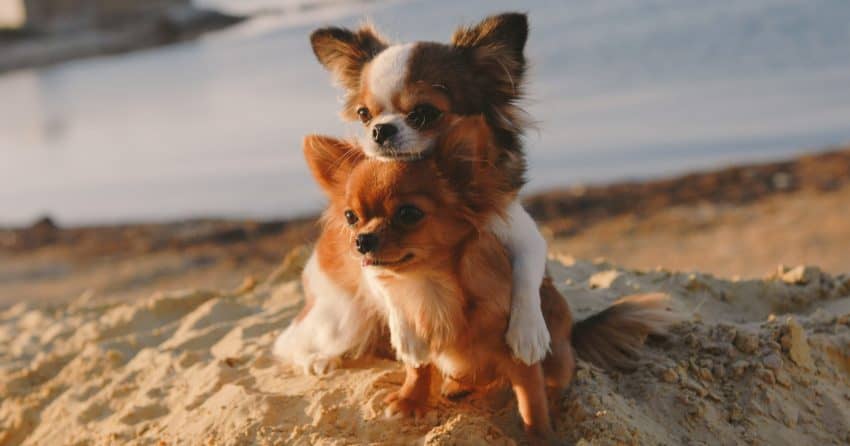 Are Chihuahuas Hypoallergenic?
Do you know that about 10% of the population of the USA is allergic to dogs?
It can be devastating to discover that you're one of the 10% and that your favorite dog makes you sneeze or cough like crazy.
Fortunately, you don't have to get rid of your dog if you have allergies.
Instead, you can take some preventive measures to reduce your exposure to allergens or consider a hypoallergenic breed.
Hypoallergenic dogs are those that are less likely to cause an allergic reason in people with allergies to dogs.
We aren't talking about a 100% guarantee of no allergic reaction, but more about that later.
But are Chihuahua one of those "hypoallergenic" dogs? Let's learn more about Chihuahua's history and temper first.
After all, you'd want to know if these tiny dogs will be a match for your character.
Chihuahua History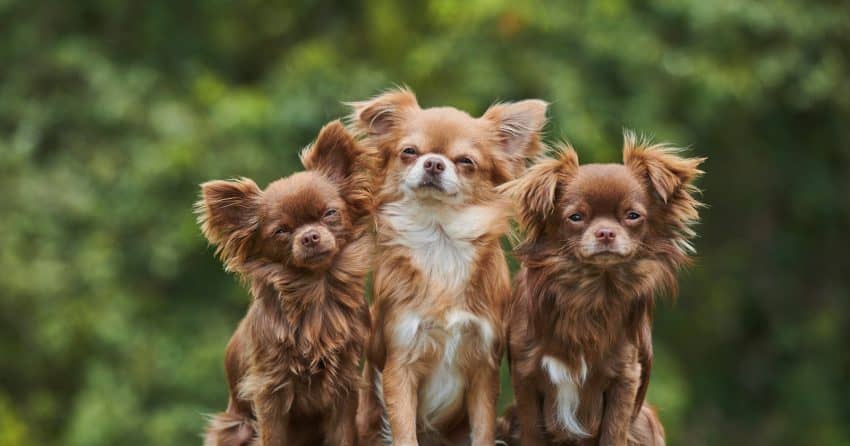 As with most breeds, it isn't clear where Chihuahuas come from or how they appeared.
One theory states that these tiny dogs come from a Central/South American dog called Techichi.
There are carving from the 9th century that resembles Chihuahuas a lot with large ears and round heads.
Specialists think that these depict Techichi dogs who were bred by the Toltec people.
Another theory claims that Spanish traders brought small hairless dogs from China in Mexico.
These dogs were later bred with native dogs to produce the Chihuahuas.
But all these are speculations.
What we do know is that the short-haired Chihuahua appeared for the first time in the 1850s.
Since people discovered it in the Mexican state of Chihuahua, they called it Chihuahua.
The long-haired Chihuahuas appeared much later, and specialists speculate that it was created by mixing a Chihuahua with Pomeranian or Papillion.
That's why it's not surprising that long-haired Chihuahuas resemble Pomeranians with their plumed tail and feathering on the neck and legs.
As you can imagine, Chihuahuas become quite popular with the public due to their tiny size and fierce temperament.
They're still one of the most popular small dogs.
Chihuahua Temperament and Health
Chihuahuas might be one of the smallest dog breeds, but they have the personality of a big dog in their tiny bodies.
They're bold explorers and far too curious for their own good.
Chihuahuas are known for their ability to squeeze through the smallest holes and make a run for it.
Moreover, Chihuahuas love nothing more than to be with their human. They often bond to a single person and can be quite demanding.
Still, they're excellent companion dogs and are happy to keep you company no matter what you're doing.
While Chihuahuas are highly intelligent and excel at agility training, they can be willful and stubborn.
They're not the worst dogs to train,so you can bribe them to do your bidding with food and attention.
However, Chihuahuas are a bad choice for families with small children because it's easy to injure these tine dogs.
Holding them badly or allowing them to leap from high places might result in injuries.
Otherwise, Chihuahuas are generally healthy and are one of the longest living breeds.
Possible health problems include a heart murmur, patella luxation, hypoglycemia, and collapsed trachea.
But most toy dog breeds are susceptible to such conditions.
How Hypoallergenic Are Chihuahuas?
A lot of people think that the small size of Chihuahuas and their short coat means that they should be hypoallergenic.
However, people are allergic to proteins found in the urine, saliva, and dander of dogs, not the fur.
Since dander often falls along with dog hair, breeds that shed little or not at all are less likely to bother people with allergies.
These are called "hypoallergenic."
The bad news is that all dogs shed dander.
Even hairless breeds, such as the American Hairless Terrier or Xolo, aren't an exception.
In that sense, there are no hypoallergenic dogs from a scientific point of view.
Moreover, studies on hypoallergenic dogs have failed to prove that they shed less dander than other breeds.
Still, a lot of people with allergies can tolerate these "hypoallergenic" breeds better than others.
But no one can guarantee you that you won't have an allergic reaction to a hypoallergenic dog.
So, what about Chihuahuas? Are they a hypoallergenic breed?
Unfortunately, Chihuahuas aren't among the breeds that the American Kennel Club lists as hypoallergenic.
While Chihuahuas might not take much space, both the shorthaired and longhaired Chihuahua are moderate shedders.
They shed a little throughout the year and heavily in spring and autumn.
As such, they're not the best choice for people with allergies.
On the bright side, Chihuahuas are easy to housetrain with consistency and patience.
So, they're likely to urinate inside and trigger your allergy.
Moreover, Chihuahuas don't drool and neat dogs, so there won't be many allergens in the house.
Which Dog Breeds Are Hypoallergenic?
Since Chihuahuas aren't hypoallergenic, you might be wondering which dogs are. Breeds that shed little or not at all include:
As you can see, the list includes breeds with double and single coats and hairless dogs.
But all are considered hypoallergenic because they don't shed much dander/fur.
However, these dogs still need a lot of grooming to keep their coats in perfect shapes.
Don't confuse hypoallergenic with dogs that don't need any brushing or bathing.
Are Chihuahua Mixes Hypoallergenic?
You've probably seen cute pictures of many Chihuahua mixes.
Designer dogs have gained quite the popularity in recent years and become a common sight.
So, what about Chihuahua mixes? Are they hypoallergenic?
That's an interesting question with no straightforward answer.
If you mix Chihuahuas with one of the hypoallergenic breeds, you might get a hypoallergenic dog.
It depends on the dominant gene.
If the Chihuahua mix takes after their hypoallergenic parent, they might shed so little as to be a suitable choice for people with allergies.
Some popular mixes that could be hypoallergenic include:
Affenhuahua = Chihuahua + Affenpinscher
Chi-Chon = Chihuahua + Bichon Frise
Bolo-chi = Chihuahua + Bolognese
Chi-Chi = Chihuahua + Chinese Crested
Malchi = Chihuahua + Maltese
Chipoo = Chihuahua + Poodle
Chorkie = Chihuahua + Yorkshire Terrier
Chihuahuas might not be hypoallergenic, but they don't take much space and are clean dogs.
So, they might not bother your allergies as much as other big dogs.
The only way to test it would be to spend time in the company of a Chihuahua and see how you feel before you commit to adopting one.
What do you think? Are chihuahuas hypoallergenic is your opinion? Tell us below!