The Chihuahua may be small but she has a big heart!
If you think you are not a 'little dog person' she may just change your mind.
Nothing shows love from a four legged friend like curling up in your lap the second you sit down or following your kids around waiting to see what they are going to do next.
Let's check out a quick overview of everyone's favorite toy breed, then we'll take a closer look at Chihuahua mixes, temperament and more.
Related: Choosing the Best Dog Breeds for the Elderly
The Chihuahua: Small Breed Dog with a Big Heart
We're going to get into a lot more detail about the chihuahua, but let's start with some of my favorite things about the breed!
Oh so cute
Cute & lovable, absolutely! Sadly, bad breeders and bad owners have given these tiny little creatures a bad reputation.  
Owners have a tendency to carry and coddle this breed all the time, never training them, or teaching them any manners.
Instead they actually think it's funny when their tiny little dog has such a big attitude!
Wrong!
You must treat her like she is any other dog. You can still hold and carry, but let her walk on her own too!
I only pick up our Lola when I want to give her some love. Otherwise she prances (yes, prances) around on her own.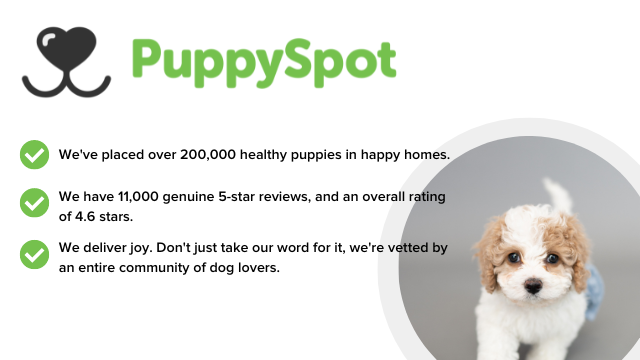 Cuddling up
They are small and love to be warm. I often find Lola basking in a strip of sun she found on the floor or curled up high on the couch on a blanket.
Unless you are sitting on the couch or chair, then she is in your lap. When my daughter goes to bed, Lola goes with her.
My daughter makes her a little spot right next to her and Lola goes right to sleep, blanket and all.
Chihuahuas do like their own breed, so having two would be good, they keep each other entertained and warm!
Oh and when you see them out and about with clothes on, it may not be just to be cute, they really do need a shirt or sweater at times.
Great with kids
You might be thinking I am out of my mind, Chihuahuas are awful with kids, and do nothing but bark and bite. That may be true, reference above (bad breeders, bad owners).
We got our Lola when my daughter was 3 years old. Since the day we brought her home, Lola has been my daughter's little best friend.
That little dog lets her do anything to her and can keep my daughter entertained for hours.
No joke, my daughter takes her into her room, and plays school or reads to her, sets her up little beds, and the whole time Lola just does whatever she is told.
When she has had enough, she will let her know by trying to escape the room. I have taught my daughter to listen to Lola, when she is done, you need to let her go.
Portable
They really can go anywhere and travel well! Lola came across the country with me, twice, and down the east coast.
She doesn't use a kennel in the car, she usually sits with my daughter or curls up on the floor.
Unlike a big dog, you can carry her if need be, and she doesn't take up much space at all if you are on a roadtrip.
Also, even some hotels that do not accept dogs, will accept small ones, so that's a bonus!
Now that you have a good overview of the small dog with a big heart, let's talk specifics, starting with the types of chihuahuas.
Types of Chihuahuas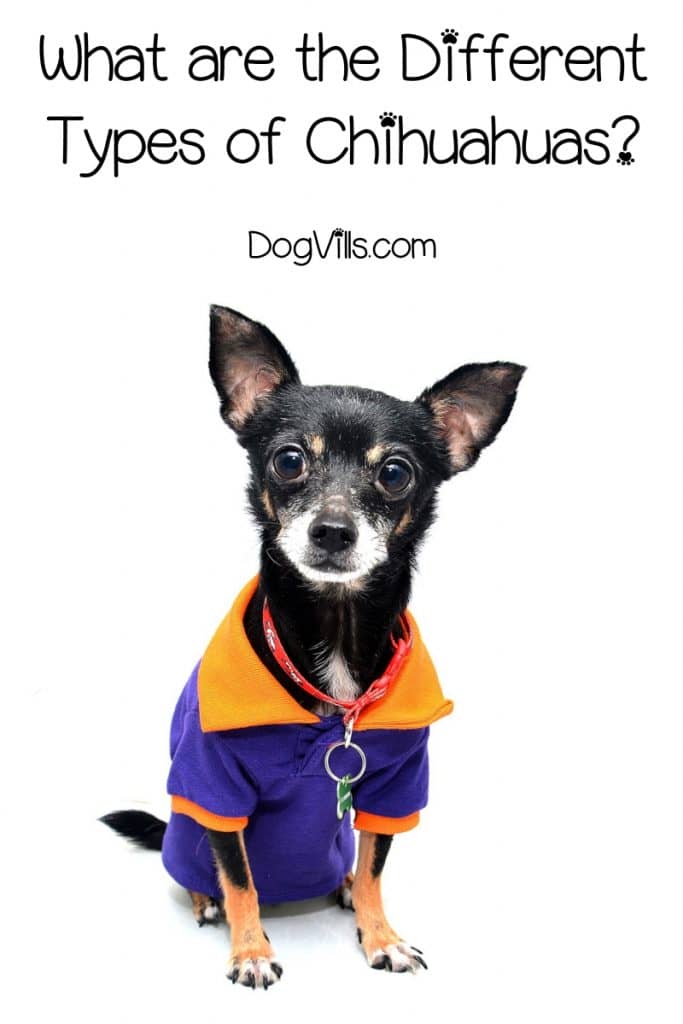 Other than purebred Chihuahuas, designer dogs are garnering more popularity by the year. By designer dogs we mean mixed breeds.
These mixed breeds adopt the names of both parent breeds and some of them are adorable.
Let's take a look at some of the more popular Chihuahua mixes. Warning: extreme cuteness ahead.
Chihuahua+American Bulldog = American Bullhuahua
Chihuahua+Beagle = Cheagle
Chihuahua+Corgi = Chigi
Chihuahua+Dachshund = It's a Chiweeni!
Chihuahua+French Bulldog = French Bullhuahua
Chihuahua+Labrador Retriever = Labrahuahua
Chihuahua+Maltese = Malchi
Chihuahua+Pomeranian = Pomchi
Chihuahua+Pug = Chug
Chihuahua+Poodle = Chipoo
Chihuahua+Shiba Inu = Shiba Chi
Chihuahua+Yorkshire Terrier = Chorkie
We told you it was super cute! Now let's look at different types of purebred Chihuahuas.
Smooth Coat Chihuahua
This breed possesses a shorter coat than the rest and is easier to care for grooming wise.
They also come in many different colors and are among the most common types of Chihuahuas.
Long Coat Chihuahua
As the name suggests, the long coat Chihuahuas have a longer silkier coat that is soft to the touch and beautiful.
If you aren't careful, you may even mistake one for a Pom!
Due to their longer coats, they require much more maintenance than the smooth coat Chihuahua.
Pear Headed Chihuahua
This is a mix of the apple headed Chihuahua and the deer headed Chi.
Hence the name, pear headed Chihuahuas have a skull shape that sits somewhere between the apple and deer heads shape.
Fawn Chihuahua
Rather than a specific look or coat, this Chihuahua is of a certain color.
The color is fawn, which is a light tan color, darker than blonde but lighter than red.
So a fawn Chihuahua can be of any head shape and coat length, as it only refers to the color.
Teacup Chihuahua
As if a Chi wasn't small enough already, there are even tiny teacup options for this breed. These miniature dogs are no taller than 9-inches and weigh less than 5 pounds! Other than their smaller stature, they resemble and possess the same personality traits as a regular-sized Chi.
The Largest Chihuahua
While there isn't a specific breed of Chihuahua that grow to be the largest (they are all similar in size), the world's largest Chihuahua was recorded at a whopping 28 pounds!
How large or small a dog may be depends greatly on his or her parents.
How to Identify a Chihuahua
So you have one of these adorable creatures at home, how do you tell which kind of Chihuahua your fur baby is?
Check your dog's head shape. Does he possess a rounder dome-shaped skull? Then chances are you have an apple head Chi. Deer headed Chi's have a longer snout, and will resemble a deer. If your pup is somewhere between, then chances are you have a pear headed Chi.
Next, take a look at his coat. Does he have a short coat, longer fur, or is he hairless? Hairless Chi's are said to be rare and possible a mix with the Chinese Crested. A long-haired Chihuahua would have a coat length of two inches or more, anything less than that would be considered a short coat.
Next up is the color. Chi's commonly come in tan, red, black, white or multicolored. However, there are many variations with all these colors including fawn, cream, silver sable, blue and chocolate.
Chihuahua Health & Temperament
How long do chihuahuas need to sleep at night? How healthy are they? What is their lifespan? We'll take a look at all these questions and more below.
How Long Do Chihuahuas Sleep?
The answer to this question depends largely on the age of your fur baby. Newborns up to 8 weeks of age can sleep most of the day. We are talking 20-23 hours!
Puppies sleep less, but from 2 months to a year of age, they can sleep 18 hours!
The length of time decreases (an hour or two) as your pup nears the 1-year mark.
Chihuahuas are toy breeds, which means they can sleep half the day, around 12 hours or more.
This includes daily naps as well. Don't worry as you spend more time with your pup, he will gradually sync with your schedule and will sleep through the night and stay awake during the day.
As your Chi nears seniority, he might regress to the puppy stage and sleep for anywhere from 15-17 hours a day.
Chihuahua Lifespan
Smaller dogs tend to live longer, and you can expect a toy breed like the Chihuahua to spend anywhere from 12-20 years with you!
Chihuahua Health Problems
Tracheal Collapse
This breathing problem affects many small to toy breed dogs. The trachea can collapse due to the tracheal rings lacking rigidity. Taking a breath could result in the narrowing of the windpipe. You will hear it as harsh breathing, coughing and gagging.
Patella Luxation
Among small dogs, this joint issue is quite dominant. The knees of your small dog can become misaligned. The patella can pop out of place quite easily and you can see this in your dog if he hops around and limps.
Hypoglycemia
An illness that can also affect humans, it is the result of low blood sugar.  Common to us, it could cause your dog to suffer from seizures, a failing nervous system or even slip into a coma. Unfortunately, this is one of the most common health problems to plague the Chi.
Digestive Issues
If your Chi suffers from digestive issues, it's a good idea to tackle the problem starting with the food you feed.
Grain-free diets with probiotics and prebiotics can help.
Helping your dog eat slower (if he gobbles up his food at the speed of light) can also reduce the risk of bloating.
If your dog is having diarrhea, healthy sources of fiber (from pumpkin) can help firm up the stool.
Chihuahua Behavioral Problems
While it's difficult to generalize a breed's behavior based on a handful of cases, we are going to give you the breakdown anyway.
Just keep in mind that each dog is an individual that is unique and different.
Certain breeders will actively try to breed out certain unwanted behaviors such as aggression and timidness.
Most Chi's are loyal, feisty and have big personalities. Smaller dogs are more prone to barking, and Chihuahua's are no exception.
Although we are aware that there are always exceptions to the rule.
While this isn't really a behavioral problem, Chihuahuas can suffer from shivering, which could also lead to incontinence.
How your dog turns out is nature vs nurture. The parents grant them their disposition, but how you care for them and bring them up can have a profound effect.
I never thought I would love having a small dog, but I do! She is like my daughter's best friend.
When she goes to bed, Lola goes with her, when she is in trouble and sent to her room, Lola goes with her.
Having a small dog doesn't mean having small personality, you will know they are there!
If you don't have much space or you travel a lot and are able to take a small dog with you, a Chihuahua is the perfect choice!
Have you ever owned a Chihuahua? Share your stories about this small breed dog with a big heart in the comments section below!