What are the best air purifiers for dog smells?
Do they really even work for pet odors?
Given the cost of some purifiers, you definitely want an answers to these questions before making the investment!
I've owned five dogs over the last 18+ years, and trust me, some have been pretty smelly!
I've also owned more air purifiers than I can possibly count on one hand.
Today, you'll benefit from my odd air purifier obsession and find out which, if any, work best for pet odors!
Do Air Purifiers Really Work for Pet Odors?
First things first, do air purifiers actually work for pet odors? Don't get mad by my vague answer, but yes…and no.
Like I said, I've owned a lot of dogs AND a lot of air purifiers over the years. I get them all of the time for review on my own site (Pretty Opinionated).
I'm not telling you that as a shameless plug, but rather as a disclosure, since I'll be mentioning some of the purifiers that I've received for free over the years.
While we're talking disclosures, this post uses affiliate links. If you make a purchase, we earn a small commission at no extra charge to you.
Now that we've taken care of business, let me expand on my super vague answer: yes,some air purifiers work for pet odors…but with caveats.
1. It has to be the right air purifier
If odor control is what you're after, you'll need an air purifier with activated carbon filter or ionic technology.
I've had both over the years, and honestly, the old-fashioned carbon-filtered purifiers tend to work best.
Besides, the ionic air filters can release small amounts of ozone into the air, which is bad for both you and the environment.
I also had one that super-heated the air to remove allergens, but as awesome as it was at that, it didn't really do much for odors.
So, long story short, activated carbon filters are the way to go for dealing with pet odors.
2. You still have to keep up with cleaning
A lot of people believe that you can just plug in an air purifier and voila, odors vanish!
I'm sorry to say, but that's just not how it works. You'll still need to clean up the messes that cause the odors in the first place.
Take dog urine odors, for example. You can't expect to just dab up the pee and let the air purifier remove urine odor completely.
You'll still need to get down and dirty with a carpet shampooer, or at least some Nature's Miracle, to really get the smell out.
The purifier will help take care of the lingering odor, yes, but not without a little help from you first, and not until the odor-causing molecules make it into the air.
If you're interested in how odors work and the science behind them, this article does a great job of explaining it (it's geared towards kids, but I like it because it's easy to follow).
3. You'll need to manage your expectations!
This goes along with what I just said, but it bears rewording. Air purifiers alone can't remove all pet odors.
You can't expect it to instantly remove the overpowering aroma of a skunked dog as soon as he walks in the door.
It's also unreasonable to expect it to eliminate puppy potty accident smells five seconds after Fido poops on the carpet.
To put it another way, an air purifier helps get rid of that "I have a dog in my house" odor that only our guests can smell (because we're so used to it), but it won't eliminate the "My dog just had an accident on the rug" smell.
What to Look for in the Best Air Purifiers for Pet Owners
Before we get into my top five air purifiers for dog smells, dander, and such, let's really quickly go over what I looked at during my research.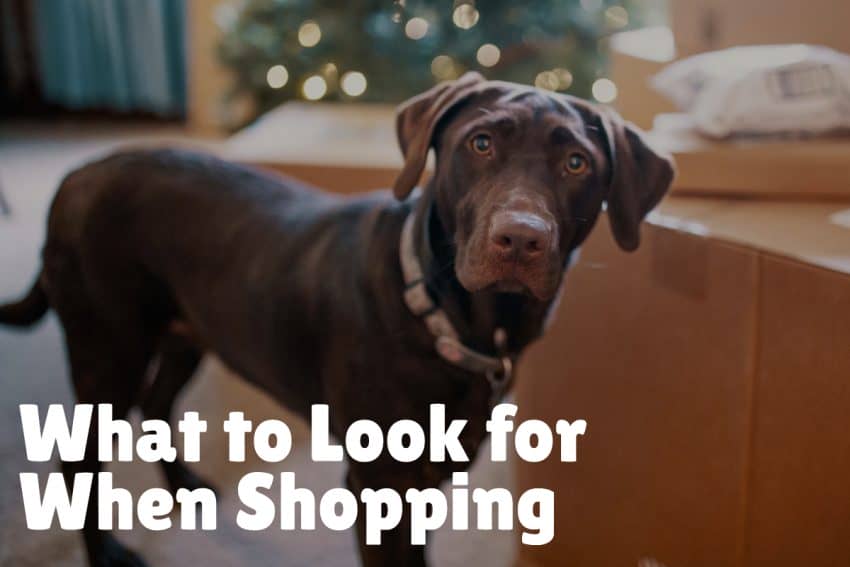 1. What kind of filter does it use?
As I mentioned above, activated carbon filters work best at removing pet odors.
Overall, I looked for "True HEPA filters" that use activated carbon to capture and eliminate odors rather than ionic filters (although one does also have an optional ionic filter).
FYI, here's a good overview of the difference between HEPA and ionic purifiers. It does a better job of explaining it than I ever could.
2. Is it a good value for the money?
Rather than just looking at the price, I looked at the overall value compared to how much it costs.
That includes how much "range" it has, how much it costs to maintain, and what sort of "extras" it includes.
By the way, if you have a hard time picturing square footage like I do, check out this guide. It really helped me!
3. Does it also remove allergens and other nasties?
An air purifier should actually purify the air, not just remove odors. I mean, that's kind of the point, right? Otherwise, you could just buy a candle!
So, along with odor removal, we'll look at how well they work at removing dust, dander, and other little airborne nasties.
Top 5 Best Air Purifiers for Dog Smells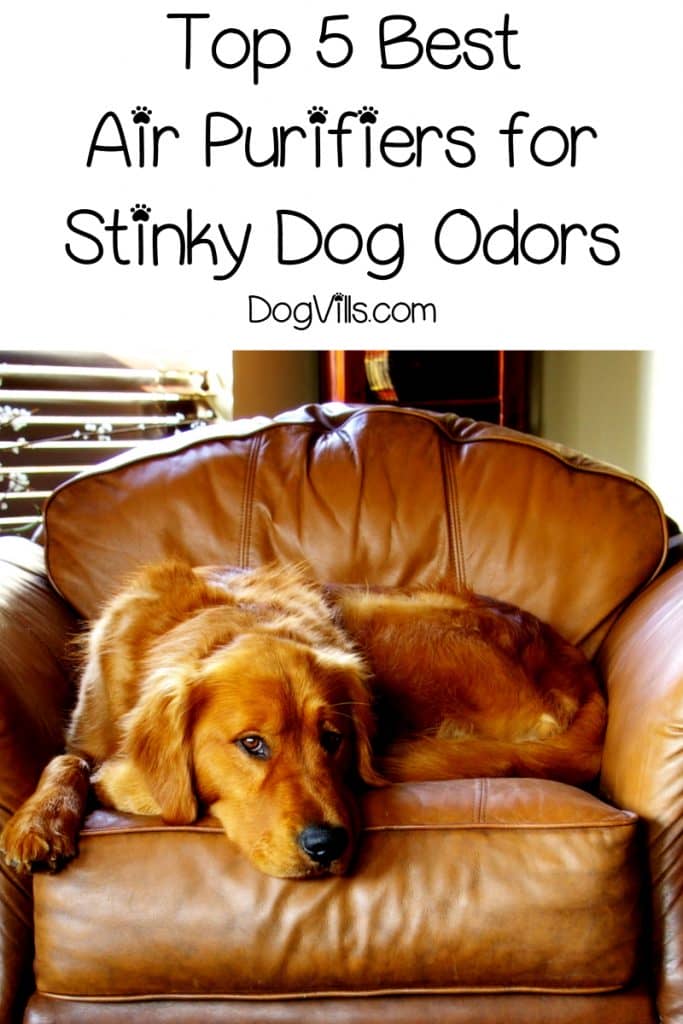 Now, on to our best air purifiers for odors reviews! Check out the table below for a quick look, then read on for more details.
Preview
Name
Honeywell 50250-S True HEPA Air Purifier, 390 sq. ft, White
LEVOIT Air Purifiers for Home, H13 True HEPA Filter for Smoke, Dust, Mold, and Pollen in Bedroom, Ozone Free, Filtration System Odor Eliminators for Office with Optional Night Light, 1 Pack, White
Germ Guardian Air Purifier with HEPA 13 Filter, Removes 99.97% of Pollutants, Covers Large Room up to 743 Sq. Foot Room in 1 Hr, UV-C Light Helps Reduce Germs, Zero Ozone Verified, 22", Black, AC4825E
HATHASPACE Smart Air Purifier for Home, Bedroom, with True HEPA Air Filter for Allergens, Pets, Smoke, Quiet Air Cleaner, Removes 99.9% of Dust Mold Pet Dander Odors Pollen - HSP001 700 Sq Ft Coverage
BLUEAIR Air Purifier Large Room, Air Cleaner for Dust Pet Dander Smoke Mold Pollen Bacteria Allergen, Odor Removal, for Home Bedroom Living Room, Washable Pre Filter, HEPASilent, Blue 211+ (Non-Auto)
1. Honeywell 50250-S True HEPA Air Purifier Review
If you're looking for the best Honeywell air purifier for pet owners, this is my top pick!
I'm not sure how long we've had ours, but it feels like forever, and it's still going strong.
Features and Pros
Works for very large rooms (up to about 390 sq ft), making it perfect for an open floor plan in your main living space.
Uses a True HEPA filter to capture more than 99% of all microscopic allergens from the air and a carbon filter to reduce odors.
Three cleaning levels (so you can use the lowest for smaller rooms and make the filter last longer).
360-degree "air intake" really helps increase its efficiency.
The carbon filter takes just seconds to replace (seriously, it's a total cake walk compared to some purifiers I've had).
It's not terribly loud. Not whisper quiet, but more like white noise than annoying noise. Think fan on high speed.
Cons
HEPA filter needs to be replaced every few years, and those are a bit expensive.
The unit itself is fairly expensive.
Not the most attractive unit, and it's pretty bulky.
Recommendation
Like I said, I've had mine for so long that I don't even remember when I got it, and it works terrific.
A few customers did complain about their breaking down and Honeywell's warranty doesn't cover shipping, so if it does break, you're almost better off buying a new purifier entirely.
That said, I do highly recommend it because mine has never had an issue in all of these years.
Honeywell 50250-S True HEPA Air Purifier, 390 sq. ft, White
LARGE ROOM AIR PURIFIER: This HEPA purifier captures up to 99. 97% of microscopic allergens 0. 3 microns & larger from the air that passes through the filters. Effective for large & extra large rooms
SPECIAL FEATURES: This purifier features 3 air cleaning levels, SurroundSeal Technology to minimize air leaks, & a filter indicator to remind you when to clean the HEPA filter & change the pre-filter
ODOR REDUCING PREFILTER: An activated carbon pre-filter captures larger particles before they reach the HEPA filter & helps reduce odors. A 360-degree air intake & discharge maximizes efficiency
BREATHE CLEAN AIR: Honeywell Filters are capable of removing allergy-provoking dust, pet dander, pollen, smoke & mold spores from indoor air. Breathe only the cleanest air in your home or office
HEALTHIER AIR: Our True HEPA Filters can help create a cleaner & healthier breathing experience, capturing microscopic particles & allergens that can be detrimental to the quality of air you intake
2. LEVOIT Air Purifier Review
Touted as one of the best air purifier for pet allergies and asthma, the LEVOIT is as attractive as it is useful.
Features and Pros
Uses a 3-stage filter system that includes a pre-filter, a True HEPA filter, and a high-efficiency activated carbon filter.
Captures 99.7% of contaminants in the air.
It's very quiet! One would say it's almost whisper-quiet.
Compact size makes it great for bedrooms.
Depending on how much you use it, you should only need to replace the filter twice a year.
Includes a nightlight (but you can turn if off if you don't want to use it).
Cons
Only works well for a very small room (up to 129 sq ft), so it's not ideal for a living room.
Some customers complain that it rattles quite loudly when it's near the end of its life.
Recommendation
Overall, customers seem to love this air purifier. It's not one that I've had, but I would definitely consider it.
If you live in California, you'll love that it's rated for the state's super strict standards, too.
LEVOIT Air Purifiers for Home, H13 True HEPA Filter for Smoke, Dust, Mold, and Pollen in Bedroom, Ozone Free, Filtration System Odor Eliminators for Office with Optional Night Light, 1 Pack, White
OZONE-FREE FILTRATION: Safe is top priority UV-C light purification methods can produce high levels of ozone that can be harmful to children, asthma patients, and pets. This air purifier only uses premium filtration, so you can experience clean, healthy air with Levoit
SAY GOODBYE TO POLLUTED AIR: Have you ever seen what comes out of your vents, from heating and air conditioning. Even inside, you're under attack by so many pollutants. This air purifier uses 3-stage H13 True HEPA Filtration to trap dust, pet dander, pollen, and more. End the suffering, with the finest air purifier in its class
BEST-SELLING BRAND: Brand in the US, LV-H132 has been chosen by 958,256 customers across 9 countries. Levoit cares about your thoughts and never use fake reviews, so you can trust what you see
Official Levoit Filters: Search for B06XD7X81D or LV-H132-RF to find the Levoit Personal True HEPA Replacement Filter. Levoit replacement filters provide the best fit and filtration, while off-brand filters are unreliable and may damage the air purifier
ALWAYS HIGH-QUALITY: Everyone deserves to feel refreshed and safe at home.
WHISPER-QUIET: Trying to sleep with rattling or loud humming noises coming from your air purifier. With noise levels as low as 25dB, this air purifier is so quiet, you can run it throughout the night and sleep soundly
CLEAN AIR AROUND THE HOUSE: Quickly refresh the air in rooms as large as 129 ft² in 15 minutes. No matter where you spend the most time at home, enjoy fresh air in any room
USTOMIZE YOUR EXPERIENCE: Prefer to sleep with a night light? Select from two night light brightness settings to create your perfect sleep environment
SAVE ENERGY, SAVE MONEY: Sticking to a budget? No problem! This air purifier filters the air without using UV-C light, reducing its energy consumption to just 28W. Operating at its highest fan speed 24/7, running this air purifier can cost less than $3 per month!
3. GermGuardian AC4825 Review
Another one of the best air purifier for pets, the GermGuardian promises to start improving your air quality from the moment it's plugged in.
Features and Pros]
Like the other purifiers on this list, the HEPA filter captures 99.7& of dust and allergens.
The charcoal filter (which is the same thing as a carbon filter, FYI) helps cut down on all odors, including dog smells.
The optional UV-C light also helps reduce things like bacteria and viruses (hence the name GermGuardian)
It's Energy Star Certified, so it won't cost you a fortune to run.
You only need to replace one filter (about twice a year), and they're not terribly expensive.
Cons
Only covers up to 167 square feet, which is about the size of a large master bedroom or a small living room.
According to several reviewers, the circuit board burned up, making it a fire hazard! (see below in recommendations for more on this).
Recommendation
While the part about the burned-out circuit board is concerning, those complaints only make up a very small percent of reviews.
I have to assume that they either got a defective unit (it happens) or didn't replace the filters regularly.
Overall, it's a highly rated system and fairly beloved by users. I would recommend it for a master bedroom or small living room.
Germ Guardian Air Purifier with HEPA 13 Filter, Removes 99.97% of Pollutants, Covers Large Room up to 743 Sq. Foot Room in 1 Hr, UV-C Light Helps Reduce Germs, Zero Ozone Verified, 22", Black, AC4825E
3-IN-1 AIR PURIFIER FOR HOME - True HEPA air filter reduces up to 99.97% of harmful germs, dust, pollen, pet dander, mold spores, and other allergens as small as .3 microns from the air
KILLS GERMS - UV-C light helps kill airborne viruses such as influenza, staph, rhinovirus, and works with Titanium Dioxide to reduce volatile organic compounds
TRAPS ALLERGENS - Pre-filter traps dust, pet hair, and other large particles while extending the life of the HEPA filter
REDUCES ODORS - Activated charcoal filter helps to reduce unwanted odors from pets, smoke, cooking fumes, and more
QUIET OPERATION - The lowest setting can be used as gentle white noise at night for a quiet, restful sleep
4. Hathaspace Smart True HEPA Air Purifier Review
If you need an air purifier for a large room and want something a little more modern-looking than the Honeywell, the Hathaspace is a good option.
Features and Pros
Uses a 6-in-1 air filter system to destroy 99.97% of particles as small as 0.3 microns.
The optional UV-C light kills bacteria and viruses.
Promises that allergy sufferers will feel a difference in 60 days or they'll give you your money back.
One of the few air purifiers that claims to control pet hair.
Includes a "sleep mode" that makes it super quiet (about 18 decibels).
A fully automatic mode adjusts itself as needed depending on your air quality. It'll even display a diagnostic of your air and rate it (red, yellow and green).
Works in rooms up to 350 sq. ft. (the size of a large living room or "great room").
Cons
Filters are among the most expensive compared to other purifiers on this list.
Some users say that the air diagnostic thing doesn't actually do anything (that basically, it just changes all willy nilly).
Recommendation
While I don't love that the filters cost so much, I still feel confident recommending this one for larger rooms.
It's a bit more modern-looking than the Honeywell and doesn't take up nearly as much floor space.
Sale
HATHASPACE Smart Air Purifier for Home, Bedroom, with True HEPA Air Filter for Allergens, Pets, Smoke, Quiet Air Cleaner, Removes 99.9% of Dust Mold Pet Dander Odors Pollen - HSP001 700 Sq Ft Coverage
Purify your air – Our 5-in-1 filter system targets pollen, dust, pet dander, VOC's, smoke, and odors. Our H11 HEPA filter captures 99.9% of particles down to 0.3 microns.
What you get – Smart air purifier, True HEPA filter set, remote control, manual, 2-year warranty, award-winning customer support 7 days a week, and the peace of mind that comes from a trusted American brand.
Remove odors, smoke, & VOC's – Both an air cleaner and odor eliminator, our air purifier features a unique honeycomb activated-carbon filter that absorbs odors, smoke, and VOC's. With a state-of-the-art fan and motor, enjoy clean air delivered quietly and efficiently in your home, bedroom, office, kitchen, basement, dorm, apartment, or living room.
Breathe easier – Nothing feels better than breathing clean air. Read our 10,000+ reviews and see just how much our air purifier can assist and support the body's natural response during allergy season.
Smart air purifier – In AUTO mode, a smart air quality sensor detects pollutants in your air, adjusting the fan speed in real-time. A digital display on the unit reveals your air quality level, so you always know what you're breathing.
5. Blue Pure 211+ Air Purifier Review
I have an older purifier from Blueair that I love (this one if you're curious), but it's kind of bulky and not the best odor reducer, so I'm recommending the Blue Pure instead.
Features and Pros
3-part filtration captures 99% of airborne pollutants, including pet dander.
A fabric pre-filter on the outside is washable and they give you two different colors to start with.
It's super attractive, so it won't look out of place in your home.
Rated for rooms between 400-600 sq feet, the greatest range of all the purifiers on this list.
Energy star rated, and all filters are recyclable.
Cons
It's fairly pricey (the most expensive on this list).
Replacement filters are also pretty pricey compared to the others.
It's a bit noisy, especially on the highest setting.
Recommendation
I've had very good experiences with Blueair, and my unit is still going strong after a few years. If it ever dies, I'll replace it with this one, though!
I love the fact that you can customize the pre-filter to match your decor, and that it's washable.
I don't love that replacement filters are so expensive, but it's still my top pick for very large rooms.
Sale
BLUEAIR Air Purifier Large Room, Air Cleaner for Dust Pet Dander Smoke Mold Pollen Bacteria Allergen, Odor Removal, for Home Bedroom Living Room, Washable Pre Filter, HEPASilent, Blue 211+ (Non-Auto)
SIMPLE ONE-BUTTON CONTROL: Easily adjust fan as-needed with one button to ensure optimal air quality, including lowering fan speed at night for uninterrupted sleep
CLEAN AIR IN MINUTES: Blueair's HEPASilent technology, delivers clean air, faster, and much more quietly than traditional HEPA filtration alone; Quickly cleans 540sqft large room in about 12.5 min or up to 2592sqft XL space in 60min, on high
ONE OF THE QUIESTEST AIR PURIFIERS: Quieter (31 dB) than whisper on low; ENERGY STAR rated - uses less energy (30W) than an incandescent lightbulb on low
COMBAT ALLERGENS: Helps reduce allergens and pollutants that trigger allergy and asthma symptoms
REMOVES ODOR & PARTICLES DOWN TO 0.1 MICRON: Ideal for smoke & smog during wildfire season; Removes 99.97% of airborne particles like smoke, dust, viruses and pet dander, while the carbon filter traps light household odors from smoking, pets and cooking
MOST AWARDED AIR PURIFIER BRAND IN THE US: Blue Pure 211 plus has won Good Housekeeping – 10 Best Air Purifiers of 2021, Best Overall Air Purifier; Wirecutter Pick - The Best Air Purifier - 2019 - 2022
INDEPENDENTLY TESTED FOR PERFORMANCE & SAFETY, ZERO OZONE: AHAM Verifide for CADR; Ozone Safety Standards Certified by CARB; Zero Ozone Verified (<5 ppb) by Intertek Sustainability Program; Trusted Education Partner of British Health Professional Academy
GENUINE FILTERS FOR OPTIMAL PERFORMANCE: Replace your filter every 6 months to ensure proper functionality & only use genuine Blueair filters; Shop 211 plus replacement filter: B073SKH39W; Upgrade to SmokeBlock filter for enhanced removal: B0B453ZDZ6
Final Recommendation
Obviously, I like all of these air purifiers for dog smells, otherwise I wouldn't have included them on the list!
However, if I had to pick just one, I think I'd go with the Honeywell because mine is still working after what has to be at least 8 years, probably longer.
My second choice is the Blue Pure, again mostly because I have another Blueair purifier that hasn't failed me yet.
How about you? Do you have a favorite air purifier for dog smells? Share below!
Last update on 2023-02-07 / Affiliate links / Images from Amazon Product Advertising API