We've talked a lot about hypoallergenic dogs here on DogVills, but only one holds a place in my heart as the absolute coolest and sweetest: the Miniature Schnauzer. The sweet, lively, dignified little pooch with a name that's just fun to say. Schnauzer. Go ahead and say it out loud a few times. Feel it roll around in your nasal cavity. Fun, right?
I'm going to be honest, I never had experience with hypoallergenic dogs until my aunt got one. I don't have allergies, so it was never a concern. I have a German Shepherd, a Lab/Collie and a Cooper (mystery rescue, Border Collie/Lab/?). They shed like maniacs. They're a nightmare for people with dog allergies…like my uncle.
When my aunt married her husband, our family was introduced to the world of dog allergies. My cousin, Ben, inherited that allergy. My aunt and uncle wanted a good family dog without all the sneezing. So they got a Miniature Schnauzer named Jack. Captain Jack Sparrow, actually. It was during the Pirates of the Caribbean craze. Jack was a dignified boy, nothing like his namesake. Handsome and charming. Okay, so a bit like his namesake in that respect! But definitely more dignified! Alas, he passed at an early age.
Then came Otto, after some time passed. I adored Jack, but Otto is my little buddy. He's what makes the Miniature Schnauzer my all-time favorite hypoallergenic dog!
Miniature Schnauzers: The Coolest Hypoallergenic Dog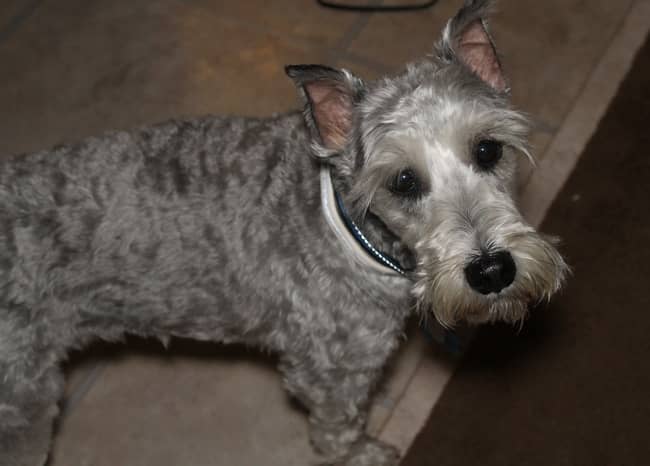 According to the AKC, Miniature Schnauzers are the most popular of the Schnauzer breeds. I didn't know there were more than two (small and big). These little guys are only about 12-14 inches tall, but they have BIG personality. Take a look at a few of his traits that make him perfect for just about every lifestyle:
He's amazing with kids. Otto absolutely loves my cousin. When he comes for a visit, he's great with my son. He's even gentle with my baby niece at family gatherings. He's not a crazy jumper (or a humper!), just an easy-going little guy who loves affection.
Super trainable. These little guys learn quickly, so you won't need 500 dog training books! Just one or two will do! These dogs are incredibly intelligent and they expect the same from their people. They're not for the weak-willed, unless you want to bow down to your pup! Seriously, apparently they can be stubborn, but Otto is well-trained, so I don't see that side.
Small enough for apartment living, yet energetic enough to keep up with you on sprawling acres. They were originally bred as farm dogs and ratters, so they can hold their own in active families.
Gets along well with other pets. When we dogsit Otto, he has no problem hanging with my big dogs. Even my boy Cooper doesn't have a territorial issue with him.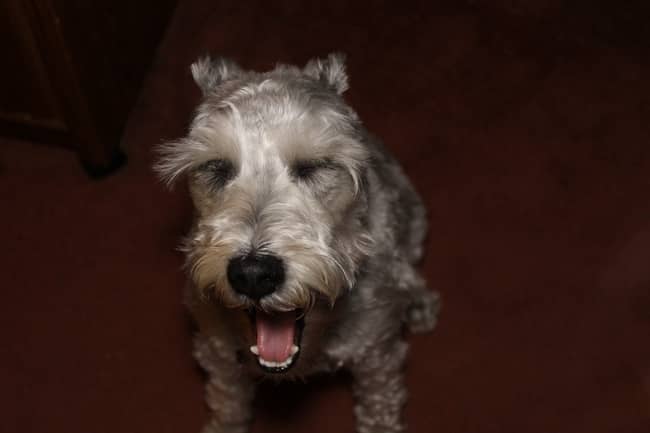 My favorite thing about Otto is his sweet personality. Doesn't he look like he's laughing in that picture? He's just a loving dog. He loves cuddle time. When we dogsit, he likes to be held like a baby or sprawl out on the sofa next to me when I watch TV.
Now, I will say, all pure breeds have potential issues, and the Mini Schnauzer isn't immune to that. This breed is prone to liver problems, hereditary eye problems, kidney stones and diabetes. Jack, my aunt's first Mini Schnauzer, passed away from liver problems. Otto is healthy overall, but did need cataract surgery.  Barring issues, the life expectancy of this hypoallergenic dog is about 15 years.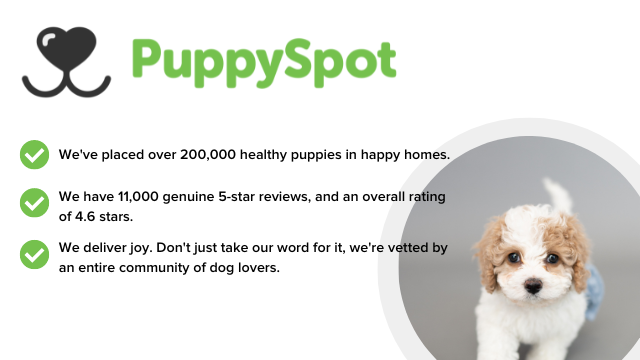 If you think the miniature Schnauzer is the hypoallergenic dog for you, I urge you to first check your local animal shelters. You can also find rescue groups online.  A simple Bing search of "Miniature Schnauzer Rescue" connected me with several groups throughout the country instantly. Add your region to that search to narrow it down. Please give homeless dogs a chance to be loved.
Do you have a miniature Schnauzer? What is your favorite hypoallergenic dog? Tell me in the comments!