Are you looking for the best companion dog breeds that will stay with you no matter what?
Then you've come to the right places because I've gathered some of the most sensitive and supporting dogs.
So, keep on reading if you want to look at adorable dogs who will never leave your side.
9 Good Companion Dog Breeds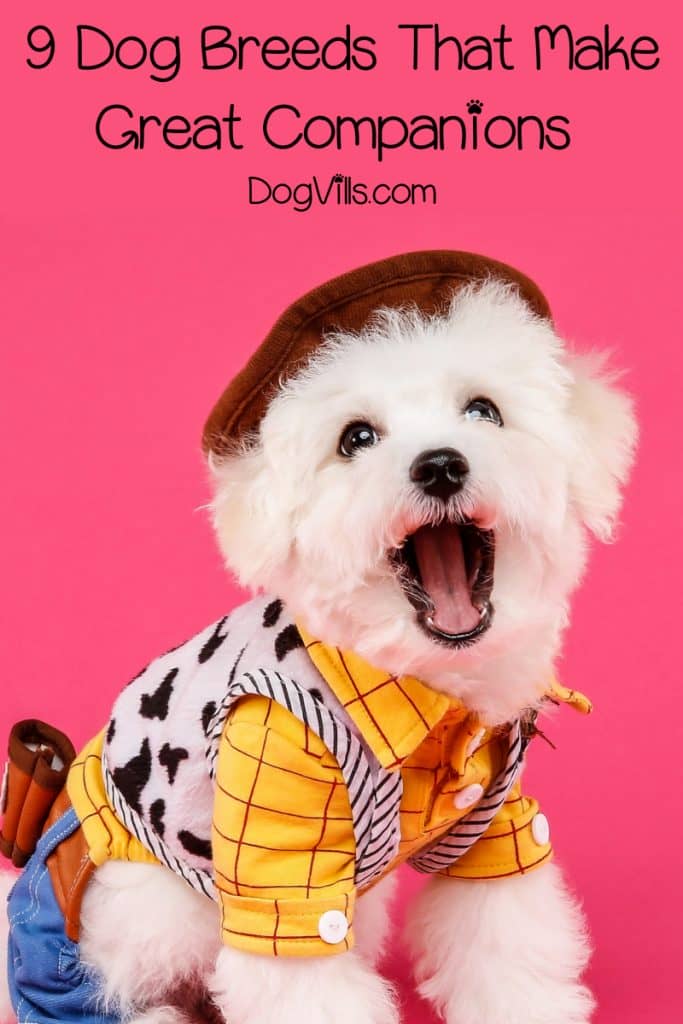 People have different ideas when you say a "companion dog." For some, a good companion dog likes playing or other sports activities.
For others, the best companion dog loves nothing more than cuddling with them on the bed while they're reading a book.
As such, I've selected dog breeds who enjoy being around their owners no matter what.
#1 Labrador Retriever
Currently, Labrador Retrievers are the most popular dog breed, and it's not surprising given the loving nature and sweet disposition of this breed.
More importantly, Labradors are versatile dogs and can be excellent companions, therapy dogs, assistants for people with disabilities, retrievers for hunters, or mountain rescuers.
Labradors thrive when they're around their family and feel miserable when left alone.
No matter what you do, Labradors will insist on being part of it even if the only thing they do is sit by your feet. What more can you want for a good companion dog?
#2 Cavalier King Charles Spaniel
Do you want a dog that loves belly rubs or wants nothing more than to lay in your lap?
Then the Cavalier King Charles Spaniel is the best choice for a companion since he is one of the most affectionate small dogs.
Cavaliers are not only highly sensitive to their owners' moods, but they also have these irresistible puppy eyes.
One tilt of their pretty heads, and you're ready to continue to pet them as long as possible.
These adorable guys also tend to bond very closely with their owners, so you'll have your shadow whatever you're doing.
#3 Bichon Frise
Do you want a companion dog to cheer you up and keep the loneliness away? Then you should get a Bichon Frise.
It's almost impossible to stay sad or miserable when you have such a cute small dog for a companion.
Thee white pooches steal hearts with their fluffy coats, playful nature, and piercing black eyes. These pooches are always happy and ready to play with you.
Bichon Frises also are not low energy dogs despite their small size. As such, they make excellent companions for those who enjoy sports activities.
But don't worry. They still like to cuddle with you as much as possible.
#4 Italian Greyhound
Despite its hound nature, the Italian Greyhound is one of the best lap dogs that you can find.
While these pooches have remarkable endurance and speed, they are excellent companions due to their sensitive nature and love of snuggling.
Italian Greyhounds are also very intelligent and easy to train as long as you make training fun and entertaining.
They can be a bit stubborn, but these dogs are very devoted to their owners and get on well with children.
#5 Papillion
If you have ever wanted a small dog that will stick to your side all day long, you can't go wrong with a Papillion.
These smart and affectionate dogs have a happy, outgoing personality, and given a choice, will never abandon you.
Despite weighing between 4-9 pounds, Papillions are bold and alert, which makes them excellent watchdogs.
They are not a typical lap dog and don't like to keep still, so you'll have to keep up with them.
Since Papillions don't realize how small they are, they might get into trouble if they pick a fight with somebody larger than them.
#6 Yorkshire Terrier
The next dog in our list of good companion dogs is the glamour and magnificent Yorkshire Terrier.
Yorkshire Terriers might be small and cute, but don't let their looks deceive you. They have a typical terrier personality and won't back off any challenge.
Yorkies are very affectionate toward their owners, but might be wary of strangers and chase any small prey they come across.
While Yorkshire Terriers love to follow in your footsteps, they also have an adventurous spirit and a mischievous streak.
I can guarantee that you'll never be bored or lonely with a Yorkie as a companion, so they're perfect both for introverts and extroverts.
#7 Pekingese
Do you want a companion dog that won't crowd every moment of your waking hours? Then the Pekingese might be the best one for you.
When you see the Pekingese, you are bound to be overwhelmed by their fluffy coats and aristocratic attitude.
Bred to be companions for the Chinese Emperors, it seems that the Pekingese haven't forgotten their origin.
Today, Pekingese are still one of the best companion dogs because they bond closely with their owners without being overly clingy.
These pooches are also very loyal and protective of their loved ones and are the perfect dog for an apartment.
However, they demand respect, consistency, and fairness from you.
#8 Shih Tzu
If you want a dog that loves to spends their day in your lap, then the best companion dog for you will be the elegant Shih Tzu.
Just like the Pekingese, the Shih Tzus used to be royal companion dogs and still carry that aristocratic attitude.
Shih Tzus is lively, loyal, and energetic. They were created to be companion dogs, and they are not suited for other jobs.
So don't expect your Shih Tzu to be a watchdog or a hunter. In fact, Shin Tzu is so friendly that they will greet enthusiastically any thieves that enter your household.
In addition to this, Shih Tzu adores children and gets on well with other pets. Since these pooches are adaptable, they are suitable for apartments and farms alike.
#9 Miniature Schnauzer
Famous for his walrus-like mustache, the Miniature Schnauzer packs a lot of qualities in his small body. He is goofy, outgoing, affectionate, and smart.
What makes the Miniature Schnauzer a good companion dog is his eagerness to please and his affection towards his owners.
You'd never be bored with him around the house or have much of personal space because the Miniature Schnauzer will follow you even in the bathroom.
Don't think that the Miniature Schnauzer is delicate. He has a big dog personality and the typical terrier spunkiness.
This pooch needs plenty of exercise, so he is also perfect if you're looking for a walking buddy.
People have domesticated dogs to shepherd herds, protect the house, or keep them company.
As such, some dog breeds make better companions than others. However, all dogs love their owners no matter if they show it openly or not.
What do you think about these 9 companion dogs? Share your opinions and suggestions for good companion dogs in the comment section.