Welcome to part two of my complete list of small hypoallergenic dog breeds.
Today, we'll be looking at the terrier category. All of these dogs are as hypoallergenic as they come and can be wonderful additions to any family with an allergy sufferer.
Be aware that terriers tend to be on the stubborn side.
It doesn't make them any less worthy of being a part of the family. It just means you need some patience.
Small Hypoallergenic Dog Breeds – Terrific Terriers
These small breed terriers are all confident and self-assured. They had to be when they were originally bred.
Terriers are a group that were designed by breeders specifically for hunting and/or rodent killing, so they needed a high level of self-confidence. This is what leads to their tendency to be stubborn.
I hope you've got your reading hat on, because there are A LOT of terriers in the small hypoallergenic dog breed realm.
West Highland Terrier
The Westie, as it's commonly called, was originally bred in Scotland for hunting and ratting. This confident, bold, fun-loving, and intelligent breed makes a wonderful family companion. It finds joy in almost everything, and although it is extremely self-assured, it isn't overly stubborn. This breed requires a fenced yard and leash walking because of its high prey drive and willingness to fight. It generally won't start a fight, but it also won't back down from one.
RELATED: How to find hypoallergenic dogs near me
Lakeland Terrier
The Lakeland Terrier was orginally bred to hunt and kill foxes in Northern England. This little guy is bold and friendly. It absolutely adores its family, especially the little ones, but it is aloof with strangers more often than not. It isn't a combative or overly aggressive breed, but it won't back down from a fight.
Irish Terrier
Another small hypoallergenic dog breed originally bred for ratting, the Irish Terrier sports the inquisitive nature found in all terrier breeds. This breed is highly intelligent, spirited, adaptable, and good-natured. Its intelligence makes this breed easy to train, but it also makes it a trouble maker when bored. In addition, the Irish Terrier is a scrapper with other dogs, so early socialization is a must.
Miniature Bull Terrier
The Miniature Bull Terrier was originally bred in the 19th century as a fighting dog. Although its days of dog fighting are long behind it, the Miniature Bull Terrier retains some of the traits that made it an excellent fighter. It's a spirited, feisty extrovert – all in good ways. It's eager to play and always happy. I would not recommend this breed for a first time dog owner, as it can be a chewer, barker, and difficult to house train, and it requires intense socialization due to its fighting background.
Welsh Terrier
The Welsh Terrier is all go all the time. Originally bred as a hunting dog, this breed is full of intelligence, determination, and energy. It is an extremely happy, high energy breed that loves to play. And play. And play. This is one of the more sociable terrier breeds. It wants to be friends with everyone and everything. If you can weather the initial training period, you've got an excellent family friend on your hands.
Although this breed possesses all of the spunk, confidence, and intelligence of the terrier breed, it's a lap dog through and through, albeit one with a high energy level. This lovable extrovert wants to be plastered to its people all the time. It demands affection, and it WILL sleep either right next to you or on top of you. Although it's a spitfire, it isn't as feisty or dog aggressive as other terrier breeds.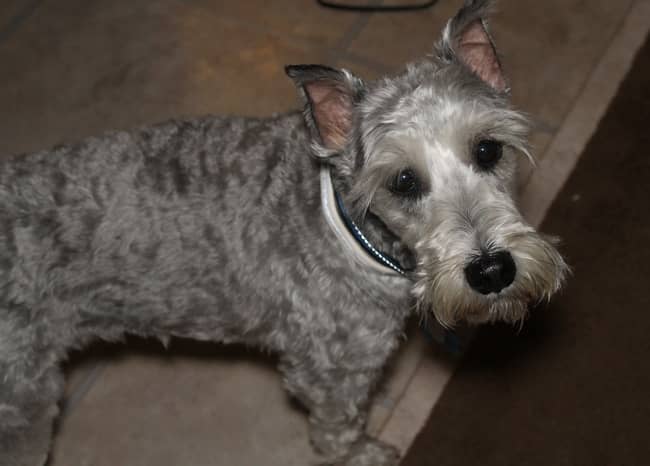 Wire Fox Terrier
Wire Fox Terriers were originally bred for fox hunting. Today it's more often than not a family dog, however it's still used for hunting in the northeastern U.S. This highly intelligent, lively, and vigilant small hypoallergenic dog breed is not recommended for new owners. Although it is charming and lovable, it can also be mischievous, a nuisance barker, and it is most definitely dog aggressive so socialization is required, not recommended.
Norfolk Terrier
The Norfolk Terrier is often called a big dog in a small package. This is an active, alert, good-natured breed that's always ready to run and romp. Although it makes a wonderful family companion, there are a few things to consider. True to its ratting history, it has a high prey drive, and it loves to dig, and bark. That means a fenced yard and leash walking are required. Its high energy also means that you need to be prepared for lots of play time and even more patience.
Bedlington Terrier
This handsome small hypoallergenic dog breed was originally bred as a ratter and poacher's companion. Although it still retains its hunting instincts, it is rarely used for hunting these days. This highly intelligent, energetic, and alert dog is an excellent family member and watch dog. It loves to be the star of the show, and it loves to play. This is another terrier breed that can be dog aggressive, especially towards the same sex, so socialize your puppy early and often.
Cairn Terrier
The Cairn was originally bred on the Isle of Skye in Scotland as a hunter of vermin. To this day, it retains the traits that made it an excellent rodent dispatcher – courage, tenacity, and intelligence. This is one of the more sociable terrier breeds. It is extremely friendly and enjoys meeting new people and other dogs. Because of its high prey drive and terrier nature, its probably not a good idea to introduce it to a cat! A fenced yard, leash walking, and socialization with a wide variety of animals is key to this breed because it loves to dig, bark, and chase.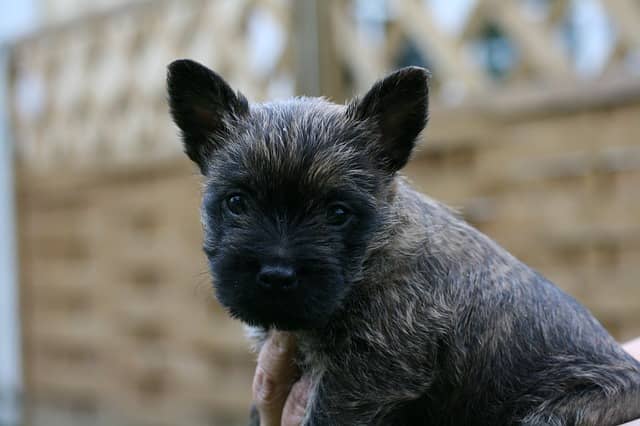 Cesky Terrier
This Czech breed is a cross of Scottish Terrier and Sealyham Terrier. Originally bred to hunt vermin, the Cesky Terrier is now an all around family dog. This is one the best family dogs in this category of small hypoallergenic dog breeds. Its much more mellow than other terriers and thus requires only moderate exercise. It's a loving and devoted breed that gets along well with children and other pets.
Scottish Terrier
The Scottish Terrier is comical in its overly dignified seriousness. This highly intelligent and alert breed is well-suited for agility training and makes an excellent guard dog with a deep bark the belies its small stature. Although this breed has a quiet reserve about it, it absolutely thrives on its family and needs to be with them. It's a terrier to the bone, so you'll need a fenced in yard and leash walking.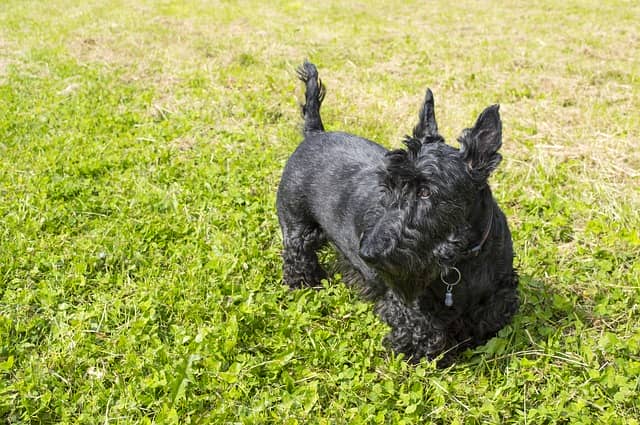 Sealyham Terrier
The Sealyham was originally bred for otter, fox, and badger hunting. These days, it makes a wonderful family animal, and its relative mellowness makes it an excellent choice for a first time terrier owner. The Sealyham is the class clown of the terrier group of small hypoallergenic dog breeds. It's intelligent and outgoing, and it loves attention. Although loving and devoted to its family, it can be aloof with strangers.
Australian Terrier
Like all terriers, this breed was a hunter, originally used as a rodent and snake exterminator. This wonder from Down Under is a fun-loving, happy go lucky breed for any family that wants a dog that can keep up with its active lifestyle. The Australian Terrier loves being at the center of its pack of people, and it is easy to train. Just don't let it get bored!
Norwich Terrier
Here we have another ratter. One of the most friendly terriers in the small hypoallergenic dog breed realm, the Norwich Terrier loves everyone. And by everyone, I mean all people and all animals. In fact, this particular terrier has an uncharacteristically friendly nature. This active breed is also highly intelligent and easy to train, as it loves pleasing its people as much as it loves pleasing itself.
Dandie Dinmont Terrier
This cutie patootie of a small hypoallergenic dog was originally bred to hunt otter and badger. A typical terrier, its personality is an independent, bold, tenacious, and intelligent one. This breed is highly affectionate with its people but reserved with strangers. The bonus of their dignified manner is that they don't bark nearly as much as other terriers.
Terrier Time is Over
That's a wrap, folks. This is a complete list of every terrier in the hypoallergenic dog breed realm. If you made it to the end, congratulations. If you didn't I certainly hope you bookmarked this. All of these terriers make can be a great hypoallergenic dog to add to the family. Just be sure you do your research and get the one that's best suited to your lifestyle.
As always, make adoption your first option. While you may not be able to find every one of these small hypoallergenic dog breeds at your local shelter, there are many breed specific rescue sites out there with cutie pies just waiting for a new home.
Do you have any of these terrier breeds? What do you love about your dog?