When you have a pup with sensitive skin, it's absolutely vital to choose the best hypoallergenic dog shampoos and conditioners possible.
The last thing you need is something loaded with chemicals and harsh detergents that strip Fido's natural oils.
On the other hand, though, you definitely want something that actually cleans your dog!
Below, we'll take a look at some of my favorite grooming products that give you the best of both worlds!
First, though, let's talk about what to look for- and what to avoid- while you're shopping.
Our Top Pick
FYI, this post contains affiliate links. If you make a purchase through these links, we earn a small commission at no extra charge to you.
This is going to get a little long before we even get to my favorite recommendations, since we have some "pre-ground" to cover, so to speak.
If you want to skip a few chapters and just grab my top pick, go with Vet's Best Hypo-Allergenic Shampoo for Dogs.
How to choose the best hypoallergenic dog shampoo and conditioner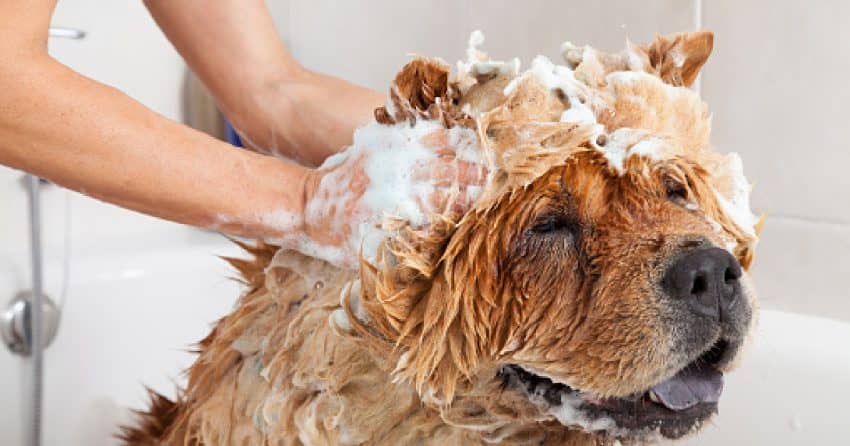 As a dog mom to a pooch with sensitive skin, I spend a lot of time researching the best ingredients in her grooming products.
Since she's a Pharaoh Hound, I have to be very careful with what I use on her.
Her skin is fairly thin compared to other breeds, and her coat is super short, so she doesn't even have enough fur to act as an extra barrier.
The good news? She's one of the few dog breeds that don't really smell, so she doesn't really need baths as often as some of my other dogs did.
The bad? She likes to carry dead worms and other weird things up on our hill and roll in them…and she sleeps with my mom!
So, I need something good for those days when she's rolled in something totally disgusting.
Here's a rundown of what I look for- and what I avoid-on the ingredients label.
Good ingredients to look for
I recommend asking your vet to give you a rundown of the best ingredients for your dog's sensitive skin, as she (or he) knows exactly WHY your dog's skin is so touchy to begin with.
That said, these are the ingredients that I hope to see in a good shampoo or conditioner for my Freya.
Skin-soothers– Coconut oil, shea butter, almond oil or other gentle  emollients.
Gentle cleansers, like castille soap or vegetable glycerin.
Oatmeal, to help soothe rashes and irritations*
Aloe (it's soothing for dry skin)
Vitamin E
Regarding oatmeal- some dogs do have oat allergies. So, I've included shampoos without it on my list below.
I'll accept other ingredients- such as certain essential oils and maybe a natural preservative.
However, I try to avoid super long ingredient lists.
One thing I don't necessarily look for (or, should I say, trust) is the word "hypoallergenic."
There's no US standard for the word when it comes to labeling practices.
Companies don't even have to prove that their product doesn't cause allergic reactions.
So, that word alone isn't necessarily proof that you're buying a good product.
Bad ingredients to avoid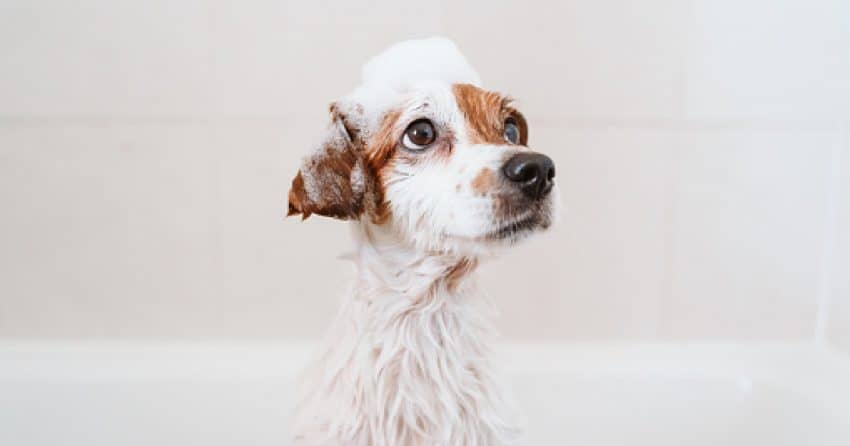 Along with whatever ingredients your vet tells you to avoid, these are on my own personal "no fly" list.
Artificial colors– Artificial colors exist solely for your psychological benefit (humans like pretty colors). They do nothing good for your dog, but they can cause dry skin and other issues.
Perfumes- Your goal here is to get your dog's skin and fur clean, not make him smell like a candy apple. Perfumes are super drying. Skip them.
Artificial preservatives- Again, they're too drying and they can actually cause more harm than good.
Sulfates– These make the shampoo lather, but they can be super drying.
Alcohol– It's too drying for sensitive skin.
Medicated ingredients– Anti-fungals, antibacterials, and pretty much all "medicated" ingredients are best left up to your vet to prescribe.
I also usually avoid products with vague ingredients.
If I see "a proprietary blend…" I run. Sorry, but if you can't tell me exactly what I'm putting on my dog, I'll find someone who can.
If you'd like to learn more about these ingredients to avoid, I love this article by DogsNaturally.
I recommend checking it out, because there is just so much that we didn't go into above.
I want to move onto the reason you're actually here- to get recommendations for the best hypoallergenic dog shampoos and conditioners.
Best Hypoallergenic Dog Shampoos and Conditioners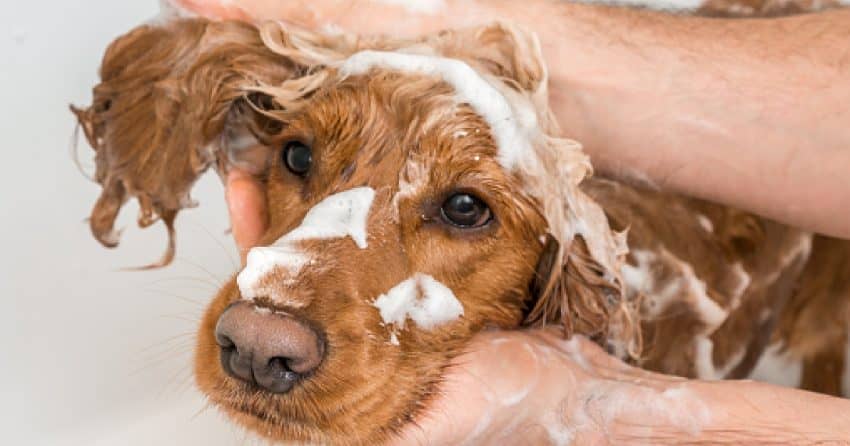 Let's take care of a little business before we dive in. Consider this the "disclaimer" portion of the post, if you will.
First, I really wanted to do some sort of really grand "top 20" best hypoallergenic dog shampoos and conditioners guide for you.
However, if you've read any of my shopping guides, you know I'd rather give you a short list of stellar choices rather than pad out a longer list with subpar options.
During my research for my own dog, I found shampoos on similar lists that sound great, but one look at the ingredients sent me running for the hills.
Also, I research everything like crazy, but I am not a vet or a doggy dermatologist.
So, this is not medical advice. If your vet recommends something different, listen to them.That's just common sense.
Okay, now that we've gotten all of that out of the way, we're ready to check out my top picks.
Use the table below for a quick peek at my favorites from Amazon (all but one), then read on for more details.
Table could not be displayed.
I'm including ingredient lists, since they can be tricky to find sometimes (either on too-small images or buried in the description).
1. Vet's Best Hypo-Allergenic Shampoo for Dogs
Trusted for over 30 years by groomers, vets, and dog owners, Vet's Best is definitely my top pick for a few great reasons.
Let's check out the ingredients (it's a very short list), then we'll look at the pros and cons.
Ingredients
It contains just four ingredients: Aloe vera, Allantoin (a plant-based cleanser), Panthenol (Vitamin B-5), vitamin E
Feature and Pros
Super limited ingredients
Designed by vets
No artificial ingredients
Soap-free shampoo
Use as often as needed without worrying about it drying out your dog's skin.
Won't interact or interfere with other treatments, like flea meds.
Cons
Watery
A few dogs still reacted badly to it
Recommendation
Honestly, most of the very small handful of negative reviews on this product are from people who don't understand the point of a hypoallergenic dog shampoo.
In fact, seeing them actually made me MORE confident in using this product.
Some complain that it doesn't lather. Contrary to what decades of shampoo ads would have you believe, lathering has nothing to do with how well something cleans.
Many of the ingredients that make shampoo lather are also incredibly drying. That's why so many human shampoos are now sulfate-free.
Others complain that it doesn't make their dog smell good.
Thank goodness, because if their dogs did smell like green apple or watermelon crush after using, it would mean the shampoo contained perfumes.
The only true negative is the fact that some dogs still reacted badly to it, but that can happen with literally anything, including plain old water.
2. 4-Legger USDA Certified Organic Dog Shampoo
4-Legger comes highly recommended by veterinarians.
Next to Vet's Best, it's my favorite of all on this list (for once, I actually went in order of preference, if that helps).
Ingredients
Saponified organic oils of coconut, olive, and jojoba, organic aloe vera, organic oatmeal glycerite, organic lavender essential oil, and rosemary extract
Pros
Made with USDA-certified organic oils.
100% non-toxic formula made in small batches.
Vegan ingredients
Reduces dander
NO thickeners or other things added just to make it "prettier."
It's even safe for humans to use!
30-Day money-back guarantee.
Cons
Not tear-free (but as they say, nothing truly is)
Some say it leaves a sticky residue behind.
Some complaints about the scent (it's naturally scented, but still scented).
Recommendation
If you want something with a little more natural scent to it than Vet's Best while still avoiding fake perfumes, this is a great choice.
I opted for this one over their lemongrass/rosemary one because lavender oil is generally considered safer for dogs.
That said, it's not really a scent that everyone loves, hence the "stinky" complaints.
I love the story behind the brand (you can see it on their Amazon listing).
I love when brands include that info, as it shows me that they really care about making a good impression.
Oh, make sure you read the directions! They're absolutely hilarious! "Shake well before use (the bottle, not the dog)."
3. BellezzaNaturaleSkin Solid Dog Shampoo Bars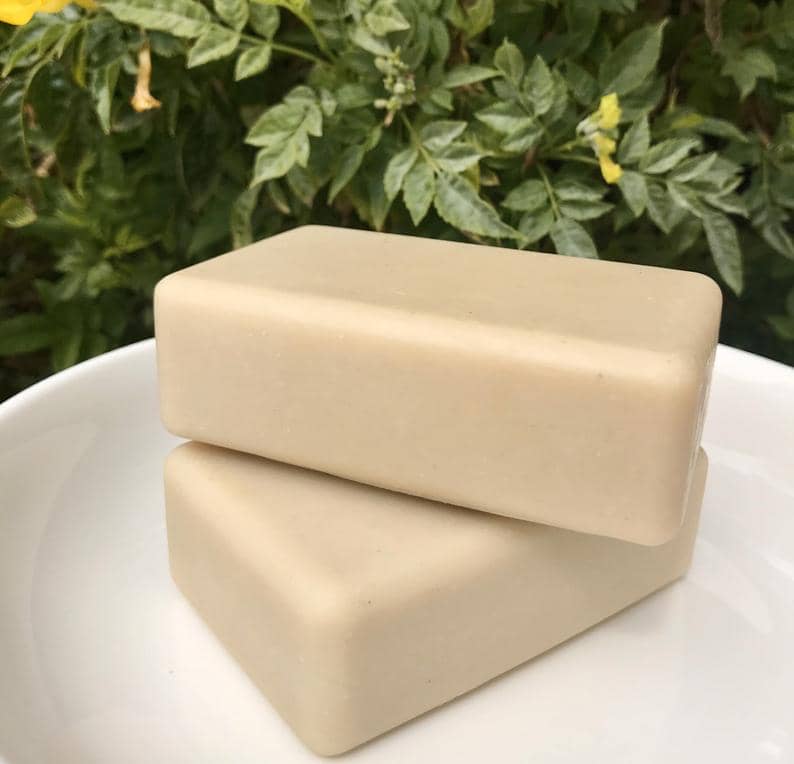 Let's pop on over to Etsy real quick for this next one. Yes a shampoo bar is a bit different than your average dog shampoo, but that's what makes it so special.
Ingredients
Made from 95% olive oil, 5% coconut oil, bentonite clay, honey, hemp and heavy cream in place of water.
Features & Pros
Limited ingredients
Zero waste, so they're more eco-friendly
Lathers nicely even without sulfates
No added fragrance (but may still have a slight scent from the ingredients themselves).
Super gentle on YOUR skin, too!
Backed by a guarantee.
Cons
Slight learning curve if you've never used bar shampoo before.
Shipping costs almost as much as the shampoo itself.
Recommendation
The only real con is this shipping cost ($6.50), which almost doubles your total cost.
However, at $8, the shampoo bar has a very fair price tag for a product like this.
I've paid double that for shampoo bars for my own hair!
While there is a bit of a learning curve if you've never used bar shampoo, it's really not that complicated.
Basically, you'll wet your dog as usual, then rub the bar around on his fur while working the shampoo in with your other hand.
Then, follow your normal routine for giving him a good rub-a-dub, and rinse as usual.
I also recommend checking out the seller's shop for other great products that go well with this.

4. Rocco & Roxie Calm Shampoo
Rocco & Roxie is another popular brand, with over 500 customers giving it a 4.5 star rating.
While their "Soothe" shampoo usually pops up more often as one of the best hypoallergenic dog shampoos, I prefer the ingredients in Calm a little more.
Ingredients
Purified water, gentle surfactant blend (with coconut-based cleanser), glycerin, aloe vera extract, chamomile, rosemary, stabilizer, honey extract
Features & Pros
Natural ingredients.
No dyes, alcohols, phosphates or parabens.
Close to tear-free (remember, nothing is 100% tear-free).
Rinses out easily.
100% money-back guarantee, with excellent customer service.
Soothing aloe vera helps seal in moisture and fight dry skin.
Gentle enough for puppies.
Cons
Not loving the vague "gentle surfactant blend" on the ingredient list
Caused a reaction in a handful of dogs.
Recommendation
There were complaints about how it doesn't leave dogs smelling all freshly perfumed and ready for a hot date (okay, I'm really paraphrasing there).
Again, I take that as a pro rather than a con, as it means they're not going overboard with the essential oils.
A few customers did complain that their dog had a negative reaction to it, but like I said, nothing is 100% hypoallergenic for 100% of dogs.
So, that leaves one true "con" left on the list- the vague "surfactant blend."
While the (with coconut-based cleanser) that follows it soothes my concern a bit, as I said earlier, I'd rather see what that "blend" includes.
Still, Rocco & Roxie has a great reputation for stellar customer service overall, so I allowed it in this case.
5. Moosh Natural Dog Shampoo
If you really want something that smells pretty but still want to avoid harsh chemical perfumes, give Moosh a try.
Ingredients
Aloe Vera Juice*, Saponified Oils of Coconut *, Olive* and Sunflower*, Glycerin (Vegetable), Bentonite Clay, Argan Oil, Guar Gum, Lime Essential Oil, Shea Butter*, Nutmeg Essential Oil, Vetiver Essential Oil, Rosemary Extract, Citric Acid. * = Organic
Features & Pros
100% natural (and mostly organic).
No sulfates, preservatives, or chemicals.
Cruelty-free
Bentonite Clay helps soothe itchy skin.
Argan oil is a SUPER moisturizer.
Eco-friendly
Concentrated formula with a neat reducer in the bottle
Rinses out easily.
Cons
Some may find the scent of all the essential oils overpowering
Guar gum is made from potential allergens
Recommendation 
First, the guar gum. It's typically made from soy, wheat, or corn.
Those often appear on the no-no list when it comes to dog food allergies.
So, if your dog is allergic to any of them, I'd skip this one
Even though the amount used is probably safe and unlikely to cause an issue, I prefer to be over-cautious.
I also do kind of wish they didn't include quite so many essential oils.
While I love using them for myself, again, I'm a worrywart when it comes to Freya.
That said, I do like the combination that they use. I think it smells nice. You, however, may not.
Everyone has different opinions when it comes to scents.
Beyond the essential oils, I love the combination of regular oils and butters that they use.
Argan is particularly amazing. I use it on my own dry hair and skin.
 6. Pure and Natural Pet Organic Conditioner
Pure and Natural Pet Organic Conditioner is an AKC-recommended brand made from 100% organic ingredients.
Ingredients
Organic aloe water, organic glycerin, organic calendula oil, organic jojoba oil, organic oatmeal extract, xanthan gum
Features & Pros
Fragrance-free
Crafted with food-grade ingredients
Doesn't interfere with topical flea treatments
No chemicals or dyes
Cruelty-free and eco-friendly
Leaves dog's coat shiny and soft.
Cons
The Xanthan gum could cause reaction depending on its source.
Very few ratings on Amazon (only 11 as of today)
Recommendation 
Many of the shampoos above contain ingredients that also help condition your dog's fur.
However, if you want a dedicated conditioner, this is a great choice.
The only potentially worrisome ingredient is the xanthan gum, which is basically the same thing as guar gum.
The lack of reviews on Amazon bother me a little, but it could just be that the brand is fairly new to the retailer.
AKC's endorsement does give me more confidence.
7. Burt's Bees for Dogs Care Plus Conditioner*
I'm including this one last because I'm really on the fence about it, hence the little star at the end of the title.
On the one hand, it's highly rated and recommended by friends who have dogs with sensitive skin.
On the other hand, there are a couple of ingredients that are on my "no fly/no buy" list.
Let's take a look at them, then we'll do the pros and cons.
Ingredients
Note-I stripped out the Latin names for the ingredients to make it easier to follow.
Water, Cetyl Alcohol, Lecithin, Glycerin, Xanthan Gum, Coconut Extract, Coconut Oil, Oat Kernel Flour, Beeswax, Honey, Potassium Sorbate, Phenoxyethanol, Citric Acid, Decyl Glucoside 
Features and Pros
Highly rated
No colorants
Sulfate-free
No added fragrances
pH-balanced for dogs
Cruelty-free
 Cons
Contains alcohol, which is drying.
Reviews are tricky, since they're for multiple products on one listing.
Some say their dog hated the scent.
Recommendation 
The alcohol content really bothers me (it's the 2nd ingredient, meaning the only thing this has more of is water).
However, some of the other ingredients should help balance it out.
FYI, I double-checked all of those ingredients, and the scarier-sounding ones do all occur naturally.
I really wish brands like this would use separate listings for completely different products.
As another customer pointed out, it's hard to figure out which of the 1,800+ pertain to THIS conditioner.
For example, some say their dog hated the scent, but that could be a comment on another item in the listing entirely.
Even with all of my worries, though, I've always had good experiences with Burt's Bees.
I've even used one of their older shampoos (I can't find it now) on my dogs in the past.
Final Recommendation
Wow, this ended up being a lot longer than I thought it would!
Good thing I gave you my top pick early on, right?
While that's still my #1 pick hands-down, #2 and #3 on the list are tied for second place.
To refresh your memory, those are: 4-Legger from Amazon and the shampoo bar from Etsy.
Like I said somewhere up there about a billion paragraphs ago, this list is actually in order of preference.
So, if those don't do it for you, continue down the line until you find one that you like.
Do you have any other picks for the best hypoallergenic dog shampoo and conditioner? Share below!
Last update on 2023-05-30 / Affiliate links / Images from Amazon Product Advertising API