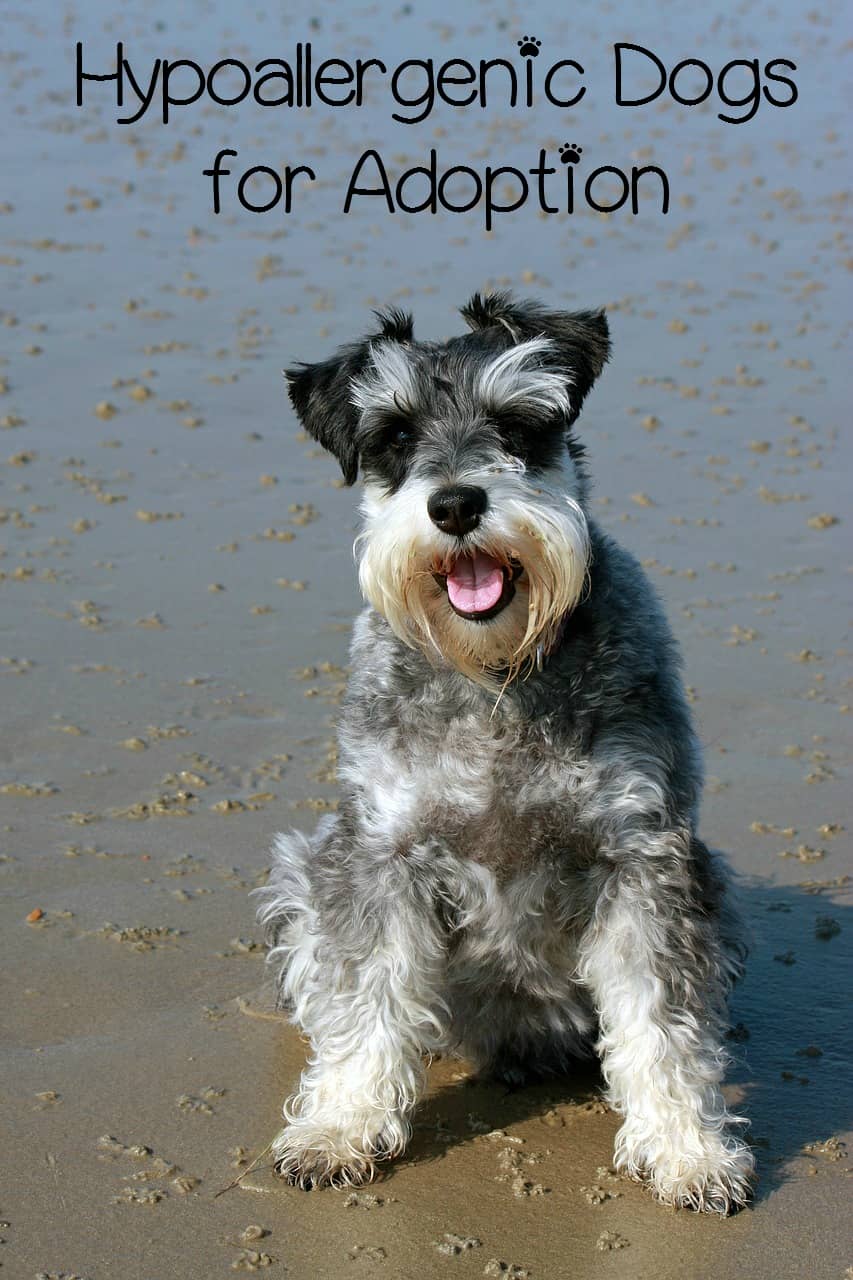 Finding hypoallergenic dogs for adoption isn't as hard you might think, especially if you know which dog breeds fall under the category!
Trust me, there's an allergy-friendly dog out there just waiting to join your family.
We'll help you find him! Let's talk about the different types of hypoallergenic dog breeds, where to find them for adoption, and some of the things you need to take into consideration as you choose your new family friend.
Types of Hypoallergenic Dogs for Adoption
Let's start with the basics, shall we? After all, you can't really go out looking for hypoallergenic dogs for adoption if you don't know which dogs will keep your allergies from acting up!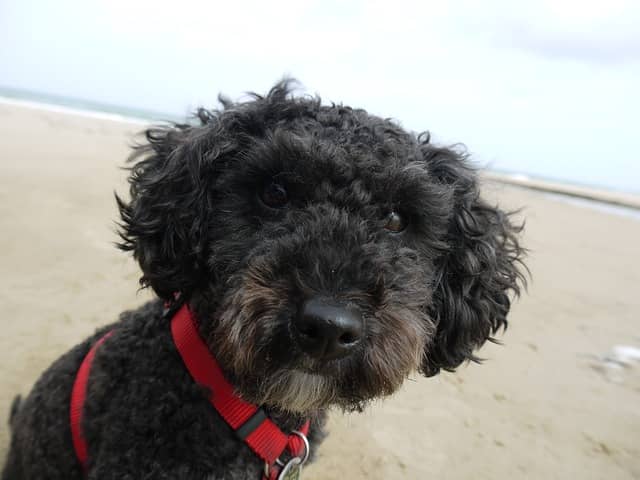 Great news, allergy sufferers: there are actually dozens of allergy-friendly dog breeds out there to choose from!

While this isn't quite a complete list of hypoallergenic dog breeds, it's a good starting point.
All of these dogs either have real hair (versus fur), no hair, or just don't shed enough to be a major problem.
Mexican Hairless Dog
Bouvier des Flanders
Miniature Bull Terrier
Wire Fox Terrier
Soft-coated Wheaten Terrier
Polish Lowland Sheepdog
Norfolk Terrier
Tibetan Terrier
Puli, Pulik
Lowchen
Bichon Frise
Kerry Blue Terrier
Cesky Terrier
Airedale Terrier
Scottish Terrier
Standard Schnauzer
Peruvian Inca Orchid
Maltese – this little guy is one of the best apartment dogs, FYI!
Sealyham Terrier
Irish Water Spaniel
Norwich Terrier
Dandie Dinmont Terrier
You'll notice that there are quite a few terriers on the list!
You might also notice that most of the hypoallergenic dogs for adoption fall into the small breed category. If you're looking for a large breed allergy-friendly pooch, your options are a bit narrower. Read this article if you are curious about  hypoallergenic mixed breed dogs.
On the plus side, at least your choices aren't quite so overwhelming!
Related: Are Tibetan Terriers Hypoallergenic?
Where to find Hypoallergenic dogs for adoption
Now that we have an idea of which dogs are least likely to aggravate your allergies, it's time to start looking!
You have a few options for finding hypoallergenic dogs for adoption. I always suggest starting with your local animal shelter.
Yes, even if you're searching for a pure breed. You'd be surprised by how many people surrender dogs of all breeds.
Local Rescue Groups
If your local shelter doesn't have the perfect dog for your family, your next search should be local rescue groups.
They're a little different from shelters because the dogs are often fostered by members of the organization. Finding them takes a smidge more legwork.
Start with your favorite search engine by typing in "dog rescue groups near me" or "dog rescue groups + [your zip code].
Facebook is another excellent resource for finding local groups. Many organizations don't have the time, tech experience, or budget to maintain a website, so they share their news and dogs up for adoption in Facebook group.
Breed-specific rescue groups
Know exactly what dog breed you want to adopt?
Try searching for the breed name and your zip code. For example, if you've done your research and just know that the Lagotto Romagnolo is the dog for you, search "Lagotto Romagnolo rescue 44444" Obviously, change the 4s to your own zip code.
Many groups specialize in a specific breed.
Not only can they help you find hypoallergenic dogs to adopt but they can also fill you in on your chosen breed's specific needs.
Breeders
If these adoption tips fail to help you find your perfect dog, there is a final option: buying from a breeder.
Now, typically I'd tell you to "adopt, don't shop," but when you have such specific health-related requirements and you desperately want a dog asap, sometimes it's the only option.
Again, please exhaust all your rescue options first, and make sure you find a responsible breeder.
Regardless of which method you choose, it's a good idea to go alone (or with your significant other) to meet your potential dog. You need to get an idea of the dog's energy and see if you feel a connection before bringing along your kids.
It's hard enough saying "no" to a sweet furry face just waiting for a forever home, let alone telling your kids this isn't the one after they've already seen him. Once you've decided on the perfect dog, then you'll want to bring your kids to meet him and test their chemistry together.
Things to consider as you choose your new furry friend
So, you've narrowed down your choices of hypoallergenic dogs to adopt and you've found a few places that might just have the dog of your dreams.
Before you rush out and sign the adoption papers, there are a few things you'll want to consider.
Did you do your research?
Once you've decided on a breed, it's vital to do a bit of research before you rush out and adopt one. Head to breed-specific group boards on Facebook vs. sites like the AKC for a fuller picture of what to expect.
Don't get me wrong, the AKC is a great resource for breed standard information, but if you want to know exactly how a breed behaves, you're better off talking to actual owners.
 Is this the right dog for your space?
Think about your home and yard. Do you have enough space for your new family friend?
If room is a bit tight, you'll want to consider one of the best apartment dogs instead of, say, a pooch that needs a lot of running room.
Are you prepared to train a puppy?
Puppies are adorable, but they're also a HUGE time investment!
If you feel like you're ready to take on the responsibility of a furry toddler, then by all means, go for it.
On the other hand, if you work longer hours, don't feel like you can deal with tiny (but sharp!) teeth tearing through all your treasured possessions, or cringe at the thought of spending most of the early days teaching your pooch not to pee on your carpet, then an older dog may be the way to go!
Keep in mind that even if you adopt an older dog, you'll still have to give him a refresher course on the basics, especially if he's spent a lot of time in a kennel.
Can you afford this breed?
I don't just mean the adoption fees!
The cost of raising a dog from puppyhood through his senior days varies depending on the breed.
Smaller dogs, for example, aren't quite as costly to feed as large breeds. Their supplies are also a bit cheaper. Look up the cost of a small crate vs. a large one, small dog toys vs. large breed toys, etc. Trust me, there's a huge difference.
You'll also want to consider potential health issues with the breed and factor that into overall vet bills. Sure, your dog may never develop those issues, but it's better to consider the cost now than get blindsided with massive bills later on.
When it comes to finding hypoallergenic dogs for adoption, the easy part is actually finding the dog!
There are so, so, so many allergy-friendly pups out there just waiting for you to bring them home. As you can see, the hardest part is deciding which breed is just right for your family. Take your time and do your research, and you'll find your new furry family friend in no time!
Do you have any other tips for finding hypoallergenic dogs for adoption? Did you adopt one of the dogs on our list? Tell us your tips and stories below!