Tis' the season for Mistletoe, tinsel and Holly, right?
Not so fast if you have a pooch! Before you start decking the halls, check out these must-read Christmas safety tips for your dog.
Just so you know that I'm not standing on my high and mighty soapbox, I have a tale (or tail!) for you!
Two years ago, my dog Cooper ate two pounds of chocolate chips! This is one time his large size came in handy, as he didn't seem terribly affected by it.
We were lucky, a smaller dog could have died!
So now I carefully follow these Christmas safety tips for dogs too!
Christmas Safety Tips for Your Dog
From using dog-safe decor to nixing toxic holiday plants and more, these are the most important things to keep your dog safe all season long.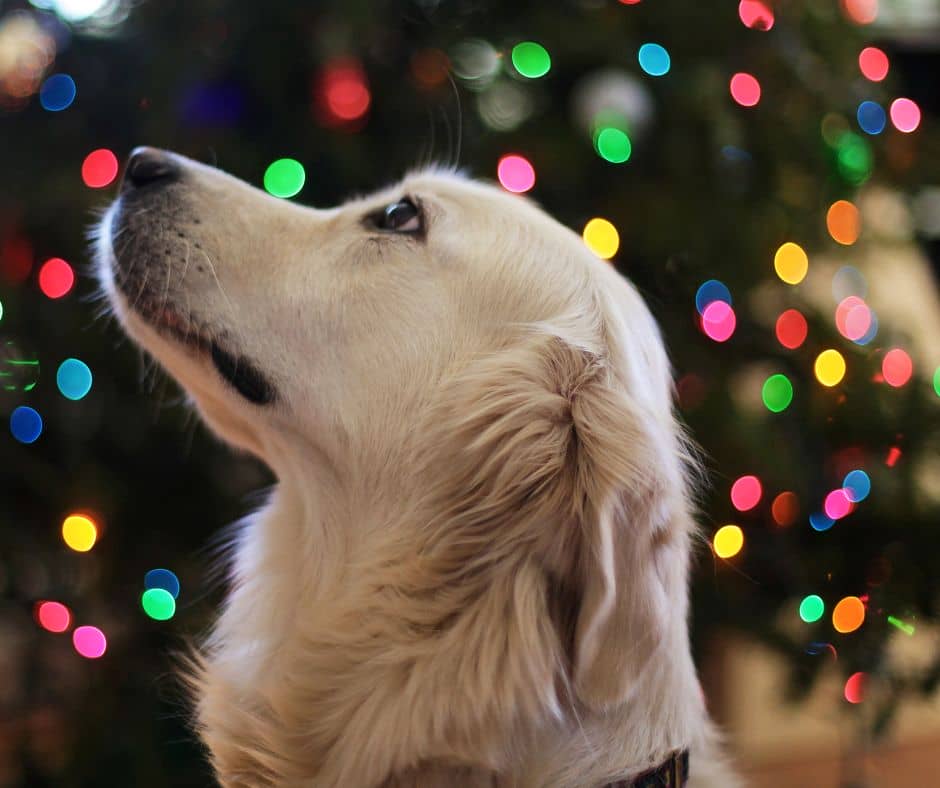 1. Go Faux on the Mistletoe and Holly
They may be pretty, but these plants- along with poinsettias, and ivy – are incredibly harmful to your pooch. At best, they'll cause nausea, vomiting, and diarrhea if your dog happens to eat them. Worst case scenario? Heart failure. Death. Devastation.
The fake versions are just as pretty. Plus you don't have to remember to water them!
Check out our list of 27 plants that are toxic to dogs for more flowers and shrubs to avoid. Most of them are spring and summer blooms, but it's still a good read for the holiday season, too.
2. Keep tasty human treats WAY out of reach!
This is probably one of my most important Christmas safety tips for dogs because I've lived it.
As I mentioned above, our dog Cooper managed to steal a huge bag of chocolate chips from the counter. Mind you, they were pushed back on the counter, where we thought they were out of reach.
Never underestimate your dog's tenacity for getting those tasty- yet potentially deadly- morsels! The worst offenders aside (aside from dark chocolate) include:
grapes
raisins
macadamia nuts
anything with xylitol (mostly found in sugar-free gum, candies, and certain peanut butter)
Stick them up in a cabinet or secure them in the fridge. Even the smartest dogs have a hard time with cabinet doors! When the cookies, fudge, and other yummy foods that dogs can't eat are baked, make sure they're put away too.
It's not just sweet treats that you need to watch out for, either. Here are a few more to pay close attention to:
Onions
Salt (too much is super bad for your dog)
Turkey bones (or any cooked bones, really)
Garlic
Be sure to remind your holiday guests to refrain from feeding your dog table scraps. Even if they're only giving him dog-safe food, chances are he'll end up overeating and at the very least end up with stomach upset.
3. Skip the tinsel
Tinsel may look pretty dangling from your tree like icicles, but it's a choking hazard that can be incredibly dangerous when ingested.
It's not poisonous, but it can cut your pup's intestinal tract and/or cause blockages. It can also get wrapped up in the stomach, throat, or other parts of the digestive system.
While your dog isn't going to go looking for tinsel to eat, if you've ever used the stuff, you know how it gets EVERYWHERE. Somehow, it will end up in your dog's stomach.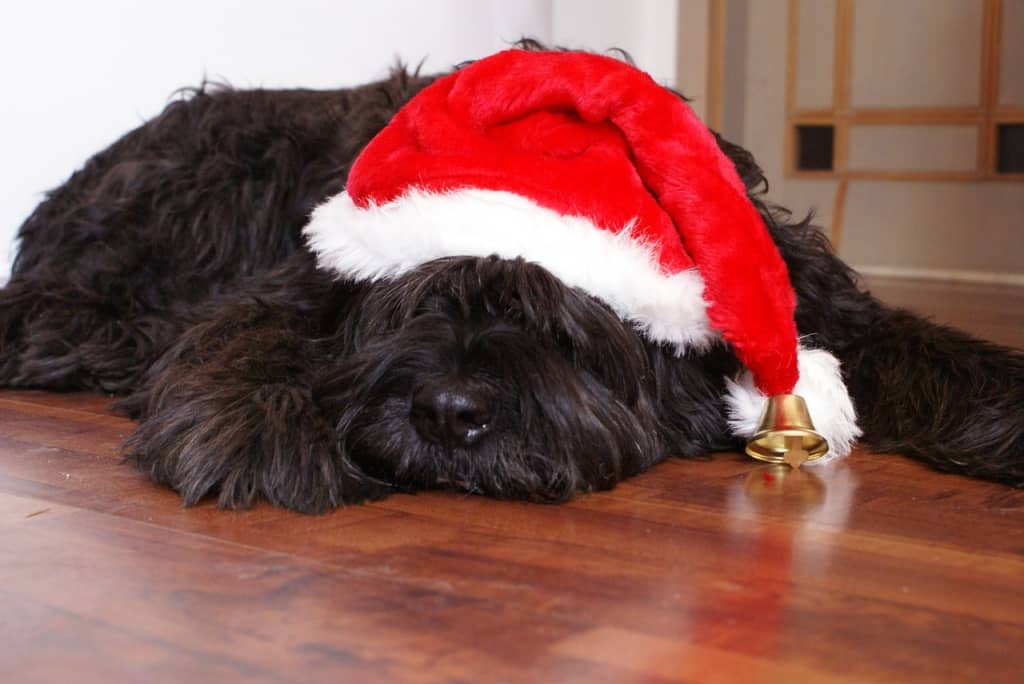 4. Let's talk about that tree!
Oh, where to start with the Christmas tree? SO many dangers!
How about with the ornaments? That precious glass bulb from your great-great-grandmother? Stick it somewhere in the middle on a super strong branch, double-hooked. Basically, bolt it to the tree.
In fact, put all your "good" ornaments towards the upper middle. Not at the top of those weak branches. Definitely NOT at the bottom where Spot can take them off. Think about it, those ornaments look a lot like his favorite ball!
However you choose to decorate, make sure you anchor your tree to the wall so Spot doesn't knock it over. Fishing line is great for this! Just make sure you keep the leftover line away from your dog. Like tinsel, it can cause a wide range of problems.
You'll also need to make sure you secure your Christmas tree lights really well and put the electrical cords behind the tree where Fido can't really get to them.
If you have a puppy that's still big on chewing, I recommend going the extra mile and blocking your tree off completely using baby gates. Yeah, I know, it's not as pretty, but would you rather have gorgeous holiday decor or a safe puppy?
One more thing about the tree: you CAN NOT get mad at your boy dog for mistaking it for the outdoors, if you catch my drift. He's been potty trained to go outside and pee on trees. You brought him a tree indoors. As far as he's concerned, you're very considerate for thinking of him during the cold season by giving him an indoor bathroom.
Cooper fortunately never peed on the trees (until my brother's dog did on Christmas Eve and he was forced to reclaim his territory), but he did leave other unfortunate packages under them.
Correct the behavior, but don't mistake it for an act of defiance.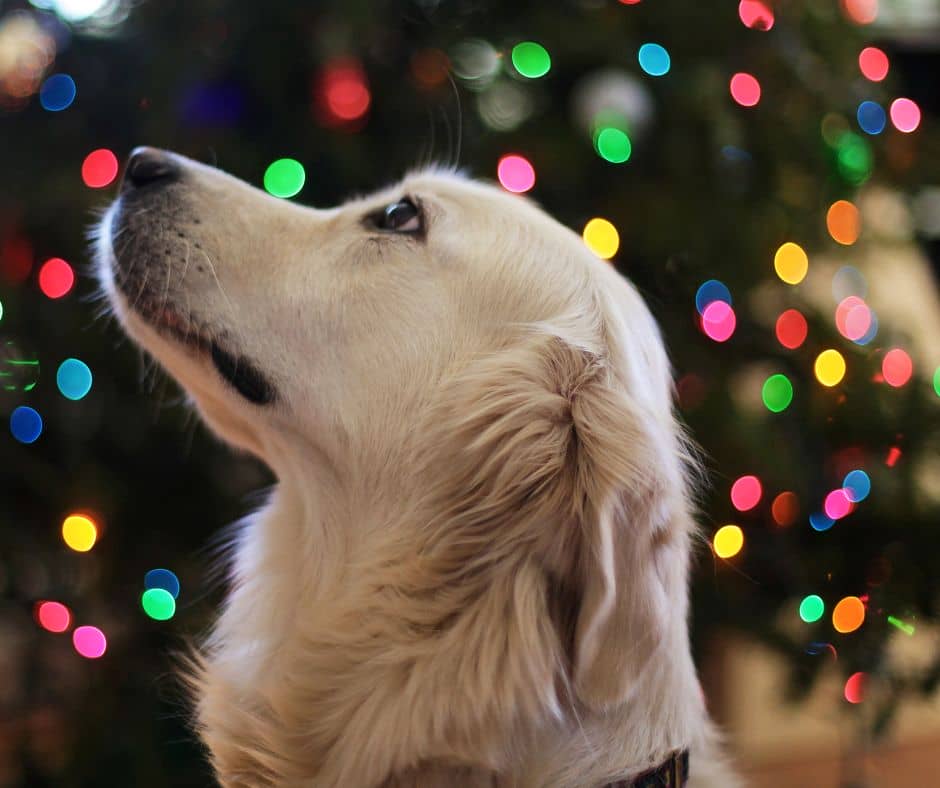 5. Other Holiday Dangers to Avoid
While the above dangers are definitely the biggest, they're far from the only things you have to worry about during the holidays. Let's quickly run down a few more big "watch out for" items.
Toys- Plush toys especially, since they look like your dog's own toys. Button eyes, beanbag filling, and so on can turn these plushies into major choking hazards.
Batteries – HIGHLY toxic if swallowed, not to mention the significant likelihood that they'll cause intestinal blockage.
Pine needles- sharp pine needles that fall off your tree, wreaths, and so on can cause stomach upset and intestinal problems.
Candles (including on your menorah)- Keep them high up out of Fido's reach.
Christmas gifts- bag up all of that wrapping paper and ribbon as you open gifts.
Nothing ruins a holiday faster than rushing your dog to the veterinarian for emergency surgery! These Christmas safety tips for your dog will help make sure your beloved furry family members enjoy the holidays as much as you do! Holidays are for family, and our pets are definitely a huge part of that!
Can you think of any Christmas safety tips for your dog that I missed? Please tell us in the comments!