Are you looking to buy one of the best handmade dog bed for your favorite friend?
This article has you covered.
I'll discuss what makes up a top-tier handmade bed.
Then, I'll review five of my favorite options to offer an idea of what's available.
Each discussion will make it clear what separates a top handmade dog bed from a subpar one.
You may also like: Top 5 Best Personalized Dog Beds
Our Top Pick
FYI, this post contains affiliate links. If you make a purchase through these links, we earn a small commission at no extra charge to you.
If you don't have time to read our whole article, choose the PetPatio Washable Orthopedic Dog Bed.
It features everything a person could possibly want in a handmade dog bed.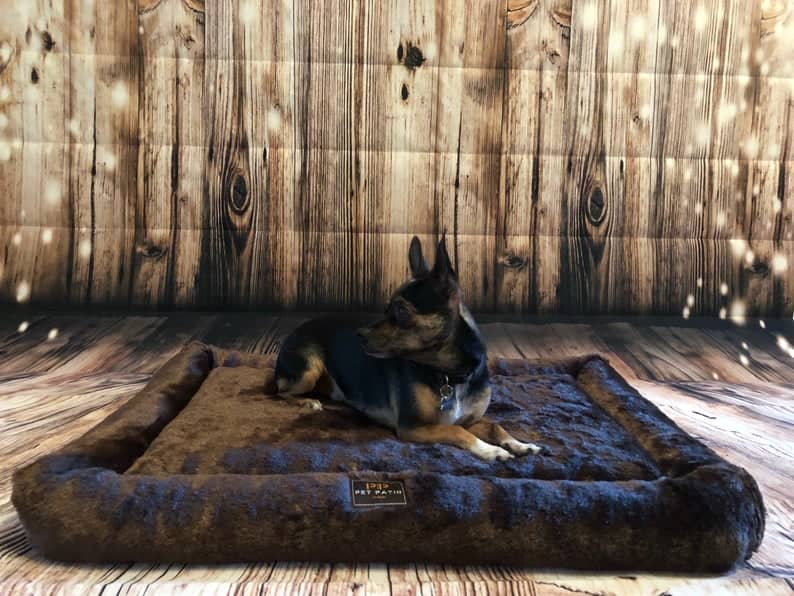 Features of the Best Handmade Dog Beds
The most prominent feature would be comfortable material.
You want a handmade bed made from something that your dog will enjoy sleeping on. Otherwise, there's no point in getting one.
Look for options filled with soft materials like memory or cotton foam.
Both of these foams shouldn't have any issues providing a great deal of comfort.
Look for durability
It's crucial to ensure these products are capable of lasting a long time.
These beds should be tear-resistant for chewing issues and waterproof to deal with doggy accidents.
I'd suggest getting a handmade bed capable of being machine washed, as well.
This aspect will make dealing with those accidents a much easier endeavor.
Stick to your budget
Lastly, it's important to make sure the bed doesn't cost an outrageous amount of money.
These beds may be handmade, but they aren't high-end art pieces.
So please, stick to a budget and get something affordable.
Let's move onto some examples of handmade dog beds, which fit these criteria.
The Best 5 Handmade Dog Beds
Let's head to Etsy and take a look at the best handmade dog beds!
Use the table below for a quick peek, then read on for full reviews.
Prices are rounded up and accurate as of today.
1. PetPatio Washable Orthopedic Dog Bed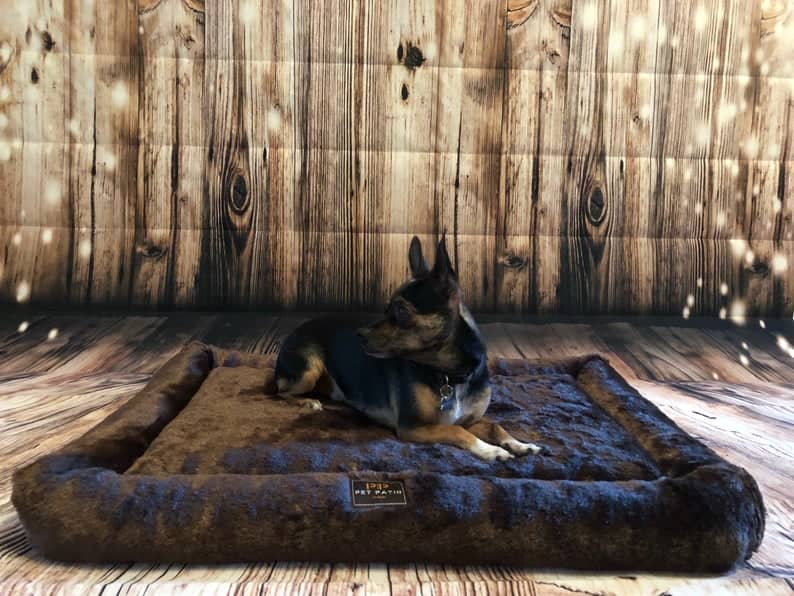 The first option is a bed designed for relieving pressure on a dog's joints.
It's an aspect that makes it ideally suited for an older or recovering dog.
Honestly, I could see my large Pit Bull enjoy this model quite a bit with its soothing qualities.
Features:
Five size options: XS, S, M, L, and XL
Eight color choices: Silver, Brown, Blue Triangles, Brown Triangles, Grey, Digital Blue, Digital Brown, and Pearl
Made with pure polyester fiber
Filled with egg crate orthopedic foam
Environmentally friendly materials
Pros:
Machine washable
Relieves pressure on a dog's joints
Comfy and soft
Usable with any breed
Durable
Affordable
Cons:
Final Verdict:
Aside from its joint relieving abilities, buyers should find it being machine washable and durability appealing.
Both these features will make your life as a dog owner much easier.
However, I do have to say this model's slightly one-dimensional as it doesn't feature a headrest or pillow top.
It's not a deal-breaker, but a bed with this feature would suit my dog's needs better.
2. FiresideHound Waxed Canvas Dog Bed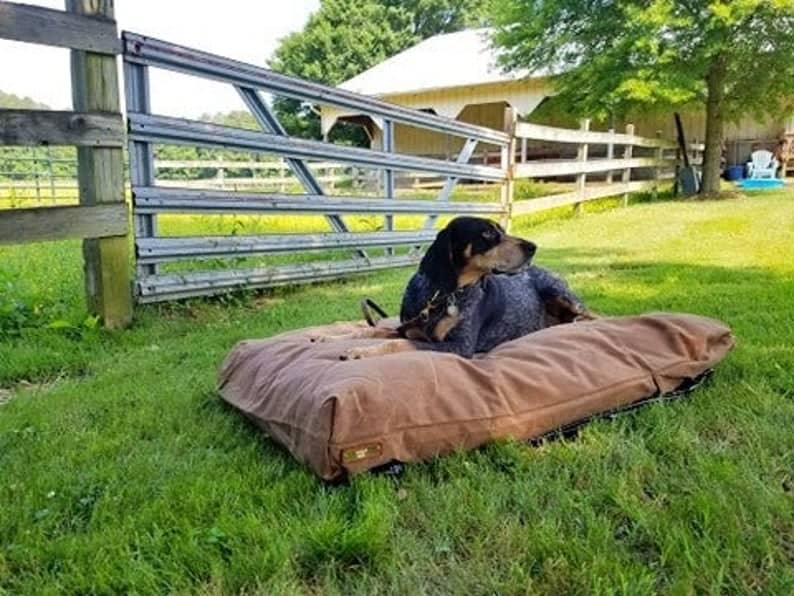 Buyers looking for something with top-tier durability will love this model.
Its tear and puncture-resistant design will stand up to even the worst chewers.
My Beagle couldn't get through this bed's material and he tears apart everything.
Features:
Four size options: Small, Medium, Large, and Extra Large
Five color choices: Charcoal, Olive, Nutmeg, Cream, and Flax
Made in the USA
Removable cover
Filled with wool
Cotton exterior
Pros:
Tear and puncture-resistant
Durable construction
Comfortable
Ideal for any breed size
Machine washable
Cons:
Final Verdict:
Its durable construction and soft filling make this model an intriguing option.
I do have to say the price tag is rather high, though.
People looking for a bargain would do better looking anywhere else.
But anyone wanting to buy the best option without considering the price should keep this one in mind.
3. HomebyDesignDua Handmade Dog Bed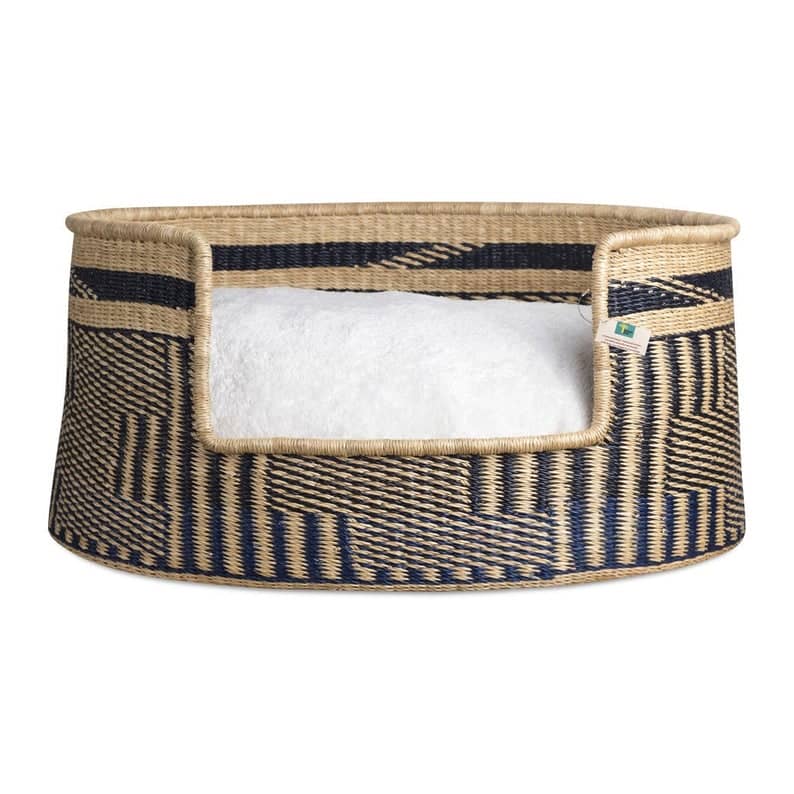 Small and medium breed owners should perk up when seeing this option.
Its basket design, which is capable of providing a coziness that most other models can't match.
Chihuahuas would love this dog bed and claim it as their throne.
Features:
Three size options: Small, Medium, and Large
Two color choices: Midnight and Midnight & Blue
Features basket made from all-natural elephant grass and dyes
Stuffed with shredded cotton/polyester foam
Made in USA
Pros:
Easy to clean
Can adjust foam density
Beautiful design
Perfect for small or medium breeds
Includes a comfortable cushion
Cons:
Isn't ideal for large breeds
Final Verdict:
HomebyDesignDua's Handmade Dog Bed has no flaws besides not being able to meet a larger dog's needs.
Its design, easy cleaning process, and versatility are ideally suited for being the ultimate dog bed.
I don't know what more a dog owner could want.
4. Calming Nesting Dog Bed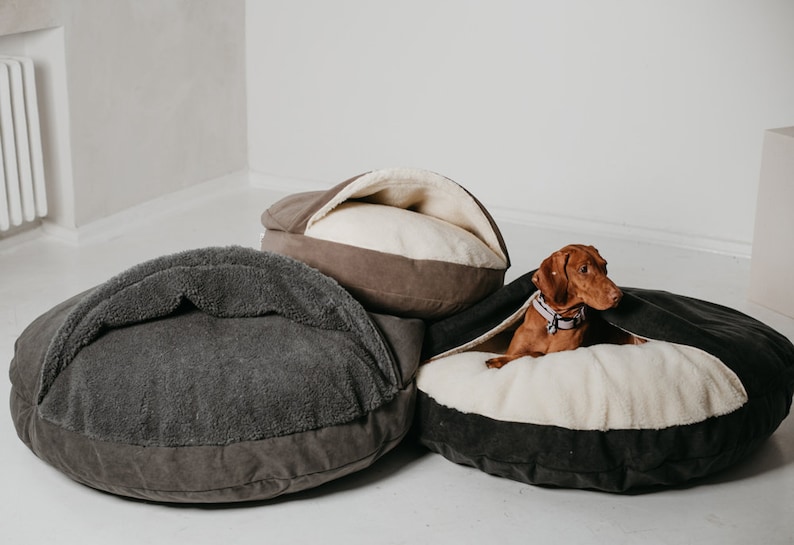 Do you have a dog who loves curling up in a confined space? TwoVizslas snuggly nesting dog bed (also called a cave bed) is an excellent option for them!
Features:
4 sizes ranging from XS to XL
8 color options
Made from hypoallergenic cotton, sherpa and siliconized polyester
Pros:
Machine washable
Cozy and comfortable
Perfect sizes for small and medium breeds
Cons:
Made outside the USA
Expensive shipping. Depending on where you live, it could actually double the price of the bed.
Final Verdict:
I love this product's cave design, machine washable cover, and affordable price. These qualities make it a hard combo to beat.
But I'm a little concerned about it shipping from outside the USA. This issue means a longer wait for arrival, and I would want the bed right away. Plus, it adds A LOT to the overall cost
Related: 10 Best Canopy Dog Beds for Outdoor Use
5. 2LazyLabs The Hardwick Mattress Style Pet Bed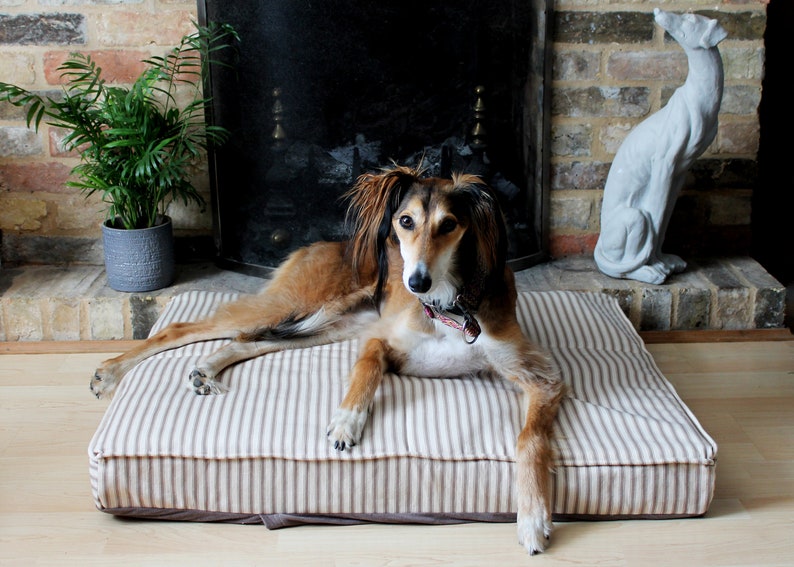 Dog owners looking for a traditional dog bed should look at 2LazyLabs The Hardwick Mattress Style Pet Bed.
It features an elegant exterior design and durable overall construction.
The bed should have no issue fitting into your home interior decor and lasting a long time.
Features:
Four size options: S, M, L, and XL
Five color choices: Blue, Black, Grey, Red, Taupe
Thick, fire-resistant wadding
Detached, washable cover
Faux suede bottom
Pros:
Durable construction
Comfortable
Size options for all breeds
Elegant exterior design
Machine washable cover
Easy to move
Cons:
Some customers reported delivery issues
Made outside the US
Final Verdict:
Our last product is among the most versatile on this list, with its many colors and size choices.
The durable design, machine washable cover, and being easy to transport don't hurt, either.
But people did report longer waits for arrival than with other models. This issue likely comes from it being made and shipped from outside the states.
Related: Top 10 Best Dog Beds for a Great Pyrenees (with Reviews)
Final Recommendation
Each of these handmade dog beds would be fine choices.
Buying any of them would no doubt, bring your dog a great deal of joy.
But I have to suggest going with the PetPatio Washable Orthopedic Dog Bed.
It hits the mark on everything that makes a handmade dog bed great.
What are your favorite handmade dog beds? Share below!