If you're looking for a complete Veehoo Cooling Elevated dog bed review to decide if it's right for your pup, I've got you covered.
Some elevated dog beds cost upwards of $300+, so when you find one under $50, it's easy to think "is it really worth it?"
I've been trying it out with my own dog for about a month now and feel ready to give you a complete overview.
Keep reading for the features, pros and cons of the Veehoo dog bed.
What is the Veehoo Cooling Elevated Dog Bed?
Before we get into our Veehoo Cooling Elevated dog bed review, I need to let you know that Veehoo sent us a complimentary bed to check out.
This post also uses affiliate links. If you buy through them, we earn a small commission.
That said, all opinions are still my own. I put it through the same paces that I put all dog products that I buy on my own through, I promise.
Now, let's get going, starting with a very simple question: What exactly is the Veehoo Cooling Elevated Dog Bed?
I'll answer that by discussing the basic features.
Basic features of the Veehoo Dog Bed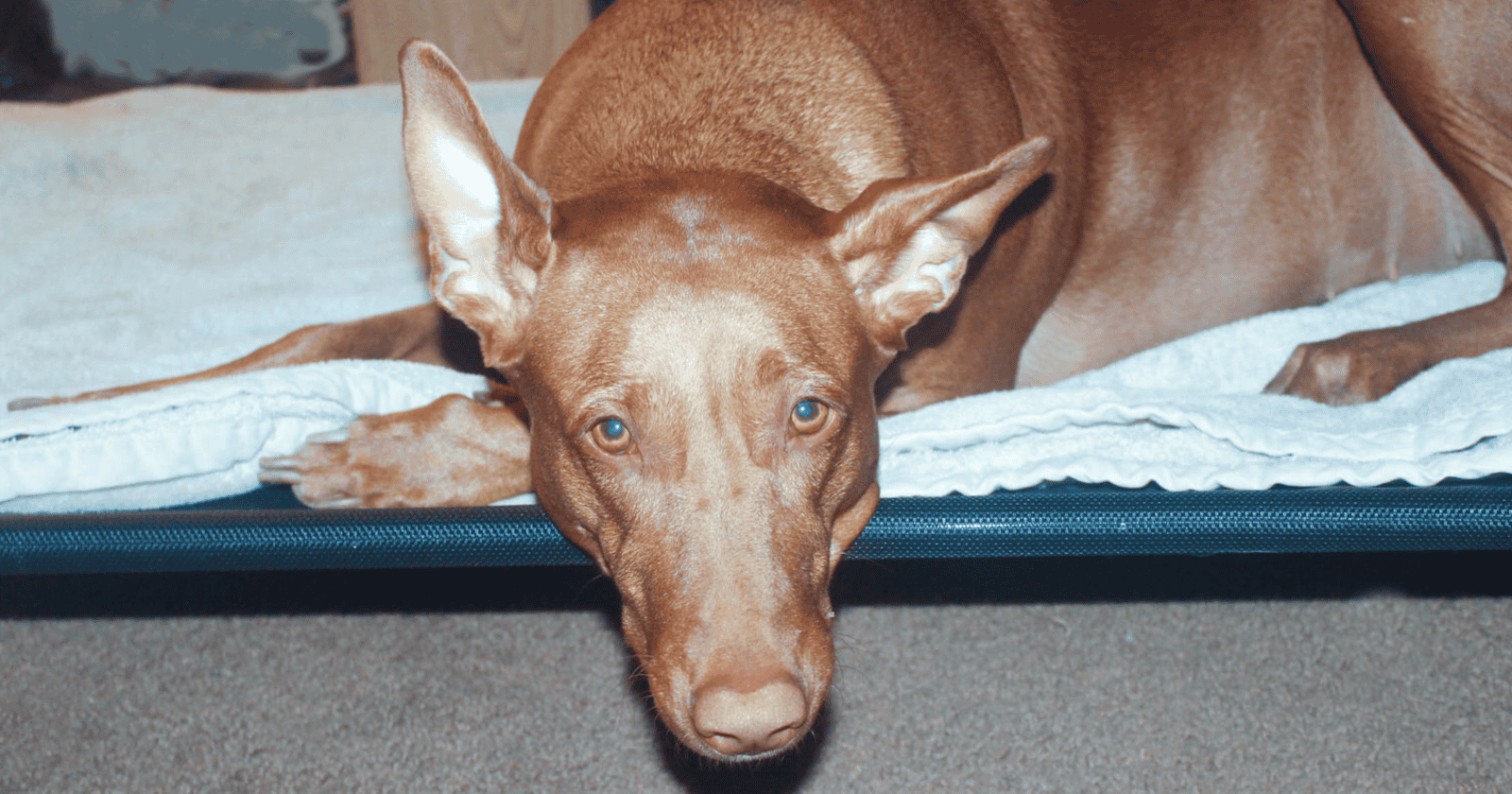 Like most elevated dog beds, the Veehoo has two basic components: the frame and the cot.
The frame is what elevates the bed, and the cot is what your dog sleeps on. I know, that's pretty obvious, but I figured it's worth mentioning.
The bed comes in three sizes from M to XL and up to 7 colors (availability depends on size).
Let's look at the basic features of the XL bed (the one I have), shall we?
Frame is made from powder-coated steel with non-skid rubber feet.
Cot features breathable, waterproof and heat-resistant Textilene Mesh
When assembled, the cot sits about 9″ off the ground and holds up to 150 pounds.
Assembles quickly and without tools.
Okay, now that we're all on the same page (literally) as to what the Veehoo dog bed is, let's take a look at my review.
Complete Veehoo Cooling Elevated Dog Bed Review
I tested the Veehoo dog bed out with my 3-year-old Pharaoh Hound, Freya.
She usually naps nestled in blankets on the sofa (like the one below), but prefers elevated beds during the summer, although she still demands her blanky.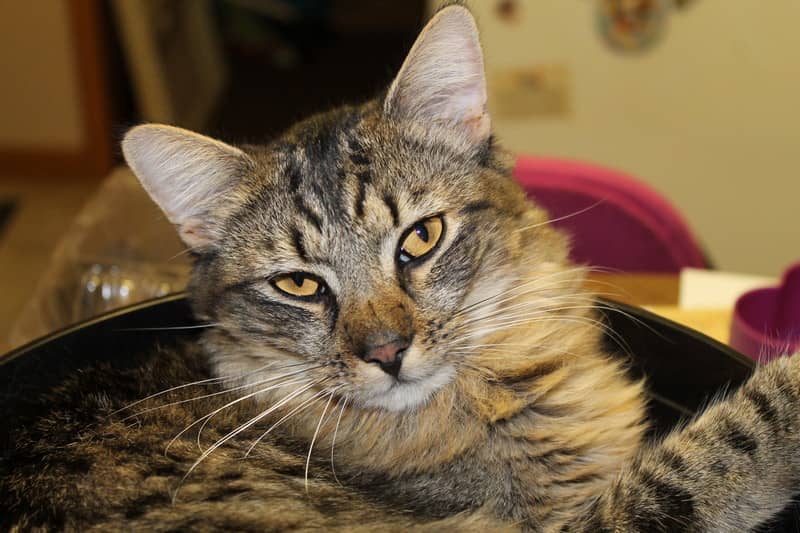 Right now, she has another elevated dog bed out on our deck.
She likes to lay out there on summer nights.
Since it's just feet from our living room sofa (but separated by a screen door), she can easily see what's going on inside while keeping cool.
However, she also likes to lay inside, especially during the day.
So, I needed something that wasn't terribly bulky, since we don't have a whole lot of extra space.
The Veehoo is just the right size, both for Freya and for the space in front of my TV where I needed to put it.
Let's start with the pros, then we'll take a look at the few drawbacks.
Veehoo Dog Bed Pros
Take a look at the pros and cons at a glance, then I'll tell you a bit more about them.
Lightweight and easy to move
Holds up to 150 pounds
Mesh fabric allows for plenty of breathability
Waterproof material
Relatively easy assembly
Affordable
Easy to clean
Roomy enough for a leggy dog
Cons
One tricky part to assemble
Not chew-proof
Plastic corners
Detailed pros and cons
As you can see, there are far more pros than cons to the Veehoo dog bed.
A high weight limit compared to similarly priced beds
The weight limit is one of the biggest pros of the Veehoo compared to the other similarly priced elevated bed that I have.
While my Chewy-brand one only holds up to 80lbs, the Veehoo holds a whopping 150 lbs.
While Freya doesn't even exceed the 80lb limit on the other one, I like a bit more wiggle room.
It's comforting to know that if my son decides to sit on it (because he's a teenager and they do random things without thinking), it won't fall apart.
Breathable, heat-resistant and waterproof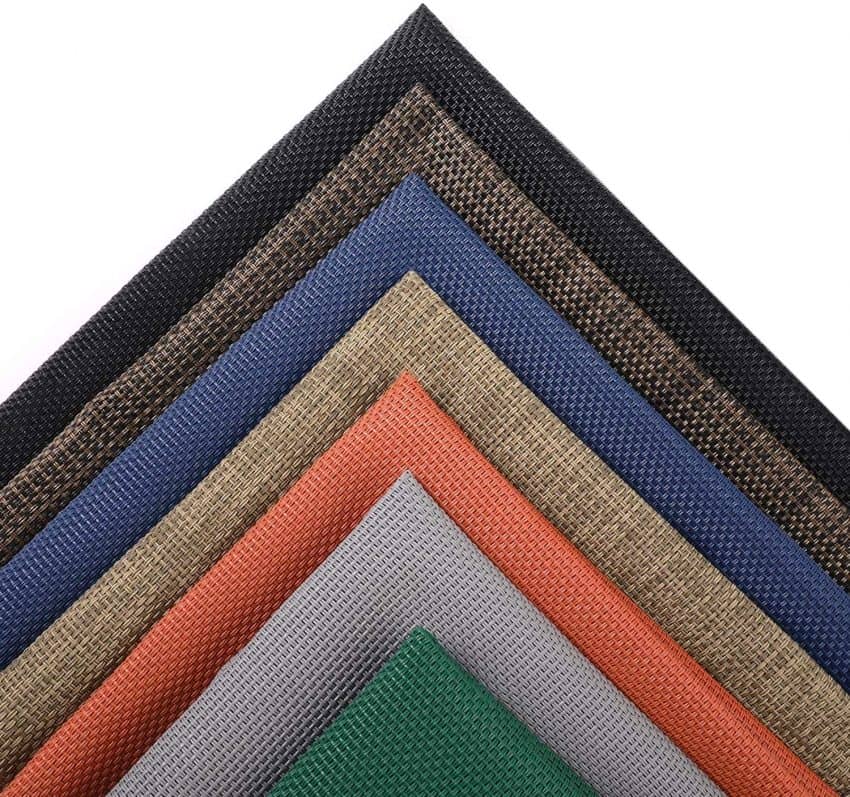 Although I currently have this one indoors, I like knowing that I can put it outside if I want.
Beyond the potential for outdoor use, it also means that if we spill something on it, it'll be just fine.
Likewise, if you have an elderly dog or puppy prone to accidents, it won't get ruined.
Since the mesh fabric is waterproof, it's also extremely easy to clean. Just wipe it down and go!
Mostly easy to assemble
I am prone to fits of tears when assembling things, so when I say that its "mostly easy to assemble," that's a very high compliment.
Honestly, it's so intuitive that I didn't even read the instructions!
There was only one challenging part- putting the last section together.
This is an issue with all cot-style beds, however.
It's just plain hard to find the perfect angle to slide the last frame segment into place.
That said, it still took me under 5 minutes to assemble the bed with a little help from my mom. I feel like it's definitely a 2-person job.
It's not chewproof
If you have a puppy that's still in the "chew everything" stage, you may want to hold off on buying the Veehoo.
Freya is, thankfully and finally, beyond that stage, so it wasn't an issue.
The plastic corners are another common source of complaints among reviewers on Amazon.
So far, they're not an issue, but I can see them wearing out faster than a 100% steel framed bed.
If you do have an issue with that, Veehoo offers a curved pole bed for about the same price.
Final Recommendation
Let's go all the way back to our original question- is the Veehoo Cooling Elevated Dog Bed worth buying?
My response? Absolutely, and I promise I am not just saying that because they sent us one for free.
Basically, the bed performs as well as- if not better- than other more expensive elevated beds over the last month.
It's even held up to Freya pouncing on it (she gets mad when the cats use it and pouncing it to scare them off, she can't share).
The most expensive model, the XL, is under $50, which is pretty good for an elevated bed.
Do you have anything questions or thoughts to add to my Veehoo Cooling Elevated dog bed review? Share below?
Last update on 2023-05-25 / Affiliate links / Images from Amazon Product Advertising API