"My dog sleeps on the floor instead of her bed! Why???" 
Have you ever purchased what you thought was the perfect dog bed only for your pooch to sleep on the floor next to it?
You'd be surprised how many dog owners have the same problem.
But don't sweat.
I'm going to give you five reasons why your dog doesn't sleep in his bed!
Related: Does my dog need a bed
 Why Your Dog Sleeps on the Floor Instead the Bed
The internet is full of hilarious photos of dogs sleeping on the floor right next to their beds, but what makes them reject our well-researched (and, let's be honest, expensive) purchases?
Unfortunately, we can't get inside a dog's head and read its mind, so we can only make educated guesses why a dog likes or doesn't like his bed.
The good news is that it's rarely a cause for concerns.
However, if you're worried about your dog sleeping on the floor, you should speak with your vet.
Related: Does my dog need a bed in his crate?
#1 It's too hot/cold
One of the most logical reasons why a dog prefers the floor to the bed is the weather. Can you imagine curling up beneath the covers in a hot summer night? I don't think so.
During summer your dog's bed might get too stuffy for Sammy's liking, and he will go looking for a cold spot. The floor is ideal because it feels cool and provides some relief from the heat.
On the other hand, cold/cool weather also might make your dog sleep on the floor. It sounds impossible, but hear me out:
The dog might be baking in the sun, and he is following its rays around the house
He could also be sleeping next to a heat source (like your fire place or heater) to stay warm.
If you really prefer that your dog sleep on a bed, an elevated dog bed is a good option because it keeps them cool in the summer and can easily be moved closer to the heat in the winter.
Related: Why has my dog stopped jumping?
#2 The bed is not comfortable
When it comes to beds, people have different preferences. Some people like hard mattresses, while others can sleep only on something soft and fluffy.
What I'm trying to say is that dogs are not different.
Sammy might not be sleeping in his bed because it's not comfortable for him and he doesn't like how it feels when he lies in it.
The material might be too scratchy, something might be poking him, or the padding just isn't right.
If returning the rejected bed and getting something else isn't an option, try adding a soft dog-friendly blanket to the top for a little extra comfort.
#3 The size is wrong
You might think that the size of the bed doesn't matter, but it does. So, if your dog is sleeping on the floor, you might have bought a bed that's too small or too big.
Small dogs are too insecure in large beds. They feel exposed to potential threats to lie down and sleep.
What's more, small dogs and hairless ones often get chilly and large beds could be too cold for their liking even with sufficient paddling.
Dogs mom accidentally orders XS dog bed. Good dog is still grateful.
On the other hand, the bed might be too small for your furbaby to stretch properly. That's why Sammy prefers to lie on the floor where he can move around freely.
In this case, a large mattress, like a Big Barker dog bed, might be what solves your problem.
For small or medium-sized dogs, you might try nest beds
. These beds have a lot of cushioning to keep your dog warm, and the cave-like structure makes your pet feel protected.
To make sure that you don't make another mistake, you must measure your dog while sleeping if you want to select the best dog bed for him.
#4 I'm used to the floor
For one reason or another, your pooch might not know that he is supposed to sleep in the dog bed.
And dogs are creatures of habits, and if they are used to the floor, they will sleep on the floor.
Fortunately, you can teach your dog to sleep in his bed:
Observe where your dog feels safe to lie down and place the bed there.
Choose a command word like "Go to bed."
Show Sammy his bed, say the command, and encourage him to get in the bed.
When he does, give him a treat and praise him.
Practice the routine several times a day.
#5 I'm in pain
I want to reassure you that most dogs who sleep on the floor are perfectly healthy.
However, if your dog suddenly starts sleeping on hard surfaces and changes his behavior drastically, I would be worried.
Depending on the type of the bed and its location, your dog might be having difficulties jumping into the bed or waking up the stairs to reach his bed.
As a dog grows old, certain joint conditions might affect his ability to move around.
So, if you have an older dog, I would mention the change in sleeping arrangements as soon as possible to your vet. It might be nothing, but it might be one of the signs that your dog's in pain.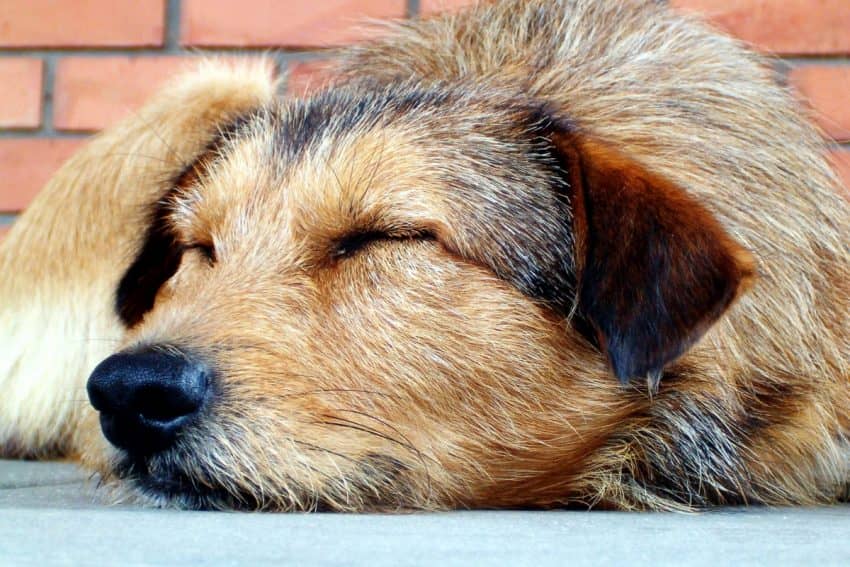 Dogs do not care as much as we do about material things like beds. They sleep where they are comfortable and don't care what others think.
So, don't worry too much about where your furbaby sleep. Sammy is probably more comfortable on the floor, and he will move to the bed when he feels like it.
What do you think about these reasons why a dog sleeps on the floor instead of a bed? Do you agree or disagree? Share your opinion in the comments.
Last update on 2022-06-27 / Affiliate links / Images from Amazon Product Advertising API