What are the best canopy dog beds for outdoor use?
Can I just get a canopy without buying a whole dog bed?
If those questions are on your mind, you'll want to stick around!
Below, we'll take a look at my picks for the best options for dog beds with the canopy as well as a few canopies that you can buy separately.
Grab your coffee and get comfy, we're going to dive right on it!
You may also want to check out these best elevated dog beds
Our Top Pick
If you want to skip ahead and just grab our top pick, go with the Reliancer. Take a quick look at the most important features.
FYI, this post contains affiliate links. If you make a purchase through these links, we earn a small commission at no extra charge to you.
Want to see all our Amazon picks for both the best canopy dog beds AND the best canopies to add to existing beds? Use the handy table below!
Best Canopy Dog Beds (Complete Sets)
Let's start with the all-in-one canopy dog bed options, shall we?
1. Reliancer Elevated Dog Cot with Canopy Shade
After going back and forth between different canopy dog beds, I finally settled on the Reliancer as my #1 pick. Check out the features and pros to find out why.
Features & Pros
Made of sturdy, durable 1680D Oxford fabric and mesh.
Comes in three different sizes, with the largest supporting dogs up to 120 lbs.
Waterproof canopy protects your dog from rain and sun.
Remove the canopy for indoor use.
Elevated design keeps your dog away from the ground and breathable mesh keeps air flowing around them.
It's great for dogs with joint problems
Sturdy steel frame with non-skid feet.
Even comes with a carrying bag so you can pack it up for a day at the beach.
Cons
Not big enough for giant breeds
Not chew-proof (none of the canopy dog beds are, sadly)
While it's easy to assemble, it doesn't really fold up for travel, so you have to keep assembling and taking it apart every time.
Recommendation
You'll quickly discover as you read through this list that very few (if any) of the beds offer sizes for giant breeds. Nor are they chewproof.
This one looks like the others at first glance, but it's remarkably easier to assemble overall. It's also one of the few with a waterproof canopy versus just a sunshade.
2. Floppy Dawg Just Chillin' Canopy Bed
If cuteness alone was a deciding factor, the Floppy Dawg would be my #1 pick for sure!
Of course, style only goes so far, so let's look at the other features.
Features & Pros
Comes in 2 sizes (M & L), and multiple colors (L only).
Medium holds up to 50 lbs and large up to 80
Made with durable 1680D Oxford Fabric and mesh
Steel frame is strong yet lightweight
Easy to assemble
Cons
No size for either small or XL breeds.
Not waterproof
Doesn't exactly hold up well against wind
Not chew-resistant.
Recommendation
This is my top "spending the day at the beach with my medium sized dog" canopy bed pick.
It's not a good option for a windy, rainy day. Nor is it the best pick for puppies or Captain Destructo dogs, though.
3. Elevated Breezy Bed™ Outdoor Dog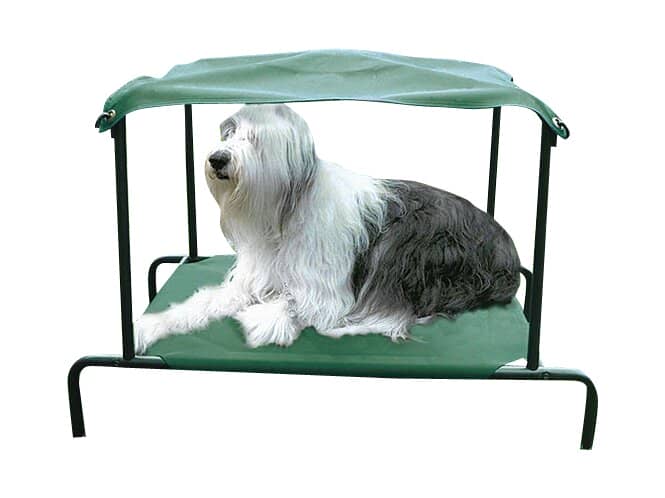 This next one from Wayfair earns a spot as one of my favorite canopy beds for small breeds.
Features & Pros
Made with weather-resistant canvas material that resists milder.
Protects from overhead sun and rain
Easy to clean, just hose it down.
The medium is just right for small breeds (holds up to 30 lbs)
The larger size holds up to 60 lbs, making it a good fit for some medium breeds.
Cons
Not chew resistant by a long shot
Canopy doesn't appear to be removable
Doesn't offer good protection against rain.
Recommendation
The medium (which should really be called small, just saying) is one of the few options that won't totally overwhelm your small breed dog.
That said, like the Floppy Dawg, it really is more of a breezy beach day versus rainy day bed.

4. Niubya 48″ Dog Bed with Canopy
The Niubya earns my pick for the best canopy dog beds for large breeds, like German Shepherds.
Features & Pros
Made with durable 1680D Oxford fabric and mesh.
Holds up to 135 lbs, so it's big enough for most breeds
Waterproof canopy is detachable, so you can use the bed indoors, too.
Elevates your dog over 9″ off the ground to keep him away from hot, cold, or wet surfaces.
2-year warranty
Cons
Not big enough for giant breeds.
Frame is paint-coated, which I don't really love.
Not chew-resistant, despite the metal frame.
Hard to assemble, especially the middle bar.
Recommendation
I wouldn't recommend this for a dog that chews (both because it's not chew-resistant AND because of the painted frame).
However, it's a good option for large breeds beyond the destructive phase.
5. Clara Outdoor Hooded Dog Bed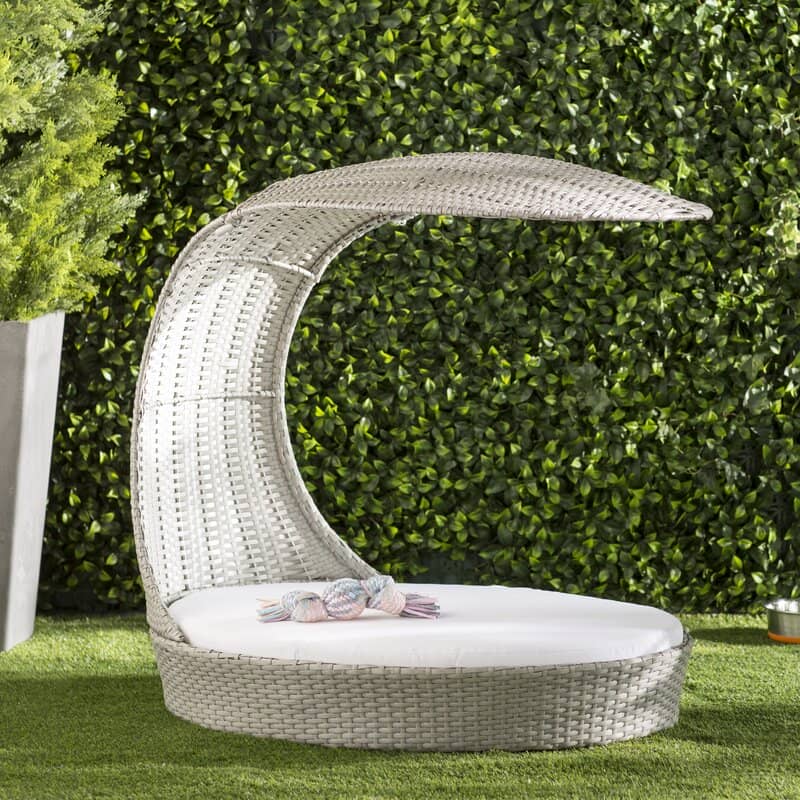 The Clara Hooded Bed is definitely a stylish dog bed with canopy for outside use, but is it practical? Let's find out!
Features & Pros
Made with durable, water-resistant, weather-resistant wicker.
Stain and odor resistant
Elevated design keeps your dog off the ground.
Comes in two sizes – large and XL
The large holds up to 50 lbs and the XL up to 75, so it's a good fit for medium to some larger breeds.
Comes with a cushion
Cons
Not chew-proof (or really even chew-resistant)
Not big enough for XL and giant breeds
You can't take it apart, so it's hard to store at the end of the season
At 3″ thick, the cushion isn't supportive enough for older dogs with arthritis or joint issues.
Recommendation
Style-wise, this is among the best of the outdoor canopy dog beds. Wicker holds up pretty well and it has great overall reviews.
Just make sure your pooch is past the puppy chewing stage yet not quite to the "needs an orthopedic bed" years.

Best Canopies to Buy or DIY for Existing Dog Beds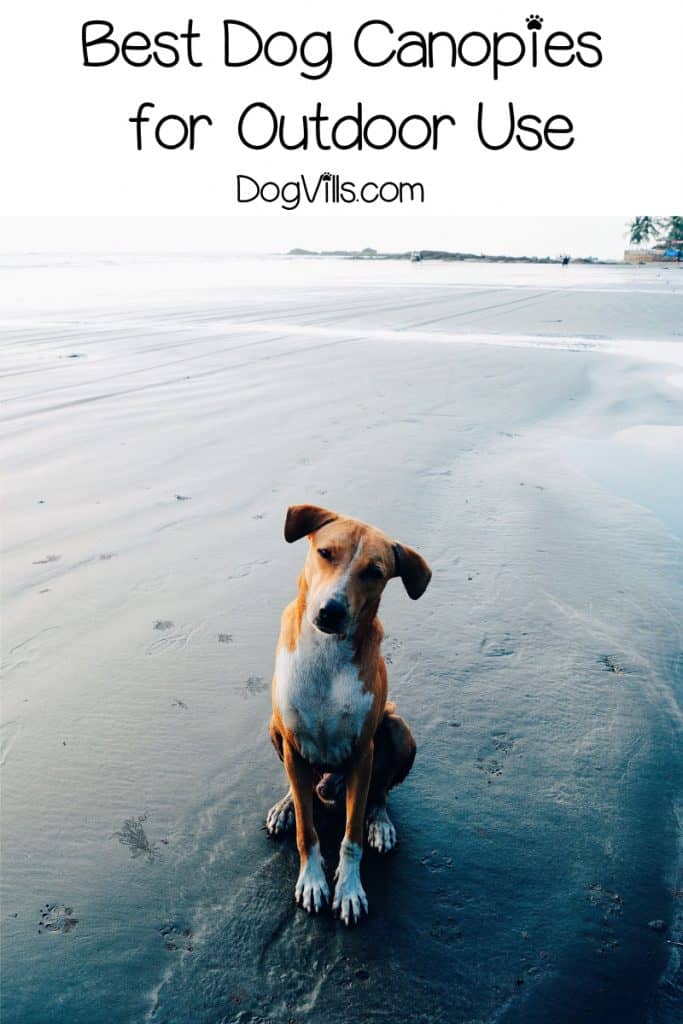 As you noticed above, there really aren't many great canopy dog beds for giant breeds. Nor are there any for chewers!
So, instead of relying on a less than stellar all-one-one option, get yourself a really fabulous elevated dog bed and add on a canopy when you need it.
1. K&H Pet Products Pet Cot Canopy
The K&H canopy is a separate add-on designed to work with their elevated cots.
Features & Pros
Comes in small, medium and large.
Protects against harsh sun.
Light and portable.
Easy to install, no tools required.
Easy to clean with a damp cloth.
Very inexpensive
Cons
Technically, it's only designed to fit their cots
While easy to install on the bed, it's a bit of a pain to assemble
Rods aren't all that durable
Recommendation
If you have a K&H cot (or one with the exact same measurements), this is a smart add-on, especially for the low price.
However, it won't easily fit other cots, so keep reading for more options.
2. Everything Summer Camp Dog Bed Canopy with Adapter
While it doesn't have nearly as many ratings as the K&H canopy, this one isn't trying to lock you into buying a specific bed, and I respect that.
Features & Pros
Fits Coolaroo and Amazon Basics pet beds right out of the box.
Comes with 4 adapter pieces so you can use it on other beds.
Easy to install in about 5 minutes.
Cons
Only comes in large
Even with the adapters, it won't fit giant breed beds
Quite a bit pricier than the K&H option
Recommendation
While this only fits a specific RANGE of beds, it's not quite as locked into dimensions as the K&H canopy.
The price is a lot higher (more than double), which I don't love. However, the freedom to choose your own bed makes it worthwhile.
3. PupUp Canopy Dog House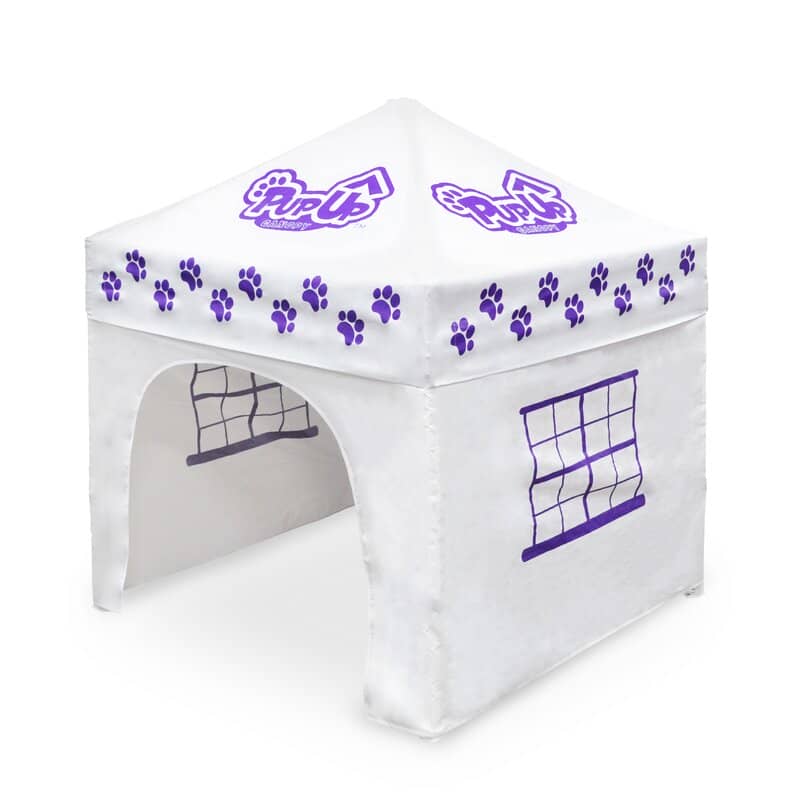 Head back over to Wayfair and check out this oh-so-cute PupUp Tent!
Features & Pros
Sides are removable, so it becomes a regular canopy.
Comes in two sizes, so you can pick the right one for your dog's bed
Fabric is water resistant and UV protected
Heavy-duty materials for sturdiness and durability
Lightweight and easy to take on the go
Lightweight design allows you to conveniently carry your anywhere you go
Great for indoor and outdoor use
Cons
While water-resistant, it's NOT weather resistant
Only one color
No reviews (I'm taking a chance on it because it looks fantastic)
Recommendation
I love that the sides are removable, so you can either give your pup a little privacy or let him be part of the action.
It protects well against sun as well as light wind and rain (think shower, not downpour).

4. The Plain Old Pop-Up Canopy Route
No, that's not the name of a product, but rather one of my final recommendations.
Rather than buying something designed specifically for dog beds, why not just get a plain old pop-up canopy? That's what we did!
We put it up over our back deck, then put Freya's bed underneath (along with chairs and a small table for us).
Recommendation
Since you're not locked into specific dog bed dimensions, you can go with countless different options.
The EZYFast Ultra below is just one that I chose because it has good ratings and I like that back "half wall" for added protection.
5. DIY Outdoor Dog Bed
While the bed in the video below isn't really quite as portable as an umbrella-style canopy, it's my favorite DIY outdoor option by far. Take a look.
Final Recommendation
HEre
If you prefer to shop offline, there's a really great dog canopy bed at Lidl, if you're lucky enough to live near one!
Alas, we don't have one near us (we have Aldi's, which is similar). Apartment Therapy did a great review of it, though, so check that out.
Last update on 2023-09-28 / Affiliate links / Images from Amazon Product Advertising API