Dog breeds with low separation anxiety are the topic today.
If you love dogs but have a full-time job, you want a breed that doesn't mind being home alone.
Otherwise, you'll find yourself coming home to a house full of shredded items or furniture and maybe even an angry neighbor complaining about your dog's howling.
So dog lovers with busy schedules rejoice.
Today is for you.
Let's talk about dog breeds with low separation anxiety.
Is your pup on this list? 5 Dog Breeds That Vets Don't Recommend
What is Separation Anxiety
Before we get into breeds and their levels of separation anxiety, we need to discuss what it actually is.
As the name implies, separation anxiety is a condition in which a dog experiences a high level of anxiety due to being separated from his family.
This anxiety can present itself in a variety of ways.
The dog may become destructive, urinate or defecate in the home, or vocalize all day.
Separation anxiety can be caused by the dog's breed, as some dogs were bred to be with their humans at all times.
It can also be caused by a traumatic event in the dog's life such as being in a pound. Many rescue dogs have separation anxiety.
Then there are cases where there is no apparent cause at all outside of the fact that dogs are pack animals.
In any event, a dog with separation anxiety will not do well in a home with a hectic schedule.
It becomes an exercise in horror for the dog and frustration for the owner who comes home to a destroyed living room or random feces and urine all over the house.
Ease their anxiety with these anti anxiety dog beds
Dog Breeds with Low Separation Anxiety Perfect for On-the-Go Owners
If you have a busy schedule or a job that keeps you away from the home often, it might seem like there will be no doggy goodness available to you.
That is incorrect.
There are actually several dog breeds with low separation anxiety that do quite well left to their own devices.
This doesn't mean they still aren't man's best friend.
It just means they generally have an attitude of "You do you, bro." That lends itself perfectly to the on-the-go owner.
Related: Best French Bulldog cave bed
1. Chow Chow
At first glance, this breed looks like the biggest cuddle bug around, but the Chow Chow is actually a quite independent dog.
Unlike many breeds, this dog isn't into PDA.
Rather, this reserved, independent breed comes to his owner when he wants some love and leaves when he's finished.
This makes him perfect for a home with owners who aren't constantly around.
Get to know these least stubborn dog breeds?
2. Bassett Hound
This breed actually loves his people, however, he also loves to sleep.
This wrinkly, floppy eared hound has a low energy level, and napping is his favorite past time.
While he loves a good ear scratch and belly rub, he's also equally content to sleep the day away while you're off doing your work thing.
[embedpost postid="24103″]
Is your pup on this list? 8 Dog Breeds That Will Stay in the Yard
3. French Bulldog
Although a highly affectionate breed, like the Bassett Hound, Frenchie dogs love to sleep.
They don't demand lots of activity or attention when their owners aren't around, which makes them perfect as a family pet who flies solo.
Is your pup on this list: Best pack dog breeds
4. Bullmastiff
The Bullmastiff is a consummate family dog. Protective and affectionate, he loves to be with his people.
That being said, just like my previous two picks, his low energy level makes him the perfect breed to snooze and snore the day away while you're off at the office.
5. Chihuahua
Wait! Don't go. This really is true. Chihuahuas are known to be yappy and sometimes aggressive, but what you don't hear so often is how clingy they are.
Chihuahuas are a bit of a dichotomy, as they love their families, but they can also be left alone due to their independent nature.
That being said, if you're out of the home all day, a second Chihuahua buddy is recommended for company. These guys are happier and less aggressive with a pal.
This wrinkle with paws is another great addition to the list of dog breeds with low separation anxiety.
This breed is highly independent, but this also makes them willful and stubborn.
Once you establish who calls the shots, though, this breed makes the perfect companion for the owner who is on the go. This is due to its low energy and exercise requirements.
7. Boston Terrier
This adorable little guys are holy terrors – in short bursts.
They enjoy running around like maniacs for short periods, but after that, they're content to chill out on the sofa.
A relaxed breed overall, these guys are generally content to do their own thing until their owner returns for more bug-eyed shenanigans.
Perhaps the very best of both worlds, the Irish Wolfhound is a ginormous cuddler.
These dogs love their humans and love to snuggle up with them whenever they get the chance.
That being said, they're also equally happy to lounge around all day while their owners are out doing their 9 to 5.
Be aware that you'll need ample space for these guys.  These gigantors can weight in at up to 200 pounds.
9. Lhasa Apso
You probably wouldn't imagine a little stuffed animal-looking pooch would make the list of dog breeds with low separation anxiety, but they do.
Unlike other small breeds of their type, the Lhasa Apso is incredibly independent.
In fact, he'll probably see you out the door and then go on to do his own thing all day while you do yours.
10. Bull Terrier
Like the Pit Bull, the Bull Terrier has managed to garner an erroneous reputation of being aggressive and dangerous.  Incorrect.
They are, however, quite protective of their homes. This means that rather than being filled with anxiety while you're gone, they'll be filled with purpose.
11. Pug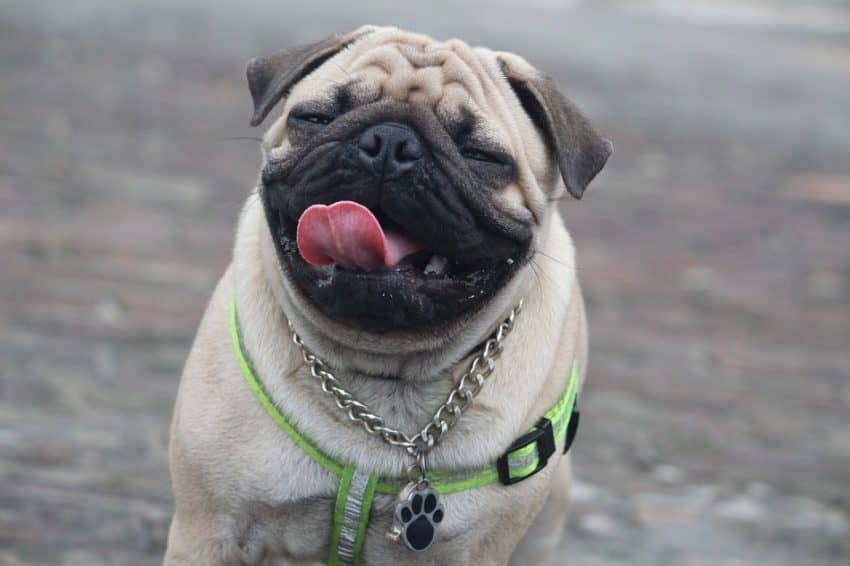 A consummate couch potato, the Pug is generally a low anxiety dog.
His lack of desire to do anything physical for more than five minutes makes him one of the dog breeds with low separation anxiety because chances are, when you get home, he'll be on the couch right where you left him.
12. Akita
This independent breed loves his owners and will protect them at all costs.
While that may seem like a recipe for anxiety, the operative word in his description is independent.
In addition to that he's one of the dog breeds with low separation anxiety because he views guarding the home as a job rather than a punishment.
These Dog Breeds with Low Separation Anxiety Make Great Pets
So on the list of dog breeds with low separation anxiety, we have big dogs, little dogs, medium dogs, wrinkly dogs, and smooth dogs.
We even have some with buggy eyes.
If you can't find a dog on this list to fit your life, you won't find one anywhere!
Seriously, though, ever dog on this list of dog breeds with low separation anxiety would make a great pet for any home with an on-the-go family.
Do a little more research into these guys, and I'm sure you'll find a winner.
Do you have any of these dog breeds with low separation anxiety? Share your experiences below!