Nothing can frustrate a dog owner more than a pup constantly begging to go outside. So it makes sense that people would be interested in electronic dog doors. After all, these devices allow your dog to go out without any effort from you. But finding a high-quality one that's safe and avoids performance issues can be tricky (hence the rather short list today). So I developed a buying guide and reviewed some top options to help you find a solid option suited for your needs. 
Check out the table below to see them side-by-side. Then, read on for the reviews. FYI, this post includes affiliate links. If you buy anything through them we earn a small fee at no extra cost to you.
Preview
Most affordable
Our Favorite
Product Name
PetSafe Electronic SmartDoor - Collar Activated Dog and Cat Door - Small to Large Pets
PlexiDor Performance PDE Electronic Pet Door for Dogs and Cats - Wall Mount Dog Door - White, Large
Power Pet Large Electronic Pet Door PX-2
Top Feature
Easy to install on exterior and interior doors
Won't close if obstructed to promote safety 
Top-tier security with an automatic deadbolt locking
Options for large breed dogs?
Most affordable
Preview
Product Name
PetSafe Electronic SmartDoor - Collar Activated Dog and Cat Door - Small to Large Pets
Top Feature
Easy to install on exterior and interior doors
Options for large breed dogs?
Preview
Product Name
PlexiDor Performance PDE Electronic Pet Door for Dogs and Cats - Wall Mount Dog Door - White, Large
Top Feature
Won't close if obstructed to promote safety 
Options for large breed dogs?
Our Favorite
Preview
Product Name
Power Pet Large Electronic Pet Door PX-2
Top Feature
Top-tier security with an automatic deadbolt locking
Options for large breed dogs?
Best Electronic Dog Doors
I thought beginning with the reviews would be a solid place to start your search. These resources will provide a baseline for what top options should feature. It'll then be much easier to follow our buying guide discussions and conduct your search. Who knows? It may even lead back to one of these options being your final choice.
Before we start, though, I want to explain why this list is significantly shorter than our usual review guides. See, while there are definitely more than three options out there, the vast majority of them have MAJOR issues. I'm talking about issues ranging from "doesn't do what it's supposed to do" to downright dangerous design flaws. I'm not comfortable recommending some of them just so we can have a longer list. Quality matters far more than quantity, especially when it comes to something as important as our beloved dogs.
Now that we have that out of the way, let's check out the three that did win me over!
1. PetSafe Electronic Dog SmartDoor
PetSafe Electronic Pet SmartDoor is an excellent way to begin our list. After all, there aren't many electronic dogs that combine top-end performance and convenience. This one can do relatively easily with its programmable modes and simple installation process. 
FEATURES:
8.6 x 3.25 x 27.1 inches

Made with high-quality plastic materials

Battery-operated (4 D-cell batteries)

Three programmable modes

One waterproof SmartKey included
PROS:
Easy to install on exterior and interior doors

Ideal for multi-pet households (manages 5 SmartKeys)

Programmable modes offer excellent control over entry and exit

Durable construction for long-term usage

Options for small and large dogs 
CONS:
Batteries need to be replaced frequently

It's very loud when it opens
Only comes in two sizes- very small (chihuahua-sized) and very large (think Mastiff-sized).
FINAL VERDICT
The programmable modes and easy installation alone would be enough to get this model on our list. But these aspects aren't the only ones this product has to offer. I was also thrilled with its ability to add additional SmartKeys for multi-pet use and its durable construction.
However, I did find it a little surprising that PetSafe didn't provide batteries. It seems like a simple way of making their already convenient product reach another level. But this flaw shouldn't keep anyone from considering this dog door.
Some customers did complain that the door was on the loud side when it opened, too. Another common complaint is regarding the sizing. Yes, it comes in sizes suitable for small and large breeds. However, they don't really have anything in between. So, if you have a medium dog, you'll need the large door…which is REALLY large.
But if you can live with these minor issues, it's definitely one of the best electronic dog doors on the market.
Sale
PetSafe Electronic SmartDoor - Collar Activated Dog and Cat Door - Small to Large Pets
CUSTOMIZE YOUR PET'S ACCESS: The SmartDoor features programmable selective entry, exit and auto-locking options
PEACE OF MIND: The SmartDoor works with the waterproof SmartKey worn on your pet's collar; only the pets wearing the SmartKey can go in and out
MULTIPLE PETS: Great for households with multiple pets; programmable for up to 5 SmartKeys
BATTERY OPERATED: The SmartDoor is battery operated (4 D-Cell Batteries, not included)
DOOR INSTALLATION: Designed for installation in interior/exterior doors; wall installation option available with purchase of Wall Install Kit
U.S.-BASED CUSTOMER CARE: Our pet product experts are here to help you and your pet and are available by phone, email or chat if you have any questions
QUALITY PROMISE: PetSafe brand has been a trusted global leader in pet behavior, containment and lifestyle innovations since 1998 to help keep your pet healthy, safe and happy
2. PlexiDor Performance PDE Electronic Pet Door
One of the most advanced available options would be PlexiDor's Performance PDE Electronic Pet Door. Its well-crafted, aluminum-framed construction offers a level of protection many other choices can't match. As a result, buyers will feel the utmost confidence in its ability to protect their dogs. 
FEATURES:
Aluminum frames with powder-coated finish

White color scheme

Two PDE collar keys included (waterproof)

Fitted with a ¼-inch stainless steel deadbolt

5-year limited warranty

Install into brick, block, cement, or stud walls (up to 12-inches thick)
PROS:
Durable, long-last door construction

Unmatched security with a built-in deadbolt

Won't close if obstructed to promote safety 

Suitable for any dog up to 125 pounds

Waterproof collars don't require batteries
CONS:
It's VERY expensive compared to others

Like the Petsafe, it's pretty loud when opening and closing (apparently this is common in electronic dog doors)
No internal battery backup, so it won't work if the power goes out
FINAL VERDICT
Aside from its impressive construction, I found it hard not to love its versatility. It can work with dogs up to 125 pounds without a single issue. In addition, users can easily install it into a block, brick, clement, and stud walls.
I also must mention that it comes with two waterproof collars to showcase its convenience further. However, this model is easily the most expensive choice on our list. You'll need to decide whether these advanced qualities are worth its incredibly high price tag, especially once you factor in the drawbacks. 
PlexiDor Performance PDE Electronic Pet Door for Dogs and Cats - Wall Mount Dog Door - White, Large
Accommodates dogs up to 125 pounds and all cats. Hardened ABS panel slides up and down like a mini electronic garage door. Waterproof collar key weighs less than an ounce, does not require batteries and snaps on your dog's collar.
Child and dog child safe, will not close if obstructed.  Door is always securely locked with a ¼ inch stainless steel deadbolt when inactive.
Comes with two PDE collar keys. Easy to add or change thousands of codes with one touch programming.  Set timing for how long door is open.  Will not interfere with underground fences or home security systems.
Installs into stud, brick, block or cement walls up to 12 inches thick. Available in white or bronze. Hardened aluminum frames have a baked on powder coated finish. Durable and scratch resistant just like the appliances in your home.
Manufactured in the U.S.A. and comes with a five year limited residential warranty.
3. High Tech Pet Power Pet Electronic Pet Door
Electronic dog doors don't get much more secure than High Tech's Pet Power Pet Electronic Pet Door. It earns this distinction by employing an automatic locking deadbolt and an effective directional sensing system. These aspects ensure this door offers top security that'll only open when your dog's walking towards it. 
FEATURES:
12-1/4 by 16-inch

Vertical-sliding door

Activated by ultrasonic MS-4 collar (one included)

Fitted with an airtight, weatherproof seal

Utilizes directional sensing system

Automatic locking via a deadbolt

Four access control settings (in only, out only, full access, and closed/locked)
PROS:
Top-tier security with an automatic deadbolt locking

Suitable for any pet up to 100 pounds

A directional sensing system promotes safe opening/closing

Pet-friendly, lightweight collar 

Usable on any drillable wall
CONS:
A bit tricky to install

Uses custom batteries that are "grossly overpriced" according to one customer
Some reviewers complain that customer service isn't the most responsive
FINAL VERDICT
Overall, this door's excellent security and ability to adapt for almost any pet are impressive. I have a hard time thinking of a situation where it wouldn't be a suitable fit. Moreover, your dog won't hate the included collar as it's lightweight, unlike other options.
But I do warn buyers about this option having a tricky installation process. It was mentioned a few times among other customers' reviews. However, most of these customers found the effort to install more than worth it. 
Power Pet Large Electronic Pet Door PX-2
Motor driven vertically-sliding door is activated by MS-4 ultrasonic collar
Directional sensing system opens the door only when your pet is on a direct approach, not when he is just wandering by or sleeping next to the door
4-way access control lets you select from In Only, Out Only, Full Access or Closed & Locked
Wind and weatherproof with airtight seal; automatic deadbolt locking adds a level of security higher than any other pet door
Panel size: 12-1/4 by 16-inch for pets up to 100-pound, Kindly refer user manual and instruction video for reference.
What to Consider When Buying Electronic Dog Doors
Electronic dog doors are a much more unique product than people assume. In other words, choosing one isn't a simple matter of picking randomly online. You must consider various factors before identifying a perfect option.
The following discussions will look at these considerations in considerable detail. As a result, picking the perfect electronic dog door will soon become effortless. So let's dive into the first factors and get this search underway.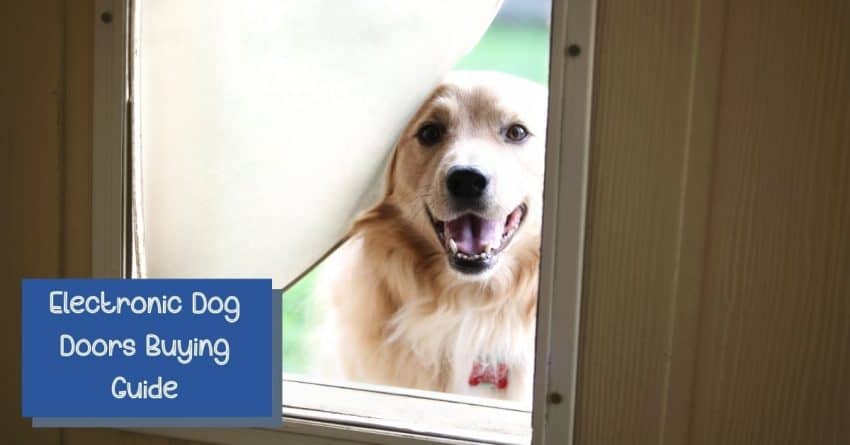 Size of the Door and Your Dog
The most apparent consideration would be sizing. Of course, this sizing breaks down into two categories, your dog's size and the door's size. These two aspects will have to mesh perfectly, or your new electronic dog door will soon become useless.
For instance, my Pitbull is a massive dog and needs a dog door to account for it. She wouldn't do so well with an electronic dog door meant for chihuahuas. It would probably result in her head getting stuck in it (she would, without question, attempt it.)
So any easy way to avoid this issue is to be aware of your dog's measurements. I'd recommend taking out the tape measure to get the exact figures. After all, you must ensure your dog can enter and exit quickly without any issues.
Safety and Access Controls
Dog owners need to think about the effectiveness and safety of these doors. Basically, these devices need to be consistent when it comes to opening and closing. So you'll need to research the option's sensing system.
After all, these doors need to open when your dog's walking towards them. But they don't need to open when your dog's simply near them. It seems like a slight difference, but many electronic dog doors fail to understand the difference.
You'll also want to ensure the access controls are easy to use. These components should allow users to decide when the door opens and closes without issue. Some doors will even let you set up all these settings from a remote location via a phone or tablet.
But you must ensure these controls work before spending a fortune on a dog door. So these attributes are another one that could be studied by reading through customer reviews. These resources will let you know whether the door makes a person's life easier or harder.
Construction Durability
Electronic dog doors are usually made from two materials, plastic and metal. I often suggest going with metal because of its impressive durability. These products will offer a much longer lifespan while being effective at their jobs.
However, these metal doors are a bit more expensive than your plastic options. It's also worth noting many plastic electronic doors do last a while without issue. So it comes down to whether you value durability or affordability more when choosing these doors.
In either case, ensure the plastic or metal door has insulation/weatherstripping. It's vital to prevent mother nature's worst elements from entering your home. Otherwise, the door could soon be a very annoying nuisance for you.
Ease of Installation
Electronic dog doors will vary in their installation processes considerably. You'll find options with reputations for easy installs, and others will have much more complicated ones.
Due to this, pet owners would be wise to read the instructions before making a decision. It could save you from having to pay extra for a professional installation. If possible, you'll want an option that you can set up without outside help.
Number of Pets Using The Door
Some pet owners will want an electronic dog door that suits multiple pups. They'll need to ensure their option is programmable to work with more than one pet. Luckily, it won't be too difficult to find these models.
Most brands will advertise the ability to work with multiple pets as a massive selling point. But please, make sure the door's easy to program. The product will only make your life much more difficult and frustrating if it's not.
Cost
Not many pet products have as wide a price range as electronic dog doors. In fact, I've seen devices cost anywhere from $100 to $2500. So it would make sense to cultivate a budget based on what you deem vital.
For instance, a person who wants the most advanced option should expect to spend close to $2000. These devices will then provide everything a person could ever want in an electronic door for their dogs.
But if you're anything like me, you'd settle for a much less expensive choice. I'm a bargain buyer at heart, so I'd try my hardest to get a high-quality option closer to the $100 mark.
Final Recommendation
If I have to recommend one electronic dog door, it'd have to be the High Tech Pet Power Pet Electronic Pet Door. It does an excellent job offering high-end features without being outrageously expensive. 
Have you tried to use any of these electric dog doors? Share your experiences below!
Last update on 2022-10-10 / Affiliate links / Images from Amazon Product Advertising API