What are your favorite crate-safe chews to leave with your puppy?
I came across that question while researching another post about the best bones and chews for puppies, and it got me thinking.
Are there really any crate-safe chews to leave with your puppy?
Turns out, the answer is "sort of, it depends."
Totally vague, I know, but we'll find out what it depends on and how to choose crate-safe chews.
Then, we'll check out my top picks on Amazon and Chewy.
You may also love: 10 Tips to Survive Working from Home with a Puppy
Is it ok to leave puppy alone with bully stick or other chew?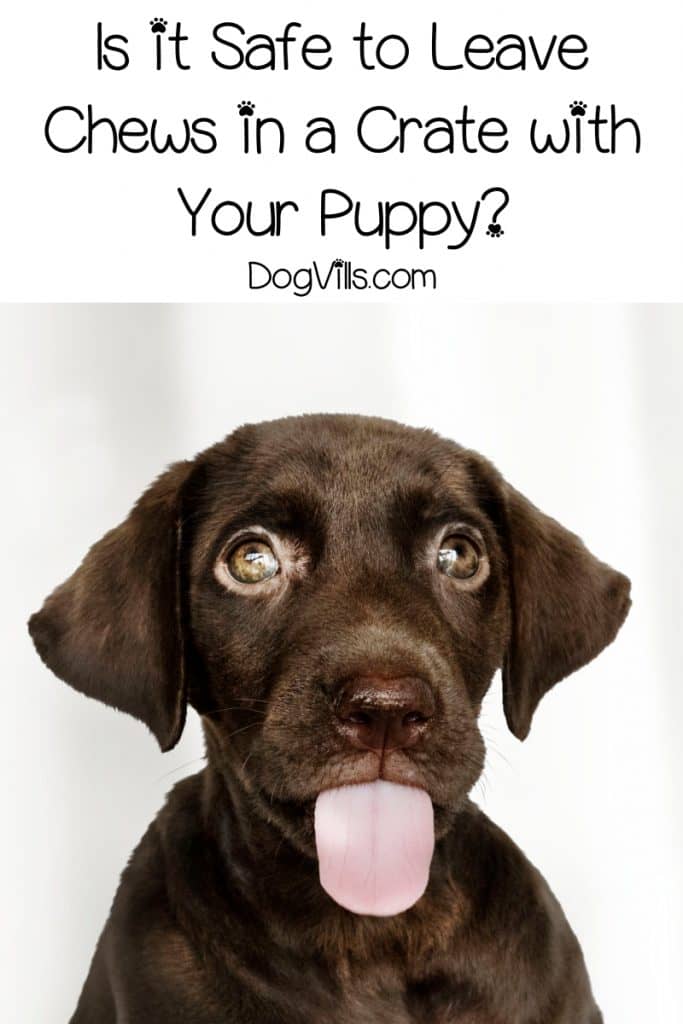 Is it ok to leave puppy alone with bully stick or other chew (inside crate and out)?
Are there any safe chews to leave in the crate with your puppy?
As I said, the answer to that question is a solid "maybe," followed by "it depends."
Let's discuss.
What to avoid entirely when buying crate-safe chews for puppies
First, it's never safe to leave a puppy totally unsupervised with bones or rawhide in a crate.
In fact, some vets recommend skipping the bones entirely during puppyhood, at least until you know what kind of chewer he is.
So, let's cross those right off our list for now. No bones. No rawhides. Check.
Next, let's talk about supervised versus unsupervised safety considerations.
Supervised vs. unsupervised crate-safe chews
If you're crate-training and plan to stick close by, you have a lot more leeway on what you can leave in the crate.
For example, if you're staying right in the room, it's fine to give puppy a bully stick.
On the other hand, if you're planning on leaving your dog in the crate while you work full-time, you don't want to leave anything that could break into small pieces and become a choking hazard.
In that case, you may want to consider a super strong virtually indestructible chew toy.
Even then, you'll want to observe the way your puppy chews before leaving him alone with anything.
If he's an aggressive destroyer, then honestly, I wouldn't leave him unsupervised with any type of chew.
On the other hand, if he's pretty laid back and just gnaws a bit before falling asleep, you can get away with some durable chew toys.
Now that we've sort of cleared that up, let's take a look at my favorite mostly crate-safe chews for your puppy.
FYI, this post contains affiliate links. If you make a purchase through these links, we earn a small commission at no extra charge to you.
Best Crate-Safe Chews to Leave With Your Puppy (on Amazon)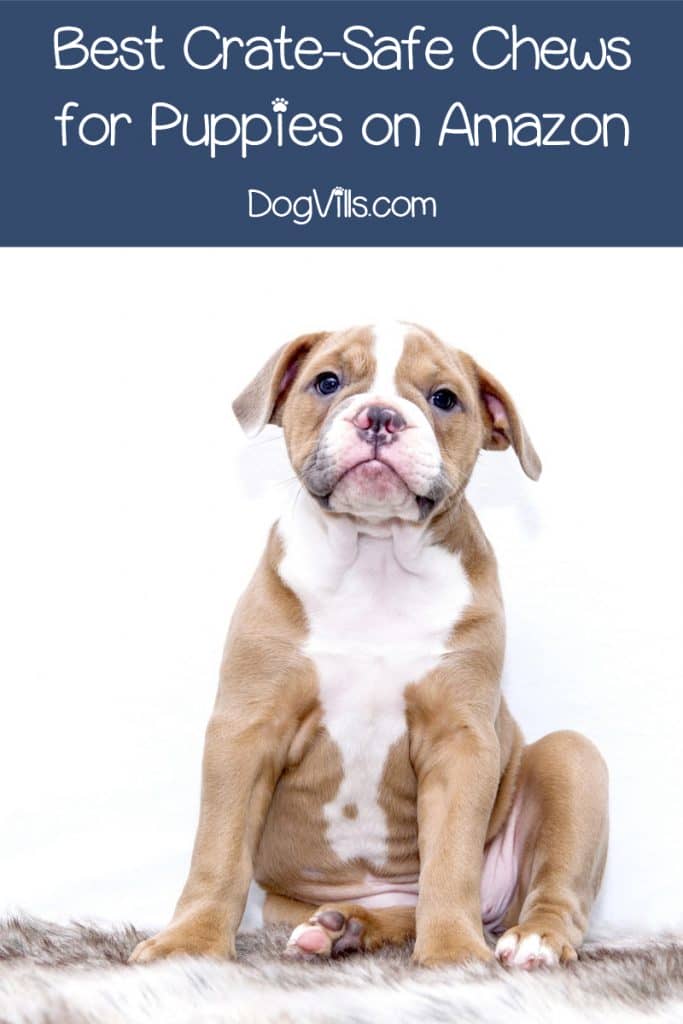 Let's take a look at the best crate-safe chews for puppies on Amazon first, then we'll look at Chewy's offerings.
Preview
Name
oneisall Durable Dog Chew Toys Bone Chew Toy for Puppy Dogs— Indestructible for Aggressive Chewers S
Nylabone Puppy Chew Ring Bone & Toy Twin Pack, Flavor Medley, 2 count, Petite
Benebone Dental Dog Chew Toy for Aggressive Chewers, Long Lasting, Made in USA, Medium, Real Bacon Flavor
Himalayan Sherpa Long Lasting 100% Natural Digestible Yak Milk Dog Chews Bully Sticks Bones Treats Odor Stain Gluten GMO Free for Medium to Large Dogs - 2 Pcs (7oz.)
Goughnuts - Indestructible Chew Toy MAXX Power - Black Stick
1. oneisall Dog Toys for Aggressive Chewers
The oneisall bone-shaped chew toy is a fantastic option because it's made with food-grade rubber and designed just for super chewers.
I love that it comes with a lifetime replacement warranty. That tells me they really stand behind their durability claims.
Dogs will love the tasty bacon flavoring and fun shape.
It comes in four sizes, so make sure you choose the best one for your dog.
Sale
oneisall Durable Dog Chew Toys Bone Chew Toy for Puppy Dogs— Indestructible for Aggressive Chewers S
Make your puppy happy to chew & play, with his bone toy he will never feel lonely.
Safe to chew: our bones are made of food grade nylon, not rubber.
Keep his teeth healthy, let him chew and enjoy the bacon flavor taste of his new toy.
Remark: we love our dogs as well as you do. Our bones are durable, but not indestructible, for aggressive chewers replace it every 6 months.
Make sure he won't swallow it, use our size-chart to select his right size to care your pet.
2. Nylabone Puppy Chew Ring Bone & Toy
Nylabone is pretty much the biggest name in chew toys, so of course they make our list.
I bought Freya this one when she was a baby and she loved the yummy chicken flavor. It lasted a long time!
The flexible toy helps keep your pup's teeth clean while satisfying his urge to chew with raised bristles that clean teeth and help control plaque.
I prefer this one because of the softer material for teething pups, but softer also means more destructible, so supervise your puppy until you're sure he's not going to totally destroy it.
Sale
Nylabone Puppy Chew Ring Bone & Toy Twin Pack, Flavor Medley, 2 count, Petite
Flexible chew toy and nylon bone help with puppy teething while cleaning teeth and freshening breath
Chew toys keep puppies busy and help prevent destructive chewing
Mini chew toys intended for puppies up to 15 pounds
Small dog chews contain delicious flavor medley and chicken flavor dogs love
Chew toys made in the USA
Nylabone Puppy Chew toys encourage nondestructive chewing habits while satisfying the natural urge to chew
Softer material designed for teething puppies
Bristles raised during chewing help clean teeth and control plaque and tartar
Chicken flavor dogs love
3. Benebone Real Flavor Dental Dog Chew Toy
Benebone is another super popular choice for puppies, and one of my favorites because of their overall mission.
The company is committed to helping dogs, both through product donations and actual community involvement.
All of their chew toys are totally made in the USA from the ingredient sourcing right down to the packaging.
They also use only real food ingredients to flavor their toys. This one fuses US-sourced real bacon all the way through.
Benebone Dental Dog Chew Toy for Aggressive Chewers, Long Lasting, Made in USA, Medium, Real Bacon Flavor
Dog-Friendly Design – Last time we checked, dogs don't have thumbs. Our Dental Chew is cleverly designed so your pup can get a good chew going. And its patented ridges will be sure to get some good dental stimulation going.
Real Flavor – We use only 100% real food ingredients for irresistible flavor and scent. We fuse 100% USA-sourced REAL Bacon all the way through the chew. Dogs can tell the difference.
Made in the USA – we are fully committed to made in USA, including packaging, tooling, and all material and ingredient sourcing. We proudly manufacture our products In New York.
Dog Welfare – We are fully committed to the welfare of dogs through product donations and community involvement.
Safety First – Benebones are relatively hard and not edible. Ensure your dog has strong teeth and replace after reasonable wear. See our website safety page for more information.
4. Goughnuts – Indestructible Chew Toy MAXX
If you're looking for the closest thing to a totally indestructible chew toy, you'll go nuts over Goughnuts! Or perhaps more accurately, your dog will!
Along with extremely strong and durable materials, Goughnuts chews even have a patent-pending visual "safety indicator" that alerts you when it's time to replace it.
Their toys are made in the USA and come in four different styles, including a donut-like ring and a pepperoni-like stick.
If you read through the reviews and Q&A on Amazon, you'll notice that a lot of dog owners talk about how it's the ONLY toy their pups can't destroy, so it's definitely worth checking out.
5. Himalayan Sherpa Yak Dog Chews
One of the few edible chews on this list, Yak treats are made from simple, natural and totally digestible ingredients.
While you wouldn't think that something made from milk, salt and lime would last a long time, they actually do, even for super aggressive chewers.
This particular brand is GMO-free and contains no additives or preservatives.
Since Yak chews don't shatter like bones, I'd feel a lot more comfortable leaving my dog along with one.
As an added bonus, they don't stink and won't stain your dog's crate bed.
Now, let's head on over to Chewy, as I know a lot of you prefer to shop there and take advantage of the fast free shipping (on orders $49+)
Best Crate-Safe Chews on Chewy
Chewy has a TON of great chew toys (which seems logical, given their name), but I narrowed it down to my top five favorite crate-safe chews to leave with your puppy.
1. KONG Puppy Goodie Bone Dog Toy
KONG is a great solution if you want to leave your puppy with a chew toy that also doubles as a tasty snack.
Fill the patented Goodie Grippers with snacks, cheese or other healthy treats for your pup and he'll spend more time trying to get it out than he will gnawing on the bone.
When he does get around to gnawing, this particular KONG toy is designed just for puppy teeth and gums.
In fact, it's really made for pups up to 9 months old. Beyond that, the rubber is too soft and easy for them to get through, so I wouldn't buy it for older dogs.

2. GoughNuts Ring Dog Toy
If you love the idea of the Goughnuts toy discussed above but prefer to grab it on Chewy and in slightly more fun colors, go for this cute orange version!
It also comes in three other colors (including the black tire-like ring we saw on Amazon).
The toy comes in three sizes, so again, choose the right one for your puppy.
Don't get a large breed dog toys that are too small, otherwise they quickly become a choking hazard.

3. Nylabone Galileo Chew Bone Dog Toy
Forget for a moment that it looks like something you would buy in an adults-only store (you can't un-see it now, can you?).
Oddly inappropriate shape aside, the Galileo is one of my favorite crate-safe chews to leave with a puppy because it's designed for the toughest chewer.
It's made in the USA out of X-tra tough nylon and has raised bristles to help clean your puppy's teeth.
The only problem? It's pretty darn heavy! On the other hand, that makes it harder for pups to chew through in the long run.

4. West Paw Zogoflex Toppl Dog Toy
Like the KONG, the West Paw Zogoflex is designed to hold treats, so pups spend more time working out the puzzle than they do chewing.
That alone makes it a great choice for crates.
The fact that the toy is 100% recyclable, BPA-and-phthalate-free, non-toxic, and FDA-compliant gives it an extra edge over the competition.
Plus, the "Zogoflex" is actually a patented material that's designed to stretch a bit without actually become too stretched out.
Just make sure you supervise your puppy at first to make sure he can't pull it apart.

5. Bones & Chews All-Natural Dental Chew Sticks
While I'm not a fan of leaving dental chew sticks in a crate with a puppy alone, I felt like we needed at least one totally chewable option, and this is my top pick.
We get these a lot for Freya. I like them because they're all-natural and sugar free.
They don't last long, so it's more of a treat to give as you're walking out the door so your puppy doesn't freak out.
Still, they're totally digestible and not likely to cause a choking hazard because they're thin enough to go down even if your pup chews off big chunks at a time.

Final Recommendation
Please remember, while these are for the most part crate-safe chews to leave with your puppy, all dogs are different.
A super aggressive chewer could manage to pull off chunks of even the most indestructible toy on this list, and those chunks can pose a choking hazard.
Before you even think about leaving your puppy alone with chews, spend a good long time observing how he acts with them.
Ideally, he should be totally crate-trained and comfortable being left alone, as anxious dogs tend to chew more aggressively than mellow pups.
Your turn! Tell me below, what are your favorite crate safe chews to leave with your puppy?
Last update on 2019-12-05 / Affiliate links / Images from Amazon Product Advertising API