What is the Bull Terrier's lifespan?
With good breeding and proper care, you can expect your Bull Terrier to live from 10 to 15 years.
Read on to find out more about the breed's lifespan.
We'll also give you some key insights into the Bull Terrier's temperament.
What is the Bull Terrier?
With its egg-shaped head and triangular eyes, the Bull Terrier may look like the "odd duck out," but it is actually a great family dog (despite the fact that it was originally bred to be a fighter).
The 80's gave notoriety to the Bull Terrier with the pop icon, Spuds Mackenzie. After these commercials aired, both the brand and breed skyrocketed in popularity, making the moniker "Spuds" a household name. Today, this spunky pooch is still a favorite for pet parents that want a lotta dog packed into a moderate-sized package.
Want to learn more about the Bull Terrier? Where did it come from? What's its personality like? Does it have any significant health issues? What's the Bull Terrier's lifespan? We'll answer all these questions and more. Read on…
Where Did the Bull Terrier Come From?
It is believed that the Bull Terrier was created around 1835 by crossing a Bulldog with the now extinct English Terrier. Later these Bull/Terriers were mixed with the Spanish Pointers to increase their size. This trifecta was known as the "Gladiator" in the dog-fighting circles.
However, in 1860 a man named, James Hinks, set about to create an all-white dog. These striking canines then became very fashionable to have and were nicknamed "White Cavaliers" because of their courage in the ring and their kindness towards people.
Thankfully today, the Bull Terriers no longer have to endure the brutality of the dog-fighting arena but are now known for their sweet dispositions and awesome family companion.
Bull Terrier Temperament
Described as a friendly and feisty pooch, the Bull Terrier is also an extrovert that wants to be engaged with its family members. This breed does not do well left alone for long periods-of-time – he will chew on anything and everything – in fact, many Bull Terriers have died from gastrointestinal blockages that were discovered too late.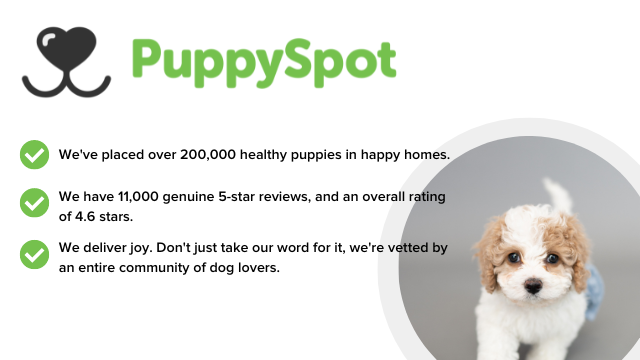 Expect to give your Bull Terrier approximately 30 to 60 minutes of exercise daily. This includes walks/jogs to the park, playing fetch or testing his brains and brawn with obedience classes, agility courses or interactive toys.
When out-and-about with your Bull Terrier, be sure to keep him on a leash, so he won't run after other animals or go off on his own to explore those new and interesting sniffs.
Bored of the same old  stroll? Check out these 5 Games to Make Walking Your Dog More Fun!
Mini Bull Terrier
Like many other dog breeds that are being sized-down, the Bull Terrier is no exception. The "mini-me" version of this clownish pooch stands 10 to 14 inches at the shoulder and can weigh up to 28 pounds. The Mini Bull Terrier is still quite strong for its size and still holds all the lovable traits of its full-sized counterpart. The AKC recognizes the smaller version of this dog as a purebred, not a Bull Terrier mix.
Bull Terrier Puppy Traits
The Bull Terrier puppy is a bouncy pet that is into everything. You will want to avoid any high-impact exercises that can damage those developing bones. These activities include jumping on and off the furniture, playing Frisbee, or running on slippery floors until your dog reaches maturity (12 to 18 months).
Because of the Bull Terrier's nature, it is recommended to provide your pet with early and consistent training. This breed can be stubborn and difficult to train, so you must be able to be a leader without resorting to physical force or harsh words. Positive reinforcement is key to successfully working with and training the Bull Terrier.
Bull Terriers are suspicious of strangers and can be aggressive toward other animals (especially dogs of the same sex) and people. Giving your puppy early socialization such as training classes and going to dog-friendly public places (so he can get used to many different situations, people, and dogs) is a must-do to having a well-rounded pet. He should also learn to welcome visitors to your home.
Quick Facts About the Bull Terrier
Height: 1 foot 9 inches to 1 foot 10 inches at the shoulder
Weight: 35 to 75 pounds
Dog Breed Group: Terrier
Hypoallergenic: No
Lifespan: 10 to 15 years
Health Issues of the Bull Terrier
Although the Bull Terrier is a relatively healthy breed, they can suffer from some genetic conditions. These include;
Hereditary Nephritis – this is a severe form of kidney disease that can present itself at an early age. It's caused by small and undeveloped kidneys or a malfunction of the kidney filters. This can result in high levels of protein in the urine and premature death (usually before the age of three). A yearly urine protein/urine creatinine (UP/UC) test is recommended for Bull Terriers starting at around 18 months old. This breed can also suffer from renal dysplasia; a congenital disease in which the kidneys don't mature or perform correctly.
Deafness – this can occur in one or both ears and is a common trait in solid white dogs; however, it can also occur in colored Bull Terriers. All Bull Terrier puppies should undergo BAER (brain-stem auditory evoked response) testing to ensure that their hearing is normal. Even if your Bull Terrier is deaf in one ear, it can still lead a relatively normal life, but be aware that puppies who are deaf in both ears will require special training techniques and handling.
Heart Disease – may be caused by defects in the heart's structure and function. Some cases are more serious than others and are usually indicated by the presence of a heart murmur. Your veterinarian may recommend a cardiac ultrasound (echocardiogram) to diagnose this condition. Some Bull Terriers can outgrow their murmurs, while others can live with them for years with no problem. Unfortunately, some can also develop into heart failure. Depending on the condition and the stage at which it's diagnosed, treatment may range from medication to surgery.
Skin Problems – white Bull Terriers, are more prone to skin conditions such as sensitive skin, rashes, sores, and irritations. They may also be prone to contact or inhalant allergies, caused by a reaction to substances such as detergents or other chemicals or airborne allergens such as pollen, dust, and mildew. You will want to check your Bull Terrier's skin on a regular basis and quickly treat any conditions that may pop up. Providing your Bull Terrier with soft, clean bedding in crates and other sleeping areas may help prevent sores. You may also want to switch to a kibble that uses no or fewer chemical additives. If your Bull Terrier skin problems worsen, you may need long-term treatment with antibiotics or steroids to help control it.
Spinning – this is when your canine develops an obsessive form of tail-chasing. It usually begins at approximately six months-of-age. Once started, each session can continue for hours. It is thought that spinning may be a type of seizure and is sometimes successfully treated with medications. Treatment is often more successful in females than males. Bull Terriers can also develop a milder form of tail chasing that's easily dealt with by eliminating the dog's boredom.
Lens luxation – is when the lens of the eye is displaced because the ligament holding it in has deteriorated. It's sometimes treatable with medication or surgery. In extreme, severe cases the eye may need to be removed.
Look for a reputable breeder that does not breed his/her dogs until they are two or three years-of-age and has had the proper genetic testing done to ensure the health of the puppies.
More Facts About the Bull Terrier
This breed does not do well in cold climates. Be sure to provide your Bull Terrier with the proper outdoor attire.
The Bull Terrier does not require a lot of grooming – Simply wipe-and-go, with weekly brushing.
This breed may be against some city bylaws.
A miniature version of the Bull Terrier exists that stands only 10 to 14 inches at the shoulder (although, it is technically its own breed).
This breed comes in two color varieties; all white or colored.
Because of their nature to chase, the Bull Terrier may not be well-suited to homes with cats or other small furry critters.
Bull Terrier Vs. Pit Bull
Although many breeds may fall under the "Bully" heading, there is a difference when it comes to the Bull Terrier vs. the Pit Bull Terrier.
First off, the head shapes are noticeable different. As we mentioned earlier, the Bull Terrier is known for its egg-shaped head, while the Pit Bull's head is quite blocky. On top of those heads also lie folded ears set to the side for the Pit Bull, whilst the Bull Terriers ears are more erect.
Second, the Bull Terrier is a friendly dog that is gentle and accepting of strangers and older children. The Pit Bull, on the other paw, if properly socialized can be a great family dog, but may have a tendency to show aggression towards other dogs.
Lastly, when it comes to training, the Bull Terrier tends to be on the "bullheaded" side and requires time, patients, know-how and possibly a professional helping hand. The Pittie can still be a bit stubborn but overall, this breed tends to be easier to train.
Now that we've covered the Bull Terrier's lifespan, personality traits, genetic conditions and some helpful breed tips, perhaps you are ready to make room in your life for one. If so, be sure to research out reputable breeders. Once you have your puppy at home, firm but positive training, early socialization and daily exercise are all part of keeping your Bull Terrier happy and healthy.
If you are a pet parent to a Bull Terrier and want to share a fun story or a helpful tip, please feel free to drop us a line in the comments section. We'd love to hear from you, so don't be shy!