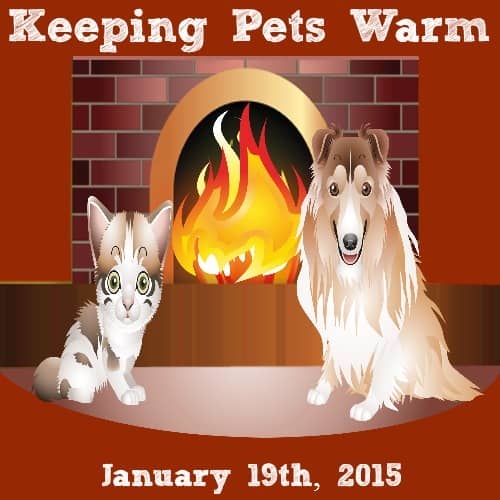 Living in the Poconos, I've had to figure out ways of keeping pets warm when the power goes out more times than I care to count. When you live in a place known for its snow, you can count on losing power at least once every winter. Back during Hurricane Sandy, we lost it for 8 long, cold, miserable days.
Riding out the misery in a hotel wasn't an option for us. At that time, I had three dogs, three cats and a parrot (we've since added guinea pigs to the mix, but the parrot went to live with my cousin). I'm not one to leave my pets behind to fend for themselves. They are family. We adopted them as companions and we take our role in their care very seriously. If that means sacrificing our comfort to ensure their survival, so be it. I like to think they'd do the same for us. Although I could kind of see Maia, my lab/collie alpha dog, packing up a suitcase and saying "you're on your own, servants!"
Long story…, well, long, I don't do short stories, I've had experience with keeping pets warm when the power goes out. Too much experience. After I finish writing this, I think I'll look at real estate in a warmer climate, now that I think about it! Check out my tips, things that have worked well for me over the years. Then tell me yours in the comments, because I'm sure I'll suffer at least one power outage this winter and I'm always open to learning from our readers!
Tips for Keeping Pets Warm When the Power Goes Out
Limit outdoor time. This is partially a no-brainer. Of course if it's frigid out, you're already limiting your dog's outside time. When you're in the middle of a power outage, though, it's even more important. Why? Because every time you open the door to let Fido out to do his business, you're also letting out some of the precious warmth that your house is retaining. My dogs love to go outside to bark at things. We live in the path of a small airport and Cooper has declared our yard a "no-fly zone." He also LOVES to eat snow, so it's hard to tell him "no," but it's for his own good.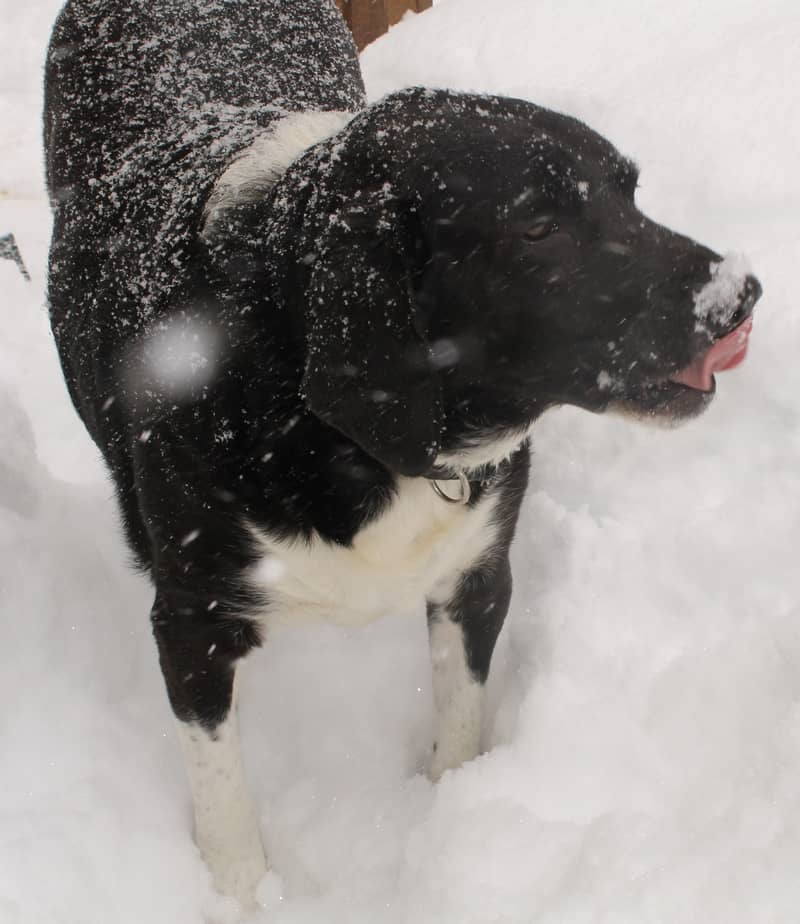 Gate off colder rooms and create a warm oasis. My dogs despise closed doors. To them, it's a challenge. Something good must be behind it! When I'm focusing on keeping pets warm during a power outage, though, I try to close off any room that doesn't need to be used. My son sleeps with me, so his room gets shut. I encourage my dogs to stay in the dining room, where we have the small wood stove going. As long as we stay in that area, they will too…for the most part. If you don't have a wood stove or fireplace, consider a space heater that runs on kerosene. I'm a little scared of them, but they are good in a pinch when you follow the directions carefully.
Break a few rules. Maybe you have a rule about not letting your pets sleep with you. We don't have that rule here, but I know it's common. When it's frigid inside, though, you might want to consider making allowances. Yes, you may set yourself up for training problems later, but in the mean time, you and your pets will keep each other warmer. If you really don't want to set a precedence, how about making a cozy bed on the floor? Grab the blankets, sleeping bags and pillows, then create a spot where you can snuggle in with your pet for the night.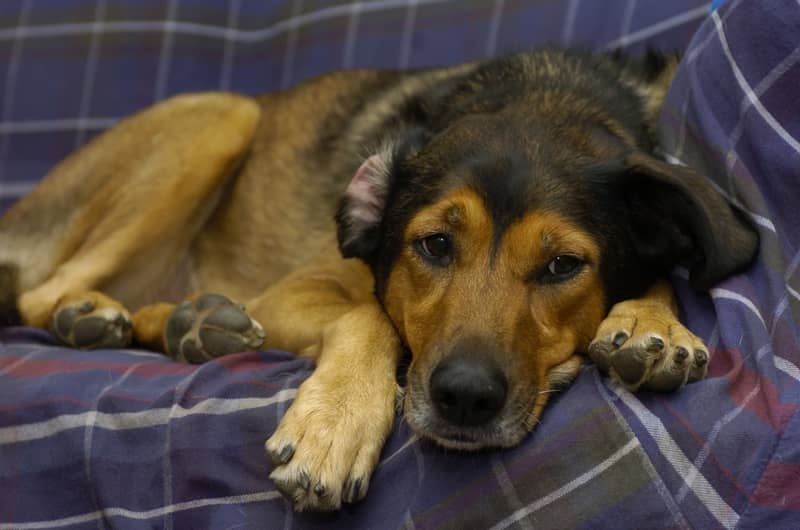 Keep dog sweaters handy. My dogs do not wear sweaters. Maia is the only one who would even consider allowing us to put one on her. If you have smaller dogs, or perhaps large dogs who are more open to getting dressed up, considering keeping a few dog sweaters on hand for power outages. In a pinch, you can cut one of your old sweaters to fit your dog. It's not ideal, but it will work.
Warm up their water. You know how a cup of coffee makes you feel all warm and gooey inside? Well, warm water can have the same effect on your pet. If you can heat up a pot of water over a wood stove or fireplace, go for it. Just make sure it's not too hot. If your pet isn't into drinking warm water, try mixing a bit into his kibble.
Call the Red Cross. During out outage, the Red Cross set up a temporary housing facility in a local college. They allowed animals, but they had to be kept in crates. With as many pets as we have, it wasn't really an ideal option for us. Maia in particular gets very stressed out if she's boarded away from us, even if we're in the next room. If you just have one dog, though, it may be worth checking into, especially if you have no means of keeping even one room in your house semi-warm.
These are just a few tips for keeping your pets warm during a power outage. One word of caution: don't go overboard. Remember, they have fur. You don't. If you're just chilly, they may be comfortable. You don't want them to overheat.
Obviously, since this is DogVills, I focused mostly on how to keep your dog warm when the power goes out. As I said, though, I do have cats and guinea pigs. These tips work for cats. The guinea pigs- my best advice is to pile blankets on their cages and move them into a room that is retaining the most warmth. I also spent a couple of hours of each of those eight days down the road at my friend's house, where my boyfriend's Ball Python was housed. I held her in my shirt under three layers of sweaters to warm her up. So there you go, I even threw in a tip on how to keep a friendly snake warm!
This post is part of the Keeping Pets Warm Event, hosted by  Davinia and Indiana from Two Little Cavaliers. During the event, you'll find other great ideas for keeping pets warm on participating blogs. Be sure to check those out!!
Tell me any tips or ideas you may have for keeping pets warm during a power outage. I'll definitely keep them handy for my next, inevitable power outage!