If you're looking for funny Italian dog names, you'll love today's list!
Some dog parents like to be insightful and meaningful when naming a brand new pup.
For me, I like to name my pup something deeply rooted in culture or very elegant.
However, there are some of us, who like a clever and perhaps slightly humorous name – such as Hot Dog.
In keeping with our Italian theme, I have scoured the net for clever and funny Italian dog names.
Believe me, it wasn't easy, and we hope you enjoy it and have a good laugh.
You may also love: Top 100 Surf Dog Names for Beach-Loving Pups
Funny Male Italian Dog Names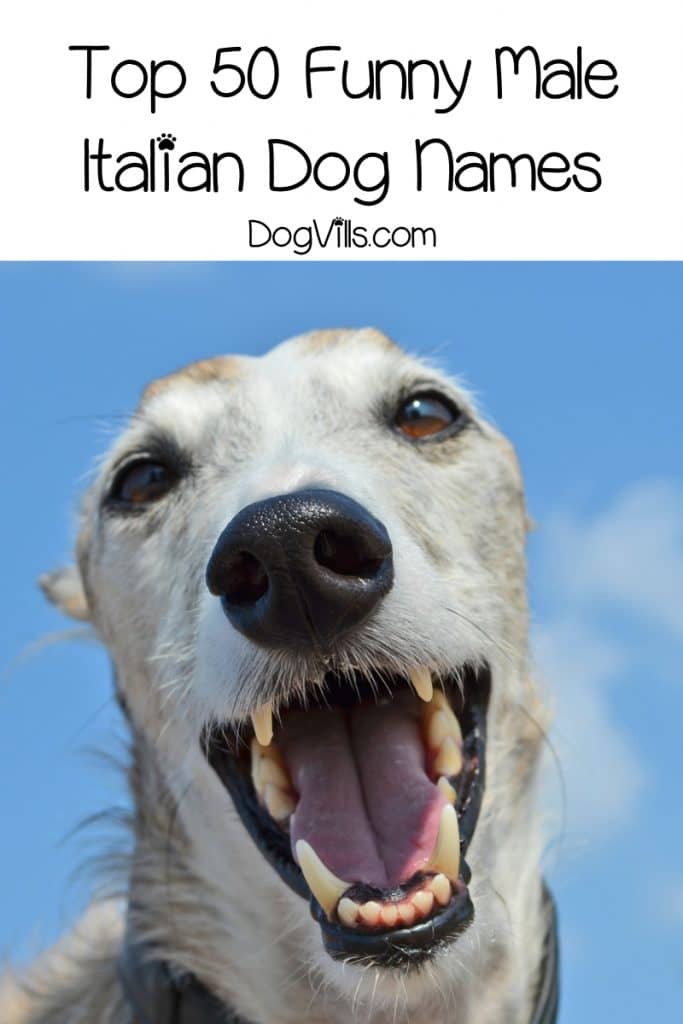 Some names you may have seen before, and some are new, but new or old they bring a humorous touch to your dog's name and will crinkle the corners of your eyes as a smile spreads across your face.
1. Rocco – To roar (battle cry). This is great if your hound is one with a deep growl, or if he or she is very meek. The contrast alone is funny.
2. Tito – Giant. Great for small dogs
3. Gelato – Yummy ice cream!
4. Caramello – Delicious syrupy topping (caramel).
5. Pesto – Yummy green sauce
6. Linguine – It sounds very classy, but it's just a type of pasta.
7. Espresso – Your dog is your pick me up in the mornings
8. Mario – No explanation needed. It actually means bitter though…
9. Luigi
10. Dolce
11. Polpetto – Meatball. It's hard not to incorporate lots of food terms
12. Topolino –Little mouse
13. Mussolini – Although he wasn't a funny leader, his name lends a funny element to a stoic dog.
14. Risotto
15. Ravioli
16. Prosecco – White wine, anyone?
17. Gnocchi
18. Biscotti
19. Bacio – Kiss. Who doesn't love doggy kisses?
20. Zitto – Meaning "quiet." We know a lot of dogs are anything but.
21. Pavarotti – A great opera singer
22. Bocelli – Another great vocalist, great for dogs who have the howl in them
23. Baffi – Mustache. I find this great for wiry-haired terriers
24. Tino – While Tito is big, Tino is small.
25. Alto – Tall. Do with this one what you will
26. Pelo – Meaning "fur". If that's all you can see everywhere, it might be fitting for your dog.
27. Salami
28. Fettuccine
29. Bolognese
30. Andrea – Manly
31. Elmo – Funny character on Sesame Street with a deeper meaning – Worthy to be loved.
32. Enzo – Ruler of the house – because let's face it, it's what our dog will be.
33. Este – Do you have a breed from Asia? Este means "from the East".
34. Fabio – Bean grower
35. Giorgio – Farmer. Funny how the namesake for the fashion powerhouse actually means this.
36. Paolo – Little
37. Primo –First. If your dog is your first fur baby, this is a great one!
38. Bravo
39. Cappuccino
40. Gusto
41. Martini
42. Oboe
43. Pizza
44. Scampi
45. Solo – For the only dog of your heart
46. Vino – Who likes wine?
47. Zero
48. Tempo
49. Trio
50. Volt
As you will have noticed, most of our funny Italian dog names have been inspired by food.
That is no coincidence, as dogs love food and the Italians do food oh so well.
However, names such as Paolo, Tino, and Pelo describe the appearance of your dog quite well.
Other ones like Enzo gives your dog a title he well deserves.
Now some if not all of the names above can be unisex, but we have also compiled a list of funny Italian names just for little girls.
Don't you love these 100 Charming French Dog Names?
Funny Female Italian Dog Names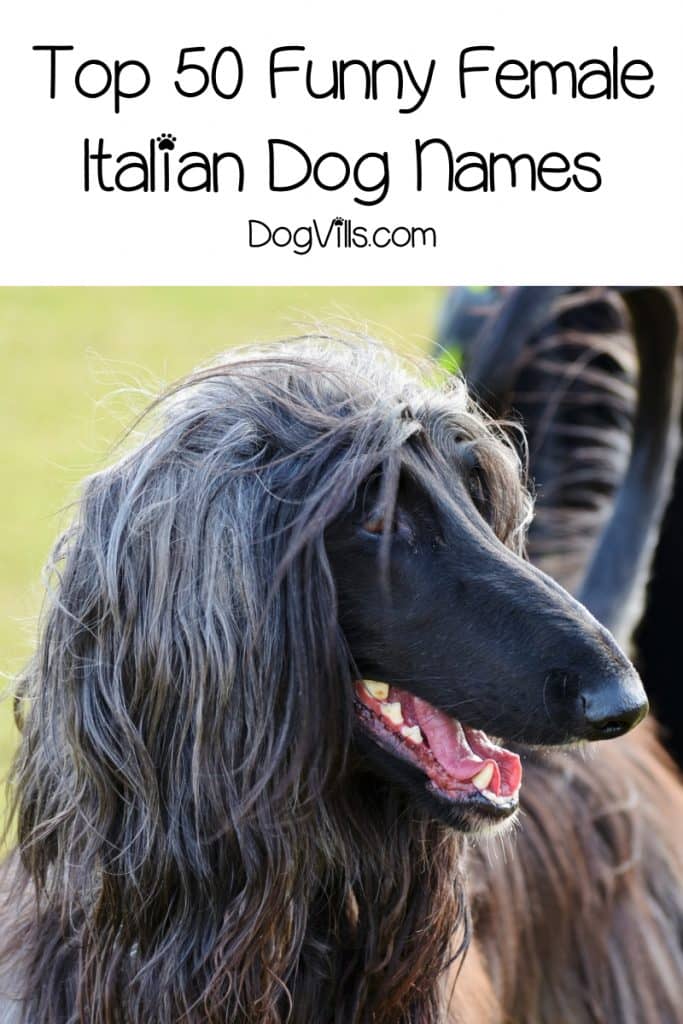 1. Nutella – Do you like the spread?
2. Volante – Flying, the only thing that may soar is your dog's spirit.
3. Cannoli
4. Mozzarella – For the cheese lovers
5. Gabanna
6. Tiramisu
7. Zuppa –Soup
8. Venti
9. Grande – Large
10. Esta – Female form of Este
11. Prima – Female form of Primo
12. Maria – Female form of Mario
13. Paola –Female form of Paolo
14. Diva – If you pamper your dog too much, this is what she will be.
15. Latte
16. Lava – For the fireball of energy she is
17. Ciccia – It means "best friend". Not so much funny as it is meaningful
18. Piccola – Tiny girl
19. Pupa – Baby
20. Gallinella – Silly girl
21. Gallinetta – Cheeky girl
22. Capretta – Little goat
23. Zia
24. Bamboccia
25. Pippi – Not the red-haired girl, but rather for a little lovely girl
26. Patatosa – Cute and chubby girl. Though I hope your dog won't be overweight
27. Pulce
28. Peste
29. Piaga
30. Stronzetta
31. Genia – Clever girl
32. Monella – Naughty
33. Pimpi – Princess, sweet meaning but it sounds a bit funny.
34. Fatina
35. Gioia
36. Bambina
37. Fritella – Pancake. We can't seem to stray from the food theme.
38. Polpetta
39. Scimmietta – Little monkey. For the rambunctious girls
40. Maialina – For one who eats a lot. What else do dogs do besides sleep?
41. Tartina
42. Crostatina
43. Crocchetta
44. Scricciola
45. Polpa – Clumsy
46. Zolletta – Lump
47. Tesoro
48. Paperina – Daisy Duck!
49. Formaggina
50. Orsetta
We have a lot of names on our list under the influence of food, but also a lot that are affectionate nicknames given to a loved one or girlfriend – but mostly after food as well.
We all know how much dogs love food, only second to their love for you!
For an extra touch of culture, we have compiled a short bonus list of Sicilian names for you as well!
We took a lot of inspiration from Mafia dons, and ended up with a short list of interesting names for your reference.
Funny Sicilian Dog Names
1. Futtitinni – Equivalent of "Hakuna Mattata"
2. Tale – The word you use when you want everyone to look at what you are pointing at.
3. U Curto – The short one
4. La Belva – The beast
5. Palermo
That about does it for our funny Italian dog names. I hope you enjoyed the names we chose!
What did you think of our list? What are your favorite funny Italian dog names? Tell us what you think below!