If you're looking for some cute food names for dogs, you're in the right place!
Whether you love muffins, gumdrops, coffee or martinis, there's a name on my list below that is perfect for your pooch!
I broke it down by category to make it even easier for you to find the right one.
We have a ton of names to check out, so let's dive in!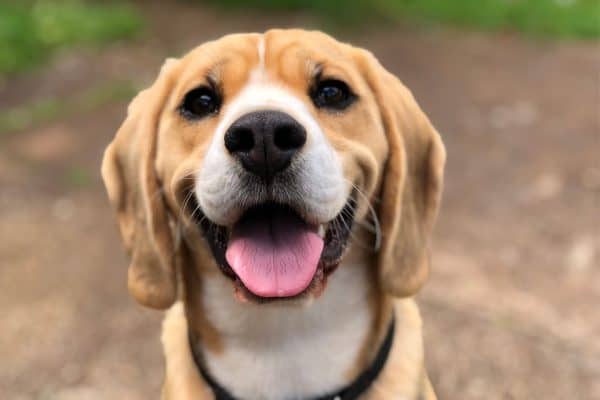 Catchy Food Names for Dogs
As I mentioned above, I broke this list down into different categories so it's not so overwhelming. That said, some foods either fit into multiple ones or defy categorization altogether. So be sure to read the entire post to make sure you don't miss any adorable food names!
50 Breakfast Food Dog Names
Ackee- national dish of Jamaica
Anadama – a type of breakfast bread
Apple Jack- a cereal
Bacon
Bagel- (Bagel Dog)- A bagel dog is a hot dog that is wrapped in a bagel.
Bear Claw
Benedict- (Eggs Benedict)- A dish made with 2 English muffin halves and topped with Canadian bacon, poached eggs, and hollandaise sauce.
Biscuit- Cute name for an affectionate dog.
Bizcocho- A pastry
Boudin- A type of sausage
Cap'n Crunch
Cheerio-  A Perfect name for a miniature dog.
Chex
Choco- Chocos is a type of cereal
Cinnabon
Cookie Crisp
Coco Puff
Donut
Dyno-Bite- a cereal
Eggo
Flapjack- A type of pancake
Franken Berry
Frittata
French Toast
Froot Loop
Golden Graham- A cute name for blonde dog!
Granola
Grits (or Gritsy for something cuter)
Honey Bunches of Oats – Honey for short!
Honey Puff
Katogo –a Ugandan breakfast
Kashi
Kix- a cereal
Lucky Charm
McGriddles- a McDonald's breakfast dish that makes a cute dog name!
Muffin- Cool name for a small dog.
Muesli
Oatmeal
Omelet- Wonderful name for a dog who's a mixture of different personalities.
Paczki
Pancake
Poha-an Indian breakfast dish
Pop-Tart
Pork Roll- a funny food name for a pudgy puppy
Porridge
Quake- a type of Quaker Oats cereal
Sausage
Trixie – after Trix cereal
Twinkles- another type of cereal
Waffles- Fun name for a dog that is goofy and playful.
Related: Find Out Why We Chose This Dog FOOD
50 Sweets & Dessert Dog Names
Angel Cake
Babka- a type of cake
Blondie- A light-colored brownie.
Bonbon
Brownie- A delicious, moist, chocolate dessert.
Butterscotch
Butterscotch- A sweet confection made from butter and brown sugar.
Cake Pop- Super cute!
Candy- Awesome name for a sweet dog.
Candy- Can't forget this obvious one!
Caramel
Caramel- Great name for a brown-colored dog.
Carrot Cake
Caycay- a cookie
Cheesecake
Chikki- a kind of candy
Cocoa
Cookie
Cookie- Fabulous name for a high-energy dog.
Cupcake-  A beautiful name for a dog with a sweet personality.
Custard
Divinity
Dundee- a type of cake
Eclair
Fondant
Fruitcake
Fudge
Genoise – a cake
Gobstopper
Godiva- Marvelous name for a female, brown colored dog.
Gumdrop- Sweet name for a small, affectionate dog.
Hershey- Sweet name for a chocolate colored dog.
Honey- Awesome name for a dog that is as sweet as honey.
Jelly Bean
Jelly Bean- Colorful name for an energetic, sweet dog.
Lemon Drop
Licorice
Licorice- Incredible name for a sweet, black colored dog.
Macaroon
Madeleine- a cakey cookie
Marshmallow
Marshmallow- Cute name for a white colored dog.
Marzipan
Mochi
Mooncake
Nougat
Oreo- Sweet name for a dog that is black and white in color.
Peppermint- Fun name for the dog with a refreshing personality.
Peppermint Patty-Like the tasty candy or the Peanuts character!
Pocky- a Japanese candy
Pudding- Great name for a dog that is sweet and enduring.
Snickerdoodle
Sorbet- A frozen dessert made from flavored, sweetened water.
Sprinkles
Stroopwafel
Strudel- A layered pastry with an apple filling.
Sugar- Endearing name for a white colored dog.
Sugar Plum
taffy
Thin Mint
Tiramisu
Trifle
Truffle- A rich, chocolate dessert.
Whoopie Pie
33 Cute Fruit Dog Names Inspired 
Açaí
Apple
Apricot
Banana
Blackberry
Blueberry
Cherry- Sweet name for a female dog; from the Latin word, meaning beloved.
Clementine- Awesome name for a female dog; from the Latin word, meaning merciful.
Coconut
Fig
Honeydew- Honeydew is great for dogs to eat because it has a high content of fiber and water.
Huckleberry- The state fruit of Idaho.
Jujube
Juniper – a berry
Kiwi- A fruit that hails from New Zealand.
Lemon
Lulo
Mandarine
Mango- Impressive name for a red or orange-colored dog.
Melon
Mulberry
Nectarine
Papaya
Peaches- Cool name for a Southern dog, like Georgia peaches.
Persimmon
Pomegranate
Raspberry
Satsuma
Strawberry
Tamarind
Tangelo
Tangerine
Yuzu
40 Herbs & Spices Names for Dogs
Angelica
Anise
Basil
Artemisia
Caraway
Cardamom
Cassia – a type of cinnamon
Cayenne- a pepper
Cicely
Cilantro
Cinnamon- Perfect name for a dog that is yellowish-brown in color.
Clary
Clove
Coriander
Cumin
Fennel
Fenugreek
Ginger
Hyssop
Jasmine
Lavender
Lemon Verbena (or just Verbena)
Mace- a baddass dog name!
Nutmeg- For a sweet, warm dog!
Oregano
Paprika
Peppermint
Poppy
Rosemary
Saffron- Cute for a new puppy that's a sort of orange-yellow in color
Sage
Sassafras
Tarragon
Thyme
Tonka- as in Tonka beans
Turmeric
Vanilla
Wasabi
Wormwood- the herb that makes absinthe
Yarrow
22 Funny Dog Names from Vegetables
Alfalfa
Arugula
Asparagus
Bok Choy
Broccoli
Butternut- (Butternut Squash)- A winter squash with a sweet and nutty flavor.
Cabbage
Cauliflower
Endive
Kale
Kohlrabi
Mushroom
Okra
Parsnip
Potato
Pumpkin- yep, it's a vegetable!
Radicchio
Rutabaga
Scallion
Spinach
Yam
Zucchini
Related: 100 Italian dog names for Cane Corso (Male and Female)
20 Meat-Inspired Dog Names
While I find naming a dog after meat…unsettling…there are some funny ideas if you can get past that!
Abalone- aka sea snail
Albacore
Angus- A Scottish name that means first choice.
Anticucho- popular in the Andes in pre-Columbian days
Bacon- What dog doesn't love bacon?
Birria- Meat stew
Brisket
Burgoo- a spicy meat stew from Kentucky
Chuck
Flounder
Gizzard
Gumbo
Hambone- Perfect for the dog who makes you laugh.
Meatball- Wonderful name for a dog with some extra meat on their bones.
Nugget- (Chicken)- Cute name for a small dog.
Pepperoni- A variety of salami and is often used as a topping on pizza.
Pork Chop- Amazing name for a spunky dog.
Sausage- Great name for a Dachshund dog breed.
Sirloin
T-Bone- Cuts of steak, taken from the short loin.
Tofu- not technically meat, but often used in place of it!
12 Names Inspired by International Foods
Gyro- Greek- A flatbread filled with meat, onion, tomato and tzatziki sauce.
Curry- Indian- A spice mix that is made with chili peppers, coriander, cumin, fenugreek and turmeric.
Alfredo- Italian- A rich sauce, used mainly on pasta dishes, that is made with butter and Parmesan cheese.
Bruschetta- Italian- An antipasto that is made with garlic bread and topped with tomatoes.
Cannoli- Italian- A pastry made with fried pastry dough and a ricotta filing.
Gnocchi- Italian- Small dumplings made with bread crumbs, cheese, cornmeal, eggs, potatoes, semolina and wheat flour.
Ramen- Japanese- Chinese-style wheat noodles.
Sushi- Japanese- A dish that is made with vinegared rice, raw seafood and vegetables.
Burrito- Mexican- Flour tortillas that are filled with meat, beans and cheese.
Jalapeno- Mexican- A medium-sized chili pepper that is mildly to moderately spicy.
Nacho- Mexican- A dish consisting of tortilla chips that are topped with nachocheese and jalapeno peppers.
Taco- Mexican- Corn or flour tortillas that are filled with an array of meats, cheeses and vegetables.
Are you an anime fan? Check these anime names for dogs
18 Nuts & Granola Dog Names
Acorn
Almond
Baru- a nut found in Brazil
Beech
Cashew- Perfect name for a yellow colored dog.
Chestnut- Terrific name for a tan colored dog.
Ginko
Hazelnut
Hickory
Karuka- a nut in Papua New Guinea
Kola
Macadamia
Malabar- a type of chestnut
Mongongo- found in the Kalahari dessert
Peanut- Cute name for a small dog.
Pecan- A hickory nut that is smooth and brown in color.
Pistachio- Derived from Central Asia and the Middle East; part of the cashew family.
Walnut- Cool name for a dark brown colored dog.
41 Dog Names Inspired by Drinks
Barcardi
Barq- After Barq's root beer
Bijou- a cocktail made with gin
Bud
Chi-Chi- A vodka-based cocktail
Daiquiri
Fanta- A soda brand
Gimlet
Guinness- a cute name for an Irish Wolfhound!
Jameson- A popular brand of Irish whiskey.
Jarrito- for Jarritos soda
Kamikaze
Lemon Drop
Margarita- A popular mixed drink, made with tequila, triple sec and lime juice.
Martini- A classic drink that is made with gin and vermouth and garnished with an olive or two.
Mojito
Moxie- a soda brand
Mudslide
Orangina
Ouzini- a cocktail made with ouzo
Pepsi
Pinot- (Pinot Noir)- A red wine that is derived from the French words, meaning pine and black.
Porter
Riesling- A type of dry, semi-sweet wine that has floral notes.
Rockstar- an energy drink
Sake- Japanese rice wine
Salty Dog
Scotch- A type of whiskey, from Scotland, made with malted barley and water.
Shandy- A type of cocktail
Shasta
Shasta- Ideal name for an Eskimo Husky dog breed.
Sherry- Cute name for a female dog; from the French word, meaning beloved.
Sprite
Stinger- A cocktail
Tang- A fruit-flavored powdered drink mix.
Tequila
Tom Collins
Vampiro- A cocktail made with tequila
Whiskey
Wolfram- a gin-based cocktail
Zombie- A cocktail made with rum
20 Coffee Dog Name Ideas
Affogato- ice cream and espresso
Arusha- a Tanzanian coffee bean
Bernardina- coffee bean from El Salvador
Cafe Au Lait
Caffe- A shot of espresso.
Cappuccino- A coffee drink that is made with 1/3 espresso, 1/3 milk, and 1/3 foam.
Catimor- a Portugese coffee bean
Espresso- A strong coffee drink made with espresso roast coffee, a great name for a black dog
Frappe
Guillermo- espresso poured over lime
Java- A word that means brewed coffee.
Kona
Latte
Manilo
Mocha- An Arabic word, meaning sweet as chocolate.
Moka- coffee brewed with a Moka pot
Morocchino
Ristretto
Shakerato- An iced coffee drink
Sidamo- Ethiopian coffee bean
20 Miscellaneous Catchy Dog Food Names
Barkham Blue- a type of cheese
Brie
Caesar- A type of salad that is made with romaine lettuce, Parmesan cheese and croutons.
Caviar
Chai- after the tea
Cheddar
Chip- Chocolate, potato, take your pick!
Dijon- A type of mustard
French Fry
Hummus
Kimchi
Nori- Japanese seaweed
Penne- like the pasta
Pizza
Popcorn
Pretzel
Queso
Reuben- A type of sandwich, made with corned beef, sauerkraut, Swiss cheese and Russian dressing.
Tater Tot- Grated potatoes that are deep-fried.
Wendy- as in Wendy's fast food restaurant
Why Choose Food Names for Dogs?
Coming up with dog names is hard work! We look for inspiration all around us, including our favorite foods.
If you have kids, choosing from dog food names can help them remember their new pup's moniker! Think about it: is your toddler more likely to remember the name "Roosevelt" or "Peanut"?
Another reason: food associations bring up great memories, much like your family dog will years into the future! I have fond memories of making brownies with my mom as a child, or drinking mochas with my friends in high school!
Of course, you might choose the name just because it's fun and cute!
Whatever the reason, these 100+ dog food names for dogs will definitely help you choose!
Do you have any favorite food names for dogs? Share below!