If you're searching for the best Caribbean dog names, you'll love our list!
Below, you'll find male & female dog names inspired by the stunning islands, sandy beaches, and famous Caribbean residents!
We've even included some of our favorite names from the Pirates of the Caribbean movie franchise!
With 100 ideas in all, you should have no problem coming up with the perfect moniker for your beach-hopping dog!
You may also love: 5 Must-Know Tips to Keep Dogs Safe at the Beach
Male Caribbean dog names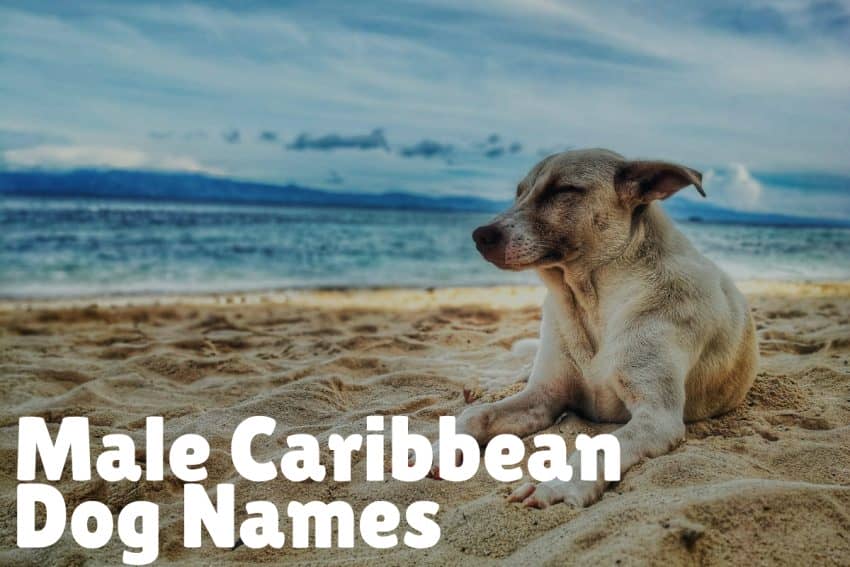 Check out our top 50 favorite male dog ideas inspired by the islands, famous residents, and a few fantastic Pirates of the Caribbean dog names!
Some of the names are pretty obvious. For example, Cuba doesn't really need an explanation.
When they're not obvious, though, we've included a very brief description after the name.
Barton (Cay in the Bahamas)
Bellamy (Cay in British Virgin Islands)
Blake (Blake Cay, Jamaica)
Caulker (a small island located in coast of Belize)
Captain Jack (Sparrow, from the movie)
Cay (a coral reef, many are found in the Caribbean)
Cayman (the famous Cayman islands)
Coakley ( Coakley Bat, St. Croix, Virgin Islands)
Cooper (island in the BVI)
Crusoe ( after Robinson Crusoe, a novel set in the Caribbean)
Davy (Jones, from the movie series)
Desi (Desi Arnez, born in Cuba)
Dupre (island in Martinique)
Ffrye (Ffrye's Bay in Antigua)
Glover (island in Grenada)
Graham (Grahams Place beach in Honduras)
Sampson (an island located in Bahamas)
Clarence (Olympic boxer from Bermuda)
Crane (Crane Beach, Barbados)
Cuba
Domingo (after the capital of Dominican Republic)
Fernando (largest city in Trinidad and Tobago)
Garvey (island in Saint Kitts and Nevis)
Hamilton (capital of Bermuda)
Hassel (island in the US VI)
Hemingway (the author was a resident of Cuba)
Henley (cay in US Virgin Islands)
Hopkins (famous beach in Belize)
Jamaica
Kamalame ( Kamalame Cay, Bahamas)
Kingston (capital of Jamaica)
Kincaid (Jamaica Kincaid, famous Antiguan writer)
Madden (Maddens in Saint Kitts and Nevis)
Marley (Bob Marley was from Jamaica)
Moore (island in Bahamas)
Morgan (Captain Morgan, famous pirate)
Montego( Montego bay in Jamaica)
Ocho (Ocho Rios beach in Jamaica)
Palomino (island in Puerto Rico)
Perkin (Perkins Cay, US Virgin Islands)
Potter (Cay in the Bahamas)
Prince (Port-au-Prince, Haiti)
Remy (Ilet Remy in Haiti)
Russell (Island in the Bahamas)
Speedy( Craig Speedy Claxton, Antiguan basketball player)
Tucker (a town in Bermuda)
Turk (after Turks and Caicos islands)
Tobago (island of Trinidad and Tobago)
Santiago (a city in Dominican Republic)
Rico (Puerto Rico)
Hard to pick a favorite among these Caribbean male dog names, isn't it? I kind of love Coakley!
Captain Jack is a fun name for fans of Pirates of the Caribbean. My friend had a schnauzer named Captain Jack Sparrow. They just called him Jack.
Female Caribbean Dog Names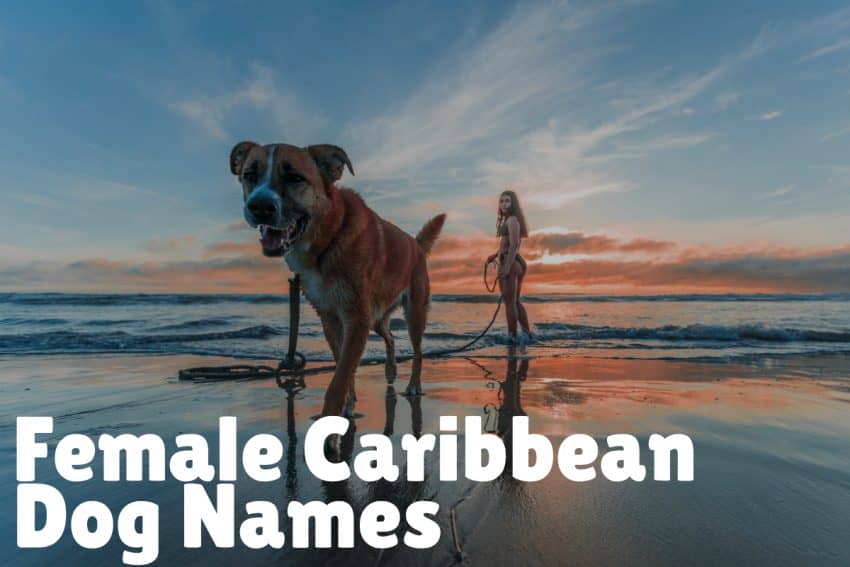 Once again, we hit the islands and beaches to find inspiration for most of these female Caribbean dog names.
You'll also see a mix of famous Caribbean residents as well as characters from the movie series. Let's check them out!
Abaka (beach in Haiti)
Anna (Cay in the Bahamas)
Aquala ( mermaid from Pirates of the Caribbean)
Azure (means blue, as in the blue waters)
Bahama
Bonny (Ann Bonny, the real Captain Jack's lover)
Calala (Calala Island, Nicaragua)
Carida (popular Saint in Cuba)
Carrera (Island in Trinidad and Tobago)
Catalina
Charlotte (capital city of US Virgin Islands)
Cinnamon (Island in Antigua)
Coco (Cay in the Bahamas)
Cristi (a town in Dominican Republic)
Curaçao (beach in Cas Abao)
Désirade (La Désirade in Guadeloupe)
Dove (Cay in Saint Vincent and the Grenadines)
Dulcina (island in Saint Kitts and Nevis)
Eden (island in Saint Kitts & Nevis)
Eiland (Dutch word for island, Dutch is a predominant language)
Exuma (a famous island in Bahamas)
Ginger (island in the BVI)
Grace (Grace Bay Beach, Turks & Caicos)
Guadeloupe (an island in Caribbean)
Hope (island in Grenada)
Juanita (a popular girl's name in Cuba)
Kitt ( Saint Kitts and Nevis)
Lily (Lilyroot Cay, Jamaica)
Lucia (after St. Lucia)
Marigot (in Martinique)
Martinique
Meve (Meves Island in Saint Kitts)
Navassa (an uninhabited island in Caribbean)
Pearl (after the gem & Pearl's Rock in Grenada)
Pelaita (in Puerto Rico)
Pirata (island in Puerto Rico)
Reina ( Jardines de la Reina in Cuba)
Rihanna (the singer is from Barbados)
Sandy (beaches, and an islet in the BVI)
Scilly (cay in Anguilla)
Shoal (after Shoal Bay in Anguilla)
Serrana (an atoll in the Caribbean)
Swann (the last name of Elizabeth)
Syrena (mermaid from the movie franchise)
Tamara (a name of a mermaid)
Terre (means island in French, a common language of Guadeloupe)
Tia (a cute name for water loving dog)
Tierra ( Cayo de Tierra in Puerto Rico)
Utila (an island located in Honduras)
Viv (famous cricket player from Antigua)
From the female dog names list, I love Meve & Azure a lot. The Dutch word for island (Eiland) is also a fun name!
With so many beautiful Caribbean dog names, you might just need to get a second dog so you don't have to choose just one!
What are your favorite Caribbean dog names? Share below!