If you're on the search for the best surf dog names for your beach-loving pup, I've got you covered!
Whether you love to hang ten or just like hanging out at the beach, these top 100 surfing-inspired ideas are perfect for you!
Read on for 60 ideas for male dogs and 60 for females, plus a brief description of each name!
Related: Top Skater Dog Names
Craving more beachy moniker ideas? Check out these top 20 saltwater dog names!
Content & Quick Navigation
120 Surf Dog Names for Beachy Pups
We broke our list of surf dog names up into female and male ideas but some are relatively gender-neutral.
In other words, if you love a name from the female list for a male dog, go ahead and use it!
Also, this post contains some affiliate links. If you make a purchase through these links, we earn a tiny commission at no extra charge to you.
Now, let's get started. Ladies first!
Related: Wonderful Caribbean dog names
Female Surf Dog Names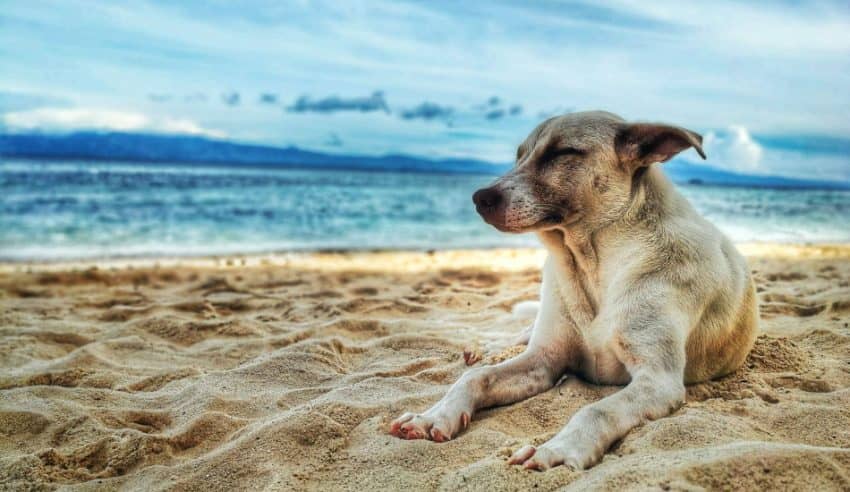 Related: Wonderful SUNNY DOG NAME
Aliikai (Queen of the Sea)
Aqua ( The color used to describe a sea)
Aroa ( Aroa Beach is famed for its scenic backdrops)
Alaia ( a surfboard made up of wood)
Aerial ( A move where a surfer meets a crest of a wave and takes flight)
Ariel (like the Little Mermaid in the Disney)
Azure ( as in the color of deep blue water)
Bells ( A famous surfing spot in Australia)
Betty (What they call female surfers)
Bino ( Between the two large waves)
Bambora ( An off-shore break in the deep water)
Bathsheba ( beach in Barbados with indescribable beauty)
Blondie (a good beachy name for a blonde dog)
Bondi ( a famous beach in Australia)
Camiala ( for a dog that loves to spend time on sand)
Calinda ( a word sun in the Hindi language)
Coral (one of the best beach dog names)
Chiva ( blue beach La Chiva)
Copa ( the Copacabana beach in Brazil with a great view)
Curl (the shape of a wave right after it breaks)
Current ( the movement of water due to temperature or wind)
Chop (bumpy water)
Dory (from Finding Nemo)
Dune ( sandy dunes on the beach)
Darya ( the Persian word which means "goddess of the sea")
Dawn ( the best time of day to catch some waves)
Eliana ( a word that means "daughter of the sun")
Gidget ( small female surfer)
Grace ( after Grace Beach in Turkey)
Goody ( perfect for a joyful dog)
Haven ( as in a haven from stormy seas)
Holly (for famous surfer Holly Beck)
Indigo (another color of the deep sea)
Lanai ( a word meaning island)
Lanikai ( an island famous for blue-green water)
Leech ( a needy surfer)
Langkawi ( a beach famous for pirates' hangouts)
Lisa (after surfer Lisa Andersen)
Maya (after extreme surfer Maya Reis Gabeira)
Marina (the place where you dock your boat)
Megan (after Megan Abubo, the famous surfer)
Moana ( after the Disney movie, it also means "ocean")
Moku (an Olympian who made surfing famous)
Morwenna ( waves of the sea)
Mysto ( a surfing spot that breaks away from the faraway reef)
Pebbles ( the tiny stones on the beach)
Peak ( the spot in the sea where the water breaks on both sides)
Pits ( center of the wave)
Pearl ( the pearls inside seashells)
Racy (a surfing term for a fast wave)
Reno (another famous surfer)
Rochelle (Rochelle Ballard)
Sailor (pretty self-explanatory)
Sandy ( the sand on the beach)
Seashell ( perfect name for a dog that loves to spend time on the beach)
Solangi ( sun's angel)
Sunset ( sunset beach in Hawaii)
Sydney (the Australian city is famous for its beaches)
Wahine (a name for a female surfer)
Waikiki (a cute Hawaiian beach dog name)
Need more ideas for your new girl? Check out our ultimate list of dogs names for females with over 1,000 of them!!
Male Surf Dog Names
Akaw ( a word surfers call out when they see a wave)
Aggro ( describes aggression when approaching the wave)
Barrel ( a tube-shaped curl of the wave)
Bradshaw (a famous surfer)
Bogs ( bogging)
Bamboo (material used in surfboards)
Barney ( a newbie)
Bambora (a big wave that breaks outside the normal surf line)
Bilbo ( a Newfoundland dog that patrolled the beaches of Cornwall)
Breaker ( a large wave)
Blue (the color of the ocean)
Bud (for Bud Brown, the famous surf filmmaker)
Crusoe ( Robinson Crusoe, who was lost on an Island for many years)
Camps ( bay beach in Cape Town)
Cruise ( a relaxing sea voyage)
Cargo (a smart name for a beach dog)
Crest (topmost part of the wave)
Carver ( someone who is agile)
Corduroy ( swells coming in from the horizon)
Doc ( a pioneer of the surf culture)
Duke (for Duke Kahanamoku, the father of surfing)
Dorian ( a Greek word that means sea)
El Rollo ( a complicated surfer that moves on the wave)
Fuller (for Jim Fuller)
Gun ( name of a big surfboard)
Hanalei (a beautiful bay in Hawaii)
Horseshoe ( a bay in Bermuda shaped like a horseshoe)
Harbour ( a beach in the Bahamas)
Honopu ( a beach in Hawaii)
Hurley ( famous surf gear brand)
Kalama (after windsurfing champion Dave Kalama)
Kahuna ( as in "The Big Kahuna")
Kauai (second-oldest Hawaiian Island)
Kook ( term used to describe an unprofessional surfer)
Kaimama ( a word that means man of the sea)
Knot ( a unit of speed used by sailors)
Kapena ( a word that means a captain of the board)
Key West ( a chain of famous islands off the coast of Florida)
Lindquist ( name of the beach)
Laird ( after Laird Hamilton)
Lido ( for Lido Beach in Italy)
Maverick ( the biggest wave)
Mack ( huge, big, or large)
Maui (the third largest island in Hawaii)
Maho ( Maho beach in St. Martin)
Malibu (a famous beach in California)
Miki ( Miki Dora a king of Malibu during 50s and 60s)
Nungwi ( Nungwi Beach in Zanzibar)
Narrabeen ( famous surfing spot on Australia's north shore)
Nido ( El Nido beach in Palawan, Philippines)
Pirate ( the best outlaw of the sea)
Paddlepup ( a dog that loves to swim or love water)
Pelican ( a cool bird that seems on beach spots)
Reef (a famous surfing brand)
Reduit ( a famous beach in St. Lucia)
Rusty ( Cadillac of surfboards)
Skip (for Skip Frye, a legendary surfboard shaper)
Splash (pretty self-explanatory)
Surfer (can't leave off this obvious one!)
Taj (as in Taj Burrow)
Related: 90 Magical Mermaid Dog Names
Frequently Asked Questions about Surf Dog Names
Before we say goodbye, let's just over some popular surf dog name FAQs. Keep in mind that most of these are subjective questions, so the answers are as well. In other words, there's no single right answer.
What is a beachy girl name for a dog?
There are tons of cute beachy girl names! If you want something inspired by beaches in general, you can't go wrong with Sandy or Coral. Or, go with something a little more unique and name her after one of the world's famous beaches. Bondi is cute!
What is a good ocean-themed name for a dog?
Sailor is my favorite! But other good names include Nemo (not just for Finding Nemo, but for the 20,000 Leagues Under the Sea character), Dory, or Knot. 
What is a good Hawaiian name for a dog?
I love Moana, Maui, and Waikiki. But so many city and town names make beautiful dog names, too. 
What dog is named after a Caribbean island?
That would be the Potcake dog, which is the name given to any mixed-breed dog from the Caribbean Islands. 
What is the world's No 1 dog name?
As of 2023, it's Luna for a girl and Max for a boy. Other popular dog names include Cooper, Charlie, Milo, and Buddy for boys, and Bella, Daisy, Lucy & Lily for girl dogs. 
With this mix of traditional Hawaiian names, famous beaches and cool surf slang, you shouldn't have any problem finding the right name for your dog!
Pin this post for later: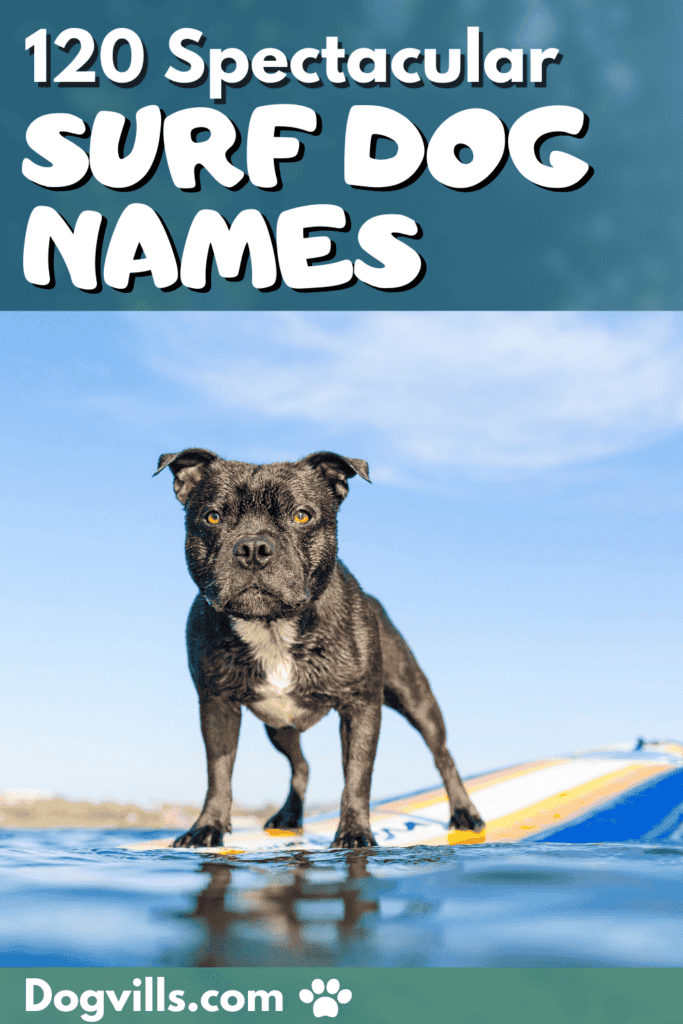 What are some of your favorite surf dog names? Share below!