Got your heart set on some cute skater dog names for your new pups?
We made a list with the top 100 for you to choose from, with 50 each for boys and girls.
We took inspiration from everywhere in the skateboarding world to come up with them.
Take a look!
You may also like these Surfer Dog Names!
Skater Dog Names For Males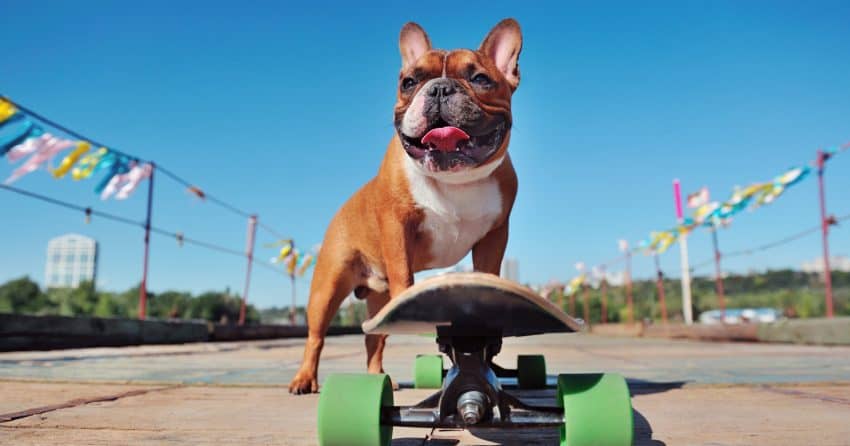 Ace  – Latin origin. Referred to as 'number one' or 'The best.'
Amir  – Arabic for Prince. Strong commanding.
Axel – Meaning father of peace. German origin.             
Bailey – a very cool English name.
Beau – French. meaning 'handsome.'   
Bear – a very cool name for your pup!
Birdman – after Tony Hawk, aka the Birdman.
Blender – after the skateboard artist, well-known in the earliest days of the sport.
Brodie – old Irish name.
Bruce – amazing name for a brave pup!
Bruno – German origin. Meaning 'brown'
Bucky – one of the most tenured and consistent vert skaters in history.
Buddy – because your dog is your best friend.
Burnquist – famed Brazilian-American vert skater.
Caballero – also known as "The Skater of the Century."
Casper – a flip or slide, both skateboarding tricks.
Charlie – English name, meaning 'free man.'
Dexter – a very cool English name!
Duke – Latin meaning' leader.'
Finn – in Irish, it means 'fair.'
Flip – after the popular skateboarding trick.
Gonz – the "Most Influential Skateboarder of All Time."
Gideon – Hebrew meaning' powerful warrior'.
Hector – Greek meaning 'steadfast'
Hawk – the most famous skateboarder in history.
Henry – English name, meaning 'home ruler.'
Jack – English name, meaning 'God is gracious.'
Jasper – Greek origin meaning 'treasurer'
Lance – the skateboarding pioneer, part of Bones Brigade.
Leo – for the brave 'lion' you have there!
Loki – after the well-known God.
Milo – old German name, meaning 'calm.'
Milan – Is a Sanskrit word meaning 'coming together.' 
Murphy – Irish name, meaning 'sea warrior.'
Ollie – from the famous trick.   
Oscar – it means 'god's spear.'
Ozzy – German meaning 'God's power'
Plasma- for the Plasma Spin trick.
Riley – a perfect name for a very brave dog.
Rex –  Latin origin meaning 'king.'
Rodney – after Rodney Mullen,  one of skateboarding's true pioneers.
Rodriguez –  highly-accomplished street skater with 8 X-Games medals.
Ryan- for skateboarding legend Ryan Sheckler.
Sam – this name means 'name of God.'
Scout – for a very adventurous dog.
Sigma- after the trick, Sigma Flip.
Tony- after Tony Hawk, of course!
Templeton – after the founder of Toy Machine.
Zee – after the Z-Boys of the 70s.
Zeus – all dogs are amazing, but maybe yours is a little more special!
Skater Dog Names For Females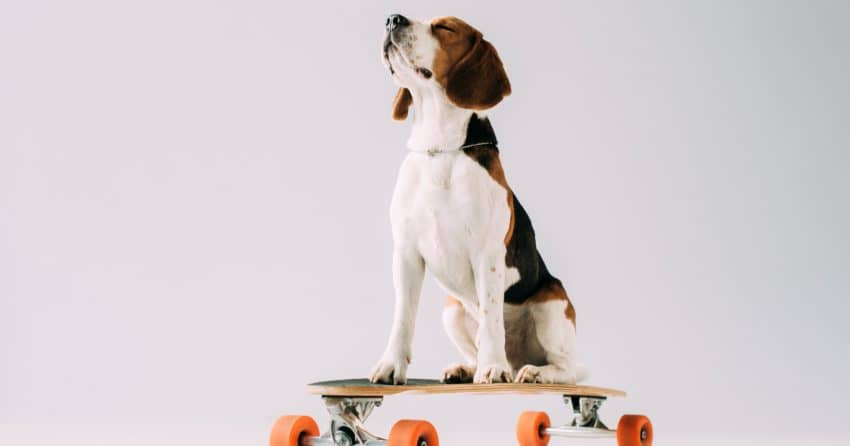 Alva – one of the most influential skateboarders of all time and founding member of the Z-Boys.
Banks – the short for embankments, popular skate spots.
Bella – Italian for beautiful
Betty- a popular term in the 80s for girls who hung out with skaters.
Bufoni – one of the best modern female skateboarders.
Cara- after Cara-Beth Burnside.
Cardiel – well-known skater for his street ability.
Carroll – accomplished skater and co-owner of Girl Skateboards.
Cassie – for a strong-willed pup.
Daewon – one of the best technical skateboarders of the modern world.
Diem – in Latin it means 'day.'
Duffy – after Pat Duffy, known as a prolific handrail skater.
Elexis – or the defender of mankind.
Ellie – this name means 'God is my light.'
Eva – perfect name for a very lively pup.
Farrah – the perfect name for a very happy pooch.
Freida – a beautiful German name meaning 'peaceful ruler.'
Gelta – the Icelandic word meaning 'bark.'
Glitter – best name for a glittery dog.
Hawkins – a highly-accomplished and awarded vert skater.
Hera – Hera is the Queen of the Gods in Greek mythology.
Hosoi – decorated contest-winning skateboarder.
Hurricane- another popular skate trick.
Indy – a grab/air skateboarding trick.
Jemma – British name meaning 'dove.'
Karma – of course, doesn't need an explanation.
Kaupas – highly-influential skateboarding pioneer in the early 80s.
Koston – one of the best skaters in history.
Kova – Finnish word meaning 'tough.'
Lasek – after Bucky Lasek, winner of 12 X-Games medals.
Lexi – from Alexandra, means the 'defender of man.'
Lyn-Z- after Lyn-Z Adams Hawkins, the famous female skater.
Margera – the last name of Bam, the respected street skater and stuntsman.
Millie – for a pup with gentle strength.
Mullen – also known as "The Godfather of Street Skating."
Muska – highly-esteemed pro street skater.
Natas – one of the first true professional skateboarders.
Nora – Latin name meaning 'honor.'
Oki – skateboarder and surfer who ran with the Z-Boys in the 70s.
Olive – beautiful name meaning 'symbol of peace'
Ollie – a basic and very popular skateboarding move.
Patti –  pioneer for both men and women in the 1960s.
Penny – British skateboarder with contest-winning ability in street skating.
Peralta – pioneer, influencer, one of the earliest pros in skateboarding.
Quinn – Celtic name for a very wise pup.
Song – famed partner and mentee of Rodney Mullen.
Steamer – first official female professional skateboarder.
Torres – first-ever female skateboarder to gold at X Games.
Vallely – 80s skateboarding pioneer and now lead-singer of Black Flag.
Way – one of the sport's most daring, including helicopter drop-in, mega ramps, and skating the Great Wall of China.
Now it's going to be very easy for you to choose the best skater dog names for your pups!
Can you think of any other great skater dog names we missed? Share below!