French dog names are quite popular, so it's no wonder you're looking for them!
They sound oh-so very classy and romantic, don't they?
Sure, they may require you to roll your tongue and do things you have never done before in terms of pronunciation!
But you will end up with an elegant and graceful name befitting of your chien doux (sweet dog)!
Keep reading for our top 100 favorite male and female French names for dogs!
You may also love: 140 Royal Dog Names for Your Regal Pup
Male French Dog Names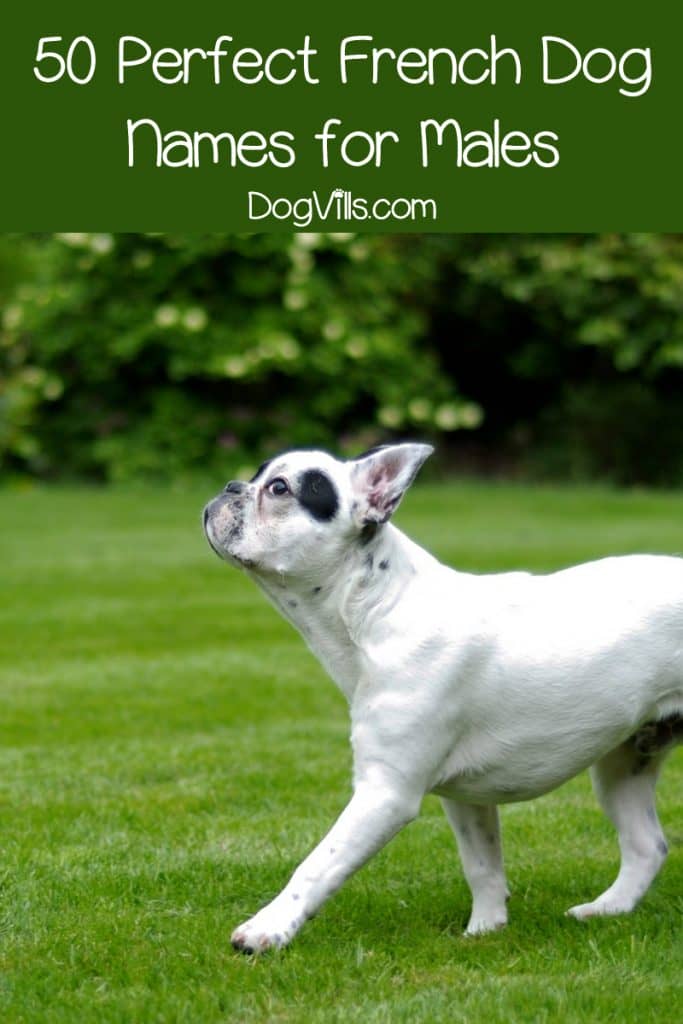 French is a romantic language, with many males coming out of that country having romanticism unsurpassed by other countries.
Let's see if we can find a passionate name for them as well.
Amoureux – Lover
Andre – Warrior. Your dog will go to war for you, you know that.
Baldoin – Brave friend. What a better name for your dog?
Adrien – Dark. Dark-haired or a dark personality, whichever one fits.
Andre – Manly
Achille
Alain
Louis – A name fit for a king.
Arthur
Alexandre
Beau – Handsome. Your dog definitely is deserving of this name.
Edouard
Henri
Jacques
Leon – Lion. Give this name to a courageous dog
Lucien – Light. For the light of your life.
Noir – Black
Blanc – White
Philippe – A name worthy of a prince.
Pierre
Remy
Sebastien
Stephane
Paris
Lyon
Monet – The famous painter. Your dog will make your life colorful
Napoleon
Pascal
. Noel
Baron
Damien
Dartagnan – One of the Three Muskateers
Devereaux
Francois – Free
Gil – Happiness. Your dog is the source of your happiness.
Jean
Jules – Youthful, we hope your dog remains young always.
Lamar – The sea, for those who love to swim.
Lowell – Young wolf. What better than to name your dog after its ancestors?
Bastien – Well-respected and well-guarded.
Bayley
Benoit
Coeur – Heart. Where your dog lives
Gaspard
Rainier – An advice giver. We all turn to our dogs sometimes.
Renault
Renee
Thebault
Theiry
Valentin – Strength
You might notice some similarities with Italian names and other Latin based names we have listed before.
However, with French names, they just seem to roll so nicely off the tongue don't they?
We have found with French words, there are more than ever that describe what a dog means to us humans. Happy choosing!
Now some of the names above can be unisex, but we have also compiled a list of names just for little dainty girls who want a bit of French flair.
Female French Dog Names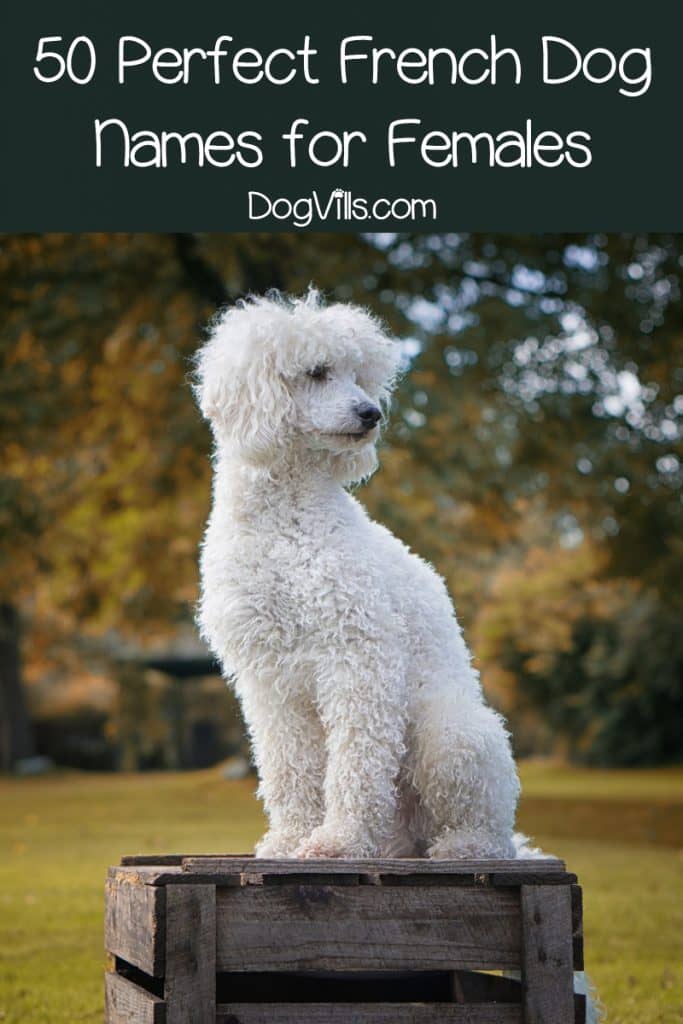 Adele – Like the powerful singer, and noble like your dog
 Adrienne
 Amelie
 Angeline – Angel
 Antoinette
 Aurelie
 Louise – A renowned fighter, just like your dog will be for you
 Avril – If your fur baby is born in April
 Belle – Beauty Who wouldn't want a name like this one?
 Bibiane – Energetic, like most healthy dogs
 Bijou – For the jewel in your heart
 Blanche
 Blisse – Joy and delight
 Brie
 Cadence
 Chantelle
 Charmaine
 Cher – An iconic name, just like the singer herself
 Clementine
 Emmaline
 Estee – Star, for the shining star in your life
 Fae – A confident girl
 Guinivere – A majestic name fit for a Queen
 Isabella
 Jasmine – Like the flower
 Jeslyn – Blessed with wealth and beauty
 Jolie – Pretty
 Leona – Brave lioness
 Lisette
 Desiree – Desired Of course, your dog is desired!
 Esme – After the vampire from Twilight, but it also means esteemed and loved
 Fleur – Flower, and a popular literary dog name for fans of Harry Potter!
 Gigi
 Giselle
 Gabrielle
 Paris
 Parfait – The food, but also perfect!
 Papillon – Butterfly Also the name of a dog breed
 Sabine
 Soleil – Sun, because your dog brings so much light into your life
 Sylvie
 Therese
 Violette
 Vivienne
 Yvette
 Mireille
 Nadine – A trustful relationship, how better to describe the bond you have with your dog?
 Nicolette
 Raina
 Zoe
I must say, looking down this list all of the names sound like something magical.
From flowers like Jasmine and Fleur, to words like Parfait, Papillon, Esme and Desiree, your dog will be lucky to have a name like these.
If you have a very graceful and sophisticated female fur baby, we hope you choose one from the list above.
That wraps up our French dog names. Did you enjoy the list and what do you think about the names we chose?
Which other ones would you add to the list? Have you met a pup with one of these French dog names? Let us know down below!