Trying to decide between the Cujo Cot vs Kuranda dog bed?
Check out our comparison and reviews for both to determine which is right for your dog!
We'll talk about the benefits of each bed, then weigh the similarities and differences!
By the end, you'll know exactly which bed is worth your hard-earned money.
Let's get started!
Content & Quick Navigation
Cujo Cot vs Kuranda Dog Bed
This post contains affiliate links. If you make a purchase through these links, we earn a small commission at no extra charge to you.
It's easier to follow along with our Cujo Cot vs Kuranda dog bed comparison when you know exactly what beds we're talking about, so here's a handy little table:
Cujo Cot vs Kuranda Dog Bed Reviews
Before we jump to comparisons and side-by-side pros & cons, let's check out individual reviews for each bed. These will give you a good overview as we move into the next sections.
K9 Ballistics Cujo Cot Review
If you're wondering why the Cujo Cot by K9 Ballistics is named after the scariest dog of all time, you're not alone! I was a little confused at first, too.
Then I read their chew proof rating and it all made sense. With a 5/5 rating, even Cujo would have a hard time chewing through it!
In fact, according to K9 Ballistics, this is the ONLY bed suitable for a highly destructive dog who loves to chew everything.
Features of the Cujo Cot
Sling made of super durable Ripstop fabric, a strong nylon that resists ripping and tearing.
That same fabric also makes it water-, dirt-, and odor-resistant!
Frame is made from 100% aluminum, so it's sturdy but lightweight.
Super easy to clean, just hose it down!
Designed to be used both indoors and outside.
Easy assembly- just screw in the legs.
Along with all of these great features, the Cujo Cot comes with a 120-Day Chew Proof Guarantee. If your own Cujo damages the bed during that time, they'll send you a new one for free. 
Keep in mind that they'll only replace it once, though. So if your pooch manages to destroy the second bed, you're out of luck.
We're going to talk about pros and cons below in the Cujo Cot vs Kuranda dog bed comparison section, but let's quickly check out my greatest likes and dislikes.
What I love:
My Pharaoh Hound, Freya, is a highly destructive dog and a super chewer, so I love the fact that this bed is incredibly difficult for her to destroy.
I also love that replacement fabric isn't astronomically priced. If your dog does manage to tear through the Ripstop nylon, you can order a new sling from K9 Ballistics for under $30.
Compared to some dog beds that charge $100+ for a replacement cover, that's pretty incredible. What's interesting: the fabric itself, when ordered separately, has a 180-day guarantee.
What I'd change:
The warranty. I feel like 120 days isn't very long for a warranty. That's just about 4 months, if I'm doing my math right.
I've seen many dog beds with 1, 5, and even 10-year warranties, so 4 months just seems kind of meh. Nothing to write home about.
Bottom line:
As someone with a Captain Destructo dog, I appreciate the fact that this bed is designed for heavy chewers. That feature alone is enough to sell me on it!
READ MY FULL REVIEW IN THIS GUIDE: K9 Ballistics Cujo Cot Dog Bed Review
Kuranda Dog Bed Review
The Kuranda comes up quite often when we're talking about dog beds, and for a good reason. It's one of our top picks for chew-resistant dog beds as well as odor-resistant beds.
The company makes several different styles (more on that in the comparisons section, since it's a major pro), but for the purposes of this review, I'm talking about the all aluminum version, because it's most similar to the Cujo Cot.
Features of the Kuranda All-Aluminum Chewproof Dog Bed
Kuranda uses a patented aircraft-grade aluminum frame that can support up to 250lbs.
The fabric of the bed is a heavy-dute 40oz solid vinyl, ideal for heavy dogs who love to dig!
The design makes it perfect for both indoors and outside use.
It's easy to clean, thanks to the nylon and aluminum components. Just hose it off and go!
The raised design helps keep dogs cool and dry in the summer.
Made in the USA
The Kuranda dog bed also offers a 1-Year Warranty that covers the fabric and the frame. If your dog destroys it, they'll replace it.
Keep in mind that this does not apply to minor cosmetic issues. Basically, you can't swap it out if your dog somehow manages to scratch up the frame unless those scratches render the bed unusable.
What I Love
I love the fact that the Kuranda offers so many options, even within the aluminum frame design. Choose from four colors and six different sizes!
I also love that it's chewproof. As mentioned above, that's a must in our house!
Like the Cujo Cot, replacement fabric is inexpensive: under $40 for most sizes (under $50 for the largest size).
What I'd Change
Again, the warranty. 1 year is decent, but like I said above, I've seen similarly priced beds offering much longer warranties.
Bottom Line
I would definitely recommend the Kuranda dog bed to anyone with major chewers or very large dogs.
It's great for small dogs, too, but as a big dog person I'm always happy to see products that can hold even my aunt's Irish Wolfhound!
Interested in these beds? Read this detailed guide: Kuranda Dog Beds Reviews
Cujo Cot vs Kuranda Dog Bed Comparisons
Now we're getting to the tough part: comparing these two great beds to decide which is the best for your dog! Let's start with some similarities, shall we?
Cujo Cot vs Kuranda: Similarities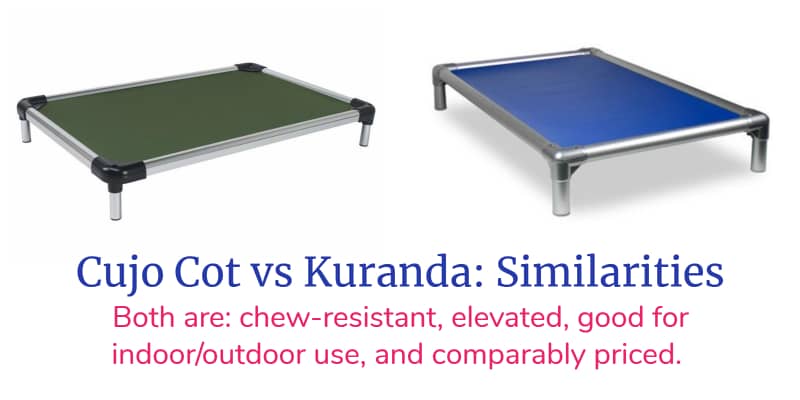 Chew and Odor Resistance
As discussed above, both the Cujo Cot and the Kuranda dog beds are well-known for their chew-resistant materials.
Nothing is 100% indestructible, but both beds are designed to hold up against dogs who love to scratch, dig, and chew.
Odor resistance is also a major selling point for both beds.
They're also both water-resistant, which helps keep odors at bay as well.
Both beds are elevated off the ground
Both the Cujo Cot and the Kuranda are elevated beds, meaning they have a frame that keeps them off the ground.
For those who plan to put the bed outside so that Fido can hang out with you on the deck, this is a major plus.
However, while the elevation may be a major selling point, it's also a drawback for those with senior dogs who can't quite climb up into them.
Easy to Clean
Both beds are made of nylon, although the type differs a bit. This, combined with the aluminum frame, makes the beds very easy to clean.
Just hose them off with water for a quick clean, or use soap and water for a deeper clean.
If you do use soap on the bed, please make sure to rinse thoroughly to remove all residue. Better yet, use a pet-safe cleaner
. We love Nature's Miracle
!
Replacement Fabrics
I mentioned this above, but it bears repeating: both beds offer replacement fabrics for a reasonable price.
When you're comparing prices, keep in mind that Kuranda's sizes differ a bit from Cujo Cot's.
If you just look at small vs small, it seems like Kuranda is more expensive.
If you look at the 40″ x 25″ for both beds, though, they're about the same price.
It appears that you'll need to order through the respective websites for replacements, as neither seems to sell them on Amazon that I could find.
Pricing
Pricing is usually the factor that tips me in one direction over another, but in this case it won't work.
Size for size, both beds are about the same price, give or take $10.
I can't tell you the Amazon price because it's not allowed (since it changes frequently depending on sales), but I can tell you how much they are on the websites for each bed.
The Cujo Cot will run you $179 for the XXL (35×50)
The Kuranda bed costs $169 for a similarly sized bed (50×36)
Kuranda does offer different material options, and some are a bit cheaper.
However, the price difference is only about $5, so it's worth it to go with the heavy duty nylon!
Now that we know how they're similar, let's take a look at the differences, since that's what will really help you decide which bed to buy.
Cujo Cot vs Kuranda: Major Differences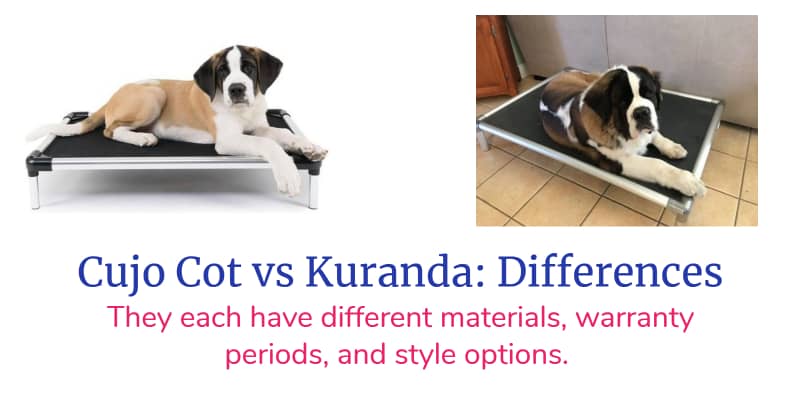 Different size, color, and frame options
When it comes to choosing a dog bed, size does matter!
Right now, Cujo Cot only comes in two sizes on Amazon and on their website: small and XXL. That's a pretty large gap!
Maybe they are sold out of other sizes, but they don't even have them listed on their page as out of stock, so for now assume that you're limited to those two options.
Kuranda, on the other hand, comes in 6 different sizes, ranging from itty bitty Mini (great for toy dogs) all the way up to XXL (for very large breeds).
If you prefer a variety of colors, both offer 4 similar colors, including red, green, blue, and black. However, Cujo Cot takes it one color further, offering a nice neutral tan.
Frame options differ between the two brands, too.
Cujo Cot offers an aluminum frame. End of story.
Kuranda offers a couple options on their website and their Amazon shop, including PVC (in several different colors) and aluminum.
Verdict: If we're keeping track, this round goes to Kuranda for their wider variety of options. However, if color is the only thing that matters, Cujo Cot wins for having one extra color.
Where they are made
Once glance at the Kuranda product page and you'll see that their beds are made in the USA. I didn't have to dig for that info, it was right there.
On the other hand, I spent 20 minutes searching for where Cujo Cots are made and couldn't find anything to tell me one way or the other if they are American-made.
I'm not quite as picky about where dog beds are made as I am with things like food, treats, and toys (anything that goes into their mouth, basically).
Still, it's nice to know, and given the choice, I'll always opt for Made in the USA (or Europe, as they have even stricter policies regarding pet products).
Verdict: This round goes to Kuranda, unless someone can tell me where Cujo Cot beds are made. If you know, tell me in the comments and I'll update this.
Weight limits
Again, it's easy to find the weight limits for the Kuranda dog bed, but I had a hard time finding them for the Cujo Cot.
According to Kuranda's product description, their alumimum bed can hold up to 250 lbs.
Digging through customer Q&A on Amazon, it seems that the Cujo Cot can hold at least 160 lbs.
If you have a heavy giant-breed dog, I would contact K9 Ballistics and ask if their bed can hold him.
I did a little more digging, and Ripstop material is also used in hammocks designed to hold a full-size adult man, so there's that.
Verdict: Even though Cujo Cot doesn't make it easy to find the weight limits, I'll have to call this one a draw because I do see a lot of pet parents with large dogs talking about how it's fine for their pooch.
Materials
While both beds are made from strong nylon material for the "sling" and aluminum for the frame (unless you choose the PVC option for the Kuranda), the type of nylon is a bit different.
Kuranda uses 40oz solid vinyl material
As discussed, Cujo Cot uses the Ripstop material
Both types of nylon are known for their toughness, so if you're comparing materials to help you decide, this one is a draw. I can't see any issues with either type that would make me lean in either direction.
Verdict: It's a draw, as they're both fabulously strong materials.
Warranties
Honestly, I'm not all that impressed with either of their warranties, especially after doing the Buddyrest vs. Big Barker comparison and seeing that both of those beds offer super long warranties (years, not months!).
However, in this case, Kuranda wins for offering a 1-year warranty.
Cujo Cot only has a 120-day warranty.
Verdict: points go to Kuranda for this one.
Giving Back
As an animal lover, it's important to me to buy from companies that give back in some way to all the homeless and other animals around the world.
Let's see how the two companies compare in that respect.
K9 Ballistics gives back in two major ways:
Through their Every Dog Deserves A Bed Project®, they donate their highest-quality beds to charities, shelters, and other rescue groups, with an emphasis on no-kill shelters and fostering groups.
Through their One For the Wild Initiative®, they make a donation to protect wildlife habitats with every bed sold.
Kuranda has a Donate a Bed program, in which you can buy a discounted bed to have shipped directly to a shelter. I couldn't find anything else about ways in which they give back.
Verdict: K9 Ballistics is the clear winner here. Their passion for helping less-fortunate animals is clearly a part of their mission.
Now that we have a good understanding of the similarities and differences between the two beds, let's look at some questions that will help you decide which to get.
Then, we'll take a look at my personal recommendation.
QUESTIONS TO ASK YOURSELF TO DECIDE WHICH IS BETTER FOR YOUR DOG
1. How big is your dog?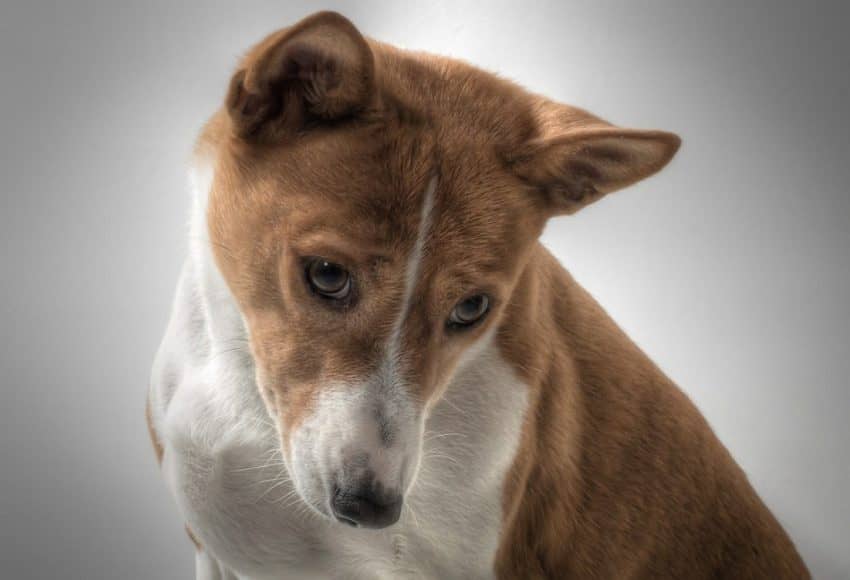 As we've seen above, Kuranda offers a wider variety of sizing options. Cujo Cot seems to only come in two sizes right now.
That may change, but I'm going off the current information that I have.
If you have a giant-breed dog, both beds offer options that will most likely work.
Likewise, for small breeds, they both offer a viable option.
However, if your dog fall in the mid-range, say medium-sized dogs 20-40 pounds, Kuranda has a wider variety of sizes that will work.
2.  How old is your dog?
This question isn't so much to help you choose between the Cujo Cot vs. Kuranda dog bed, but more to determine if either bed will work at all.
Neither bed offers much in the way of extra padding, so if you have a senior dog with joint issues, you may want to consider a more orthopedic dog bed.
3. Which "difference" matters the most to you?
Honestly, these beds are so similar that it's hard to determine which to get unless you decide which difference really matters most to you.
For example, if you care more about something being made in the USA than you do color variety, the Kuranda is the obvious choice.
If you care more about buying from a company that gives back than you do about where it's made, then the Cujo Cot wins.
My Recommendation
It is insanely hard to choose between these two beds because they both fit my major needs: they're both chew-resistant, odor-resistant, and sturdy overall.
They're both also priced about the same, so that's no help.
I think for me, even though it seems like the Kuranda was the clear winner, the fact that K9 Ballistics has TWO programs to give back to animals in needs is a major deciding factor.
For that reason alone, I'd pick the Cujo Cot for my dogs. Based on all other reasons, though, the Kuranda emerges as the winner by a small margin.
You need to decide which features matter most to you, though. I can't tell you which one is best for your dog!
Do you have either of these beds? What would you add to our Cujo Cot vs. Kuranda dog bed comparison? Tell me below!