Don't have time to search the internet for all the best orthopedic dog bed reviews?
Don't worry, we've got you covered!
Today, we're going to talk about my top 5 picks, all in one spot!
By the time we're done, you'll know exactly which bed is best for your dog…and your budget!
Let's get started, shall we?
Related: Top 15 Best Heated Dog Beds
Why Choose an Orthopedic Dog Bed
Before we dive into those orthopedic dog bed reviews, let's quickly recap the benefits of this type of bed.
1. Great support for injured or senior dogs
First and foremost, orthopedic dog beds are fantastic for giving our senior dogs or pups with injuries the extra support that they need.
I don't know about you, but the older I get, the achier I get. The same holds true for our canine companions.
Even if your dog is still quite spry in her advanced age, you can bet that she's "feeling it" by the end of the day.
My German Shepherd was active during the day up until a little after her 13th birthday, but at night she started moving slowly and groaning when she got up.
An orthopedic dog bed really helped relieve her aching joints, especially since she could no longer jump up to sleep on MY orthopedic bed.
This type of bedding is also great for dogs recovering from injuries, especially those that affect their joints and bones.
2. Comfortable for dogs of all ages
Your dog doesn't have to be a senior to appreciate the comfort of a memory foam dog bed!
Even puppies will love the added support and comfort of a bed that that supports their growing body.
Think of it this way: would you wait until you qualified for the senior citizens' discount before buying the most comfortable bed you could afford?
3. Most bang for your buck
Dollar for dollar, I really do feel that orthopedic dog beds give you the most bang for your buck.
Yes, you'll need to put out a few more of those bucks upfront, but it's worth it because most of the beds come with a warranty.
Consider this: would you rather spend $100 a year on "cheap" dog beds, or $200-300 once for a bed that lasts 10 years?
Now that we have a good overview of why you would want to buy an orthopedic dog bed, let's get into the reviews of my top 5 picks, shall we?
Orthopedic Dog Bed Reviews at a Glance
This post contains affiliate links. If you make a purchase through these links, we earn a small commission at no extra charge to you.
Let's take a quick glance at the top 5 beds that we'll be talking about, shall we?
| | | | | |
| --- | --- | --- | --- | --- |
| |  Bed Name | Price Range | Our Rating | Buy it Now |
| |  DogOnIt OMG Bed | $$$$$ |   | |
| | Big Barker Dog Bed | $$$ | | |
| | BuddyRest Crown Supreme | $$$$ | | |
| | PetFusion Ultimate Dog Lounge | $$ | | |
| | KOPEKS Orthopedic Dog Bed | $$ | | |
Our Top Choice
If you just want to skip all of the orthopedic dog bed reviews and go with our top choice right now, you'll want to get the DogOnIt OMG Dog Bed!
Yes, it's one of the priciest options, but it's SO worth it! I would totally sleep on this bed myself!
Not sure if it's right for you? Read on for all of our in-depth orthopedic dog bed reviews, including one of the OMG!
Orthopedic Dog Bed Reviews: Top 5 Overall
If you're a long-time reader, chances are you've heard us talk about each of these beds (along with many others) over the last year.
There's a reason they keep appearing in our dog bed recommendations: they really are the best of the best!
1. DogOnIt OMG Bed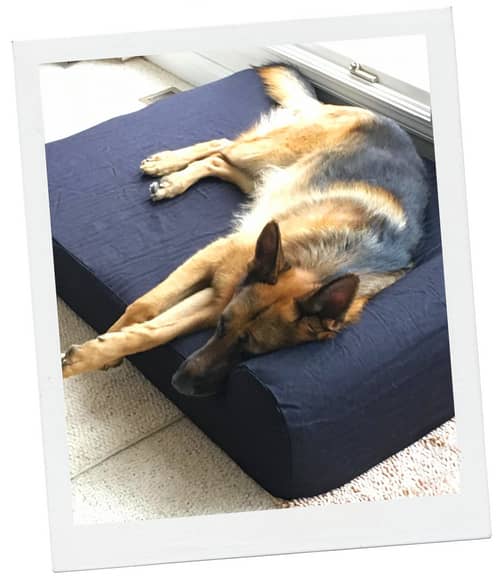 If I had to pick just one bed to be my #1 choices, it would be the DogOnIt OMG Bed. This truly is the most luxurious option!
Designed to hold up to 300 lbs, even the largest dog breed can get comfortable on the OMG.
DogOnIt calls the OMG "The Most Orthopedically Supportive," and they back that claim up many times over.  Let's see how!
As mentioned above, it supports up to 300 lbs, so even the largest Great Dane can find the support he needs!
Eco-Friendly and 100% Certi-Pur Certified Non-Toxic
The bed is 100% made in the USA.
Gel memory foam bolster gives your pup a comfy place to rest his head.
Features gel memory foam to help regulate the temperature of the bed, so your dog isn't roasting in the summer!
Comes with a machine-washable removable cover and industrial-strength zipper.
Lifetime warranty
Cons:
It's far from the cheapest option on this list. The XXX Large tops out at just under $800, while the smallest size will run you over $400.
Sizes:
The OMG is designed for larger dogs, with the Large being the smallest size. It's great for the small end of the large breeds, like Golden Retrievers and Labs. The XXX Large is ideal for giant breeds, like the Irish Wolfhound and the Great Dane.
Final Verdict:
This is definitely my dream dog bed, and if you can afford the price tag, it should be your #1 choice, too. The fact that it's backed by a Lifetime Guarantee makes the price a little easier to handle.
I love that it can support so much weight. You could easily snuggle on it with your dog and not worry about flattening it like a pancake!
Seriously, I'd actually buy this for my kid to sleep on! He likes to lounge under his loft bed and has been sleeping on a fold-out floor chair that's probably about 1/3 as comfy as this dog bed!

OMG Dog Bed
Buy it Now on DogOnIt.Dog
2. Big Barker Dog Bed
The Big Barker Dog Bed is my top favorite mid-price bed for large breed dogs.
I adore the fact that they actually understand what "large breed" means, because I see many companies making "large" beds that would barely fit a beagle.
My favorite is the regular Big Barker Dog Bed, the one that comes with a bolster. However, you can also get a Sleek model that's all level.
Let's look at what I love…and the very few things that I don't adore.
7″ thick orthopedic therapeutic-grade memory foam dense enough to keep large breeds from sinking into it.
Open-cell memory foam allows air to flow through and keeps your dog from getting too hot.
As mentioned above, it's specifically made for big dogs, hence the name Big Barker.
All of the materials and the bed are made in the USA.
10-year warranty guaranteeing that it won't flatten like a crepe (I keep saying pancake and wanted to switch it up!)
Features a machine washable, non-shrink microfiber cover that easily zips off for cleaning.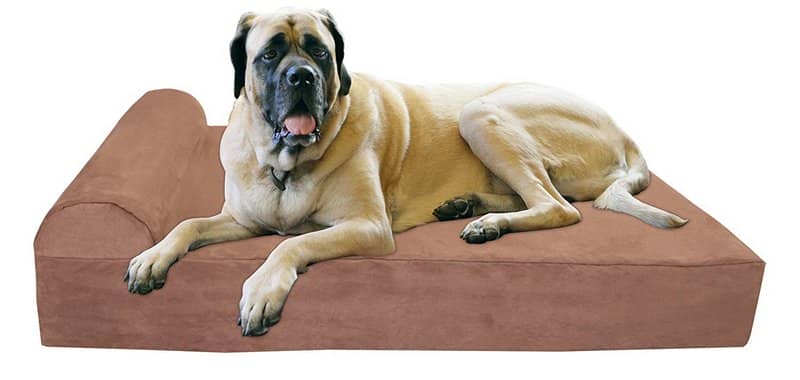 Cons:
Does not come with a waterproof liner, you have to buy it separately.
It's not made for smaller dogs. While this is a pro for me, if you have a small breed pup, you'll want to look at another option.
Sizes:
As I said, these beds are made for the big guys & girls! The Large is the smallest size and, like the OMG, it's ideal for Goldens and labs.
The Giant is made for dogs about the size of a Great Dane.
Final Verdict:
If you have a big dog and a medium-sized budget, the Big Barker is a fabulous option. It's not the cheapest bed on the list, but it's also far from the priciest.
I don't love that you have to buy the waterproof liner separate, especially since so many of the other beds come with one.
However, this could actually be a plus if your dog isn't accident-prone, because you're not paying extra for something you don't really need.
3. BuddyRest Crown Supreme

When we did our BuddyRest vs. Big Barker comparison, the BuddyRest came out ahead by just a smidge, mainly because it can hold up to my somewhat destructive Pharaoh Hound.
By "somewhat destructive," what I'm really saying is: she eats every bed we've given her! Chew-resistance is an important feature in my quest for the perfect orthopedic dog bed.
I also love the couch-like style, especially since my Freya likes to be fully enveloped in comfort when she sleeps. Let's see how this one measures up with the pros and cons.
Pros:
 At 5″ thick, the memory foam is just right for dogs who don't like to climb up into bed.
Made with "True Cool Memory Foam" on the top to keep your dog cool.
Comes with a machine-washable cover right out of the box
Handmade in the USA
Chew resistant and guaranteed to last ten years
Couch-like style creates an added sense of security for your dog.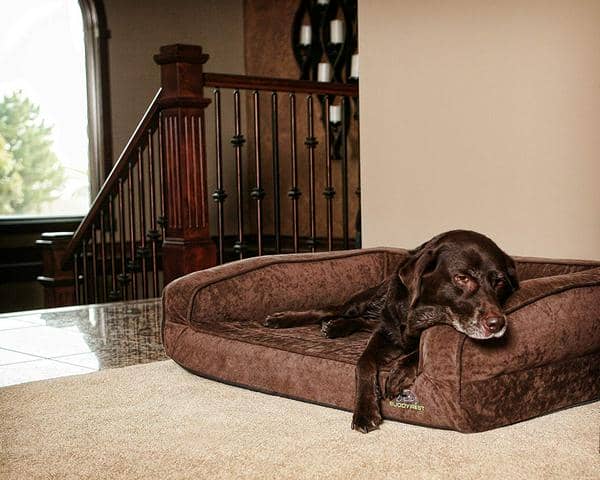 Cons:
Not made for giant breeds.
As the 2nd-most expensive bed on the list, you'll definitely need a good-sized budget for this one.
Sizes:
The BuddyRest Crown Supreme comes in three sizes from medium to XL. However, the XL is only 48″ L x 32″ W, making it ideal for dogs no larger than a lab.
Final Verdict:
The BuddyRest Crown Supreme is my #1 choice for medium-sized dogs between 20-40 pounds up to the smaller end of large breeds.
It's also my top pick for dogs who like to chew everything in sight!
If you have a dog that loves to sleep on the sofa, the style of this bed may just be enough to get them to give up their spot to you!
Get it on Sitstay.com

BuddyRest Crown Supreme Orthopedic Dog Bed
4. PetFusion Ultimate Dog Lounge
If the first three beds are just a little too far out of your price range, these last two picks may be a little more what you're looking for.
The PetFusion Ultimate Dog Lounge starts at under $100 and maxes out at under $250.
Let's see whether this one might fit your needs!
Pros:
6″ solid memory foam base for maximum comfort.
Recycled materials in the generously filled bolsters.
Water-resistant and tear-resistant cover.
Non-skid bottom to keep it in place.
Easy to clean with its removable, machine-washable outer cover.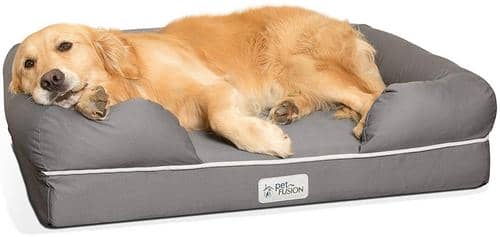 Cons:
Cover and zipper aren't the most durable.
Not made in the USA
Sizes:
Comes in four sizes from small to XXL. According to PetFusion, the XL can support up to 200 lbs.
Final Verdict:
5. KOPEKS Orthopedic Dog Bed
If you're looking for another fairly budget-friendly option, you really can't go wrong with the KOPEKS Orthopedic Memory Foam Dog Bed. 
The plush and comfy bed features a built-in pillow and 100% orthopedic-grade memory foam, the same stuff you'll find in high-end mattresses for humans.
PROS:
Two machine-washable zippered covers for maximum protection, making it a great option for senior dogs with occasional bladder issues.
Filled with orthopedic memory foam that cushions your dog's aching joints.
Built-in pillow bolster so your pup can rest his head in comfort!
Anti-slip bottom keeps it from sliding all over the floor when your pooch moves around.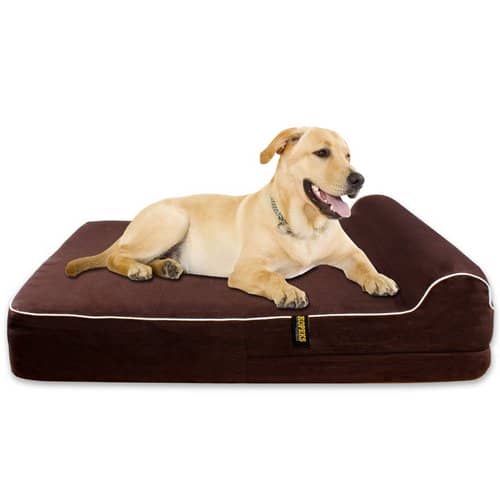 CONS:
The foam and the pillow can take a few days to fluff up.
Has a distinct odor when you first open the package. The odor can take up to a week to go away.
SIZES:
The KOPEKS Orthopedic Memory Foam Dog Bead comes in three different sizes: small, large, and jumbo XL.
FINAL VERDICT:
While the fluffing factor may be an issue for those who need a comfy dog bed right away, overall the KOPEKS Orthopedic Dog Bed comes highly recommended by most buyers.
The reasonable price tag for all sizes (even the Jumbo XL comes in at under $125) makes this one of the top 5 contenders for best orthopedic dog bed of the year.
I love that it features not one but two totally washable covers to really protect against accidents.
How to Choose the Right One for Your Dog
Now that you've had a chance to read through our top orthopedic dog bed reviews, it's time to decide which is right for your pup!
Let me give you an insight into my buying process to help you out. Here's what I ask myself before buying a dog bed:
1. Can I afford it?
I'm not going to risk getting my electric shut off just to buy my dogs the best bed on the market.
If it's out of my price range, it's out of my price range. End of story.
Do not go into debt to buy a dog bed!
2. Will my dog eat it?
For those of us with aggressive chewers, we need to ask ourselves this before investing in a pricey bed.
If the bed doesn't come with a chew-resistant cover and a warranty, then I have to move on.
Now, if your dog isn't a mad chewer, you don't have to worry about this so much!
3. Is it comfortable enough?
My pit mix can get comfy in the weirdest places but my Pharaoh Hound is a total diva. I joke that she misunderstands the "Pharaoh" in her name.
Rather than be a hound for the Pharaohs, she believes she is a Pharoah in a hound body and should be adored as such.
So her bed needs to be more than just comfortable, it needs to be of the utmost comfort! Otherwise, she won't sleep on it.
Even a cheap bed is a waste of money if your dog won't go near it!
4. Will it fit my home?
I'm not talking about whether it will fit my decor. Honestly, I don't really have a "decor" theme, just a bunch of stuff that sort of matches!
I'm talking about literally: do I have enough floor space for it?
Along with this, you'll want to think about where you'll be using it!
For example, I'm planning to get a dog bed for my bedroom because Mocha (my pit mix) doesn't like to sleep on the bed.
My room is tiny, so I need something comfy that will fit right in front of my dresser and easily be shoved aside when I put laundry away.
Conclusion
As you can see from these orthopedic dog bed reviews, any of these five options could work well for your dog. The question is, which one works best?
That's something you have to decide. I've given you all the pertinent info, but only you know what's best for your dog!
Do you have anything to add to these orthopedic dog bed reviews? Which would you choose? Share below!