If you're having a hard time choosing the best orthopedic bed for Fido, this BuddyRest vs. Big Barker dog bed comparison will help you out!
We've already shared in-depth reviews on both the BuddyRest and the Big Barker, now let's see them side-by-side!
We'll be looking at the similarities and differences between these two outstanding beds and help you choose the right one for your pup!
Let's get started, shall we?
➨ Don't forget to check our detailed guide about the best orthopedic dog beds
BuddyRest vs. Big Barker Dog Bed Comparison: Which Is Best?
This post contains affiliate links. If you make a purchase through these links, we earn a small commission at no extra charge to you.
Since it's a good idea to open up the beds that you're most interested in and follow along as we explore the differences and similarities, here are all the links in one spot:
| | | |
| --- | --- | --- |
| | Product Description | Where to Buy |
| | Big Barker 7 Inch Orthopedic Memory Foam Dog Bed with Bolster Head Rest | |
| | Big Barker 7 Inch Orthopedic Memory Foam Dog Bed Sleek Style | |
|   | The BuddyRest Crown Supreme | |
| |  BuddyRest Comfort Deluxe | |
| |  The BuddyRest Romeo | |
| |  The BuddyRest Juliet | |
BuddyRest vs Big Barker Dog Bed Reviews
As mentioned above, we did in-depth reviews with all of the pros, con, and styles for each brand. Here are those links again so you can check them out:
BuddyRest vs Big Barker Dog Beds: Similarities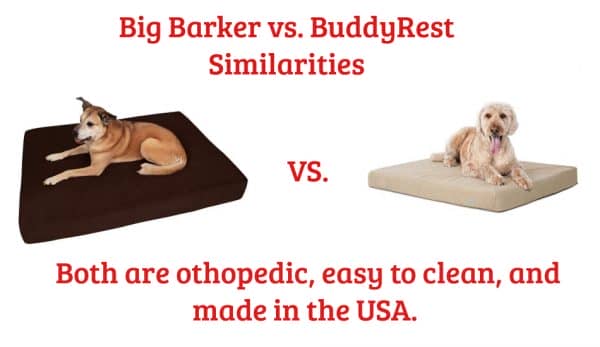 The BuddyRest and the Big Barker both have some very important features in common.
1. Orthopedic dog beds
Both the Big Barker and the BuddyRest are orthopedic dog beds designed for pups with aching joints.
2.Different sizes and colors
Both offer a variety of sizes and colors, although you'll see below that BuddyRest does have a wider range of options.
3. Easy to clean
Again, both boast about being easy to clean, especially when it comes to the cover. They both have machine-washable options.
4. Made in the USA
The Big Barker and the BuddyRest are made in the USA with US materials.
Aside from Canada, Iceland, and a few other countries that have strict rules regarding pet supplies, I try to stick to USA-made products for my dogs.
5. Guarantees and warranties
Each manufacturer offers a warranty and/or guarantee, but they do differ a bit.
Big Barker: 10 YEAR WARRANTY: Foam will retain 90% of original shape & loft for 10 years or your money back.
BuddyRest: Chew resistant and guaranteed to last ten years
BuddyRest vs Big Barker Dog Beds: Major Differences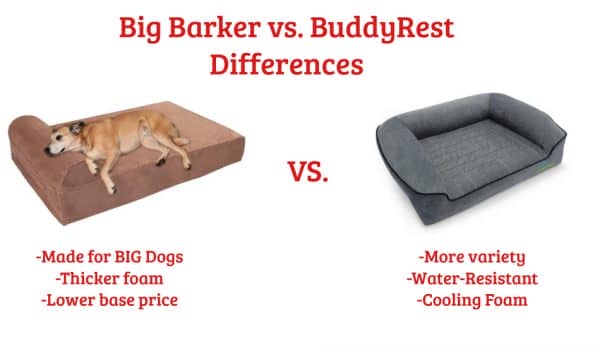 Let's talk about some of the differences that will play the biggest role in helping you choose between the BuddyRest vs. Big Barker dog beds.
While we're not keeping official score, I'll also tell you which one "wins" in my opinion.
1. Big Barker is made for BIG dogs
The Big Barker dog beds are made specifically for large, extra-large, and giant-breed dogs.
Their smallest size (the large) measures at 48 X 30 X 7″, and the sizes max out at 60 X 48 X 7″.
Put in perspective, that is only two inches shorter than me along the longest side! I could practically lay across the entire thing and only my toes would dangle off the end.
By comparison, the BuddyRest maxes out at 48″ x 32″ x 5″ H with their extra-large bed.
Depending on the size of your dog, this one is a draw. I have large-breed dogs that would be comfy on either the smallest Big Barker or the largest BuddyRest.
My aunt, on the other hand, has an Irish Wolfhound, so the Big Barker would definitely win this round for her!
2. Big Barker is a bit thicker
When you have a dog with aching joints, the thickness of the memory foam should play a role in helping you decide between the BuddyRest vs. Big Barker dog beds.
As you can see by the sizes above, the Big Barker is 7″ thick, while the BuddyRest comes in at 5″ thick.
BuddyRest does have styles that boast an 10-11″ height, but part of that height comes from the bolsters.
As far as the depth of the actual sleeping surface goes, Big Barker wins this round.
3. BuddyRest has more sizes and styles overall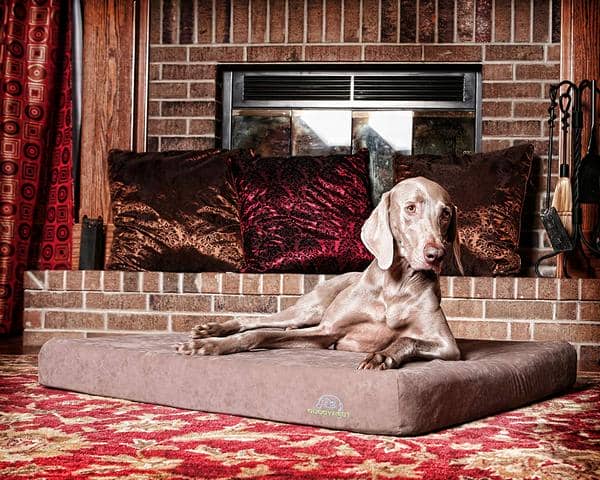 Variety is the spice of life, right? When it comes to that spice, BuddyRest simply has more heat (I may have gone too far with that metaphor).
BuddyRest has four main bed styles, including the Comfort Deluxe, the Crown Supreme, the Romeo, and the Juliet.
Each bed has between 3-4 sizes and/or color options.
BuddyRest also features more options for those who prefer bolster dog beds.
Big Barker does offer a Barker Junior for medium-sized dogs between 20 and 40 lbs, but overall they don't have quite as many different options, especially for smaller dogs.
If variety is important to you (especially when it comes to colors), BuddyRest wins this round.
4. They're made of different materials
While both beds are made of excellent materials, they are different.
BuddyRest uses real visco elastic memory foam at the base, and "True Cool Memory Foam" for the top part, keeping the best (and your dog) comfortable year round.
Big Barker beds alternate between H10 comfort foam and H45 support foam, both of which are high-quality therapeutic open-cell foams (meaning it won't get hot, either)
Again, this one is kind of a draw. It really depends on your (and your dog's) preference. They are both super high-quality materials.
5. BuddyRest is water-resistant right out of the box
If your dog is prone to accidents, or you want something that you can use both indoors and outside, water resistance is important.
BuddyRest comes with a water-resistant cover, no need to purchase add-ons
Big Barker does have a waterproof liner, but you'll need to buy that separately
BuddyRest is the clear winner here, since you don't have to buy anything else to make it water-resistant.
6. Pricing differs quite a bit
To make this fair, I'm comparing prices on the Big Barker 7″ Orthopedic Sleek bed and the BuddyRest Comfort Deluxe, since those are the two that are most similar overall.
I can't give you hard prices because they change so much depending on sales and sellers. I can give you ranges, though.
Big Barker's large will run you in the very high $100 to low $200 range.
If you prefer the bolster Big Barker option, add about $40-50 to that base price.
BuddyRest's XL (which is about the same size as BB's L) will run you in the high $200s to very low $300 range.
The Comfort Deluxe is BuddyRest's lowest-priced bed. Some options will run you into the $400+ range.
Think Big Barker is the clear winner here? Not so fast! Remember, BuddyRest comes with a water-resistant cover right out of the box.
On the other hand, if you want a waterproof liner from Big Barker, be prepared to add another $60-100 to that base price.
Taking that into account, it looks like it's a draw for this round, since you can still get a large bed with waterproof liner for roughly the same price as a BuddyRest bed.
If you're still having a tough time choosing after that BuddyRest vs. Big Barker dog bed comparison, I'll help make it a bit easier.
Below are some questions to ask yourself to really help narrow it down to one brand.
Questions to Ask Yourself to Decide Which is Better for Your Dog
1. How big is your dog?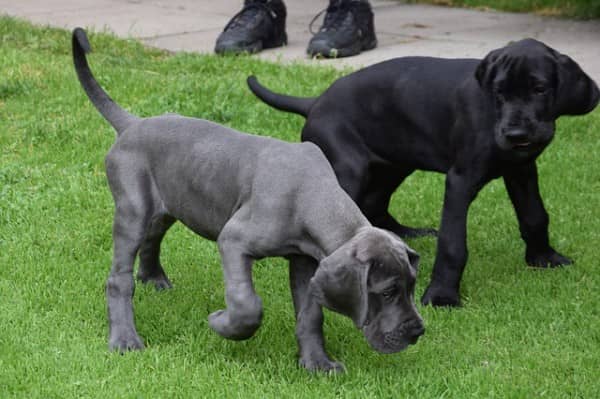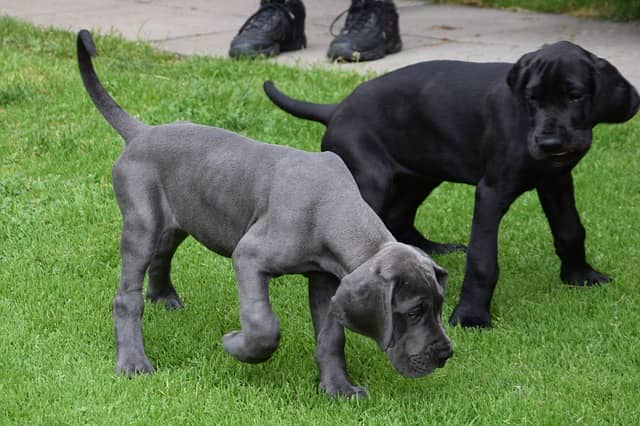 Size matters when it comes to deciding between the Big Barker and the BuddyRest dog bed!
If you have a small to medium dog, the BuddyRest is the clear choice.
For large dog parents, both options are acceptable, since they each have a comparable "large breed" bed size.
Got an XL or giant breed? Big Barker is the best option!
2. Does he have arthritis or other joint problems?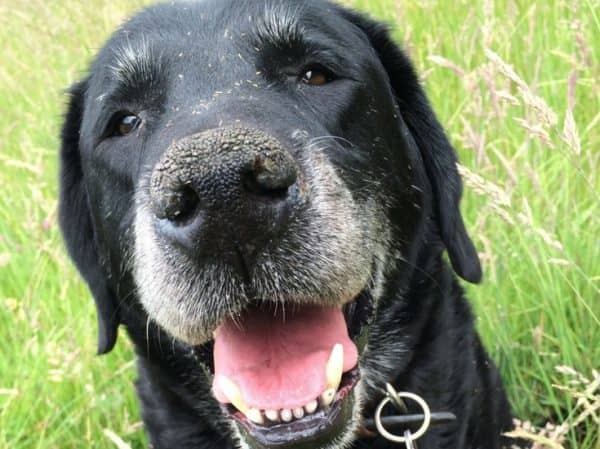 While both beds are ideal for dogs with joint issues, the Big Barker does offer thicker memory foam.
However, BuddyRest is the #1 choice among veterinarians, according to their claims.
3. Can he "climb" into a higher bed?
While two inches differences may not seem like much, some dogs just do not like beds that are higher off the ground.
I bought my girl Maia a super comfy, ultra thick bed a few months before we lost her, thinking it would help her aching joints.
She hated it and wouldn't get into it. Instead, she insisted on sleeping on what I thought of as "the pancake bed."
If your pooch doesn't like higher beds, then the BuddyRest would be a better option.
However, I'd test out a cheaper 5″ bed first to make sure your pup will use it.
4. Is your dog prone to accidents?
For prone to accidents, the BuddyRest comes out as the clear winner for me because it's water-resistant right out of the box.
If you have a larger budget and can afford to add on waterproof liners, though, you may prefer the Big Barker.
5. Is your dog a chewer?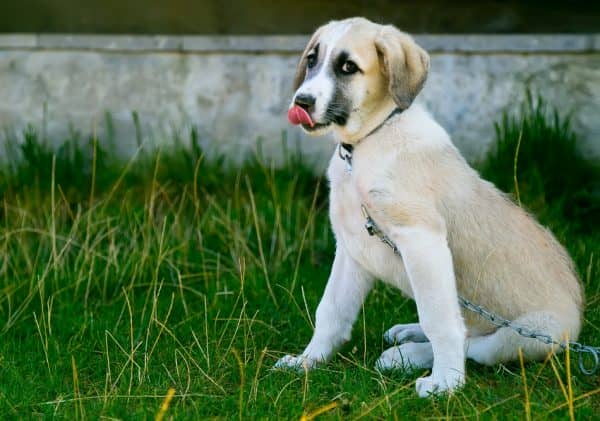 The BuddyRest is the more chew-resistant bed of the two, and they have a warranty to back it. The bed also holds up well to digging.
By comparison, multiple dog parents have complained that their pups chewed right through the Big Barker bed.
6. How much bed can you afford?
As we saw above, the Big Barker has a lower base price by quite a large chunk of change.
While add-ons (like liners or cover replacements) do add up, you can get a great bed for less up-front money.
My Recommendation
Honestly, it's impossible for me to recommend one over the other, because so many factors go into choosing.
I can't tell you which bed to buy, but I can tell you which one I'd buy for my dogs if money was no object.
For me and my pups (a pitbull/lab mix and a Pharaoh Hound), the BuddyRest would be our first choice, mainly because of the chew-resistant material.
So far, Freya (my Pharaoh Hound) has eaten every single bed I've ever given her, so chew-resistance is a major plus.
Do you have either of these beds? What would you add to our BuddyRest vs. Big Barker dog bed comparison? Share your thoughts below!