Large breed owners often have trouble finding perfect elevated dog beds.
Their dog's size makes options a bit more limited than with small or even medium dog breeds.
Let me take the stress out of it by walking you through the process of buying one.
Then, I'll even show you a few of my favorite options.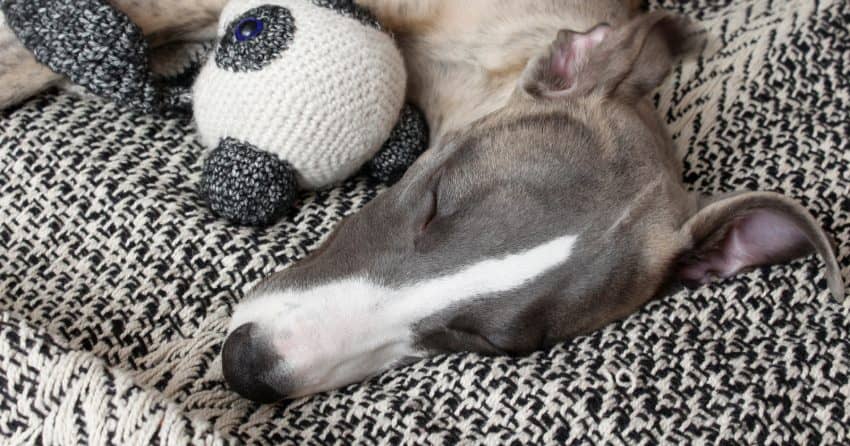 Our Top Pick
FYI, this post contains affiliate links. If you make a purchase through these links, we earn a small commission at no extra charge to you. 
If you don't have enough time to read our whole article, pick the Kuranda Elevated Dog Bed.
It shouldn't have any problems keeping any dog under 250 pounds happy.
Features of the Best Elevated Dogs Beds for Large Breeds
Let's take a look at the top features of the best large breed elevated dog beds, then we'll see my favorites.
Materials
Elevated dog beds should be made from breathable materials, such as Oxford mesh, polyester, or vinyl.
These materials will ensure your dog remains cool in the summer.
They'll aid in helping prevent unpleasant hotspots, as well.
Durability
But make sure these materials are capable of holding up your dog's weight.
You want something durable to ensure nothing falls apart when your dog's sleeping on it.
Look for an option with a reinforced base for a little extra support.
This feature should be enough to keep your large breed dog safe.
Safety
It's also crucial to check out each bed's weight restrictions for safety purposes.
These restrictions exist for a reason and aren't insignificant guidelines.
An owner who doesn't pay attention to them is only asking for trouble.
High-quality
It's better to spend a little extra now for a bed with a higher weight limit than paying a massive vet bill later.
Aside from these features, it's essential to ensure the bed is comfortable.
Reading other people's reviews can provide a better idea of each product's comfiness.
Let's move onto a few of my favorite options to demonstrate what I mean.
The 5 Best Elevated Dog Beds For Large Breeds
Check out the table below for a quick peek. Prices are accurate as of today.
| | | | | | |
| --- | --- | --- | --- | --- | --- |
| Preview | | | | | |
| Rating | 4.5 stars | 5 stars | 4.5 stars | 5 stars | 4.5 stars |
| Top Feature | Cooling | Custom made | Affordable | Many options | Durable |
| Shipping | Free | $21 | Free | Free | Free |
| Price | | $144.95 | | $171+ | |
| Buy Now | Buy Now | Buy Now | Buy Now | Buy Now | Buy Now |
1. K&H Pet Products Coolin' Pet Cot
Are you looking for a simple, affordable large breed elevated bed?
This model will suit your needs perfectly with its durable frame, cooling properties, and easy assembly process.
It'll be a perfect place for your dog to relax on those hot, summer days.
Features:
Two available styles: Protective Box and Retail Box
Holds up to 150 pounds
Non-skid feet
Specialized cool core
Made with 600-denier fabric
Pros:
Cooling properties
Durable frame
Simple to assemble
Ideal for outdoor use
Easy to clean
Cons:
Final Verdict:
This product's straightforward approach appeals to me.
There's nothing better than buying a simple, affordable item that meets all your expectations.
But large breed owners who have dogs with chewing issues should look elsewhere.
This bed has a reputation for breaking down when going up against a heavy chewer.
2. DianesK9Creations Large Elevated Pet Bed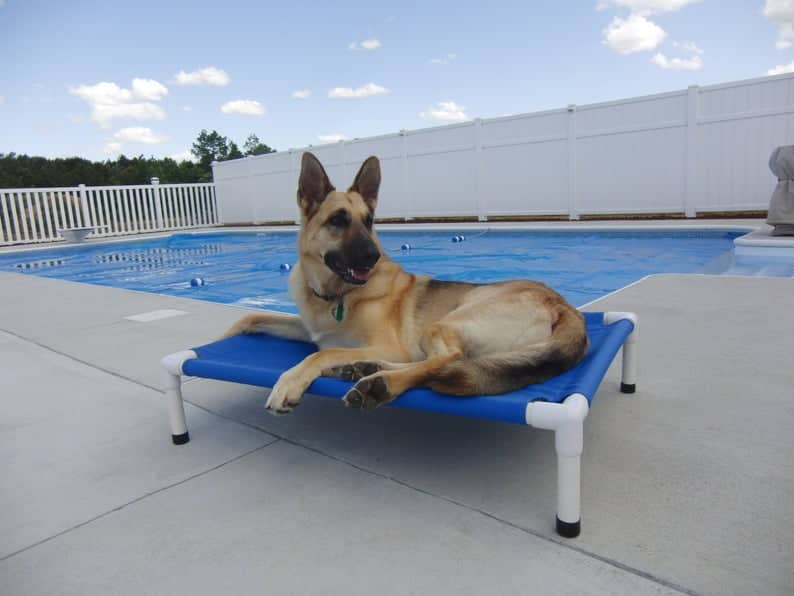 DianesK9Creations Large Elevated Pet Bed is one of the most durable options available.
It features a PVC pipe frame and 4-ply polyester canvas design.
My Pit Bull would even have a hard time chewing through this well-crafted masterpiece.
Features:
Eight height options: 5 inches, 6 inches, 7 inches, 8 inches, 9 inches, 10 inches, 11 inches, and 12 inches
Thirteen color choices: Black, Sunset Red, Caribbean Blue, Forest Green, Burgundy, Teal, Medium Blue, Charcoal, Seagull Gray, Chocolate Brown, Buckskin Tan, Aquamarine, and Hem Beige
Made with 4-ply polyester canvas
Industrial PVC pipe legs and frame
Holds up to 130 pounds
Pros:
Tear and stain resistant
Usable indoors and outdoors
Comfortable
Durable frame
Easy to maintain
Cons:
Final Verdict:
You aren't going to find many other options capable of matching this bed's longevity.
I could easily see this product being inside a home for 10+ years.
However, this longevity does come with a significant flaw, its price tag.
You'll need to spend a little to get your hands on this product.

3. Veehoo Elevated Dog Bed
Veehoo's Elevated Dog Bed shouldn't have any problems meeting a large breed dog's needs.
It can easily hold up to 150 pounds and has a breathable design.
Both these features make it a perfect place to catch some z's during a lazy Sunday afternoon.
Features:
Seven color options: Beige Coffee-Mesh, Black-Mesh, Blue-Mesh, Brown-Mesh, Green-Mesh, Orange Red-Mesh, Silver Gray-Mesh
Made with textile mesh and powder-coated steel
Holds up to 150 pounds
Waterproof, breathable mat
Non-skid rubber feet
Pros:
Lightweight and portable
Simple to assemble
Affordable
Cooling properties
Stable and reliable
Cons:
Some customers reported shipping issues
Final Verdict:
This product has no flaws concerning its performance.
Everything a dog owner could want within an elevated dog bed was included in its design.
However, some customers received the product with missing materials.
This type of issue was noted enough that it wasn't an isolated incident.
It's something to think about before making a final decision about this product.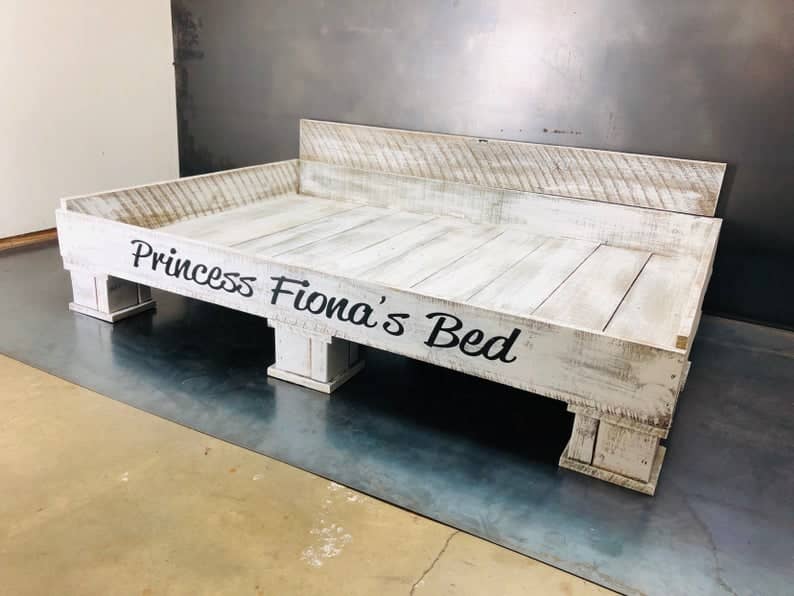 Buyers looking to get a customizable bed would love this product's handmade, reclaimed wood design.
You can even ask for your dog's name to be fitted onto the bed frame.
This bed is the ultimate spoil gift for anyone looking to pamper their lovable giant.
Features:
Two buying options for each size: with bedding or without bedding
Sizes 48″ to 55″ can handle over 200 pounds
Handmade
Personalized
Made from reclaimed wood
Pros:
Durable frame
Beautiful design
Capable of being fitted with your dog's name
One-of-a-kind
Spacious sleeping area
Cons:
Final Verdict:
This bed is a lovely piece of art and an incredibly comfortable sleeping space.
Any large breed dog would be overjoyed with its presence in their lives.
The amount of customization does come at an outrageously expensive price, though.
It's a small fortune, but it's worth it for people who can afford it.

5. Kuranda Elevated Dog Bed
Our last product offers the highest weight capacity among these options.
It's also durable, lightweight, usable indoors/outdoors, and can easily stand up to chewers.
There's nothing more a large breed owner could desire in an elevated dog bed.
Features:
Five color options: Black, Burgundy, Forest Green, Royal Blue, and Smoke
Made with heavy-duty vinyl fabric
1-year warranty
Holds up to 250 pounds
Aluminum frame
Pros:
Stands up to chewers
Usable indoors or outdoors
Easy to clean
Lightweight and portable
Extremely durable
Cons:
Final Verdict:
Everything about this product is perfect except for one small issue.
It doesn't come assembled, and the setting up process is rather annoying.
In fact, multiple customers made a point to complain about the product's directions.
It's a small issue, but one that could provide some unneeded stress into your life.
Final Recommendation:
Each of these five beds would make a great sleeping spot for your large pup.
But I would suggest getting the Kuranda Elevated Dog Bed with its heightened weight capacity.
It's capable of adapting to more situations than the others.
Which of our picks for the best elevated dog beds for large breeds would you buy? Share below!
Last update on 2023-06-06 / Affiliate links / Images from Amazon Product Advertising API