How can you keep dogs cool AND busy in the summer?
We've gathered up seven ideas to help Fido chill both figuratively and literally!
Check out our ideas below for inspiration, and let the summer fun begin!
Related: 5 Summer Outdoor Safety Tips for Dogs You Need to Know
How to Keep Dogs Cool and Busy in the Summer
Affiliate links included below. We earn a small commission if you make a purchase through these links.
The hottest months of the year are almost here.
We humans have various ways to keep ourselves cool in the summer.
We also have plenty of ways to fill our day with fun activities!
But what about our fur-babies?
They can't just head out to the air-conditioned movies for the afternoon!
They also can't go to the waterpark…
Still, there are plenty of things you can do to help your dog cool down.
And they don't involve taking him to the mall.
Related: Know the signs of dehydration in dogs
1. Kiddie Pool Play Time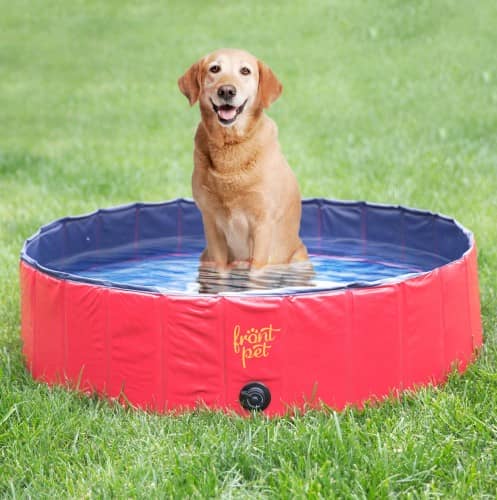 Everyone loves a cool bath on a hot day, and our pets are no different.
Go pick up a kiddie pool
. 
Plastic works best.
Inflatable might not last too long with pets. 
So when you're outside barbecuing in the summer heat, 
2. Frozen Doggie Treats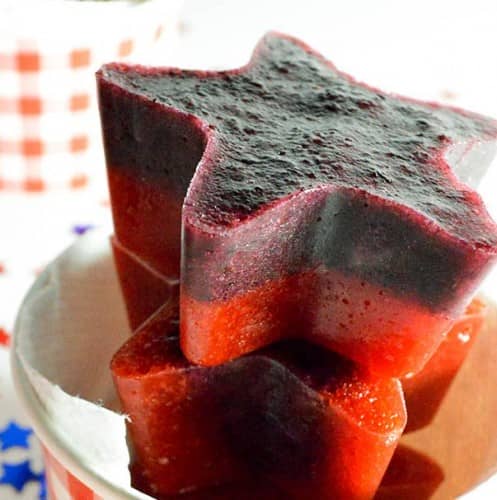 Frozen dog treats   are a dog's best friend in the heat of summer.
Choose whatever ingredients you know your dog will like (and safe!)

Then freeze them and feed them on hot days.
They can be made from: 
Limit how many you feed them depending on ingredients you choose from.
You'll save money with DIY instead of buying something overpriced at the store.
3. Homemade Doggie Ice Cream
Ice cream is a cure all for hot days,
So why not treat our pups to the same treat?
You can make them homemade ice cream!
You can make it out of peanut butter
, yogurt, and more.
Recipes can be found everywhere online, and your pet will love them.
For a super easy one, check out our 3-ingredient frozen yogurt!
With a little creativity, and knowing what they like, it'll be easy to do.
4. Frozen toys with treats in them
One of the most popular dog toys is the Kong. These are made to be frozen and treats put inside of them.
They will keep pets happy and busy all day! They will try to lick the frozen treats out of them.
There are other toys that can also be frozen:
They will be playing and kept busy all at the same time!
Be creative and research different options for your pet.
5. A cooling vest
These are totally cool (no pun intended!) for pets.
Best used for dogs, because cats are not going to enjoy you dressing them up as much.
They can be made out of a pair of cargo pants.
All you have to do is use frozen ice packs.
Put them inside the pockets.
They will prance around in their new attire while keeping cool and happy!
6. A cooling bandanna
All you need is:
a regular old bandanna,
some water,
and a freezer.
First wet the bandana.
Then freeze it.
Once a hot day arrives, let your dog wear their bling!
Or simply run it under cool water and let them wear it.
They will look so stylish that other dogs will be jealous.
7. A haircut for longer haired pups
This goes without saying.
If your fur baby is all fur, consider giving them a trim to help with keeping cool.
All of that hair can be hot and tiring for your pets.
This can lead to:
heat exhaustion,

heat stroke,

and dehydration. 
We want our pets to be healthy and playful. Not lethargic and ill.
These ideas are just the tip of the iceberg.
Hopefully, these will give you some inspiration to come up with your own ideas.  
There are unwritten rules and tips though.
Always keep clean, fresh water available at all times.
And they should have access to shade for relaxation.
Never let them stay in the sun or a car for long.
As it can lead to unfortunate circumstances for both you and your pet.
Do you have any fun ways to keep your dogs cool and busy this summer? Share below!