Retractable dog gates are a convenient, safe option for anyone who wants to keep their fluffy fuzz buddies out of certain parts of their home. A variation of the standard mounted gate, retractable dog gates offer more convenience because instead of opening the gate, you can easily retract it when the dogs are jumping all over the place.
Retractable Dog Gates – A Convenient Alternative to Standard Gates
Affiliate links included below.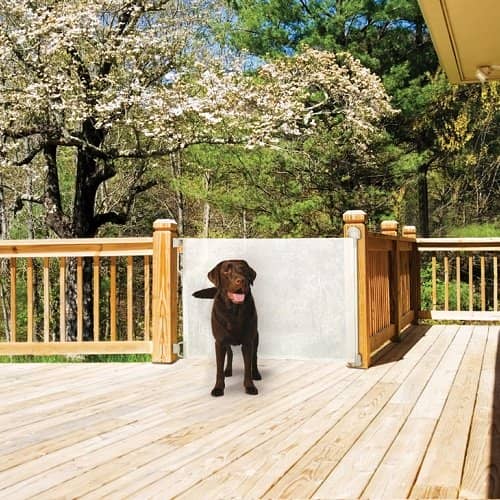 Like standard mounted gates, retractable dog gates are fastened to the wall by screws and plates. Unlike standard mounted gates, however, retractable gates are made in a sort of retractable blind fashion. Basically, they're retractable window treatments on a horizontal access which are made from thick, ultra durable fabrics. I love these gates. The only reason I didn't recommend them in my article on dog gates for stairs  is because of the fabric. In most instances, the retractable dog gate is a superior choice, however I don't feel comfortable with a fabric gate being the only thing between my dog and the stairs. Especially if a big dog is in the equation.
What Makes Retractable Dog Gates Great
For one thing, they are exceedingly easy to install. When mounting a retractable dog gate, you mount the two sides separately, which is much easier than mounting the standard wall mounted gates. You don't have to worry about the extra bulk of the entire gate when mounting a retractable dog gate.
In addition, they are easy to use. Rather than undoing a metal clasp and swinging open the gate, you simply lift and let the fabric gate retract on its own. There's no fiddling and no clipping or unclipping. You simply lift, and it pulls back. To close it you just pull and reseat it.
Safety is another big plus for this gate. Retractable dog gates don't require you to step over anything. Although it's fairly easy to step over a pressure gate, it can still be a safety hazard, especially if an elderly person or a child is in the house. You don't want a fall!
What's the Downside of a Retractable Dog Gate
There's really only one downside to a retractable dog gate. You need to consider the size of your dog and its goofball level. Although these gates are made with extremely tough material, if you have a English Mastiff that's a total idiot – said with love – you could be looking at it plowing right through the gate. This is the worst case scenario, of course, but it's a possibility. That's why I don't recommend them for stairs.
For Everyday use, use a Retractable Dog Gate
I love retractable dog gates for everyday use. They're easy to install, easy to use, and extremely safe. If you have a dog that you need to keep segregated from a certain part of your house on the same level, I highly recommend retractable dog gates. They're a safe, easy, convenient method to keep the pooch from going where it shouldn't.
Do you use a retractable dog gate? Tell us what you love about it in the comments!