If you're looking for a complete K9 Ballistics Orthopedic Lux Bed review to find out if it's worth your hard-earned cash, let me help you out!
Today, we'll take a look at the brand's luxury line of orthopedic beds!
We'll delve into the features, pros and cons of each one and find out which, if any, is a good buy!
First, though, let's start with a few basics about the line, shall we?
What is the K9 Ballistics Orthopedic Lux Bed
K9 Ballistics, makers of the super tough "Cujo Cot," also manufactures a line of memory foam orthopedic beds.
If you're searching for a K9 Ballistics Orthopedic Lux Bed review, I'm going to assume you're talking about their round Lux bed. That's the only one with the "LUX" actually in the title.
However, since we all know what assuming does, I'll be including some of their other "luxury" orthopedic models as well.
We'll get to the complete reviews in just a second, but first I do want to share with you a few things you'll need to know about K9 Ballistics as well as their luxury line in general.
Who is K9 Ballistics?
Go to just about any dog bed buying guide on this site and you'll likely see me mention the K9 Ballistics Chew-Proof "Cujo Cot" at least once.
Along with the Kuranda, it's one of my most often and highly recommended chew-resistant dog beds.
While that's definitely what they're best known for, the brand also has a huge line of "regular" dog beds, as in not elevated cots.
Although they're not quite as tough as the cot, these beds have a higher "chew-proof rating" than just about any other memory foam bed on the market.
Among those, they offer a more "luxurious" option for pampered pooches.
Now, here's where it gets tricky & confusing: these models are NOT made for chewers. We'll talk about that more in the cons below.
So, why would you want to buy them? Let's find out in our reviews below!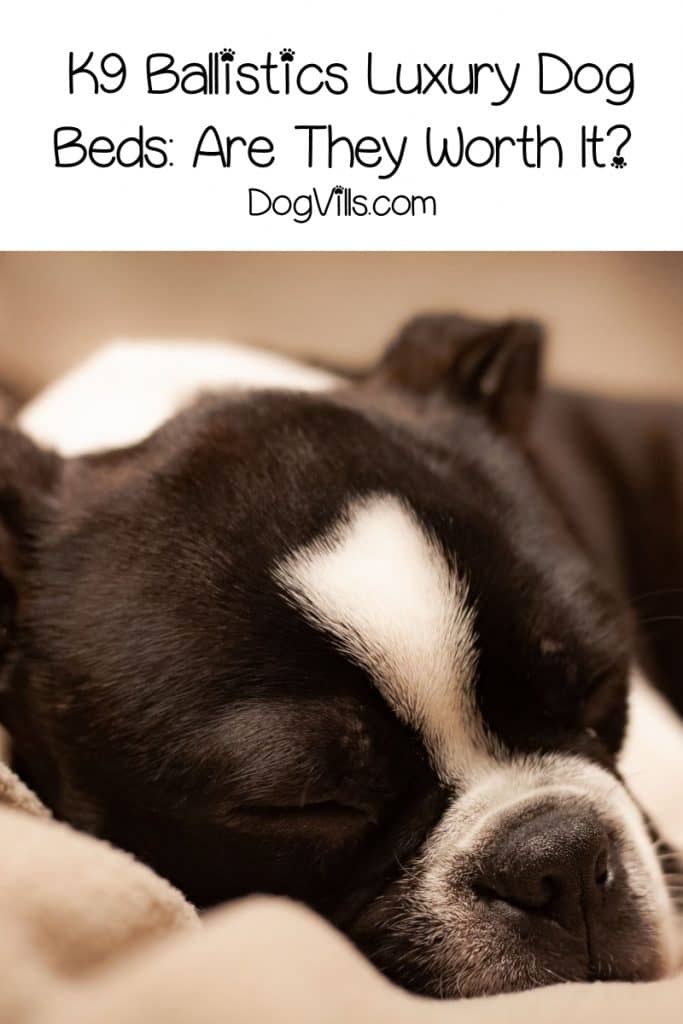 FYI, this post contains affiliate links. If you make a purchase through these links, we earn a small commission at no extra charge to you.
K9 Ballistics Orthopedic Luxury Beds with Reviews
I'm going to warn you upfront, the names for the beds are incredibly confusing, as all three are orthopedic luxury beds.
I flip-flopped back and forth between writing three separate sections or just lumping them all together.
As you can see, I decided on three reviews, even if they will be a bit repetitive. It's just a lot less confusing for all of us.
Check out the table below to navigate through the options, then read on for more details.
Preview
Name
K9 Ballistics K9-681 LUX Rectangle Pet Bed, Large (34"x40"x5"), Cream Fur/Tan Micro
Preview
Name
K9 Ballistics K9-681 LUX Rectangle Pet Bed, Large (34"x40"x5"), Cream Fur/Tan Micro
1. K9 Ballistics Orthopedic Lux Bed Review
If you are looking specifically for a K9 Ballistics Orthopedic Lux Bed review, this model is likely what you had in mind. It's the only on Amazon with the word "LUX" in it.
However, on the K9 Ballistics website, it's actually called the K9 Luxury Round Orthopedic Bed
Features & Pros
Total of 5 inches of CertiPUR-US certified foam
Two layers of memory foam: 3.5 inch layer of dense support foam in the base and 1.5″ standard memory foam on the top.
Superior construction.
Plush faux fur LUX cover made from 100% synthetic polyester fibers
Cover is hypoallergenic and machine washable.
Water, hair and dirt resistant.
Made with premium upholstery-grade microfiber siding.
Available in 4 different colors on Amazon.
Guaranteed against flattening for 10 years.
Cons
NOT chew-resistant, and not covered by the K9 Ballistics chew proof guarantee.
Only comes in one size on Amazon (small)
Even on their website, sizes other than small and giant are sold out.
Not water-proof (just resistant).
No replacement covers (not on their site or on Amazon).
No returns unless it's in unused, perfect (not even a dog hair on it) condition.
The 10-year no-flattening guarantee is only good for one bed replacement. If the second one flattens, you're out of luck.
Recommendation
I really wish that this one came in more sizes, as it's definitely the most orthopedic of the bunch!
If you have a small dog who doesn't chew, though, it's your best buy out of the three luxury options.
2. K9 Ballistics LUXURY Round Dog Bed Review
Called the K9 Luxury Round Nesting Bed on their site, this is actually my favorite model of the group.
Features & Pros
Available in four sizes from Small to XL and four colors on Amazon.
Water, hair and dirt resistant.
Lightweight fluffy polyester mattress that resists clumping and odors.
Like the bed above, the cover is made with hypoallergenic synthetic polyester fibers.
Machine washable cover.
Perfect for dogs who like to nestle down into a super cozy bed.
Cons
Made with shredded memory foam, so it's not as orthopedic.
Not at all chew-resistant and not covered by the chew-proof guarantee.
Not covered by the "won't flatted" guarantee, either.
Fewer color options on Amazon than through their website.
No replacement cover.
Not covered by the "won't flatted" guarantee, either.
Recommendation
It's really too bad that they couldn't merge this one with the one above.
I love the style and the thicker cover on this model, but prefer the orthopedic foam of the other one.
If you're dog doesn't need the extra support, though, this would be my top pick.
3. K9 Ballistics Luxury Rectangle Dog Bed
This last one is pretty much the "bottom rung" model of the luxury line. It's kind of a hybrid between #1 and #2, except with very few of the better features of either.
Features & Pros
Comes in 5 sizes on Amazon from small to XXL.
Hypoallergenic cover made of synthetic polyester.
Machine washable cover is dirt-resistant.
Overstuffed to increase its lifespan, which may actually be a con.
Cons
Not covered by our Chew-Proof Guarantee.
It's not covered by "anti-flattening" warranty.
Not dig-resistant, chew-resistant, or any other kind of durability-related resistance.
Cover isn't durable at all.
Some of the colors and sizes are frequently "currently unavailable" on Amazon, which can be frustrating!
Stuffed with polyester fiber fill instead of memory foam.
Recommendation
This is my least favorite of the bunch. In fact, I don't recommend it at all.
First, despite the fact that it's stuffed full of the same fill found in plush animals, it costs just as much as bed #2 and only a few bucks less than #1.
Second, customers complain that the cover wears thin very fast and rips easily. It's just not a good buy, in my opinion.
Final Recommendation
Out of the three luxury beds from K9 Ballistics, I would have to go with the first one, even though I like the style of #2 better.
It's the only one made with real memory foam and not shredded foam, or worse, polyfill.
However, just remember, these beds are NOT for dogs who chew, dig or scratch.
In fact, if your dog does anything other than lie completely still on his bed, you're better off going with another option, like their Tough Orthopedic Dog Bed.
K9 Ballistics Tough Orthopedic Dog Bed Large Nearly Indestructible & Chew Proof, Washable Ortho Pillow for Chewing Puppy - for Large Dogs 40"x34", Blue
VIRTUALLY INDESTRUCTIBLE DOG BED: For diggers, scratchers & dogs who are tough on their bed. (for heavy persistent chewers search for our - K9 Ballistic Chew Proof Elevated Dog Bed)
DURABLE RIPSTOP BALLISTIC COVER: Scratch resistant, waterproof, and dig proof cover. Comfy design that's removable, machine washable, and easy to clean.
ORTHOPEDIC DOG BED: We use CertiPUR-US foam which we cut ourselves in our manufacturing facility in the United States. Our orthopedic dog bed mattress won't allow your dog to sink through to the floor. Even the largest and heaviest dogs cannot flatten this orthopedic dog bed!
SMALL TO LARGE DOG BED SIZES: We make dog beds for every size breed from Pomeranian to Malamute & Great Dane. Small, medium, large, and even giant dogs have plenty of room to stretch out on this dog mattress. Just be sure to pick the correct size bed!
CHEW PROOF PROMISE: If your dog damages their tough dog bed within 120 days after receiving it, we will issue you a one-time store credit that can be used to replace your damaged bed.
Do you have any thoughts to add to my K9 Ballistics Orthopedic Lux Bed review? Share below!
Last update on 2023-09-23 / Affiliate links / Images from Amazon Product Advertising API