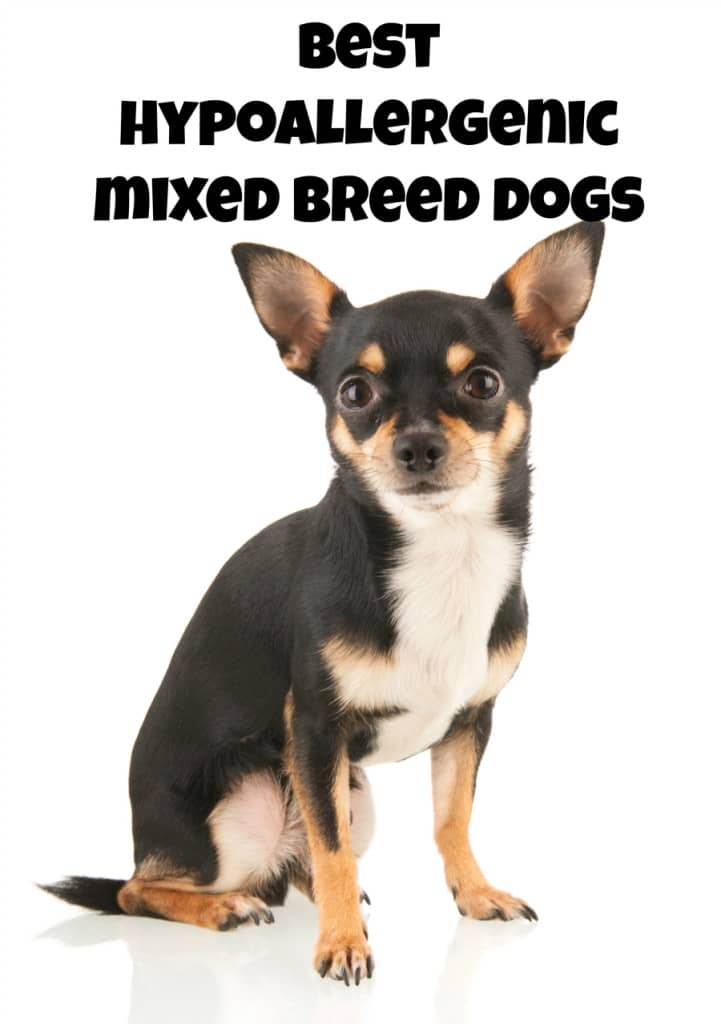 You want a hypoallergenic dog, but you don't want a purebred.  The next best thing is a mixed breed!  They can have such fun names as well (check out the ones in the list below).  Sometimes these hypoallergenic dogs are even better than their originals because they tend to harbor the best traits from each breed.  Below are some mixed breed hypoallergenic dogs (with some cool names).
Related: Totally Naked Hypoallergenic Dogs: The Hairless Breeds
Check out the list!
Best Mixed Breed Hypoallergenic Dogs

Afador (Afghan House and Labrador Retriever): He normally has the body of the Afghan but the has the appearance of the Lab.  If you are looking specifically for him to have the temperament of the Afghan, there are no guarantees.  That changes from dog to dog just as it does from human to human.  These guys have a lot of energy. They want to be with their families, so make sure if you are going to choose this hybrid, you have the time to devote to him as he wishes.  He makes a great family dog if he is allowed to grow up with kids.  Your kids with have a devoted friend.

Bagle Hound (Basset Hound and Beagle): He tends to look more like the Beagle than the Basset Hound. An all around good dog they are curious and playful which make for good family dogs.  They are great with kids, their size helps in that aspect as they only about 12-17 inches.  This mixed breed tends to hold on to his tracking abilities, so games are fun for him!  He does like long walks and apartment living isn't very suitable for him.  Because of his nature to hunt, he is best in a fenced in yard and on leash when not at home.  A bonus?  They are not prone to illness and only require a bath for grooming!

Bich-poo (Bichon Frise and Poodle): Also known as a 'Poochon', he comes in toy size (about 6-12 pounds) or miniature (13-18 pounds).  This is a very smart hybrid, who is playful and affectionate.  They do have a hearty and have no problem alerting their families of company or suspicious sounds.  He can be trained to be quieter.  He is good for apartment living, as he doesn't require much exercise, but does respond well to training!  Like the Poodle in him, he gets along just fine with other animals.

Chiweenie (Chihuahua and Dachshund): This one holds a special place in my heart, as I am a proud owner of one, we call her Lola.  Her mom was a purebred Dachshund and her dad was a purebred Chihuahua.  Some research says she is best suited for families with older children, but we got Lola when my daughter was 3 and they are best friends.  Lola goes to sleep with my daughter (who is now 5) and she lets her dress her up and carry her however she wants.
That being said, it is very important to teach your children to watch and listen to signs the dog is giving. My daughter knows when Lola has had enough and she leaves her alone.  Chiweenies are the best of both breeds as they won't get to be more than 12 pounds (ours is 7 pounds) and they live about 13-16 years.  They can be quite stubborn in training and crate training is recommended.  Especially if you live in an area where it can get quite cold!  If you want a dog to curl up in your lap while you relax, this is definitely a good choice!

Mixed breed hypoallergenic dogs can be some of the best dogs as they will have characteristics of both of the purebreds!  How cool is that?  And the names, some are just so funny!
Do you have a mixed breed?  Maybe your neighbor or a family member has a mixed breed  Hypoallergenic dog or not, fill us in and share your stories with us below!