Naked dogs.
What?  
Yes, totally hairless, naked hypoallergenic dogs, they do exist and you may have even seen a few photos and asked yourself, "what kind of dog is that?"
If you have an allergy to dogs, even the ones that are considered hypoallergenic, you can still be a proud dog owner!
Here is a list of some of the hairless breeds of hypoallergenic dogs!
Hairless Hypoallergenic Dogs: Totally Naked Canines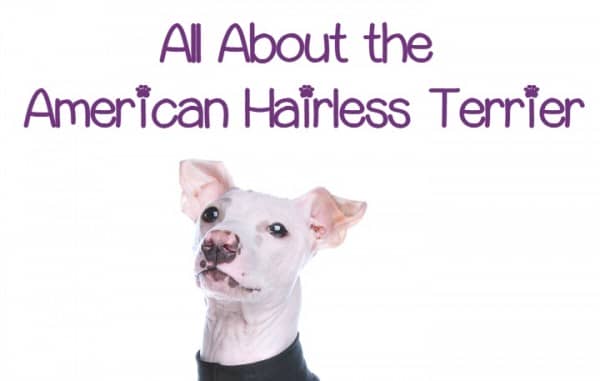 Smart, alert playful and loving,  this lively terrier makes a great companion for anyone, especially those who are allergic to even other breeds of hypoallergenic dogs.
These dogs are great with kids, even more so if they are raised with them.  Something different from other dogs, these dogs will break out in a sweat when hot or scared, because they have no hair to cover it (sounds oddly human!)
They are good watchdogs.
He is not suitable for swimming, you have to really keep an eye on him if taking him to the lake or pond or even in your pool.
As far as health problems, they do not face the skin problems other hairless breeds do.  If you are taking him in the sun, he does require sunscreen to prevent sunburns (weird to think your dog needs sunscreen!)  Also, to keep his skin intact, if he seems dry you can apply lotion (without lanolin) to him and keep him moist.
An added bonus to being hairless?  He does not get fleas!

Read More: Hypoallergenic dog breed selector
Chinese Crested (hairless):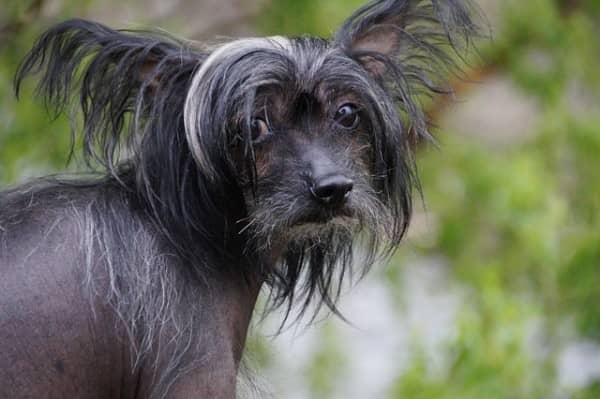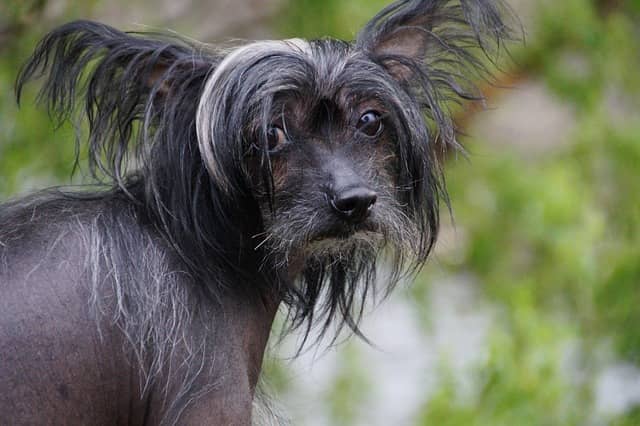 This hairless version does have hair on his head, his tail and his feet.
Be careful where you walk him as he can get injured easily because he doesn't have a protective coat of hair.
The Chinese Crested is not much of a barker, but he does like to dig!  He needs you to be his leader, do not let him rule the roost!
If you find that he tends to growl and be possessive of his toys then you have let him become the alpha dog.

Learn more about the Chinese Crested Dog Breed
Hairless Khala:
You might recognize these hypoallergenic dogs as the ones with the mohawks!
He might just end up being the coolest looking dog on the block!  They come in 2 sizes, Hairless Khala Medio, with short legs and the Hairless Khala Grande with longer legs.
This hairless breed has minimal health problems, just your typical skin issues, such as dryness or sunburns because they are not protected by a coat of fur.
You might want to invest in some clothing for him, even if you live in a warmer climate a t-shirt will be good to help protect against the sun.

Hypoallergenic dogs that don't shed and are good with kids
Peruvian Inca Orchid:
These are great hypoallergenic dogs if you have kids or other dogs.
He is not a small dog, he can weigh anywhere between 26-50 pounds.
As with any other hairless dog, he is prone to skin problems because he does have a protective coat of hair.  It is important to take him on daily walks and remember that he needs to be next to you or behind you on the lead.
If he learns to be in the lead, then he will think he is the leader, it's how a dog's mind works.  You don't want him thinking he is ruling the roost!

Xoloitzcuintle :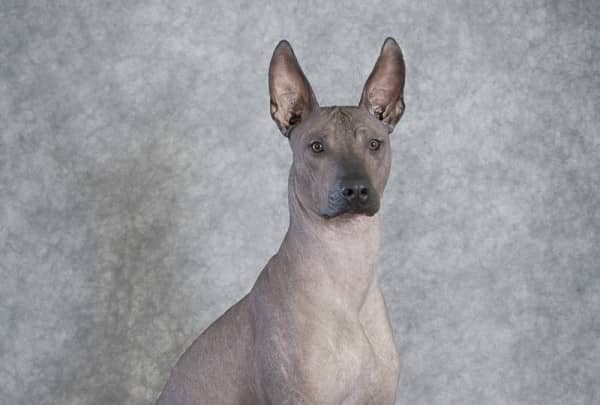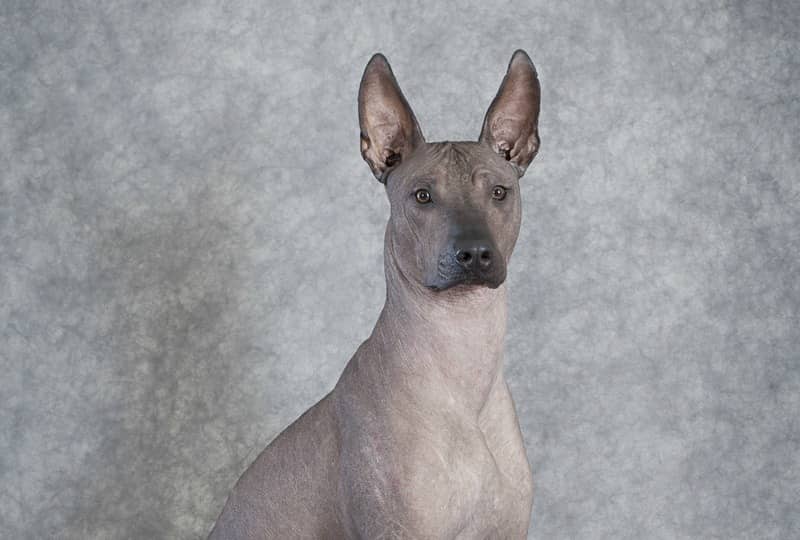 How do you say his name?  Show-low-eats-queent-lee, doesn't look like it sounds!
You can also call him Xolo or the Mexican Hairless Dog.
Coming in 3 sizes to choose from, toy, miniature and standard, there should be a size suitable for you!  The Xolo is protective and alert while also being cheerful and smart.
He will give you a good 12-15 years of himself.  He does well in a fenced-in yard but don't let him off leash as he is likely to chase other animals.
 Learn more about the Xoloitzcuintle dog breed
It make take a second glance (ok,maybe 3 or 4) but you will find you will love these hypoallergenic dogs.
You know, a face only a mother could love!
They are great dogs, just like their furry counterparts, just a little less grooming and a little more caring for skin.
Think of the money you will save on flea meds!
Have you ever seen one of these hairless breeds in person?  Maybe you own one or have in the past.  What do you have to say about them?  Share with us your opinions and stories below!