What are the best dog beds for Dachshunds?
That's exactly what we're going to explore today!
We'll take a look at features you need to consider when shopping for the perfect bed for your wiener dog.
Then, I'll give you a detailed overview of my top 10 favorites!
Related: Why does my dog flip his bed over?
What to look for in the best dog beds for Dachshunds
Sweet, curious and full of spunk! Those are the top three words I'd use to describe the Dachshund. They may be small, but they have big beautiful personalities!
Although I've always had big dogs, my furry niece (not to be confused with my human niece) happens to be a Dachshund! Say hello to Bella!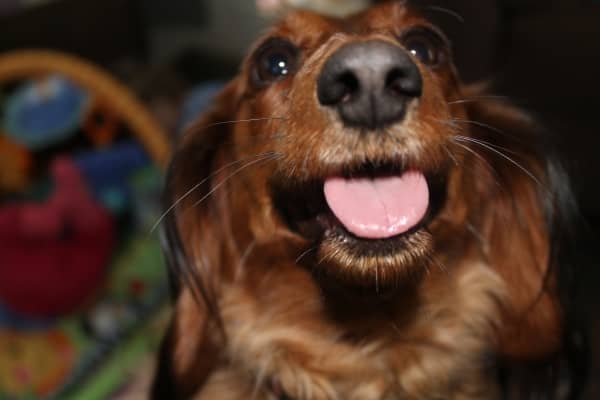 She's was coming in close for one of her famous "humans are dirty and must be bathed excessively" sessions. You can never leave my brother's house without a bath from Bella!
As the super cool aunt that I am, I only want what's best for my niece, so choosing the perfect dog bed for Dachshunds is serious business to me.
What goes into that choice? Here are a few things to keep in mind as you shop:
Related: Top Unique Dachshund Names
Back support
Out of all the features to look for in the best dog bed for a Dachshund, support tops the list.
Dachshunds are fairly healthy overall, but that long back makes them prone to disk damage.
While you don't have to go full-on orthopedic during the puppy years, it can't hurt.
If you want to skip the memory foam for now, at least look for something that supports that long body.
Fur length
Dachshunds can have super short or long, flowing locks. According to the AKC, all of them shed moderately.
You want a bed that's easy to clean or that repels fur. On the plus side, they're relatively odor-free dogs, so you don't have to worry too much about that.
Chew-resistant
Dachshunds tend to be chewers, so unless you want to replace the bed frequently, you may want to look into something that at least resists gnawing.
If your dog is past that chewing stage, though, I am including some great options that aren't quite so durable in that sense (yet still have wonderful features in other senses).
Skin-safe
Along with general allergies that can affect any dog, Dachshunds have some rather unique potential skin problems.
For example, they are prone to Acanthosis nigricans, a condition that causes dry, flaky and hardened skin.
They also tend to acquire yeast infections more frequently than many other breeds, so you'll want to choose a bed made with non-toxic and non-irritating materials.
Of course, along with all of the above, you'll want to consider you budget. The good news? Small beds are a lot cheaper than XL dog beds!
I will say that it's worth it to spend a little extra on a feature-rich bed that your dog can use for a long time.
Now that you know what to look for, let's take a peek at my top 10 favorites!
FYI, this post contains affiliate links. If you make a purchase through these links, we earn a small commission at no extra charge to you.
Best Dog Beds for Dachshunds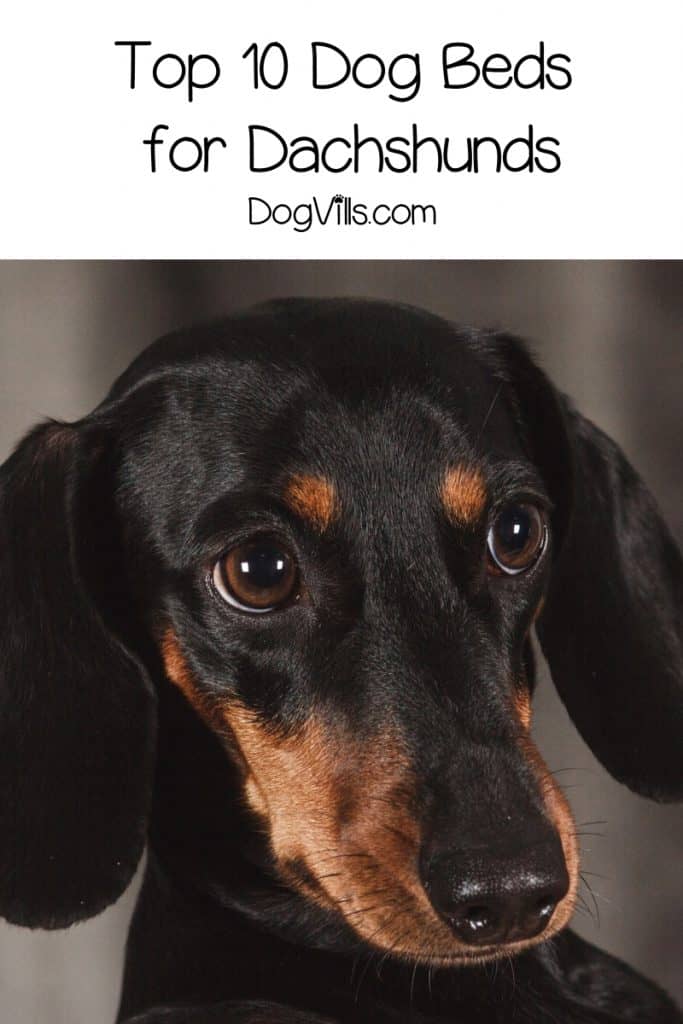 Half of these fantastic Dachshund beds are available on Amazon. However, for truly unique finds, I turned to Etsy for the other half!
For the Amazon beds, I've included a handy table that you can reference. Let's get started!
Table could not be displayed.
1. Best Friends by Sheri Calming Shag Review
Always a popular choice, the Best Friends by Sheri donut cuddler is perfect for doxies who like to sleep curled up.
Features & Pros
Made with super plush vegan materials that are gentle on your dog's skin
All pet-safe materials
Raised rim makes dogs feel secure while supporting their heads
Budget-friendly (for the smaller ones, at least)
Machine-washable (but see note in cons)
Cons
No padding in the middle, so you may want to put something under it
Tends to mat in the wash, you MUST dry it right away
Only two colors
Not chew-proof or waterproof
Recommendation
The vegan cuddler is one of the most popular round donut-shaped dog beds for a reason.
It's a fantastic choice for Dachshunds who curl up when they sleep! I just wish it came in more colors.
2. Keet Westerhill Pet Sofa Bed
Looking for the best sofa bed for Dachshunds? I love the Keet Westerhill! It looks like a little people sofa!
Features & Pros
Handmade from real wood for the frame
Outside is a soft minky fabric
Cover comes off and is washable
Cushion is filled with shredded memory foam
Comes with two pillows if you get medium or large
Holds up to 25 pounds
Cons
Only comes in two lighter color options
Small size doesn't com with pillows (but you're better off with medium anyway)
Recommendation
While the small is probably fine for your doxie, I suggest getting the medium just to give her more room.
Besides, small is always out of stock and it doesn't come with the cute pillows.
3. The Dog's Bed Orthopedic Bed Review
While it's far from the cutest option on this list, I feel like we need at least one bed that's heavy on the support features, even if it lacks in the style department.
In that regard, the Dog's Bed is definitely one of the best dog beds for Dachshunds.
Features & Pros
4″ of premium supportive memory foam
Solid 2" high density orthopedic memory foam & a solid 2" base of support foam
Made for dogs with joint issues, so it's very supportive.
Removable machine-washable cover
Comes with a waterproof mattress protector
8 options for the trim color
Cons
Color options are just for the trim, the overall bed is either brown or grey
Cover isn't as cozy as other options, and it squeaks
Cover also isn't the most durable
Not waterproof or chewproof
Recommendation
Like I said, it's not the cutest option by a long shot, but sometimes you have to sacrifice style for comfort.
If you have an older Dachshund, I would definitely choose this over all the others.
4. K9 Ballistics Tough Orthopedic Dog Bed Review
If you need a super-tough chew-resistant option that's also orthopedic, the K9 Ballistics Tough Orthopedic Dog Bed is your best bet.
Features & Pros
"Toughness" rating of 4/5, so it's basically the strongest rectangle-type bed
RIPSTOP cover is also dig resistant
Removable and washable cover
Made with CertiPUR-US foam, so it's skin-safe
Comes in 13 colors and prints
120-Day Chew Proof Warranty
Cons
Pricey
Only the cover is covered by the warranty
Can't buy cover replacements through Amazon
Not all colors are available for all sizes
Recommendation
I'd recommend this one if your dog is still a major chewer and you really need something supportive as well.
5. Kuranda Elevated Dog Bed
I can think of very few scenarios where Kuranda wouldn't be a great fit. It's a fantastic option for those who want an elevated, chew-resistant, and/or ortho bed.
Features & Pros
It's actually chewproof (or as close as you can get without being concrete)
Heavy-duty vinyl sleeping surface
Super lightweight
Keeps your doxie cool year round
Simple to clean, just spray it off and you're done!
American-made
250-lb weight limit on ALL sizes, so no worries about accidentally stepping on it.
Cons
The sleep surface isn't exactly luxurious
Only comes with a 1-year warranty
Elevated beds are a pain to assemble at times
Recommendation
Really, the only major drawback to the Kuranda is the fact that the bedding isn't really all that cozy. Of course, no fluff means nothing to destuff, as I always say!
6. Weenie Pocket Burrow Dog Bed Review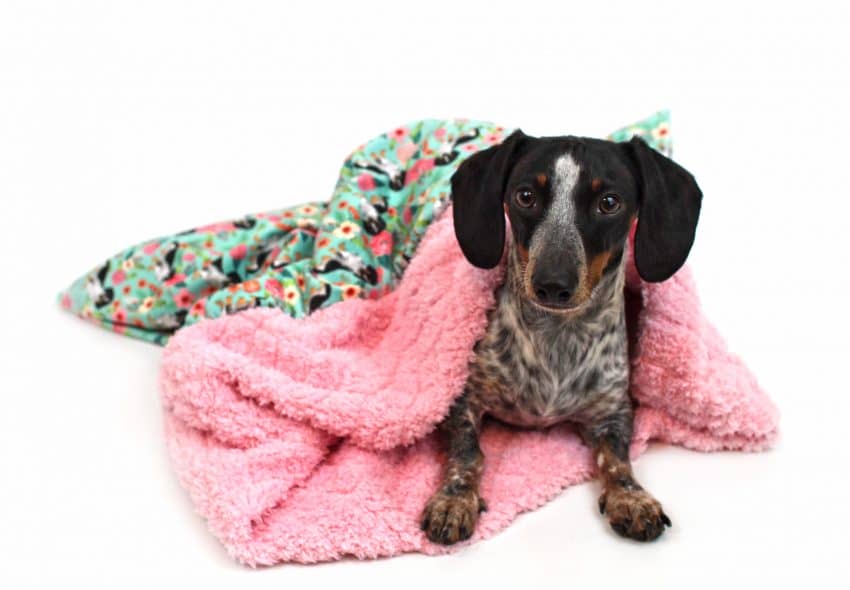 I know, it's overwhelmingly adorable, right? I'll give you a minute to get all those "awwwwwws" out.
Good to go now? Great! Let's talk about this beyond cute Dachshund dog bed, shall we?
Features & Pros
Made with super soft fleece (regular or custom "Dachshund fleece")
It's made especially for Dachshund dogs.
Comes in more than 100 different print options for the outside.
Choose from 8+ color options for the liner
You can even personalize it if you want.
Machine-washable
Handmade with love and highly rated
Cons
Takes up to a month to receive
Shipping is a bit pricey
No returns or exchanges
No padding, so it's best used on a more supportive surface
Not chew-proof or waterproof
Recommendation
Since this fun bed is literally made for Doxies, I'd say it's a pretty safe choice as one of the best dog beds for Dachshunds.
I love that you have SO many choices in fabrics, so you can really make it your own.

7. Handmade Felt Dachshund Bed Review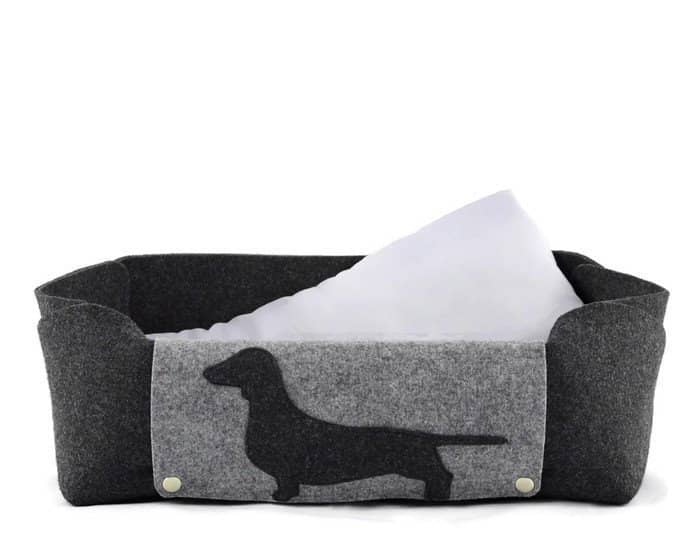 Another cute find on Etsy, this one is a bit more like a traditional bolster-style bed than the first one.
Features & Pros
Handmade with super strong technical felt
Collapses for easy storage
Comes with a pillow
Looks stylish in your home
Returns and exchanges accepted
Free shipping in the United States
Cons
Subject to availability, so it could go out of stock. If so, check out their other pet beds for similar models.
No color options, what you see is what you get.
Ships from Poland, so it'll take a while to arrive
Not the most supportive option, but you can easily add a memory foam pillow
Not chew-proof or waterproof
Recommendation
Although it only comes in one color and you can't personalize it, I really love this bed.
I also like that while it does come with a pillow, you can easily swap it out for something a bit more supportive.

8. Luxury Washable Custom Dog Bed Review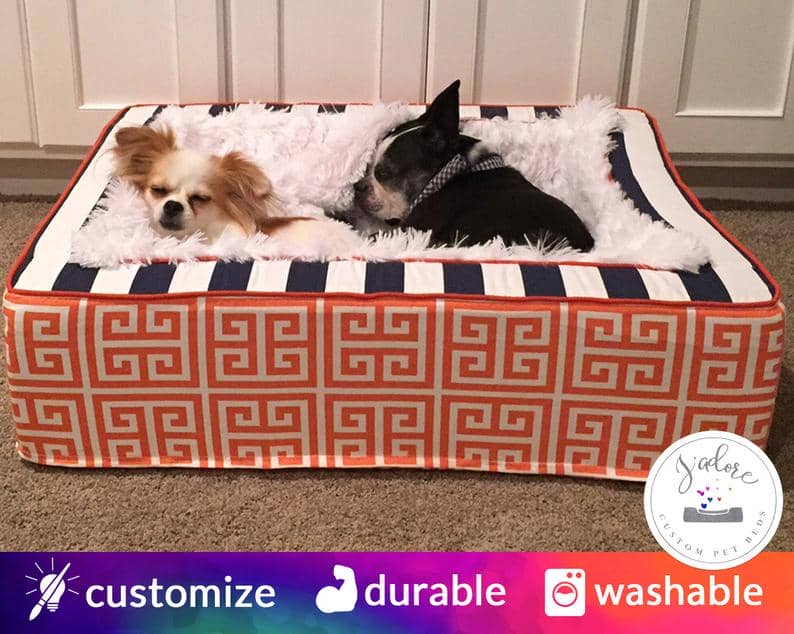 Envelop your Dachshund in total luxury with this next Etsy find!
Features & Pros
Choice of 4 durable fabrics
Removable, washable bed cover
Stuffed with upholstery-grade fiberfill and foam
You can add embroidered names
Available in six different sizes, so you can choose one for a single Dachshund or get a bigger one for two!
1-year warranty
Cons
Rather pricey
Takes about 2-3 weeks to receive
Like all Etsy items, it can quickly go out of stock (here is the store link for alternatives, though)
No returns or exchanges
Not chew-proof or waterproof
Recommendation
While this is definitely a pricier option, the 1-year warranty and the expert craftsmanship makes it worth the ticket price.
It truly is among the most luxurious bed for your pampered pooch!

9. Stuffed Burrow Bed for Dachshunds Review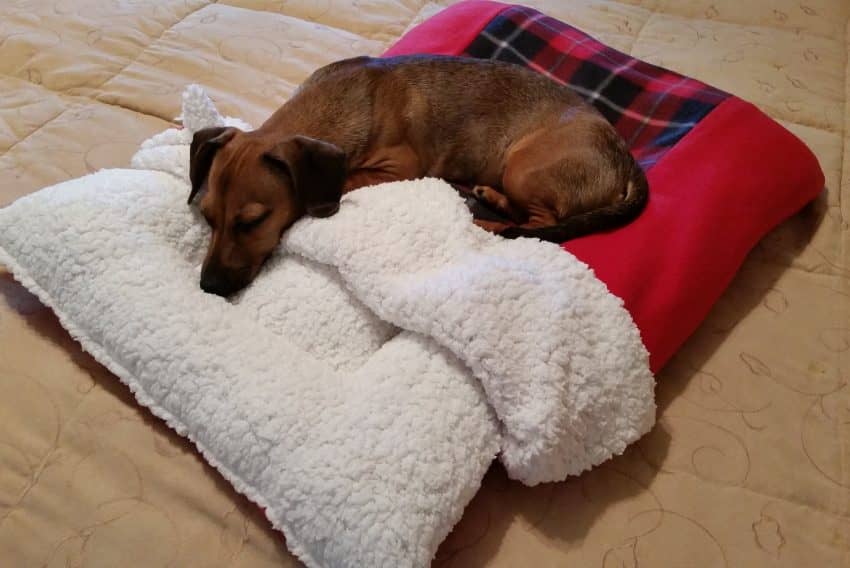 If you love the first Etsy bed but wish it was just a bit more supportive, this is the one you want to check out next.
Features & Pros
Stuffed with 3″ of polyfill for added comfort
Fits perfectly into crates
Made with Fleece and Minky Sherpa Lambs Wool
Triple stitched stress points for added durability
Two choices for the inner fleece (black or white)
Washable in cold water
Not chew-proof or waterproof
Cons
Polyfill still isn't as supportive as foam
No returns or exchanges
Not big enough for larger Dachshunds (but great for minis)
Expensive shipping
Recommendation
As long as you don't need something super supportive, this is a great choice.
If you don't love the style of the one above, check out their shop for a ton of other options.

10. Custom Metal Dachshund Dog Pet Bed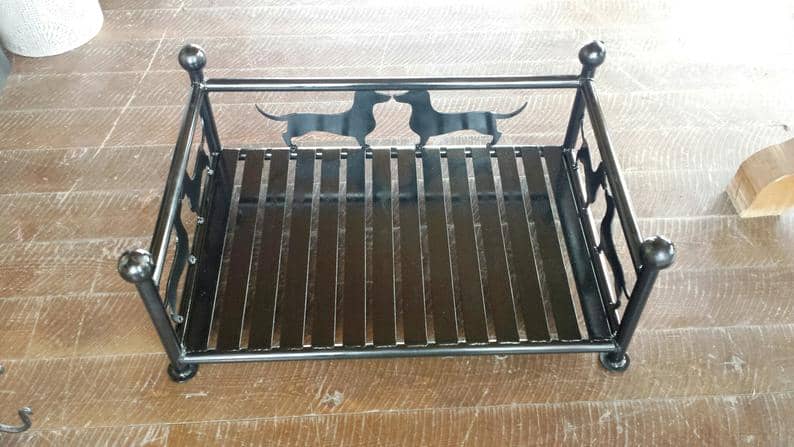 This last option isn't so much a bed as a frame, but I wanted to include it for those who want to partially DIY their Dachshund bed.
You can use it as a base, then add your own memory foam pillow to create the exact level of support that your dog needs.
Features & Pros
Made with recycled steel, so it's super strong
Optional personalization to make it truly unique
Made to order custom sizes and finishes are available
Ships free in the US
Only takes 1-2 weeks, which isn't bad for such a custom piece
Returns and exchanges accepted (although with some conditions)
Chew-proof and waterproof
Cons
Doesn't come with the actual "mattress"
Somewhat pricey, although worth it considering the material
Recommendation
Although it doesn't come with the actually bedding, I still think this is a fantastic choice if you want to get your dog off the floor in style.
I mean, you could buy an elevated dog bed, but let's be honest, they're not exactly pretty to look at.

Final Recommendation
The best dog beds for Dachshunds depends entirely on your dog's personality.
If you still have a pup that loves to chew, I'd go with the Kuranda. For a mellow adult, I love the first one from Etsy!
However, for older dogs who have joint issues, you really want one of the orthopedic options.
Your turn! What are your picks for the best dog beds for Dachshunds? Share below!
Last update on 2023-05-26 / Affiliate links / Images from Amazon Product Advertising API