Looking for a Barksbar Snuggly Sleeper Review to help you decide whether it's a good dog bed for your pup?
I'll help you out!
Today, we'll take a look at all the features and pros of this popular bolster dog bed!
While it's a highly rated bed overall, nothing is perfect, so we'll check out the cons as well.
Let's get started, shall we?
Who is BarksBar?
Before I buy something that Freya will spend a lot of time using, I like to do a little research into the brand.
It's one thing to give her a cheap no-name $3 dog toy from Big Lots that she'll destroy in under a minute, but an entirely different thing to drop $50+ on a bed.
I love a brand with a good story, which is one of the reasons why I'm so quick to recommend Big Barker, Kuranda, and BuddyRest.
Well, that and the fact that they make great beds, but the story and overall mission statement really does help sell me on them!
So, what's the story behind BarksBar?
Unfortunately, I couldn't find out a whole lot about the BarksBar brand. Their "About" page is fairly generic.
I learned that pets are their first priority, that they believe in making affordable pet goods, and that they strive to make "comfortable, functional and high-quality products."
Okay, so it's not exactly a War and Peace mission statement, but at least we know their heart is in the right place.
While their story and mission statement doesn't capture my attention and draw me in the way my favorite brands do, the overall ratings and reviews definitely tell a different story.
Let's take a look at the features and pros that make this among the most highly rated orthopedic bolster dog beds on Amazon, shall we?
FYI, this post contains affiliate links. If you make a purchase through these links, we earn a small commission at no extra charge to you.
Barksbar Snuggly Sleeper Review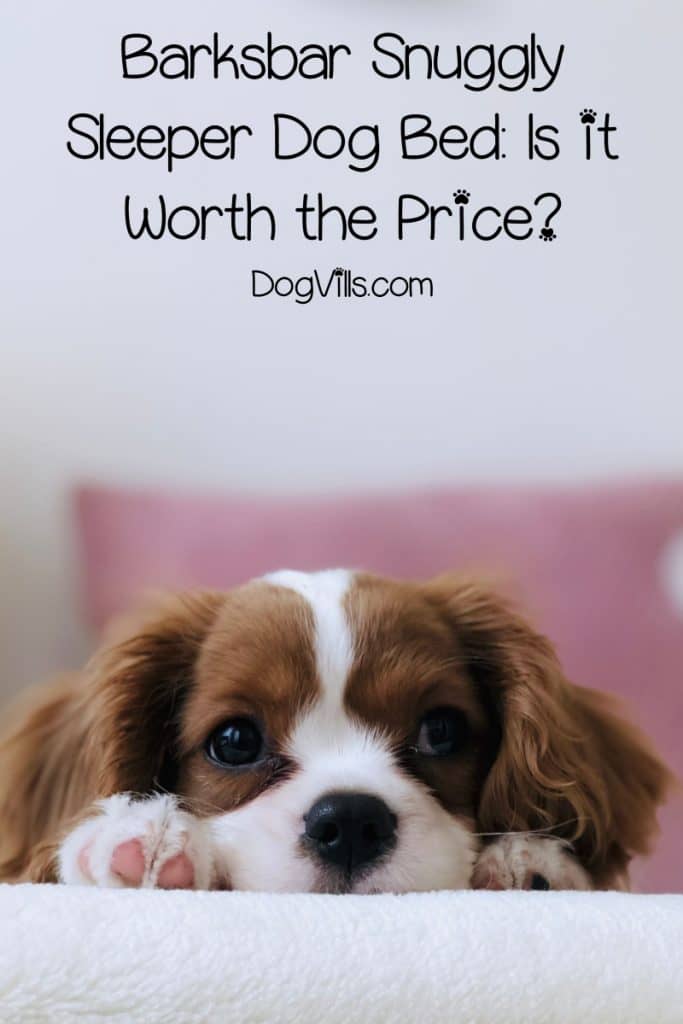 We're going to dive right in with the features and highlights. If you're wondering why there's no handy table this time, it'll become apparent in a few minutes.
Features and Pros
Check out "what we like" for a quick overview of the highlights, then keep reading for more details.
What We Like:
Made with high-quality memory foam base
High bolsters for added comfort
No-slip base
Super soft cover with a non-slip base
Easy to clean
Budget-friendly (depending on your idea of "inexpensive")
Let's take a look at those pros in more details
High-quality memory foam base
There's memory foam, then there's high-quality human-grade memory foam.
If you're going to splurge on an orthopedic dog bed, you want the latter!
The BarksBar Snuggly Sleeper is made with 4″ of solid orthopedic foam for optimal comfort.
Unfortunately, a mere 4 inches isn't the best for dogs with major joint issues, but we'll talk about that in the cons.
For now, understand that this bed uses solid foam and not shredded fill, which is definitely a pro.
Bolsters for added comfort and security
The cotton-padded rim contours to your dog's neck and back for a super comfy nap.
Bolsters are fantastic for dogs who love to sleep curled up as well as "leaners" like my girl (she always as to lean against something when she sleeps).
They also give your dog a little added sense of security, especially since the bolsters completely encircle the BarksBar bed.
Soft machine-washable cover
With an Ultra Soft Polyester Cover, the bed isn't just gentle on your dog's skin, it's very easy to clean and maintain.
The entire cover zips right off so you can throw it in the wash. Just follow the directions and don't put it in the dryer.
Polyester material is also pretty easy to just wipe clean in between washings.
Affordable price*
I put the asterisk there because "affordable" is subjective.
To me, $60-ish isn't really all that bad for a high-quality dog bed, especially considering the $100+ price tag on my all-time favorites.
BarksBar Snuggly Sleeper Large Gray Diamond Orthopedic Dog Bed with Solid Orthopedic Foam, Soft Cotton Bolster, and Ultra Soft Plush Sleeping Space - 40 x 30 Inches
Large Orthopedic Sleeper: 40" x 30" x 10" - Ideal for Medium to Large size dogs and also great for multiple smaller dogs. Can easily hold up to 100+ lbs and fitted for pets up to 36" in length.
Inner Dimensions of Sleeping Space: 36" x 24" - Crafted with top-of-the-line workmanship and premium materials, it is built to both provide the ultimate sleep experience with superior overall comfort and to last. Perfect for dogs of any ages, especially older dogs with joint, bone or arthritic problems.
Premium Materials include: (1) Ultra Soft Polyester Cover with a luxurious quilted design, (2) 3.5" of Solid Orthopedic Foam base for the optimal balance of comfort, reduced joint pain and improved health & mobility. (3) Extra Comfy Cotton-Padded Rim cushion to instantly contour to your pet's neck and provide constant support and decompression for ailing necks and heads.
Sleek and Luxurious quilted design to improve any family's home decor. Comes with a built-in nonslip rubber backing on the bottom side of the cover to prevent any sliding on wooden and tiled floors.
Easy to clean & maintain: Removable and Machine-Washable cover. Simply put it on gentle / delicate cycle. Even easier to spot clean and remove hair.
Cons
Again, take a look at "what we don't like" in order of importance (to me, anyway), then read on to learn more about the drawbacks.
What we don't like:
Only comes in medium and large, and only one color.
Memory foam isn't very thick
Not the most durable bed for pups & active dogs
Made in China
Lack of sizes
There's no small option, and if you were hoping for a Barksbar Snuggle Sleeper XL option, you're out of luck as well.
To make matters worse, the Barksbar orthopedic dog bed medium is almost always sold out!
So, basically, that leaves large, which is too big for smaller dogs and too small for giant breeds.
Memory foam is a bit thin
While the memory foam itself is premium grade, four inches worth isn't really enough for dogs who need a good amount of orthopedic support.
Combine that with the fact that more than a few customers said that it flattened kind of fast and I would definitely not recommend this for a senior dog with aching joints.
Not very durable, according to some
Since the bed isn't even remotely chew-resistant or dig-resistant, it's just not going to last long in a home with puppies.
Some users complain that the cover tore within a couple of months even with a dog that's not terribly active.
Made in China
While this may not be a big deal for you, I mention it as a "con" because I know quite a few people who prefer to buy only US-made products.
Final Recommendation
Despite a few major "cons" (namely the size and the durability issues), the BarksBar is among one of the most highly rated dog beds on Amazon.
Even more importantly, those ratings come from over 3,600 customers and not just a small handful of people.
If you have a relatively calm dog that falls right in the medium to large range, I'd say it's definitely worth the money.
Do you have anything to add to our Barksbar Snuggly Sleeper Review? Share below!
Last update on 2023-09-25 / Affiliate links / Images from Amazon Product Advertising API