Were you looking for an Aussie-themed name for your new pup? Check out this list of 100 adorable Australian names for dogs! From well-known Aussie landmarks to unique native flora and fauna, you're sure to find the perfect name for your furry friend. Let's dive right in. Ladies first!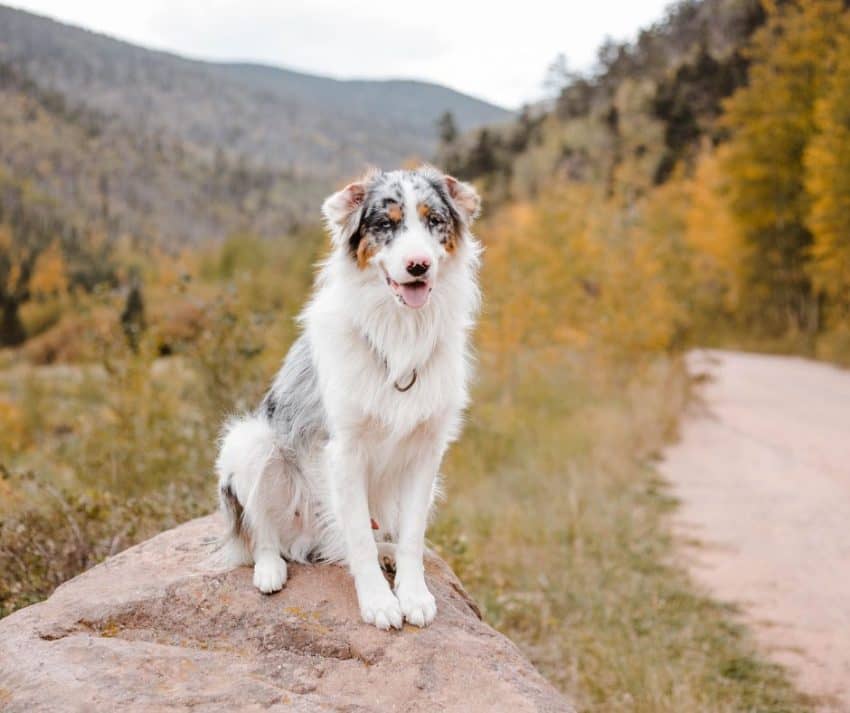 75 Australian Dog Names for Female Pups
For these Aussie girl names for dogs, I took inspiration from some of the most beautiful and unique Australian cities, the adorable and intriguing wildlife found Down Under, and so much more.
Many- if not most- of these names are very gender-neutral. So make sure you read both lists. You may find something for your "Sheila" that works just as well for your boy dog, and vice-versa!
Adelaide
Amber
Athen
Avalon (a beach)
Ballina
Barbie
Bessie
Biccy (slang for "biscuit," so it's a cute Australian food name for dogs!)
Blanche
Blossom
Bindi
Bondi
Bonnie
Bailey
Brisbane
Bronte (another beach name)
Brumby
Bunyip
Calypso
Cassowary
Chelly
Cleo
Corindi
Dingo
Echidna
Emerald
Emu
Franky
Galah
Honey
Ikara
Isa (for Mount Isa)
Islay
Iyo
Kakadu 
Karratha
Kiwi
Koala
Kookaburra
Lismore
Lola
Lorikeet
Lexie
Luna
Lulu
Mandy
Maggie
Mildura
Missy
Molly
Nowra (as in Nowra–Bomaderry)
Olivia
Ossa (a mountain)
Penny
Pepper
Pippa
Precy
Pomo
Roxie
Reena
Sheila
Shooki
Sasha
Stella
Straya (slang for "Australia")
Sydney
Taree
Tilly
Toxy
Wanda
Willow
Wombat
Yabby
Yarra
Zoey
Out of these ideas, I think Kiwi is a really cute idea, especially for a smaller dog. It just has a "small dog" feel to it, in my opinion. Roxie is also adorable! You can also never go wrong with Sydney for an Australian name. I think my #1 favorite, though, is Straya. It's so pretty, don't you think?
You may also like: 100 Unique Names For Your Energetic Dog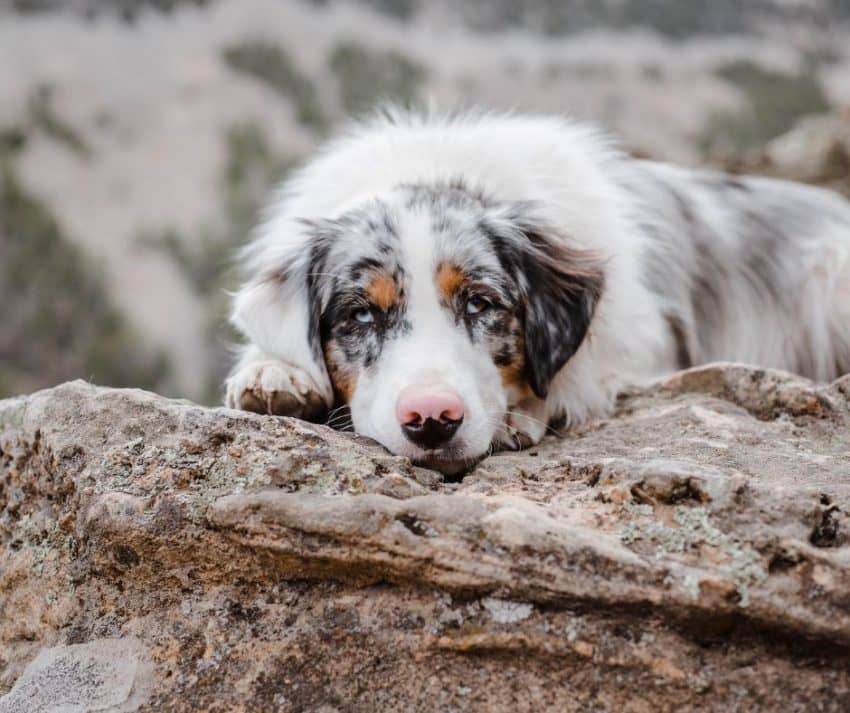 75 Male Australian Dog Names
For the boys, I did basically the same thing: I looked at popular Australian names, then mixed in some very cool geographical locations that I thought made great dog names. Sometimes, you find the best inspiration by looking at lists of cities, rivers, beaches, mountains, and such for an area that you do just by looking at popular baby names (which is what a lot of dog names lists are- just baby names but with pictures of dogs instead).
Again, quite of few of these names work for both male and female dogs, so don't feel like you have to stick to this list for a boy pup.
Aari
Alfie

Angus

Archie
Arthur (Port Arthur is a famous Australian landmark)
Arvo (slang for "afternoon")
Bacchus (for Bacchus Marsh)
Baxter

Bazza

Bendigo
Bentley

Bluey

Buddy

Bundy

Burnie (as in Burnie–Wynyard)

Butch

Byron (as in Byron Bay)

Camo

Ces
Charlie

Clancy

Cobber

(slang for "very good friend," which is what your dog is!)
Coogee
Collaroy

Cooper

Coppa

Dainen
Dag
Darwin
Dexter

Dingo

Digger

Drake

Dubbo
Duje

Finn

Gordon
Griffith

Gizmo

Gumnut

Gus

Harry

Hank

Henley (for Henley Beach)
Hervey (as in Hervey Bay)
Hobart
Hoon (slang for "hooligan," perfect for mischievous pups)
Hugo

Jasper

Jax

Jaxon

Kempsey

Knox

Lithgow

Logan

Mackenzie

Maximus

Max
Melbourne
Melton

Milo 

Monty
Murphy

Nugget

Oscar

Ollie

Rocky
Teddy

Toby

Uluru 
Wagga Wagga (this city makes a great funny dog name!)
Warwick
Wellington

Winston

Ziggy
My favorite from this list is definitely Wagga Wagga! Too cute, right? Especially for an enthusiastic tail-wagger! I think Cobber is really cute, too, and I love the meaning. I tend to go for the more offbeat names.
You may also like: 100 Star Dog Names That Are Out of This World (Literally!)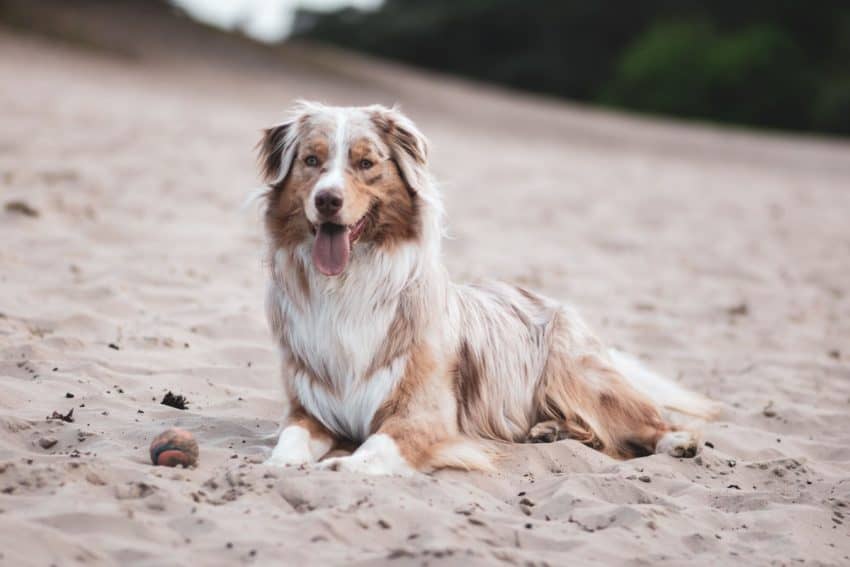 Conclusion
As any seasoned dog owner can tell you, choosing the perfect name is one of the trickiest things about bringing a new four-legged family member home. There are just so many to choose from. Millions upon millions of possibilities! I always find that it's easier to start with a theme (in this case, Australian names, obviously) and narrow it down from there.
Of course, the list is far from exhaustive. I mean, Australia is a pretty big continent filled with unique landmarks, cities, beaches, and more that make great dog names. Still, it should provide you with plenty of ideas for your new furry friend!
What are your favorite Australian dog names? Share below!