If you're bringing home a new pup during the coldest months of the year, you'll love our winter dog names!
We've rounded up 100 of the best ideas inspired by all that the season has to offer.
Our list draws inspiration from weather, seasonal treats, and even from foreign languages.
Read on to find the perfect moniker for your totally chill pup!
You may also love: 60 Fun & Festive Christmas Dog Names
Content & Quick Navigation
Dog Names Inspired by Winter
Winter is a perfect time to bring home a cuddly little fur baby to warm up the house.
Little puppies have a knack for bringing joy and happiness into a household and brighten up this otherwise dreary and wet weather.
But that doesn't mean you don't want to commemorate this time of year in which you welcomed the new little pup!
To help you find the perfect name since it most likely is a once in a lifetime event, we came up with a list of dog names inspired by the coldest months of the year.
Male Winter Dog Names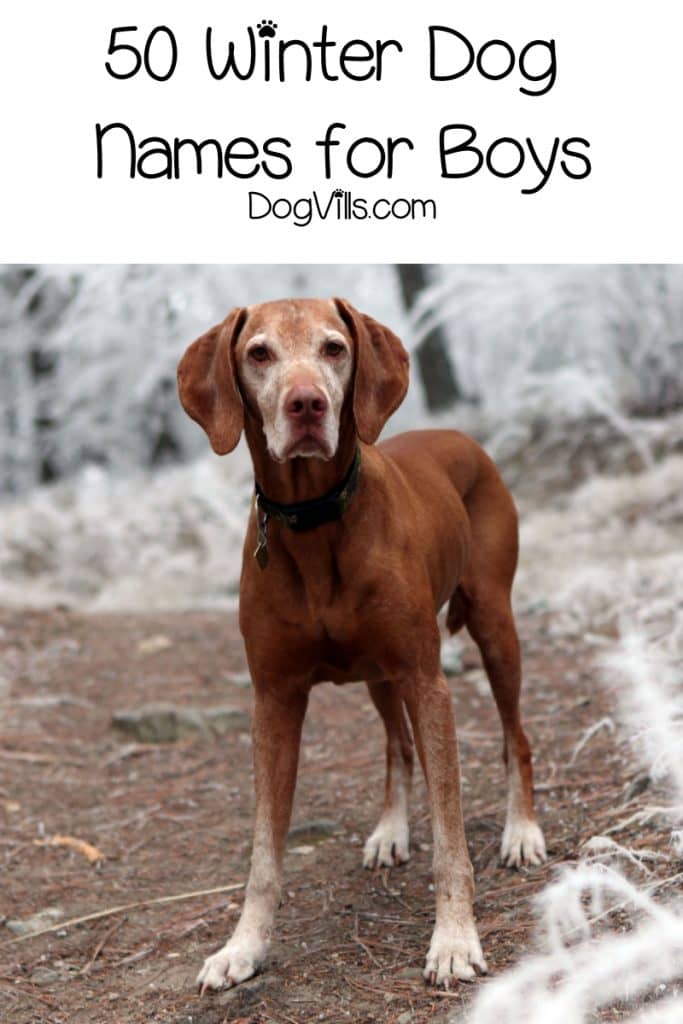 We're going to try and stay away from Christmas inspired names since we have a whole other list for that.
You should get ready for a ton of names inspired by the weather and precipitation.
However, since Christmas is one of the most joyous and blissful holidays of the year, a slight overlap is inevitable.
Bear with us as we delve into our carefully curated list of winter dog names for fur baby boys.
Avalanche – For when you can hear your dog before you can even see him or if he has a pure white coat.
Boots – It's not a name reserved by felines.
Blizzard – A snowstorm that can easily describe a flash of white fur that is your male fur baby as he runs by.
Chill/Chilly – Because it's cold in the winter.
Frost/Frosty – The snowman.
Gale- A strong winter wind!
Caramell- No, not the sweet treat! It's actually Catalan for "icicle."
Ice – This name is super cool. It's also a slang term for diamonds if that helps.
Snowball – Basic, but cute.
Nix- Latin for "snow"
Winter – Literal, but makes a really cool human name too.
Alaska – A place with heavy snowfall.
Aspen – A skiing haven.
North
Dhaxan- Somalia for "frost"
Alpine
Blanc – Meaning "white" in French.
Cypress – An evergreen tree.
Spruce
Oak
Eira- Welsh for "snow"
December – The Christmas month!
Glacier
Nagano-among the snowiest places on the planet.
Iceberg
Polar
Boty- means "boots" in Czech.
Juneau – The capital of Alaska.
Mitten – If you have boots, you might need mittens too.
Noel
Gust- as in a gust of wintry wind
Niseko- another one of Japan's snowiest areas.
Eggnog – Wintertime without hot beverages doesn't feel like winter at all.
Nutmeg
Cocoa – Have you ever sat in front of the fire with a cup of hot cocoa? Sitting with your dog in front of the fire will be just as satisfying.
Parka – That's what your dog will do for you, keeping you warm on these cold winter nights.
Sleigh – As in Santa's sleigh but also a play on the word "slay" meaning something is done very well.
Solstice
Glason- Creole for "icicle."
Tinsel
Lumi- Estonian for "snow"
Silver – If you have a husky, this is a great choice.
Frio- Portuguese for "chilly"
Yeti – Does your giant breed resemble this hulking creature?
Fleece – If your dog feels like fleece lining.
Elm – An evergreen tree
Pudding
Talv- Estonian for "winter"
Yukon- Not just Rudolph's prospecting pal, also one of the coldest places in Canada.
Verk- After Verkhoyansk, another one of earth's coldest places!
We did a pretty good job keeping the Christmas names out of it, right?
We love cocoa and eggnog, and sitting in front of the fire with a little puppy is the perfect imagery associated with a cold winter.
It's also fun to give dogs less obvious names inspired by other languages, like Talv or Glason!
While some of the names above are fairly gender-neutral, we did come up with another list just for girls.
Female Winter Dog Names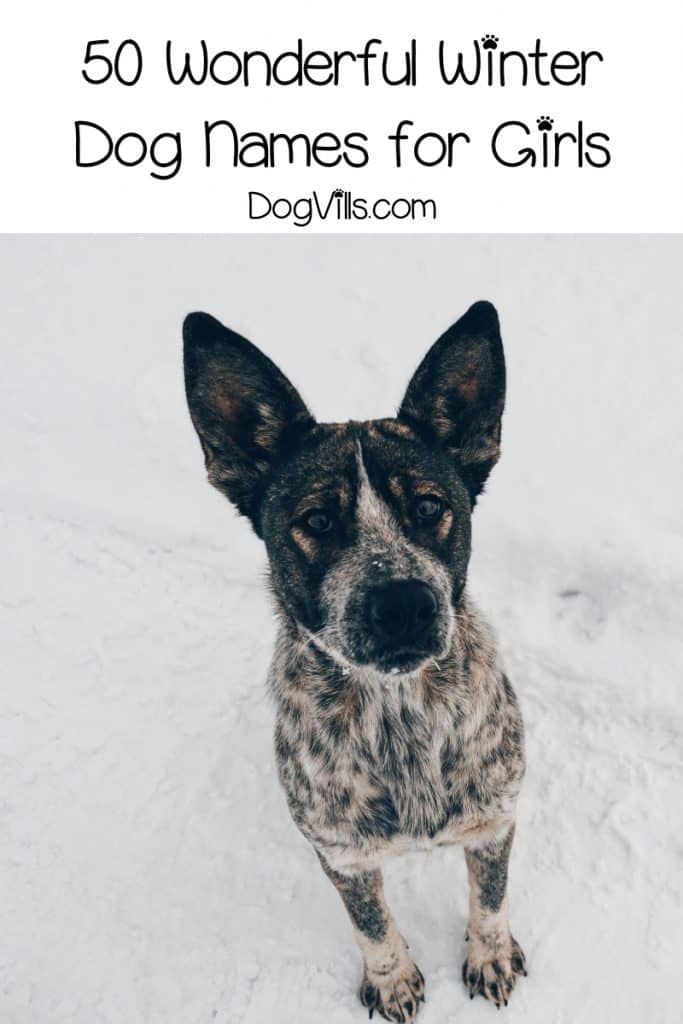 Alyeska- one of the snowiest places on earth.
Bianca – It means white! Like a white Christmas morning.
Aberdeen- In South Dakota, it's one of the coldest cities in the US
Carol – Singing and going door to door to your neighbor's and fostering a good relationship.
Chamonix- snowiest town in France (and one of the top 9 in the world)
Crystal – Frozen snow looks just like crystals.
Sparkle – Have you ever looked at the snow under artificial lighting? It just sparkles.
Akureyri- A beautiful city in Iceland.
Fidelity- after Mt. Fidelity, one of Canada's snowiest mountains.
Snowflake – For the soft little female puppers.
Icicle – A little sharp and can be dangerous, for those puppies who like to live on the edge.
Eismitte- One of the coldest places on earth, found in Greenland.
Coco – The female form of Cocoa.
Neve- Galician for snow
January – Another winter month.
Nevada- Not for the state; it means "blizzard" in Galician.
Ember – Something that warms your house in the winter.
Frostine – The female form of Frost or Frosty.
Halla- Finnish for "frost"
Holly – Like the plant.
Montana- One of the coldest states in the US.
Caalin- Means "blizzard" in Somali
Ivory – This is solely for the color.
Snow
Stormy
Wren – Naming a dog after a winter bird is quite clever.
Mint
Ginger – For the color but also the gingerbread.
Elsa – Who could ever leave this name off the list?
Elurra- Basque for "snow"
Fog
Belle – For jingle bells.
Glitter – Christmas is full of lights and glitter.
Cuddles – Because that's all you'll want to do when it's cold!
Snuggles – Same with cuddles.
Candie – Lots of candy canes and jellybeans for you!
Cinnamon – As pumpkin spice is associated with fall, cinnamon is associated to the wintertime.
Midnight – That's when you can expect Santa down your chimney.
Cozie – A different rendition of the word "cozy".
Caramel – Who loves a hot drink with caramel syrup?
Taffy
Marquette – The Michigan city is among the coldest in America.
Mocha
Gem – Because that's what she is.
Ginger- Like gingerbread, the season's tastiest treat!
Vail
Breeze – The cold breeze that stings your cheeks happens only in the winter.
Twinkle
Cookie – Because Christmas cookies are a staple.
Zima- No, not the popular 90s drink! It means Winter in Bosnian
For little girls we mostly went after food names. As a bonus, we're going to add Juniper to the list too!
It's a very wintery tree that just gets us ready for the holiday spirit. We really enjoyed all the cozy names such as Cozy itself, cuddles and snuggles.
What about you? Which ones put a smile on your face? Will you be bringing a puppy home this winter?
What are your favorite winter dog names? Tell us below!