If you're getting a new puppy for the holidays, you'll definitely want to check out our favorite Christmas dog names!
We've compiled a list of the most festive holiday monikers for both male and female pups!
From Christmas movie characters to tasty holiday treats, we took inspiration from all aspects of the season.
Let's take a peek!
Best Christmas Dog Names
It's the most wonderful time of the year now. As the weather starts to chill, you know Christmas is right around the corner.
Many of us are counting down the days to when we exchange gifts and have a large family get together.
I know I'm already stocking up on chocolate calendars to help me count down the days.
If you are here, then you are probably one of the lucky ones welcoming a new puppy into your life in this joyous season.
Let us supply you with a long list of names that will forever pay tribute to this day.
Male Christmas Dog Names
For those anticipating the arrival of their male puppy, below are some names associated with Christmas that will bring you even more cheer.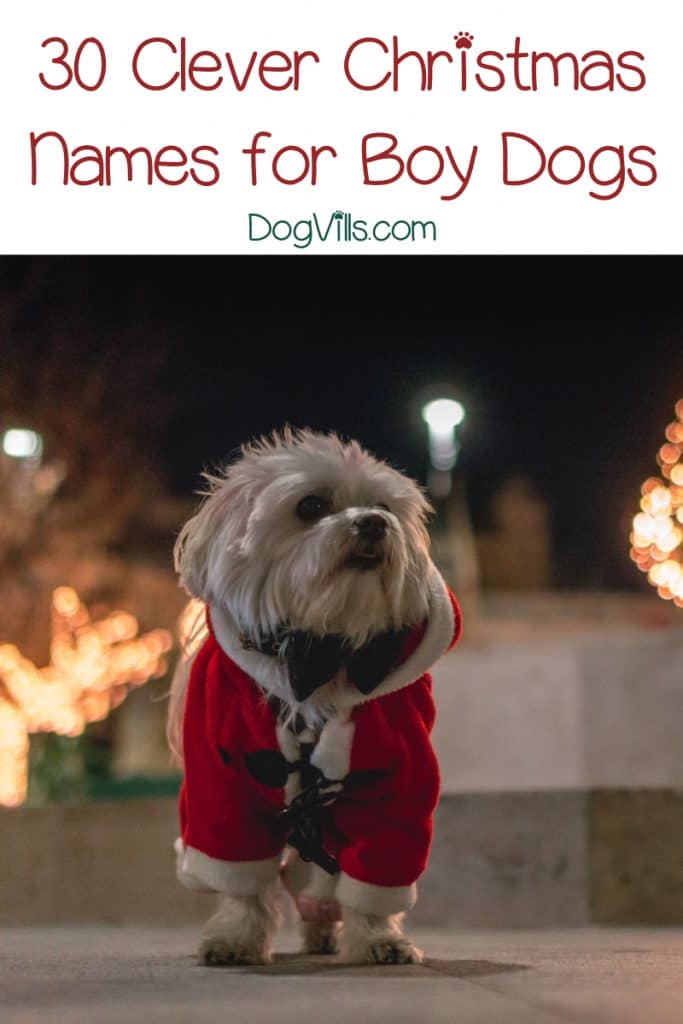 Scrooge – This would be really befitting for those grumpy looking Bulldogs.
Ebenezer – If Scrooge just kills the Christmas spirit, perhaps go with his first name.
Olaf – The famous and cute as a button snowman in the amazing Disney film Frozen.
Comet – Santa's reindeer.
Rudolph – The most famous of Santa's reindeer. If your dog has a little pink nose, we'd suggest this name.
Blitzen – Another reindeer
Dancer
Prancer
Dasher – Another reindeer, but also fitting if you have a speedster on your hands.
Christian – Since Xmas is mainly a Christian holiday.
Winter
Antler – This is great if your dog has a spiky personality and he loves to chew on deer antlers.
Elm – An evergreen tree.
Pine – A type of tree used for Xmas.
Fir
Douglas – For Douglas fir trees.
Frost – A sight we are all used to seeing in the mornings.
Ice – When the weather is cold enough, lakes will freeze over.
Solstice
Cinnamon – A delicious spice put on coffee and eggnog. Bonus points if your dog is the same color!
Cheer – Why not call your dog what he is? The source of all your cheer.
Claus – For Santa. You can even spell it Klaus for the German rendition.
Tinsel – The shiny stuff we put on trees, much like the dog that will bring shine into your life.
Mistletoe – Be sure to give him a kiss each time you say his name.
Cupid – Not the cherub from Valentine's Day, but another one of Santa's reindeer.
Grinch – For those grumpy faced fur babies. We're sure they won't suck the joy out of Christmas.
Donner
Cratchit – After Bob Cratchit
Kringle – For Kris Kringle, Santa's real name.
Nick – For Saint Nick, Santa's other name.
With names from Christmas characters that we've grown to love, to the trees that give grey and dreary Christmas days some color, we are sure you will be able to find the perfect name for your new furry family member.
My personal favorites? Any of Santa's reindeer, of course! Blitzen is a good choice that you don't hear every day!
Let us hop on over to our other list we compiled just for female canines.
Female Christmas Dog Names
For girls, we came across far more names related to religion, Christmas carols and food.
Look at your little fur child right now and decide if you want to find the perfect name to illustrate her color, personality, or size.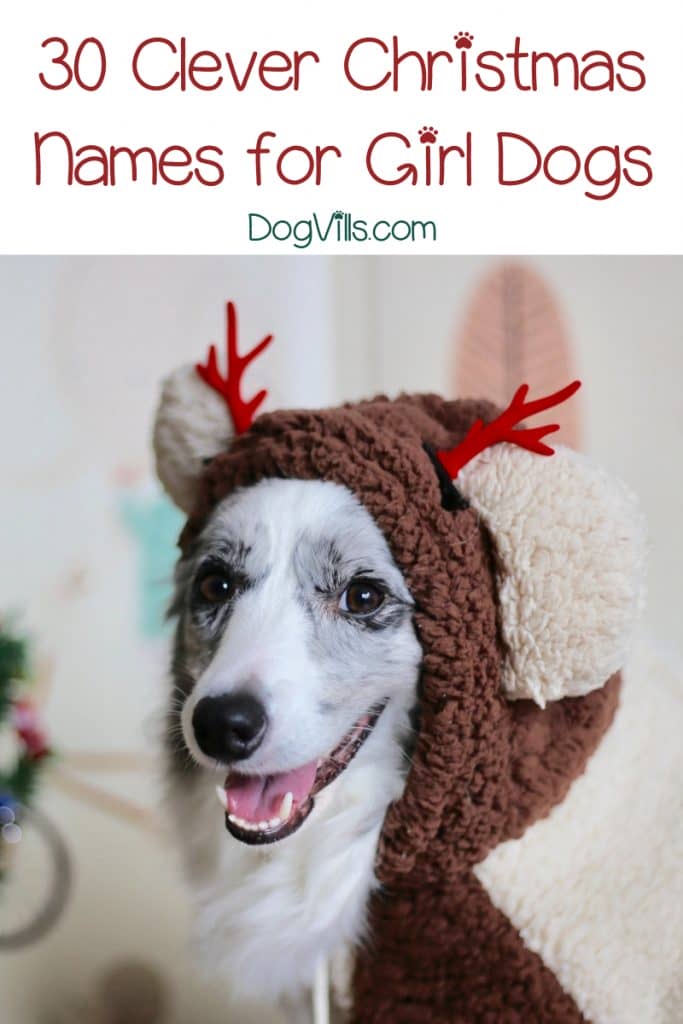 Snow – We all wish for a white Christmas.
December – Why, it's the Christmas month!
Snowflake
Frosty (Frostina) – A more feminine take on Frost.
Star – For the North Star, which always guides lost souls home.
Cindy – For the little girl who of Whoville.
Stocking
Crimson – The color red has always been associated with Christmas.
Faith – Christmas is a holiday based on faith.
Eve – Yes, like Adam and Eve but also for Christmas Eve!
Miracle – It's a Christmas miracle to have brought home the perfect companion!
Bell (or spelled Belle – For Christmas bells and from the song Jingle Bells.
Holly – The holly leaves and red berries we see on the wreaths decorating many doors on Christmas.
Poinsettia – The red-flowered plant may be poisonous to dogs, but it's still a fun name!
Chilly – The feeling that Christmas brings.
Angel
Hope – Another feeling that Christmas brings.
Noelle
Marshmallow – Who likes little marshmallows in their hot chocolate?
Nutmeg – This makes everything taste better.
Pumpkin – For the pumpkin pie dessert after your big Christmas feast.
Merry – The merry feeling this season brings, but also a play on the name Mary, Jesus's mother.
Vixen – I bet you think we forgot Vixen, but we just thought it fit better as a girl's name.
Candi – Spelled this way for more originality. Candy canes are a Christmas staple.
Cedar – A tree fit for Christmas.
Coco – The hot and rich drink adults like to have with a bit of Bailey's or cream vodka, and the kids enjoy with marshmallows and cookies.
Ginger – Building gingerbread houses are the best! Goes well with a ginger-colored fur baby.
Dove – A bird associated with the holiday.
Elsa – Not so much Christmas-related, but we just had to add it!
Fog
Out of the girly Christmas dog names, I really adore Vixen. So cute, right? Nutmeg is also a fun name for a brown dog.
These are just the best and most wholesome and happy names we could think of. Did we miss any reindeer? What other food-related Christmas names can you think of? Let us know!
What are your favorite Christmas dog names? Share below!