Squeaky toys are always a top choice on your dog's Christmas list. Finding a canine who doesn't love these types of toys is almost impossible. But why do dogs like squeaky toys so much? That question has always stumped owners.
So I thought today would be a great day to cover this question and more about our dogs' obsession with these types of toys. Read on, and learn why they like them, what benefits they provide, and much more!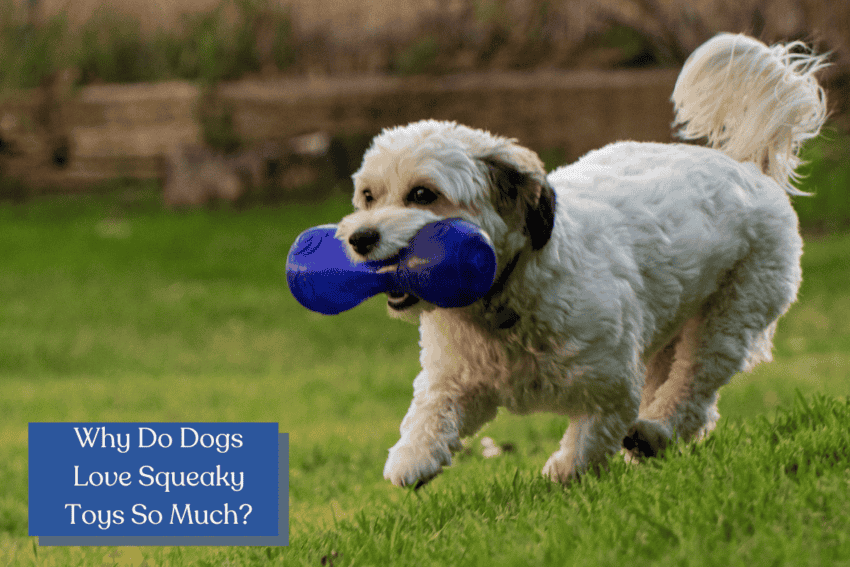 Why Do Dogs Like Squeaky Toys

?
Most experts boil down to three primary reasons:
Appealing squeaking sounds

Tapping into their hunting instincts

Offering an excellent chewing outlet
Let's dive deeper into these reasons to further explain why your dog loves their squeaky toy!
1. Appealing Squeaking Sound
The most apparent reason dogs love squeaky toys is right in their name. Basically, the squeaking sound provides much of the appeal. Your dog loves to chomp down on these toys and hear the squeak as it offers an award for them.
In fact, the squeaking sound may tripper a dopamine release from their brain. It'll give them a gratifying rush that they'll continue to chase with repeat playing sessions. Therefore, it's no wonder why dogs seem to prefer them.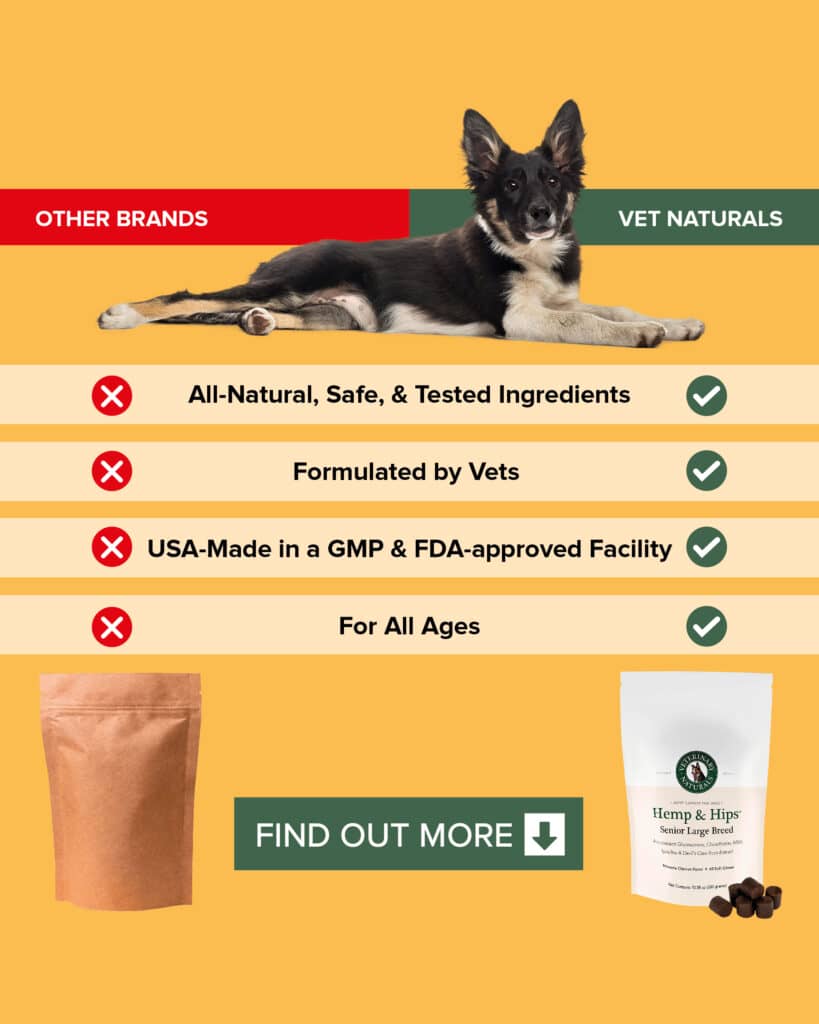 I'm also convinced that my dogs use this squeaking sound to trick me into playing with them. I could be right in the middle of writing an article and hear them squeaking their plush football. It takes everything in my body not to go out for a play session. I often fail in my attempt to stop myself.
2. Activates Their Hunting Instincts
Dogs have hunting instincts ingrained in them from birth. It's how these animals survived in the wild before we came along and domesticated them. But our domesticating of them didn't remove these instincts from their DNA.
So anytime a tiny, squeaky toy enters their lives, it activates this hunting instinct. It also helps that many squeaky toys are shaped into prey animals (bunnies, rats, squirrels, etc). The squeak inside this toy only further showcases that it's something worth hunting.
Owners with hunting breeds know this better than anyone. These breeds adore squeaky toys to an immeasurable level due to this reason. It gives them something to scratch that hunting instinct itch, which isn't being met otherwise.
Some even take it too far and immediately tear the toy apart. I'm looking at you, Jack Russell Terriers and Greyhounds!
3. Offers a Chewing Outlet
One of a dog's favorite past times is chewing objects. Dogs always seek a chewing outlet to release tension or deal with issues like teething. A squeaky toy represents a great way to meet these needs.
Moreover, these squeaky toys are a godsend for owners because of this issue. Your dog will likely turn to chewing furniture or shoes without another outlet. So providing dogs with these toys is much better than the alternative.
The only problem is owners need to know which ones best suit their dog's needs. Otherwise, they'll end up buying a new squeaky toy each week if your dog shreds them. I'll discuss how to select them in more detail later in this article.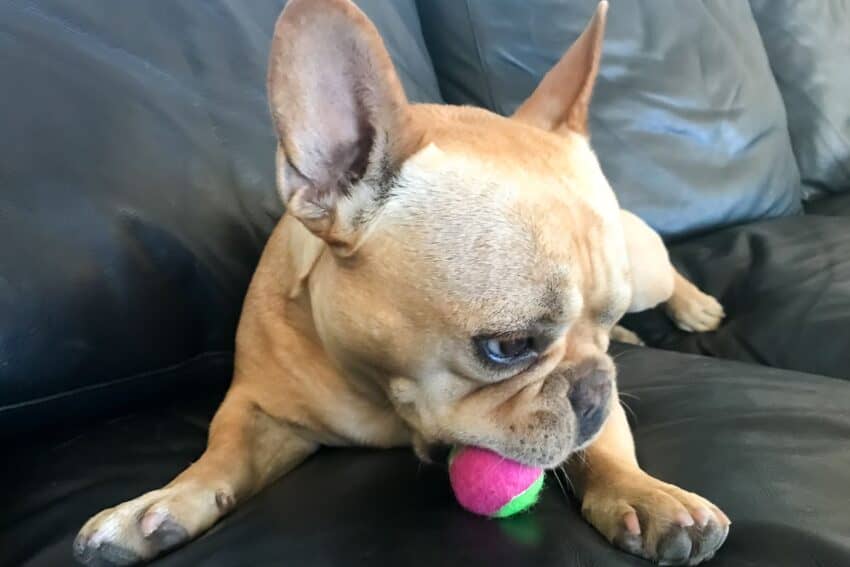 Are Squeaky Toys Safe for Dogs?
So I've now shown why squeaky toys are a favorite among canines. But I must still discuss whether they're safe for our favorite pets. Well, it'll first depend on the toy's quality and the brand's reputation for making them.
But if you pick up a high-quality squeaky toy, there's no reason it can't be a safe option. You'll only need to ensure the selected toy isn't tiny enough for your pupper to digest. This situation is where these toys can become problematic.
Another thing to consider is how your dog's playing with the squeaky toy. If they're constantly trying to rip the squeaker without any luck, it could stress and frustrate them. Their attempts may soon be borderline on being overly obsessed with the toy.
It could even get to the point where they damage their teeth or gums. I had this issue with my Beagle, who became obsessed with his squeaky dinosaur. He made his gums bleed slightly before I removed the toy from the crate.
In these cases, removing the stress-causing item from their playing sessions is best. The stress and frustration could cause them to take their anger out on other objects. It's where your furniture may soon become a victim.
Benefits of Squeaky Toys for Dogs
Once the safest precautions are known and understood, squeaky toys can provide several benefits: mental stimulation, promoting better dental health, and being excellent training tools. So let's discuss them to ensure you know whether getting some for your dog is worth it.
1. Offers Top-Tier Mental and Physical Stimulation
Few toys or objects provide more mental stimulation for your dog than squeaky toys. They give them an enemy to focus on, the squeaker while engaging their brain about how to get it. It's the balance any owner wants when choosing a new dog toy.
Moreover, squeaky toys do give them a workout. So it also checks the box on providing physical stimulation, especially for pups cooped up all day. It's a natural outlet for all the pent-up energy they've picked up while sleeping on the couch!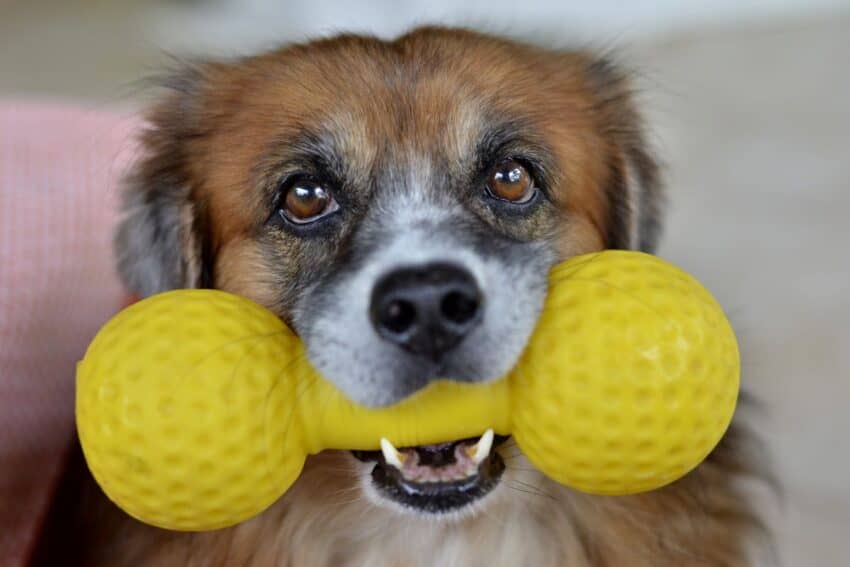 2. Promotes Better Dental Health
One overlooked squeaky toy benefit is their impact on dental health. I know; I just got to tell a story about how one made my dog's gums bleed. But these toys actually promote better dental health under normal circumstances and with high-quality options.
For instance, squeaky toys with a spiky texture can help remove build-up on teeth. So when a dog chews on these surfaces, it'll eliminate all the gunk stuck on your dog's teeth. It'll heavily reduce the chances of tartar or plaque becoming a severe issue.
However, it doesn't mean a squeaky toy can replace regular dental care. You'll still need to do regular toothbrushing and other vet-approved dental routines. But it's an excellent secondary option to help ensure your dog's teeth remain pristine.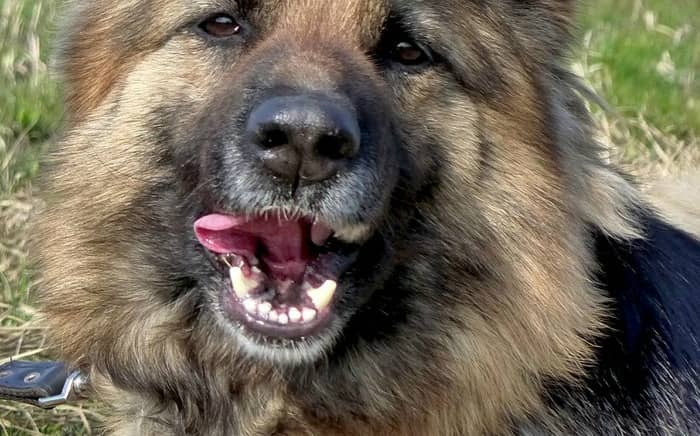 3. Excellent Training Tool
Squeaky toys are an excellent item to have when training your dog. It can be a positive reinforcement reward during sessions to help ingrained commands or behaviors. I've used one several times with my dogs, especially when first teaching them to sit.
Most people use food or treats when using positive reinforcement. However, squeaky toys are more foolproof as some dogs aren't food motivated. But a squeaky toy can encourage those pups because all dogs see the squeaker inside as an enemy.
My advice is to be cautious if you go this route. After all, the whole process can become expensive if your dog constantly shreds them apart. The food or treat option may be a better choice in these situations.
What Dogs Should Avoid Using Squeaky Toys
Even with all these benefits, some dogs shouldn't use squeaky toys. Certain situations can even become dangerous if the owner isn't careful. Here's a quick overview of some dogs that aren't ideal for squeaky toy usage:
1. Puppies
Puppies and squeaky toys are not a good mix. It'll teach them destructive behaviors about how hard or not hard to bite objects when playing with them. In other words, puppies are still learning about bite inhibition, and entering a toy that mimics a small prey animal isn't helpful.
After all, this squeaky toy won't provide them with a stop signal. It'll reward them for biting as hard as possible (a squeaking sound). So it doesn't reinforce that there's a consequence for biting too hard, like playing with humans or other dogs does.
It's why owners should wait to introduce squeaky toys until this bite inhibition is fully developed. Around the 1-year mark or when they reach adult size is a good starting point. From there, they should be more than capable of handling a squeaky toy.
2. Overactive Chewers
As mentioned earlier, some dogs don't know when to stop chewing on a toy. It's a massive problem with squeaky toys because they're often made from non-durable materials. So the toy gets torn apart into small pieces that become digestible, which isn't good for your dog.
Another issue is the squeaker inside these toys. If an overactive chewer reaches it, it won't hesitate to chew it. Eventually, your dog will swallow the small squeaker and cause a blockage or obstruction.
Owners with overactive chewers would be better off choosing something labeled as an indestructible squeaky toy. Although I've even cautioned against using them because "indestructible" is thrown around so loosely. I haven't yet found a single one that is genuinely impossible for my dog to destroy.
3. Reactive Dogs
Reactive dogs shouldn't have access to squeaky toys, either. The squeaker inside could over-stimulate them, causing an overly excitable reaction. Due to this, they become much more difficult to control and prone to uncharacteristic behaviors.
You're much better off using less active toys like rope toys. These products will give them some physical stimulation without mimicking small prey animals. It'll keep their excitement in check and ensure nothing unusual happens.
How to Choose the Right Squeaky Toys
Choosing the right squeaky toys can seem like a daunting task. But it comes down to understanding your dog's needs and finding a squeaky toy to meet them. Here's a quick list of tips to help you with that process:
Select a Squeaky Toy Based on Your Dog's Size

: Smaller dogs can have a wide range of options because their toys won't be digestible. They can have all the fun in the world with those small squeaky balls or toys. However, larger dogs need something more sturdy and reliable, like an indestructible toy. Look for options made from high-quality plastic or even vinyl.

Account for Your Dog's Play Style

: A more durable and reliable option will be needed if your dog is overly aggressive toward their squeaky toy. On the flip side, a younger dog still learning to play may enjoy a softer option that's easier on their developing teeth.

Look for Options with Convenient Features:

The spiky texture on some squeaky toys would be a solid example. It'll promote better dental health by removing build-ups of teeth. Another intriguing feature would be the toy's design shape. Getting an option shaped like a prey animal to encourage your dog's play doesn't hurt.

Only Buy Squeaky Toys Made by Reputable Companies

: The pet toy marketplace is filled with brands that cut corners when designing their products. Avoid buying from them by reading reviews provided by other buyers. I can't tell you how often negative customer reviews have stopped me from getting a subpar dog toy.
How to Safely Play with Squeaky Toys
After purchasing your chosen squeaky toys, knowing how to use them is crucial. There are specific guidelines to follow to ensure a successful squeaky toy experience:
1. Make Squeaky Toys a Good Behavior Reward
The first rule of squeaky toy usage is to keep your dog's play sessions short. It's not an object meant to be in reach at all times. As I've discussed, unlimited access to a squeaky toy could result in various issues: choking, aggression, or dental damage.
Instead, it's best to use squeaky toys as a reward for good behavior. So if your dog learns a new trick or command, they get a short play session with their favorite squeaky toy. A 10 to 15-minute session should be enough.
But it's vital to ensure your dog knows the "drop it" command before trying it. If not, they'll play "keep away" when you try to end the session. You can even use the squeaky toy to train this behavior in their brain!
Check out the video below for more tips on teaching your pup the "drop it" command.
2. Understand Your Dog's Play Style
Understanding your dog's play style is vital to any successful play session. Many owners overlook how every dog has a different preference. So doing your homework and seeing what works for your dog is paramount.
Does your dog enjoy a more strenuous play session or only want to chew their squeaky toy on the couch? Little questions like this one can determine how a play session begins and what type of squeaky toy to get.
3. Create a Safe Space for Your Dog's Playing Session
Conducting a play session in an unfamiliar area is never a good idea. You'll want to create a comfortable, safe space without potential stressors. A good starting point would be considering a place where they spend a significant amount of time.
For instance, my dogs seem to enjoy playing in the living room. It makes complete sense because that's where we spend much of our time. Another possibility would be a gated backyard or a rather uncramped bedroom area.
I also keep these sessions limited to a single dog. Dogs often get possessive over their toys, so adding another dog could result in a blowup or other unwanted situations. It's best to provide a separate play session for each dog, especially with squeaky toys.
4. Always Supervise
A squeaky toy play session without supervision is never a good idea. So keep the toy out of reach until you can watch over them. Otherwise, they may get a hold of the interior squeaker and swallow it.
This rule is significant for owners with aggressive chewers. After all, a slight gum bleed or tooth issue won't make them stop trying to get the squeaker. So you'll need to be there as a preventative measure against these issues.
5. Check The Toys for Damage Regularly
Squeaky toys require inspection after each playing session. In most cases, these toys will get torn or shredded with repeated usage. These inspections will allow you to address the issues before allowing your dog to play with them again.
Similarly, if the damage does become too severe, repair or throw them out immediately. A slightly torn or damaged toy will only get worse and worse. As a result, it's best to eliminate or fix it as soon as the issue presents itself.
Conclusion
Understanding why dogs like squeaky toys is relatively easy. It boils down to the toy's squeaking sound, triggering a dog's hunting instinct, and being an excellent chewing outlet. All these aspects make them valuable tools in an owner's pocket when used correctly.
It's just a matter of creating a safe space and supervising their play session. You can even join in by throwing around the room for a little game of fetch. But remember, it's crucial not to overdo it, as your dog could become possessive over it.
If you have any additional questions about squeaky toys, please leave a comment. I'll happily answer any concerns or hear an anecdote about your dog's love of these toys. Thanks for reading!
What do you think? Why do YOUR dogs like squeaky toys? Share your thoughts below!