Looking for the best personalized gifts for dog lovers?
Then this is exactly the place to be!
You'll be able to find everything you need from Christmas-themed presents to the dog-parent classics.
Let's get started, shall we!
Related: Dog lover gifts for her
Personalized Gifts For Dog Lovers
We've mixed in some brilliant Christmas gift ideas along with some more general custom gifts for dog lovers.
Take a look at the table below for our top 5 favorites, then read on for the whole list!
Table could not be displayed.
1. Personalized Tree Ornament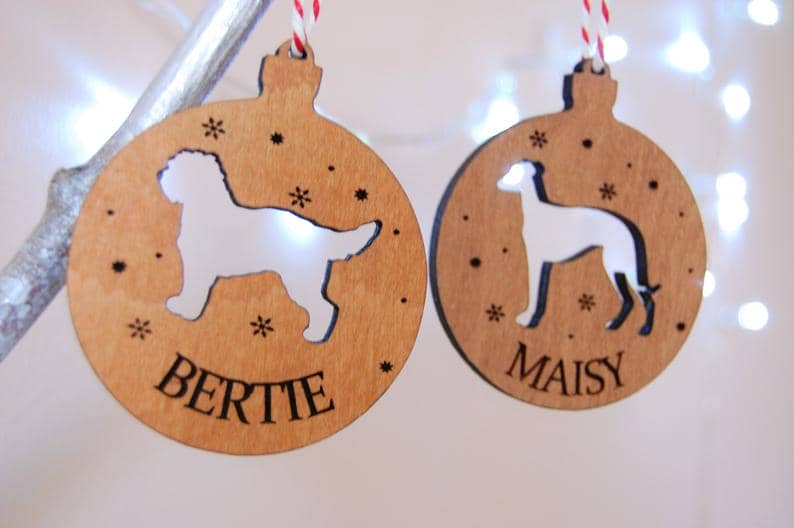 As Christmas is near and everyone wants to have the cutest decorations, you can find these personalizable tree decorations on Etsy.
You can send a picture of your friend's dog, and she will receive something to always remember them of this Christmas.

2. Custom Dog Lover Socks
Comfy socks are amazing, and if the print also matches the best dog in the world, then you're set.
You can find these socks on Amazon and personalize everything about them from style to size, and don't forget to send a picture of the pup!
3. Personalized Dog Treat Jar
If you're looking for personalized dog gifts for humans, this is definitely a great option!
Most dog lovers don't think of buying these adorable treat jars for their furballs, but that doesn't mean that you shouldn't do it.
You can find these on Amazon in 6 different styles. Even better, if they have many dogs, get more, so they keep the special treats separated.
4. Matching PJs for Dogs & Humans
Our family has a tradition- we get to open one gift on Christmas Eve, and it's ALWAYS new pajamas.
Wouldn't these be perfect for a dog-loving family?
This set comes in many different styles, with sizes for everyone in the family!
They're also among the more affordable family pajama sets on Amazon that include jammies for dogs.
5. Custom Dog Photo Mug
A nice gift for dog lovers is a personalized mug for them to have coffee or tea from every day.
These are available on Amazon, and you can request to have any image you want printed on it!
I've also bought quite a few of these as memorial gifts for friends and family who lost their beloved canines.
6. Custom Keychain for Dog Lovers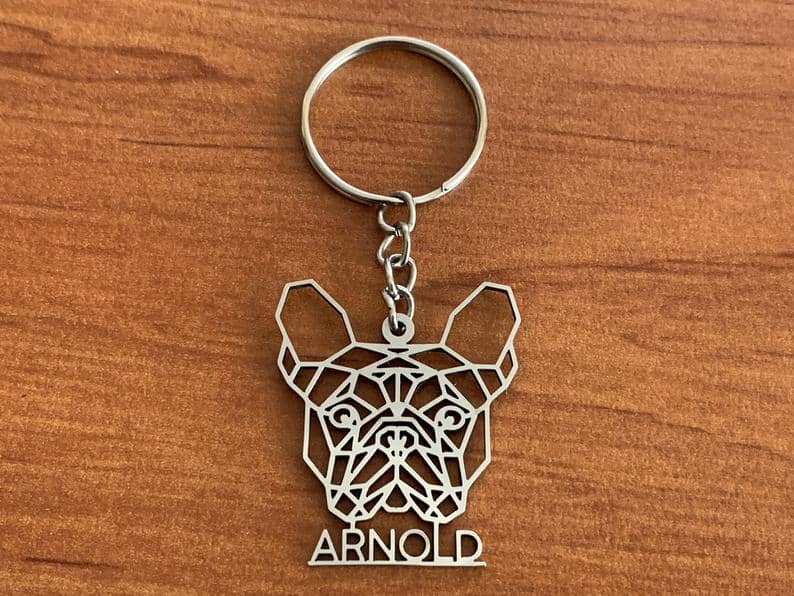 Believe it or not, these small and adorable keychains can make a wonderful present.
You can have them customized with any dog breed you can think of, and they are available on Etsy.
They're great as personalized birthday gifts for dog lovers, as they're not really season-specific.

7. Custom Bookmarks with Dog Charms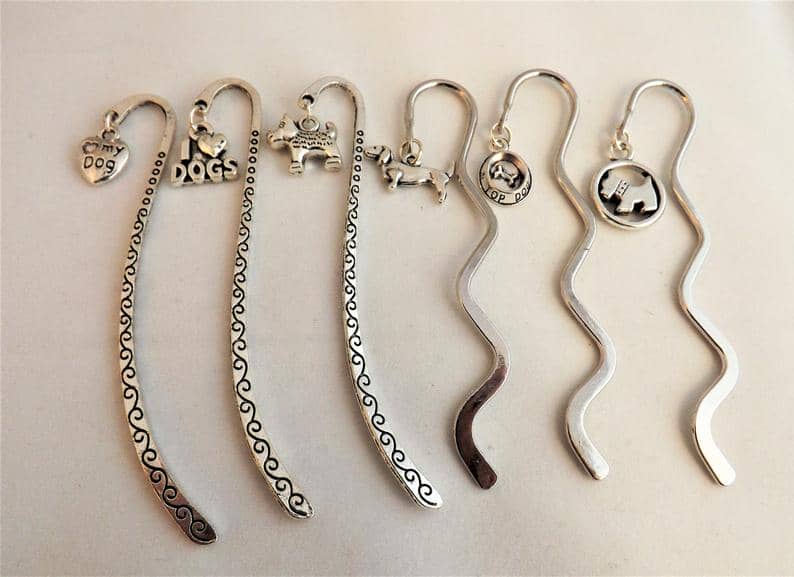 Got a friend or family member who still loves reading good old-fashioned print books?
One of these adorable bookmarks from Etsy can make a wonderful personalized dog lover gift!
Having a hard time choosing just one of the six cute charms?
This gift is so affordable, you can buy all of them and still not bust your budget!

8. Custom Notepad with Their Dog's Photo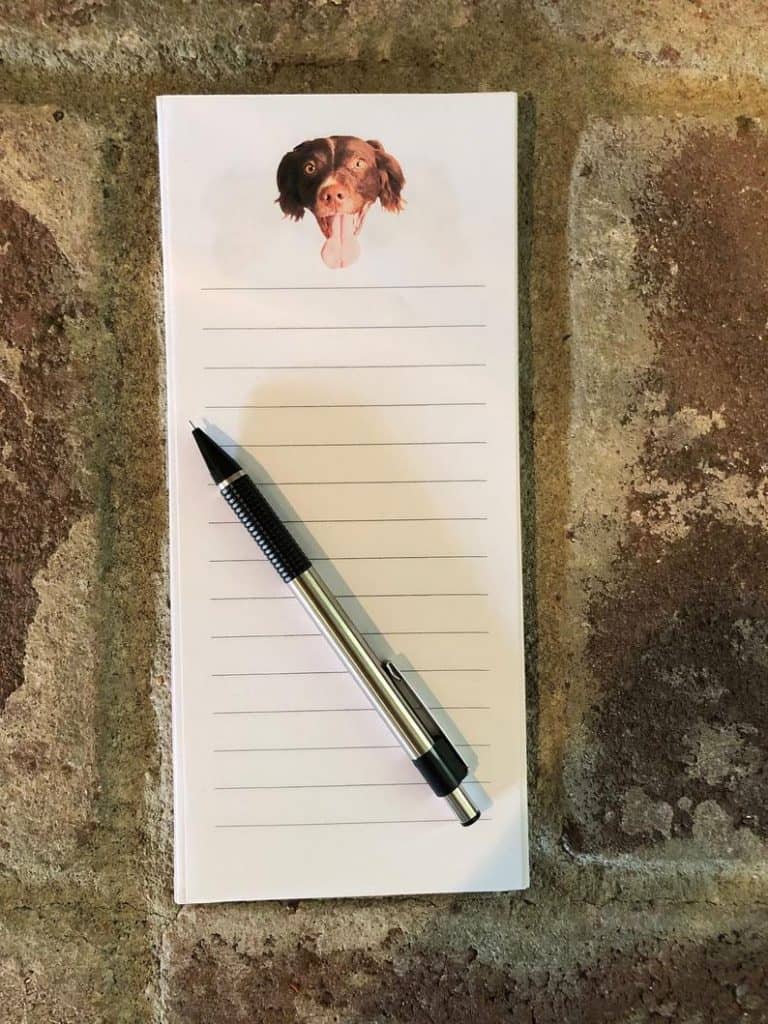 Talking about personalized gifts for dog owners, this custom notepad can make anyone's day better.
It's available on Etsy and you can choose the number of pages, whether you want it with a magnet or not, and how many pups you want on it!
It's the perfect stocking stuffer for dog lovers, don't you think?

9. Personalized Dog Sign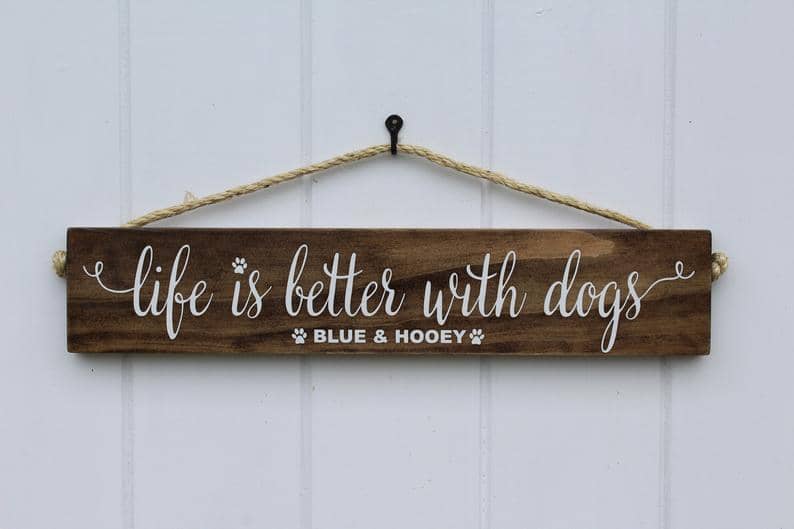 Any dog lover's house needs a sign to praise the adorable being living there.This one is available on Etsy, comes in over 10 styles.
You can choose how many names you want featured on the sign.

10. Custom Dog Photo Blanket
Blankets make perfect Christmas gifts for dog lovers.
Who doesn't love cuddling up on the couch with their favorite canine when the weather gets cold?
This beautiful blanket comes in 16 different background colors.
You can also choose between 5 sizes, including small blankets for strollers and ginormous ones for king-sized beds.
From these 10 personalized gifts for dog lovers, you will definitely get to choose something absolutely impressive for the best dog parent you know!
We love the personalized ornament or jammies for Christmas! Throughout the rest of the year, that mug or keychain make beautiful options.
What are your favorite personalized gifts for dog lovers? Share below!
Last update on 2023-06-05 / Affiliate links / Images from Amazon Product Advertising API