As dog owners, keeping our furry friends safe and secure isn't just one of the most important responsibilities that we have, it's THE most important. One way to do that is by using a GPS dog collar. These high-tech collars are designed to help you keep track of your dog's whereabouts, no matter where they roam.
With so many options on the market, though, it can be overwhelming to choose the right one for your pet. With that in mind, today we'll go over all of the best GPS dog collars available. We'll look at factors like accuracy, value, ease of use, and versatility to determine which are actually worth your money.
FYI, this post includes affiliate links. If you buy anything through these links, DogVills earns a small commission at no extra cost to you.
Content & Quick Navigation
Best GPS Dog Collars of 2023
Whether you have an adventurous pup who likes to wander or just want some extra peace of mind, a GPS dog collar could be a smart investment. So, let's dive in and explore some of the top options on the market today.
1. SpotOn GPS Dog Collar (Best Tracker & Fence System Combined)
SpotOn is my #1 pick for the best GPS dog collar for so many reasons. Before we get into them, though, I just want to share a bit of good news with you (especially if you've considered SpotOn before but ultimately decided against it because of the price).
As of 3/10/23, the SpotOn GPS Fence is now $1295 instead of $1500. Plus, if you use the coupon code BARK for $100 off! That brings it down to $1195.
Yes, that is still a hefty amount of money. I'm not going to pretend that it isn't. However, SpotOn isn't just a GPS tracking collar; it's an entire virtual fence system! So it really has two main functions: helping you find your lost dog AND keeping him from getting lost in the first place.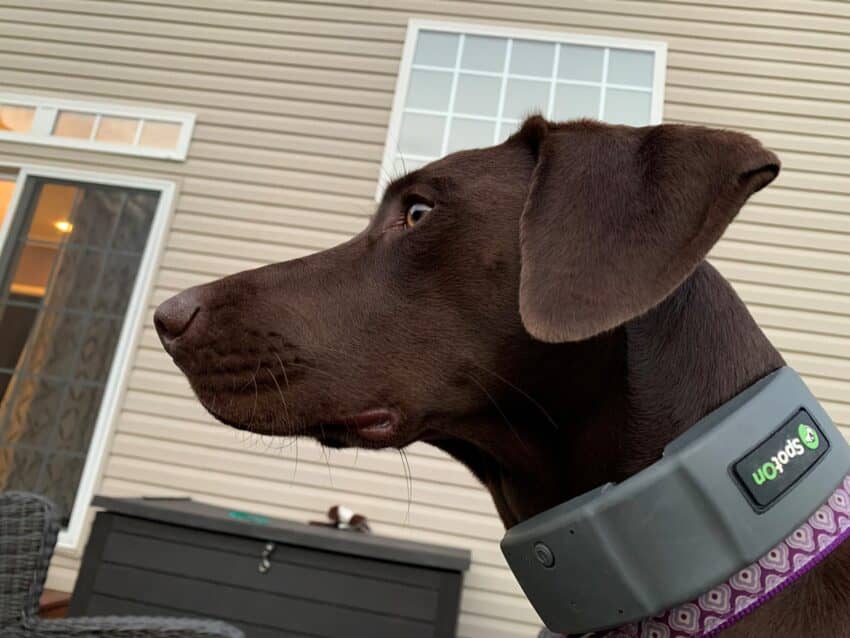 Top Features and Benefits of the SpotOn GPS Collar
As a tracking collar, the SpotOn is one of the most reliable GPS dog-tracking devices. It uses four satellite navigation systems and patented True Location™ GPS technology to help you pinpoint your dog's location within 3 feet of accuracy.
It's also by far one of the easiest and most flexible virtual fence systems on the market, allowing you to create and manage up to 20 unique fences ranging from a half-acre yard all the way up to thousands of acres. You can also create Home Zones and Keep Out Zones (or, as I like to call them, "no-go zones.")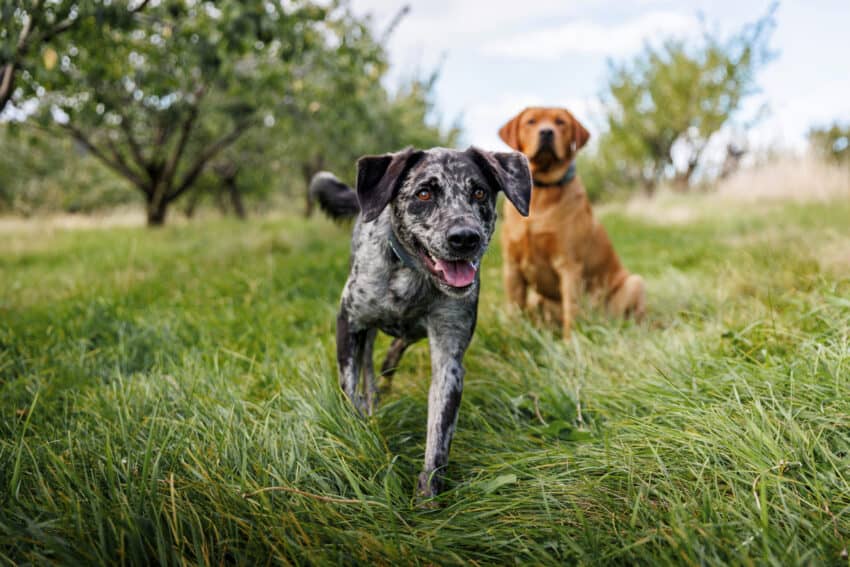 If you spend a lot of time outdoors with your dog, especially going on hikes, SpotOn has a special Forest Mode that enhances GPS reception in areas with lots of trees.
Another standout feature, especially when used as an invisible fence system, SpotOn collars have 30 different static correction levels. Most systems max out at about 15-20 levels. If you spend a little time training Fido (the system even comes with training videos), you can set it to the lowest possible level.
With a bit more training you may not even need to turn the static on at all. The collar issues a warning beep when your dog gets too close to the boundaries that you set. If he doesn't turn back, it vibrates. Only after all of that fails does it resort to static correction.
All of that said, if you're just using it as a GPS collar (and don't plan to create virtual fences with it), you don't really need to turn on the static correction feature at all.
Drawbacks and disadvantages
As with anything, there are a few downsides to this collar. The first is the elephant in the room…the price. As I said earlier, I know that even SpotOn's new lower price it's still a good chunk of change. I'm not going to try to sugarcoat that. I really do think it's a fair price for what you get, though.
Another drawback is the subscription requirement. If you want to use all of the features that come with the collar (including using it as a tracking device), you'll need to subscribe. As you'll see if you keep reading through the rest of this post, though, this downside is far from exclusive to SpotOn. It's something you'll find with pretty much every GPS collar these days.
For a more in-depth look at the pros and cons, read Technobark's detailed SpotOn collar review here. If you're ready to buy, make sure to get it from the official website. I've noticed an uptick in scammers selling GPS dog collars on dubious websites, especially when it comes to the more premium options like SpotOn and Halo (which is next on our list). Don't forget to use the SpotOn coupon code BARK at checkout!
2. Halo 2+ GPS Smart Collar (Best Option with Health Monitoring)
Halo rose to fame back in 2020, mostly thanks to the celebrity trainer name attached to it (Cesar Milan). Since then, they've made a lot of tweaks and launched the Halo 2+ model. While I wouldn't have placed the original model anywhere on this list, the newer version is definitely worthy of its second-place mention.
Halo 2+ Features & Advantages
Like SpotOn, Halo is both a tracking collar and an invisible fence system. Technically, it also doubles as (or should I say triples as) a training system. However, DogVills does not endorse using shock collars for training purposes, so we can't really recommend it for that purpose.
As a GPS collar, the Halo 2+ can track your dog's location to within 10 feet of accuracy. By that, I mean that you can expect to find your dog where the app says he'll be, give or take 10 feet.
The collar also comes with a 21-day training program created by Cesar Milan. If you're not a fan of Milan's controversial style of dog training, though, you don't have to follow his program to use the collar.
Halo also acts as a health monitor. While Halo isn't unique with this feature, it does do it uniquely well, if that makes sense.
Downsides & Drawbacks
Once again, the price is the greatest drawback. While the Halo 2+ comes in at about half the cost of the SpotOn, it's still a good chunk of change. However, like SpotOn, it's more than just a tracking collar since you can use it as a virtual fence.
Along with great GPS tracking, it also acts as a health monitor AND an invisible fence. I highly recommend checking our review before buying it or checking the current price here (use the official website only to avoid scammers).
Check out Technobark's in-depth Halo 2+ dog collar review for more details.
3. Tractive Dog Collar (Best Budget Pick)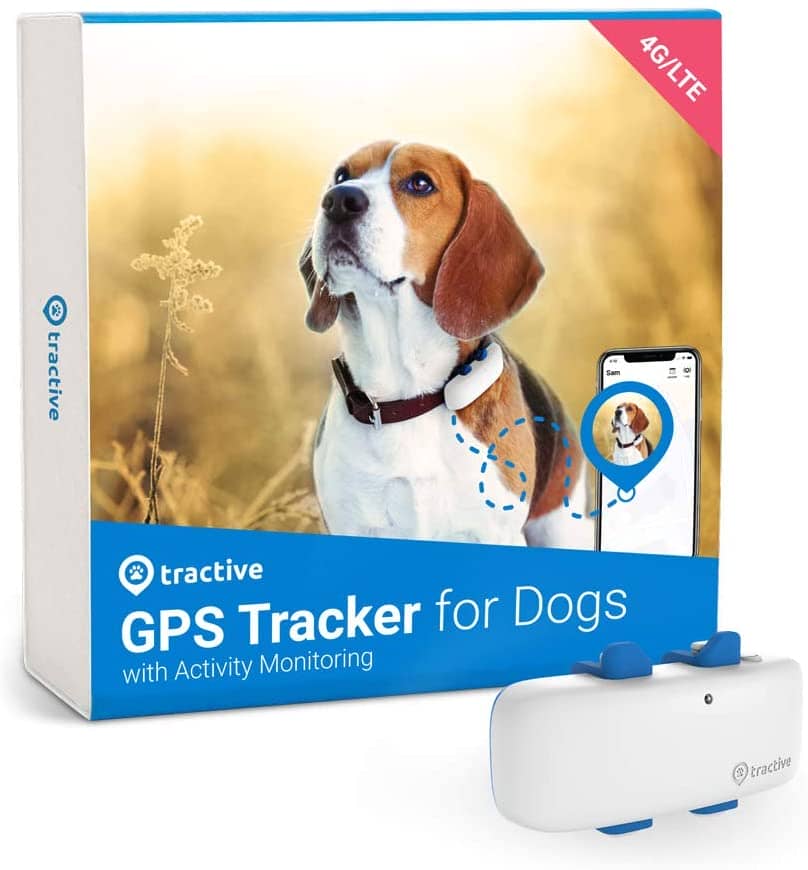 Tractive is by far the cheapest GPS dog collar on this list at just under $50. Don't worry though, it's not "cheap" in terms of functionality. It's actually quite a little powerhouse of a collar! Let's go over the major features and benefits.
Tractive Dog Collar Features & Advantages
First, let me point out that the Tractive isn't a collar itself but rather a tracking device that you can attach to your dog's existing collar. Along with the Fi down there under #5, the Tractive is one of the lightest dog trackers available right now. It weighs just about 1.2 ounces. It also boasts one of the longest battery lives, with a single charge lasting 2-5 days depending on how you use it.
The tracking features are extraordinary, especially when you consider the low price. Its live tracking mode updates your pet's location every 2-3 seconds. You can view that location on a fully interactive map that lets you switch from a regular to a hybrid satellite-imagery view. But the coolest part is the augmented reality map (only available in the mobile app when using LIVE tracking)!
Along with finding your lost dog, you can also use Tractive to see where your pooch has been in the past, thanks to the history feature. If you've ever been curious about how fast your dog runs, Tractive even shows you your dog's speed.
Tractive also doubles as a GPS fence, allowing you to create "safe zones" for your pets with a radius of at least 164 feet. However, it's not quite as powerful an invisible fence as the SpotOn or the Halo.
Tractive is a great budget pick if you want to monitor your dog's health, too. It tracks Fido's daily activity levels (including time spent sleeping), steps taken, calories burned, and distance traveled. All of this gets translated into a "Wellness Score." You can even compare your dog's wellness to other similar breeds.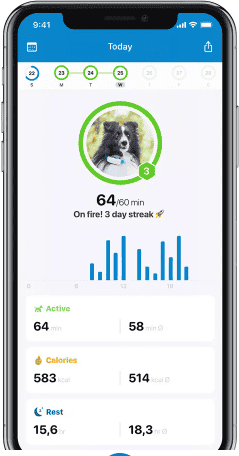 Downsides & Drawbacks
Given the low price point, you might expect Tractive to have quite a few drawbacks. That's not the case at all, though. I can only think of two things that really stand out as "downsides."
First, the subscription plan is a bit pricey in my opinion. A "Basic" Plan costs $13 a month as of right now if you go month-to-month. You can get that down to $6 a month if you pay for two years upfront, though. The Premium Plan doesn't have a monthly option. You have to pay for at least one year upfront, which will run you $108 (again, as of April 2023).
Second, Tractive WILL NOT function without a cell signal. That's not a huge problem these days given that you can even get great reception in Yellowstone Park. But there are areas of the country that still have less-than-stellar coverage. You can plug your address in before buying to see just how good the coverage is in your area, though.
All in all, Tractive is a great little GPS tracker for dogs. Even with the subscription, it still comes in at a much lower price point than every other option on this list.
4. Garmin Alpha 200i Dog Tracking System (Best for Outdoor Adventures)
If you remember the days before every smartphone had GPS, chances are you've heard of Garmin. They were pioneers in the consumer-grade GPS marketplace, and they've adapted well to ever-changing technology. Their Garmin Alpha 200i Dog Tracking System is a prime example of that.
A word of warning, though, this baby isn't cheap! At just over $1100 for the collar and handheld unit, it's the second-most expensive collar on this list. It's worth the money, though, if you're looking for something that you can use while you're hunting or trekking through the wilderness.
Garmin Alpha 200i Features & Advantages
One of the top features of the Garmin Alpha 200i is the fact that you don't need a smartphone to use it. The durable and lightweight handheld touchscreen unit tells you everything you need to know. The system uses inReach technology, a Garmin-exclusive that not only tracks your dog but also allows you to send and receive messages, send out an SOS, and instantly share your location to coordinate with emergency services.
Another neat feature is that you can track up to 20 dogs from up to 9 miles away. However, you'll need collars for each one (in other words, it doesn't come with 20 collars). The device measures your dog's speed and distance traveled as well.
If you're a hiker (or just getting into adventuring outdoors with your dog), the Garmin Alpha 200i comes preloaded with 100 different US maps.
Downsides & Drawbacks
You'll need a subscription to access all of the inReach features, but your purchase comes with a 1-year subscription. So, you'll just need to pay after that initial year ends.
Some users also complain about the lack of "live customer support" when reaching out to Garmin. You'll see that's also a huge complaint with the next collar on our list. In this case, though, I have higher expectations for outstanding customer service, given the price.
Drawbacks aside, if you're a hiker, hunter, or just spend a lot of time in unfamiliar terrain, the Garmin Alpha 200i isn't just one of the best GPS dog collars, it's one of the best devices to keep YOU safe as well.
5. Fi Smart GPS Dog Collar (Best Subscription-Based Pick)
Fi's price structure makes their GPS dog collar one of the best for those on a super tight budget. With most options, you buy the collar first, then pay a monthly fee for the subscription. With Fi, you get the collar as part of your subscription.
It sounds confusing, but it really isn't. Let me run through the features, pros and cons first. Then, I'll quickly go over the buying process with you.
Fi Features & Advantages
Aside from the pricing structure, the Fi Smart Dog Collar has a few notable features that set it apart from the competition.
First, out of all of the GPS dog collars on the market today, Fi's has the best battery life by a long shot. It lasts about a month on a single charge. It's also a lot lighter than collars that combine GPS tracking and invisible fence systems.
In terms of tracking, the Fi Smart collar uses both GPS and LTE-M networks. This combo lets you track your location within 7 feet of accuracy. The LTE-M network communicates with the GPS tracker across long distances or in low-power situations. It allows Fi's collars to reach up to about 30% more than the usual networks can reach.
Fi's design is also the most stylish out of all of the GPS dog collars. Now, design is usually pretty far down my list of "most important features." I care a lot more about how a collar works than how it looks, as I'm sure you do. Still, it's nice to know that you have so many options. If you don't love any of the 8 standard colors, you can find hundreds more designs through the Fi Maker program.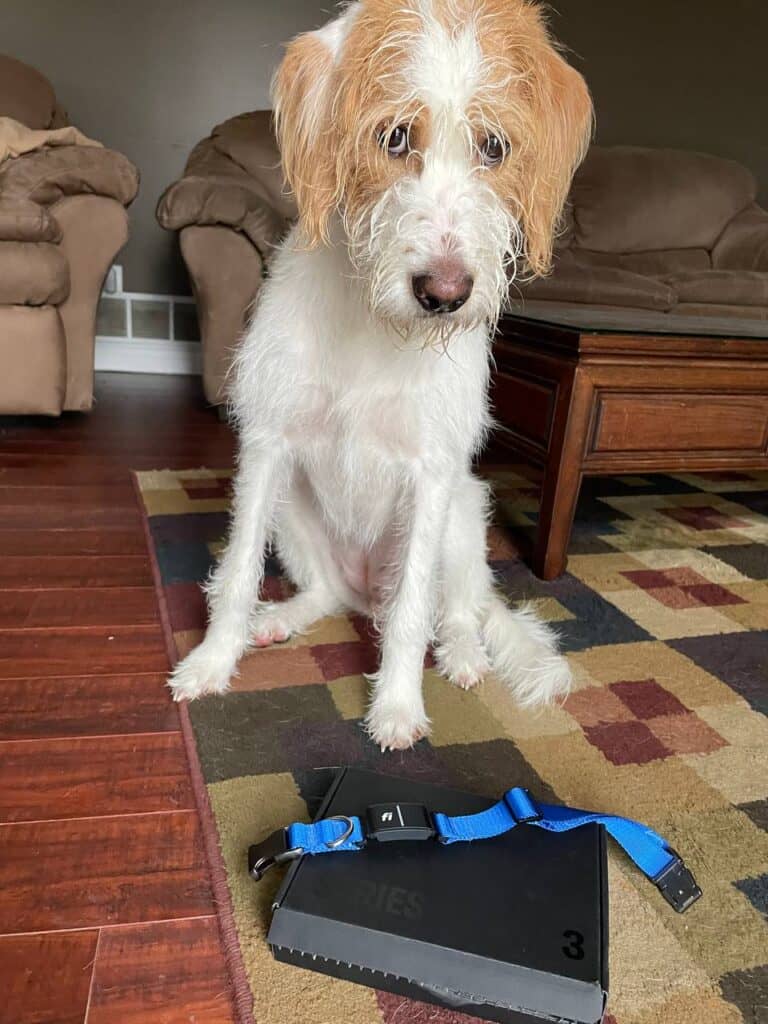 Downsides & Drawbacks
This may sound strange given what I said earlier, but the pricing model is also one of the biggest drawbacks. You cannot just buy the collar. You MUST subscribe to their plan in order to get it. You also MUST commit to at least 6 months.
However, you can try Fi for 30 days. If you hate it, return it and get your money back. I highly recommend that you do this because you're 100% locked in once that 30 days is up.
Fi also has some very hit-or-miss reviews in terms of customer service. If you need to reach out to them with a question, especially if that question is about your billing, that could be problematic. Honestly, you're going to find that's the case with any of these collars (or any product at all, really), though. Sometimes, you'll get super helpful customer service reps and other times, not so much.
How to Order a Fi Collar
First, head over to Fi and select your collar. You can choose from XS to XL and one of 8 different colors.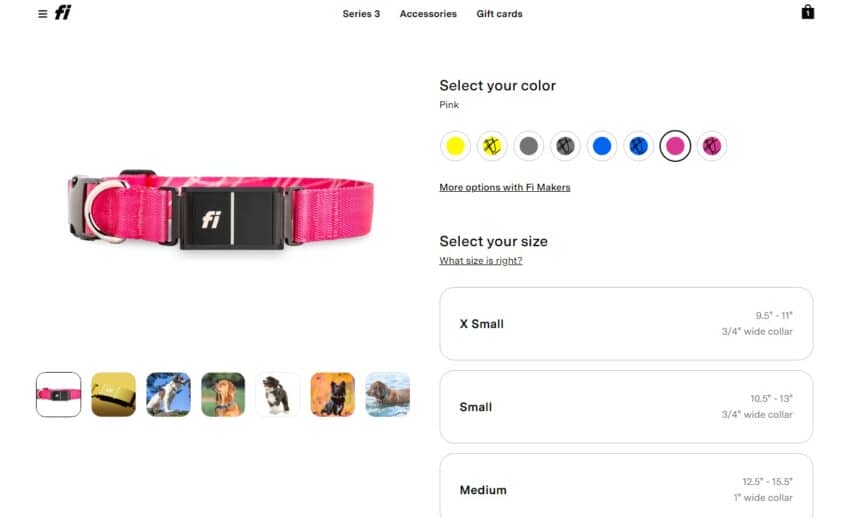 Next, select your membership. As you can see in the screenshot below, they offer a bunch of different options for every budget. Longer subscriptions cost less overall, of course. But if you're pinching every penny right now, they do have a monthly subscription option for $19.90 per month.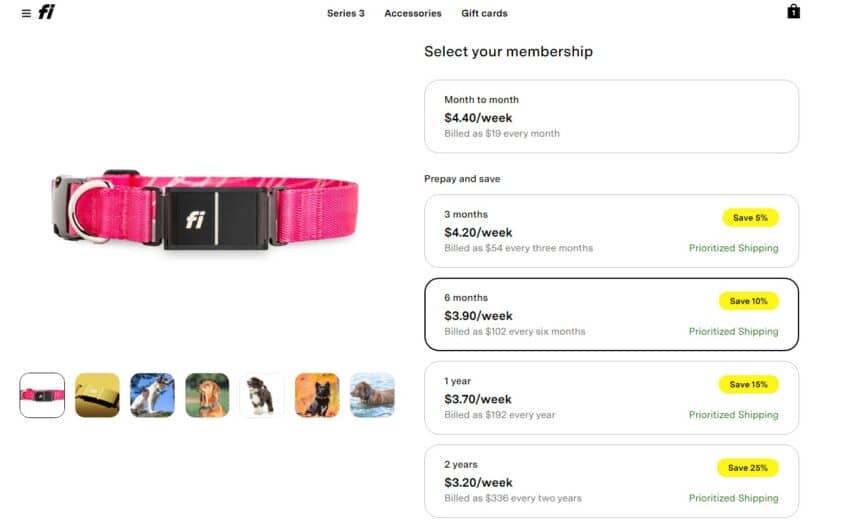 That's it! Just go to checkout and finish the ordering process. It's actually SUPER simple! FYI, if you have things narrowed down to this one or Tractive, check out our side-by-side comparison on Tractive vs Fi collars
Editor's Note: Portions of this post originally appeared on Technobark.com, which was recently acquired by DogVills' parent company, Pawsitivity Pets. If you'd like to check out the full list, read the 10 Best Pet Trackers & GPS Dog Collars over on Technobark.
Last update on 2023-09-24 / Affiliate links / Images from Amazon Product Advertising API