The only thing better than hot coffee on a cold winter's morning is drinking it out one of these fun Christmas mugs for dog lovers!
Picture the scene: snow falling through the trees, your trusty canine companion close by, and a steaming hot cup of Joe in your hand.
I can't think of a better way to start my morning, can you?
If you need some great ideas for fun holiday mugs, check out these 10 that I love!
They also make great gift ideas for your favorite dog parent!
Related:10 Adorable Dog Lover Coffee Mugs to Brighten Up Your Morning
Christmas Mugs for Dog Lovers
This post contains affiliate links. If you make a purchase through these links, we earn a small commission at no extra charge to you.
Are you a cat parent too? Check these funny cat mugs
1.  CHRISTMAS MUG FOR CAT & DOG LOVERS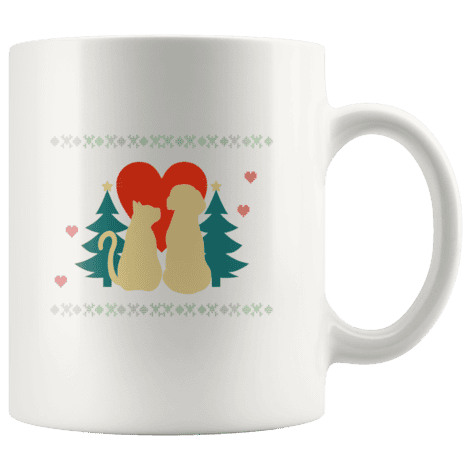 Let's start with one of my top 3 favorites that's perfect for both cat and dog lovers!
As I've mentioned before, I adore how this one promotes the spirit of the season: peace and harmony!

2.  DOGS RULE MUG WITH RED PAW PRINT & CHRISTMAS TREES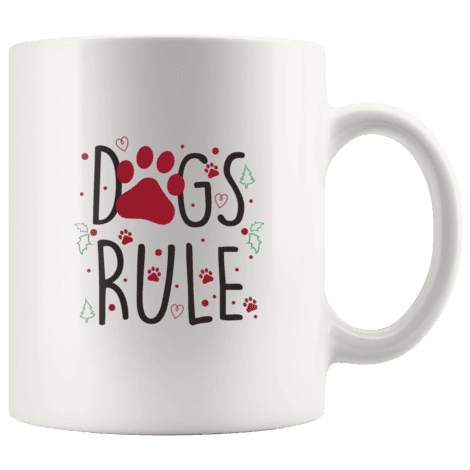 Another one of my favorites, this one is so true, don't you think?
I love the festive colors and the adorable Christmas trees!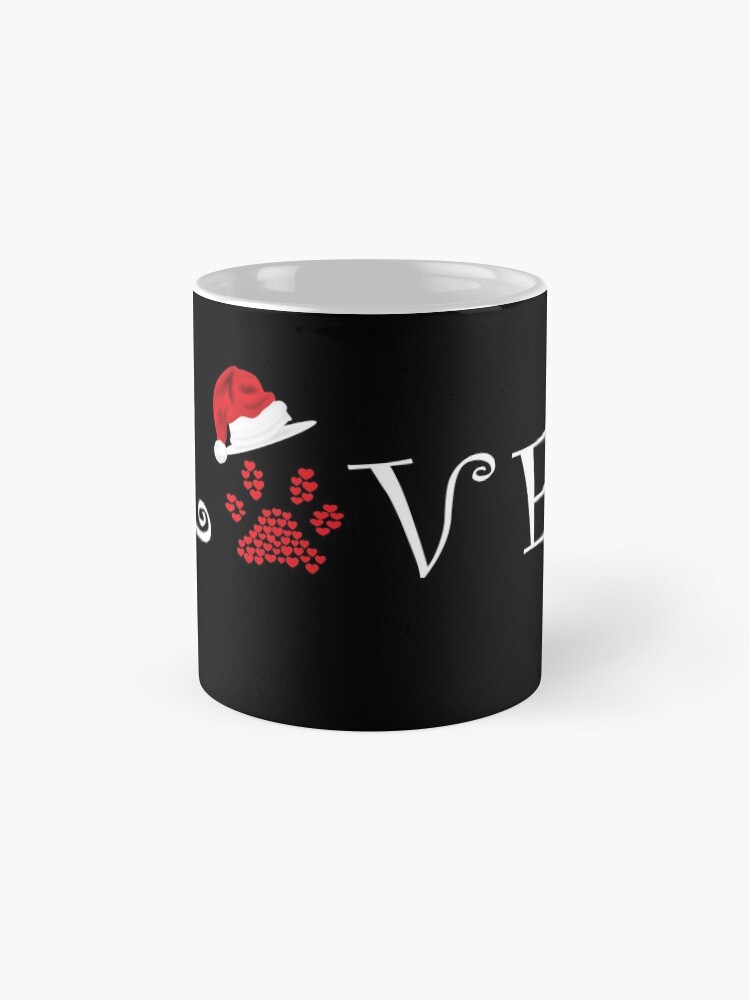 Another great Christmas mug for both dog and cat lovers, this one features a Santa hat and the word love, except the O is a heart filled with paws!
My dogs are always in my heart, so this one is perfect!

4. Best Dog Mom Ever Mug With A Christmas Hat & Heart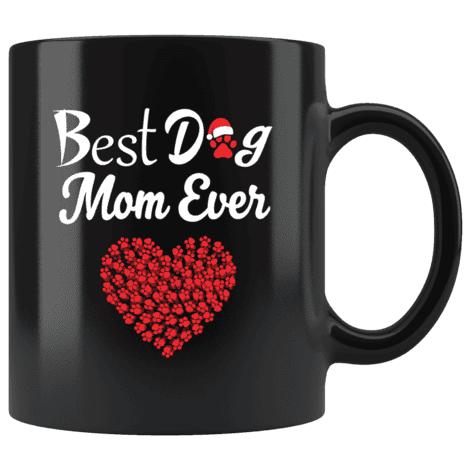 You're the best dog mom ever. You know it, your dog knows it, now let everyone else in the family in on the secret!
This one comes in a few styles, but I adore the one with the heart, don't you?

5. I'm Just Here To Pet The Dog: Funny Christmas Mug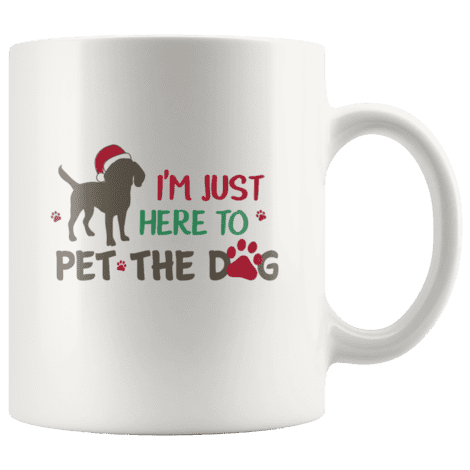 If you head to holiday parties just so you can pet all the dogs, this one is for you!
I love going to my aunt's house and spending the time petting her Irish Wolfhound and her Border Collie!
Of course, I love seeing family, too, but let's be honest: we're really there for the dogs!

6. Running Dachshund: Funny Christmas Mug For Dog Lovers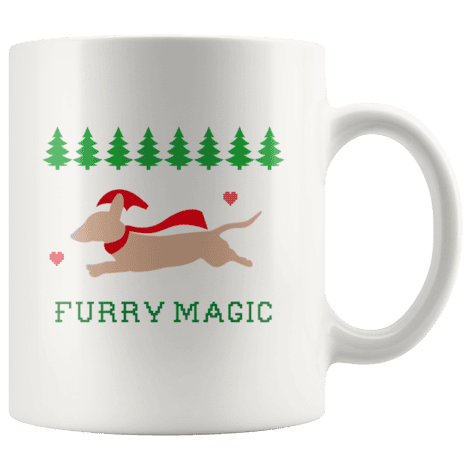 Dashing through the snow, in a one-dachshund open sleigh!
Okay, so that doesn't really work, as I'm pretty sure my brother's dachshund couldn't pull me around through the snow.
Not for lack of trying, though! She's a tough little girl!
We'll have to settle for this dashing Dachshund instead and give her back a break!

7.  Let it Woof Christmas Mug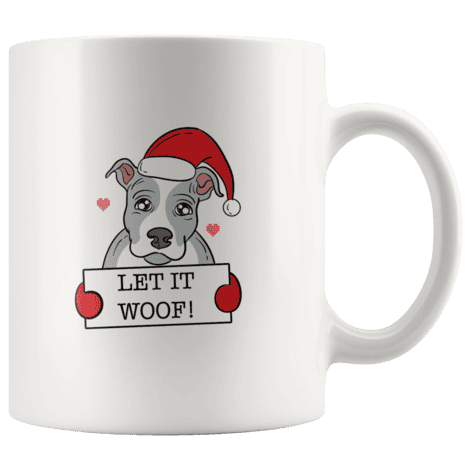 Forget let it snow, let it woof, instead!
Just don't tell Freya I said that, I'm trying to train her not to bark so much as it is!
How cute is the little pit bull on this design? Love him!!

8. Beagle with Reindeer Ears Christmas Mug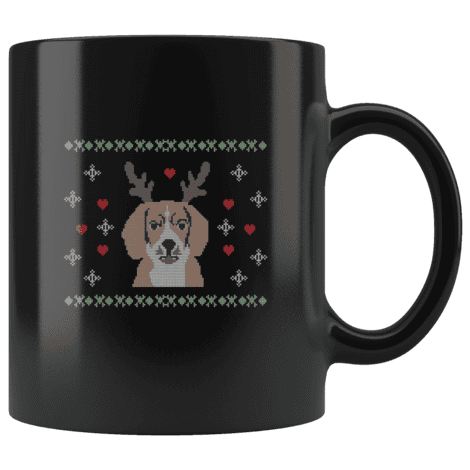 Please don't tell my girls, because I wouldn't trade them for all the money in the world, but I've always wanted a beagle, too.
There's just something about those long ears and that soulful howl that gets me every time.
Since a 3rd dog isn't in the cards right now, I'll have to settle for this cute beagle with reindeer antlers mug!

9. Dog Paws Print Christmas Tree Ceramic Coffee Mug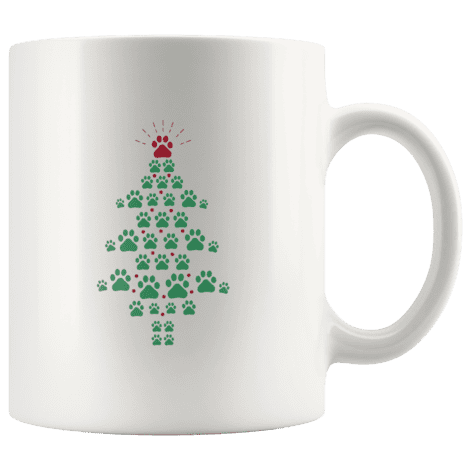 Here's another one that I love for both cat and dog parents! The tree is made up of paw prints!
So much better than having paws in my actual tree, although I'm sure that will happen this year, too!

10. Best Dog Dad Ever Christmas Mug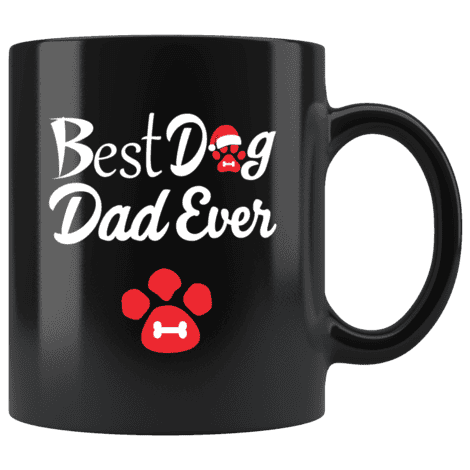 Don't worry, dog dads, I didn't forget about you!
Like our best dog mom Christmas mugs, this one comes in a few different styles, but this is my favorite.

Having a hard time deciding on just one? Remember, if you buy from our shop, you can free shipping on order $50 and up! Grab yourself a couple of them!
Don't forget to check out all the other fun dog lover coffee mugs, too!
WHICH OF THESE  CHRISTMAS MUGS IS YOUR FAVORITE? TELL ME BELOW!