Looking for the best toys for deaf dogs?
I've got you covered!
Today, we'll check out ten fantastic toys that stimulate your dog's other senses and provide hours of entertainment!
We'll also quickly go over what to consider when buying deaf dog toys.
Let's get started!
Related: Meaningful Gifts to Celebrate Your Love for Your Deaf Dog
What to Consider When Buying Deaf Dog Toys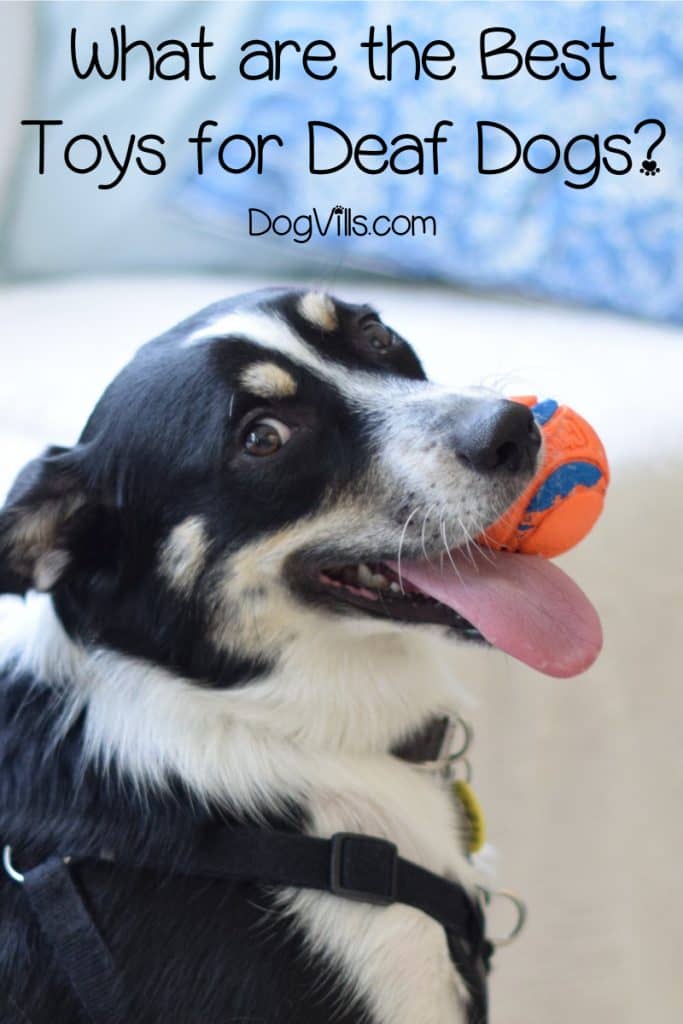 Before we check out my top ten favorite toys for deaf dogs, let's very quickly talk about what you should look for when you're shopping.
Overall, buying a deaf dog toys isn't much different than buying them for a hearing dog.
In fact, you can even buy them squeaky toys!
Just because they can't hear the sound doesn't mean they don't enjoy the experience of tearing the squeaker out!
That said, I do have a few tips on buying toys that your hearing-impaired pup will enjoy! Let's take a look.
Go for toys with a fun tactile experience
Puppies spend just as much time exploring with their mouths as they do with their ears and eyes.
Tactile toys like crunchy water bottles, soft plush, and rubber teething toys give your dog a chance to experience new textures.
Along with buying some of the toys below, you can also make your own fun crunchy dog toy!
Just put an empty plastic water bottle inside a sock, then tightly tie the sock shut. I keep all my mate-less socks now just for this purpose!
Choose mentally stimulating toys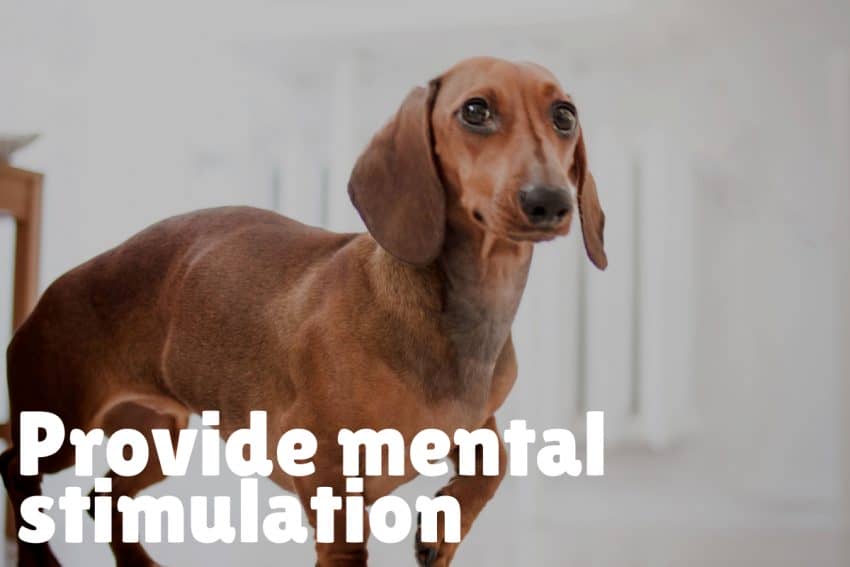 Interactive puzzle toys offer plenty of mental stimulation for your deaf dog.
I personally love "hide a treat" type puzzles (like #8) because they not only mentally stimulate but also engage your dog's sense of smell.
Choose visually stimulating toys
Visually stimulating toys like glow-in-the-dark balls or light-up toys engage your dog's sense of sight (obviously) and may even help calm him down.
A study performed on rescue dogs (hearing dogs, but it applies here, too) found that visually stimulated dogs barked less and seemed less agitated overall.
Don't forget the plush!
Plush toys may not seem all that stimulating, but they're still an important feature in your deaf dog's toy box!
First, some dogs love to cuddle with soft toys, so they act as a comfort toy. A "lovey" if you will.
However, even if your dog just tears it to pieces, it still gives them a chance to have a little destructive fun!
I have a dog with an incredibly high prey drive and destroying a plush toy helps alleviate some of her frustrations over not being able to catch Mr. Chipmunk.
Now that you have a general idea of what to look for in toys for deaf dogs, let's check out my top 10 favorites!
Top 10 Best Toys for Deaf Dogs
Use the table below to find the best toys for deaf dogs at a glance, then read on for more details.
I've broken the table into two sections to make it easier for you. The first five toys are on the table below, then the last five above #6.
Make sense? Good! Let's get started!
By the way, this post contains affiliate links. If you make a purchase through these links, we earn a small commission at no extra charge to you.
Preview
Name
Nerf Dog Assortment: 7in LED Bash Barbell 2 Pack, Red & Blue, Dog Toy
Chuckit Flying Squirrel Spinning Dog Toy Assorted Colors 3 Sizes Available
Chuckit Max Glow Kick Fetch Large
Rocco & Roxie Dog Toys Balls - Tough Nearly Indestructible Toy for All But the Most Aggressive Chewers - Balls for Large and Small Dogs - Made in USA (Powder Blue 4 inch ball)
DIFFLIFE Snuffle Mat Nosework Blanket Dog Training Mats Dog Feeding Mat Pet Activity Mat Great for Stress Release (M)
Best Feature
Food-grade rubber great for teething puppies
Glows in the dark and floats on water
Grooves make it easy for dog to pick up
Super difficult to destroy
Did you know that NERF makes an entire line of dog toys? We've had quite a few, including these light-up barbells.
Features & Pros
LED lights provide a visually fun way to play at night.
The shape of the toy along with the ridged texture helps keep teeth clean.
Made from food-grade rubber and designed to be durable.
The shape makes is super easy for both you and your dog to pick up.
Barbell shape makes it easy for dogs to pick up and encourages active use
Cons
One of the pros is also the only major con: the LED lights.
This isn't a toy that you can just give to your dog and walk away.
You need to carefully supervise playtime and remove the toy as soon as they come close to breaking through the rubber.
In other words, the moment you think they'll be able to get to the LED lights, it's time to toss the toy.
Recommendation
The lights inside this fun NERF dog toy make it a great visually stimulating toy but only if you very carefully supervise playtime.
NERF toys aren't indestructible but they do last a relatively long time, even in my house with my aggressive chewer.
Nerf Dog Assortment: 7in LED Bash Barbell 2 Pack, Red & Blue, Dog Toy
Light up playtime: features LED lights that keep the fun going after Dark
Healthy TEETH: barbell shape and ridged textures massage gums and help keep teeth clean and tartar-free
Thick, tough, durable: constructed from food-grade heavy-duty rubber, weather + water Resistant
Barbell shape makes it easy for dogs to pick up and encourages active use
Safety guaranteed: 100% non-toxic, BPA-free, food grade rubber

The Chuckit! Flying Squirrel makes for a great "fetch" toy because you can use it just about anywhere.
Features & Pros
Perfect shape for tossing and fetching!
The lightweight material floats on water, so you can play with it in the pool.
Soft enough to throw inside the house, as long as you use common sense and don't throw it at a lamp or the TV!
Stimulating colors make it easy for both you and your dog to see.
Glows in the dark for nighttime fun!
Cons
I see a lot of complaints about how this toy is "nothing like a Frisbee," which is ridiculous because it doesn't claim to be one!
Right in the description it states that it's best for short-range games of fetch.
Once you eliminate the "no really, you don't say" complaints, the only major con is durability. It's not really designed to hold up to chewing.
Recommendation
I am a big fan of Chuckit! toys (you'll notice that another one of their toys follows this one).
The Flying Squirrel isn't designed for Frisbee champs but it is a fun little toy to toss over short distances!
If you have an aggressive chewer and you want this toy to last, make it a "togetherness time" play toy.
Basically, play fetch with it, then put it away. Don't let your dog tear it apart.
Sale
Chuckit Flying Squirrel Spinning Dog Toy Assorted Colors 3 Sizes Available
FLYING DOG TOY FOR LARGE DOGS: The flying squirrel frisbee spinning toy for dogs is aerodynamic for playing fetch in the yard or park. Lightweight and buoyant material is made for poolside and lakes.
RUGGED & TOUGH: The flying squirrel is a durable toy for dogs is designed to withstand chewing & tossing. Curved sides of the flying disk allows pets to easily retrieve toy. Frisbee glows in the dark for night time play.
PET TOYS: Get ready for bonding & fun with your dogs & cats! Check out a variety of our pet toy products such as frisbees, perches & mirrors for birds, prey wand toys for cats, plush toys, light-up interactive toys & more.
CHUCKIT! FETCH TOYS: Chuckit! creates toys that enrich the human-animal bond & bright colors help dogs & puppies stay engaged. Checkout Chuckit! for ball launchers, bouncy balls, frisbees, indoor dog toys, glow toys & more!
JUST FOR PETS: Petmate makes a variety of pet products for dogs, cats, chickens & other small furry friends! Check out our brands such as Aspen Pet, Arm & Hammer, Booda, Chuckit!, Jackson Galaxy & more!

It's hard to tell in the picture but the Max Glow is actually pretty big. Think slightly smaller than a soccer ball.
Features & Pros
Fun for both you and your dog! It's big enough for you to kick or punt.
Glows for up to 30 minutes per "charge" (stick it under the light to charge it).
Made of rubber and foam so it can float on the water, too.
Grooves make it easy for your dog to pick up.
Durable enough to hold up to outdoor play.
Cons
While it's durable in the sense that you can kick it around and your dog can mouth it to pick up, it's not really designed to hold up to chewing.
Recommendation
While I love the visual stimulation of the glow ball, if you want something that will last a bit longer you can go with the regular orange and blue one.
According to some other customers, this style seems to last a bit longer.
Chuckit Max Glow Kick Fetch Large
FUN FOR PETS AND PET PARENTS: These interactive dog toys are fun for pets and pet parents, allowing pets to chase the Chuckit! kick ball as pet parents punt, making them great dog toys for boredom
FLOATS IN WATER: Rubber and foam construction of this Chuckit! fetch toy allows engaging playtime on land or water
EASY PICK-UP: Featuring a deep, grooved design, dogs can easily grab the Chuckit! durable dog toys for quick retrieval
HIGH-VISIBILITY COLORS: Pets and pet parents can easily spot the bright orange and blue dog ball in tall grass during outdoor play or in the dog toy basket
DURABLE DESIGN: To hold up to rough, outdoor dog games, the Chuckit! Kick Fetch tough dog toys feature a durable construction that combines canvas, rubber and foam
GLOW VERSION AVAILABLE: For fetch after dark, the Chuckit! Max Glow Kick Fetch charges under bright light for as little as 5 minutes for 20 minutes of illuminated play
EXCITING, RANDOM BOUNCE: Dog toy ball has a rubber and foam construction with unique, grooved design creates a random bouncing pattern that pets will love to chase
2 SIZES AVAILABLE: A wide range of dogs can enjoy fetch with the Chuckit! kickball, offered in small and large sizes

If you want something that's a lot more durable and also supports smaller "boutique" pet companies, try the Rocco & Roxie ball!
Features & Pros
Every aspect of this ball is made with the safest materials possible. No BPS, no phthalates, no other nasty chemicals or metals.
Designed to hold up against light chewing and outdoor play.
Super simple (it's basically just a ball) yet still manages to be stylish!
Made in the USA and comes with a money-back guarantee.
Cons
Despite the name, I found multiple customers complaining that it wasn't quite as indestructible as they though it would be.
I think it's important to note the word "NEARLY," as in "still possible to destroy."
Recommendation
Although it's a bit expensive for a dog ball, I feel like the safety standards make it worthwhile.
It's not designed for super aggressive chewers but it should hold up to light gnawing.
Sale
Rocco & Roxie Dog Toys Balls - Tough Nearly Indestructible Toy for All But the Most Aggressive Chewers - Balls for Large and Small Dogs - Made in USA (Powder Blue 4 inch ball)
SUPER SAFE No toxic BPAs. No phthalates, latex or heavy metals. Nothing bad for her to chew on or ingest. Instead—simply high-quality thermoplastic elastomer material specifically designed with pet safety in mind.
TOUGH STUFF Rocco proof! Personally tested, pounced upon and thoroughly chewed by Rocco, our resident toy shredder, and found to be virtually indestructible. Fade-resistant and holds up to being left outside in bad weather too!
PLAY BALL! Just the thing for your playful pup: hours of tail-wagging, fetch-able fun. And stylish too, in sophisticated navy (2.5" ball) or powder blue (4" ball).
100% GUARANTEED Made in the U.S.A.. Easy to clean. Backed by our unconditional guarantee: if this ball doesn't hold up to your highest expectations and your dog's craziest roughhousing, bounce it back for a refund.

5. DIFFLIFE Snuffle Mat for Dogs Review
Snuffle mats are all the rage right now because they encourage your dog's natural hunting and foraging skills.
I looked at a bunch of different ones and this turned out to be my favorite.
Features & Pros
Encourages hunting, foraging and nosework.
Made of strong, durable wool that won't easily tear.
Rolls up to store away when your dog is done playing, and includes easy carrying handles.
Made with upcylced materials.
Machine-washable.
Cons
You absolutely have to supervise "snuffle" time because your dog can tear off pieces of material and ingest them.
That's not a con so much as a warning.
As far as cons go, the only minor issue with this particular mat is that the strips could be a little closer together.
Recommendation
I actually tried to make my own snuffle mat for Freya and it's still half-done in my closet.
It's doable, but SUPER time consuming! I spent 4 hours just tying the fleece material throughout half of the mat!
Seriously, you're better off buying one, and this one is a great choice.
Sale
DIFFLIFE Snuffle Mat Nosework Blanket Dog Training Mats Dog Feeding Mat Pet Activity Mat Great for Stress Release (M)
Dog snuffle mat puts your dog's nose and brain to work by mimicking the hunt for Food in nature, encourages natural foraging skills. Nose work mat satisfy intellectual curiosity.
Challenge through dog training mats, avoid your dog's Bored and engage in destructive behavior.
Wooly snuffle mat machine washable, easy carry on handles, sustainably handmade from upcycled materials.
Indoor dog training mat builds interaction between owner and pet. Nose work training perfect for all dogs.
NOTE: Only DIFFLIFE is sold under this link other brands are liar.
Preview
Name
ZippyPaws - Zippy Burrow Interactive Squeaky Hide and Seek Plush Dog Toy - Unicorns in Rainbow
Nina Ottoson Outward Hound Dog Brick Treat Puzzle Dog Toy
BarkBox Subscription - The Best Toys & Treats For Your Dog Every Month: Small (0-20lb)
Best Feature
Ridges help keep teeth clean
Soft interactive plush toy
Fun Interactive puzzle game
Preview
Best Feature
Ridges help keep teeth clean
Preview
Name
ZippyPaws - Zippy Burrow Interactive Squeaky Hide and Seek Plush Dog Toy - Unicorns in Rainbow
Best Feature
Soft interactive plush toy
Preview
Name
Nina Ottoson Outward Hound Dog Brick Treat Puzzle Dog Toy
Best Feature
Fun Interactive puzzle game
Preview
Name
BarkBox Subscription - The Best Toys & Treats For Your Dog Every Month: Small (0-20lb)
6. Kong Stuff-a-Ball Review
KONG toys are pretty much a standard feature in just about every house with a dog for a good reason: they're designed to last!
While the standard KONG is fun, I prefer the Stuff-a-Ball for my pup!
Features & Pros
Made with the same durable rubber as classic KONG toys.
The patented ridges help clean your dog's teeth.
Comes in three different sizes for all dogs.
Roomy enough inside to stuff with all sorts of goodies!
Cons
This particular KONG toy is not really designed for aggressive chewers.
If your dog chews like crazy, you're better off with their more durable line of black toys.
Recommendation
KONG toys are great for encouraging your dog to use his nose and his noggin to get the treats out of the middle.
Just remember, the red toys aren't made for aggressive chewers. You'll need the black ones for that.
If you need some ideas on what to put in them, check out these treats that you can stuff into a KONG!
Stuff-A-Ball Small
DURABILITY: The natural KONG Classic red rubber formula is created to be durable and long lasting for average chewing dogs.
GREAT FOR STUFFING: The KONG Stuff-A-Ball is even more enticing when the center and patented Denta-Ridges are stuffed with KONG Easy Treat and Snacks.
TEETH CLEANING: The strategically designed Denta-Ridges help to clean teeth and gums for improved dental hygiene.
SMALL DOGS: Made for small dogs size Up to 20 lbs (Up to 9 kg). (Power Chewers may need to size up and/or use the KONG Extreme line)
MADE IN THE USA. Globally Sourced Materials.

7. ZippyPaws Hide and Seek Unicorns in Rainbow Dog Toy Review
We have a few different ZippyPaws hide and seek toys right now but I'm totally loving the unicorns!
Features & Pros
Let's start with the obvious: it's insanely adorable!
Super durable squeaker in each of the unicorns. While your deaf dog can't hear the squeak, he'll still enjoy feeling it inside his toy.
Great interactive puzzle. Put the unicorns in the rainbow and watch your dog dig them out!
Just the right size for most dogs.
Cons
It's a plush toy, so it's not really going to hold up against heavy chewing.
Also, one thing I've noticed with our ZippyPaws toys: the "house" (or in this case, rainbow) isn't as durable as the characters that go into it.
Recommendation
Although these toys aren't really made for chewers, for some inexplicable reason my dog has yet to destroy her little animals (she has the panda one).
It's funny because I see a lot of other dog parents saying the same thing. Their dogs destroy everything in sight, but not their ZippyPaws toys.
They're relatively inexpensive toys so even if you have a chewer, they're worth grabbing!
ZippyPaws - Zippy Burrow Interactive Squeaky Hide and Seek Plush Dog Toy - Unicorns in Rainbow
FUN CHARACTERS - Dogs will have hours of fun playing with 3 adorable unicorns and digging them out of their rainbow home
EXCLUSIVE NOISEMAKERS - Each unicorn includes 1 high-quality round squeaker to deliver more sound to keep your best friend entertained
INTERACTIVE PUZZLE - Challenges your dog by having them dig out the unicorn characters, which stimulates interactive play
JUST THE RIGHT SIZE - The rainbow burrow is great for small and medium-sized dogs, but not recommended for extra tough chewers
UNIQUE DESIGN - Beautifully-designed, high-quality pet products for the modern dog and dog owner
We currently have another Outward Hound puzzle toy, but this one is next on my list to buy.
Features & Pros
The puzzle provides your dog with mental stimulation while also encouraging their hunting skills.
This one comes with three different treat hiding features so once your dog bores of one, switch to another.
Since it's made of plastic, it's easier to clean than the wooden version.
Cons
This is another toy that requires close supervision.
Do not allow your dog to chew on it, as the pieces can be dangerous when detached from the toy.
The only other complaint that I see is that super smart dogs can master it fairly quickly.
Recommendation
As I said, we have another version of this toy and my dog loves it.
Yes, she mastered it pretty fast but it's still a fun bonding game that we play together every night.
As soon as she's done hunting treats, I put the toy away. That way she never has a chance to chew on it. Ours has lasted over a year so far.
Sale
Nina Ottoson Outward Hound Dog Brick Treat Puzzle Dog Toy
EXERCISE YOUR DOG'S MIND - This treat puzzle dog toy provides fun physical & mental stimulation for your dog
REDUCE BOREDOM & DESTRUCTIVE BEHAVIOR - Complete with 3 totally different treat feeding features, the Nina Ottosson Dog Brick is made with easy open-close flip compartments & removable bone puzzle pieces
MAKES FEEDING FUN & INTERACTIVE - This treat puzzle dog toy can be used to feed your dog dry kibble for an engaging mealtime
LEVEL 2 GAME - The Dog Brick is a level 2 treat puzzle dog toy that is great for dogs that enjoy treat games
EASY TO CLEAN - Hand wash with soap and water, rise and dry

9. PETGEEK Interactive Smart Dog Toy Review
For the ultimate interactive funexperience, try the PETGEEK smart toy!
Features & Pros
Made with super durable high-quality plastic and each component is locked up so your dog can't chew his way through to them.
Toy rolls around and changes directions, giving your dog the thrill of the hunt.
Activated with just a gentle touch from your dog.
Goes into standby mode when not in use to conserve batteries.
Fill it with dog food or small treats. As a feeder, it's great for gobblers. In other words, it's a fun slow-feeder option.
Cons
The only major con that I can see is the fact that batteries only last 7 hours in active mode.
While it does go into standby when your dog isn't using it, I can see my cats messing with it and draining the batteries pretty quickly.
Recommendation
I like this toy as a fun interactive way to get your dog to stop gobbling up all of his food, but since it's made of plastic it does require supervision.
PETGEEK Automatic Dog Treat Toys for Boredom, FDA Certificate Dog Food Dispensing Ball, Smart Dog Toy Interactive IQ Training Toy/Treat Dispensing Dog Toys ABS Materia Diameter 5.7",White/Green Color
【Safe and Durable】 This IQ treat ball toy is ultra-durable, made of high-quality and durable ABS plastic. Each component is locked up tightly to uphold rough chewing and prevent parts from falling apart
【Automatic Movement& Energy Efficiency】This automatic electronic dog food dispenser contain maximum 380ml of kibble or small treats(sized up to 0.3 inches) , which can be activated by gentle touch from pet.The dog interactive food dispenser has unexpected movements which can last for 7 hours in rolling mode and go into standby mode after a period of no operation to save energy (You need to install 2 AAA batteries, not included in the package)
【Mental Stimulation& Physical Exercise】This dog food ball dispenser will engage your pets for a long time to fight boredom and separation anxiety. The pet iq treat ball can also help training dog's IQ and encourage physical exercises as they are figuring out how to release the treats. It is an ideal dog food toy to help your dogs satisfy pet's natural hunting instinct and avoid destructive behaviors
【Slow Feeder Ball】There are two adjustable windows of dog dog feeder ball to release treats which allows for different levels of difficulty. Smaller window requires for more mental and physical exercises as they have to work harder to get treats out. It will help them develop slowing eating habit and aid with digestion and bloating
【Easy to Use &Clean】The interactive dog treat ball feeder is pretty easy to work on for both you and your pets. Just fill the dog food dispenser toy, start the device and let your dog roll and play with the ball. All parts of IQ treat ball dog toy are dishwasher-safe except for the power core. Please wash and dry the washable parts before using again
10. BarkBox Subscription
If you want a constant supply of fun new toys for your deaf dog, considering getting a BarkBox subscription!
We tried out one of their boxes (Destroyer's Club) and my dogs had a blast. Yes, they destroyed all of the toys, but that was kind of the point!
Features & Pros
Every box comes with at least $45 worth of toys and treats for your dog.
Each month revolves around a different fun theme and goodies are never repeated.
Gives you a chance to try out new treats as well as toys!
Toys are exclusive to BarkBox and include some really hilarious designs!
All of the treats are made in the USA with high-quality ingredients.
100% SATISFACTION GUARANTEE
Cons
I'm having a really hard time coming up with cons for BarkBox because our experience has been so wonderful with them.
I do see some customers complaining that the toys aren't ideal for small dogs, but I think if you're careful to choose the right box you shouldn't have an issue.
Recommendation
While you can buy BarkBox on Amazon, I recommend checking out their website for the latest deals.
For example, right now you can double the fun with your first box and get $40 worth of toys for free!
That particular deal expires 7/15/19 but you can still use that link to see what other deals they're offering.
BarkBox Subscription - The Best Toys & Treats For Your Dog Every Month: Small (0-20lb)
A $45 VALUE IN EVERY BOX: 2x original toys made by us, 2x bags of fresh healthy treats, and 1x yummy dental chew. We design each month around a fun theme, so every box is a new surprise for you and your dog, with goodies that will never be repeated.
EXCLUSIVE TOYS: New original toys every month with thoughtful features like spiky ball squeakers, crazy crinkles and soft 'n' stretchy rope, to keep your dog happy and engaged. Whether they thrash, tug, or tear out fluff, we've got toys for your pup.
HEALTHY & YUMMY: Our delicious treats and chews are locally sourced with all-natural ingredients from American farms and made in the USA. No wheat, no soy, no corn—the good stuff!
TAILORED TO YOUR DOG: Allergy-friendly options plus always-changing play styles and materials designed for YOUR dog.
100% SATISFACTION GUARANTEED: If your dog's not happy, neither are we. Our world-class customer support team of dog-crazy people want to help!
Remember, whether you have a deaf dog or a hearing dog, it's a good idea to buy a variety of different types of toys to prevent boredom!
Ideally, you want to engage all of your dog's other senses, so try to choose one from each category!
Do you have any other picks for the best toys for deaf dogs? Share below!
Last update on 2019-11-20 / Affiliate links / Images from Amazon Product Advertising API