If you're looking for the most magical dog names for your supernaturally wonderful pup, you're in the right spot!
We've got 50 each for male and female pups for you today!
Some of us have always had an interest in the supernatural and the magical, and we want our dog's name to reflect that.
Magical dog names are great when you know the story behind them.
As we go through these names, try and figure out where they came from and what reference each one makes!
You may also love these classic dog names from literature!
Male Magical Dog names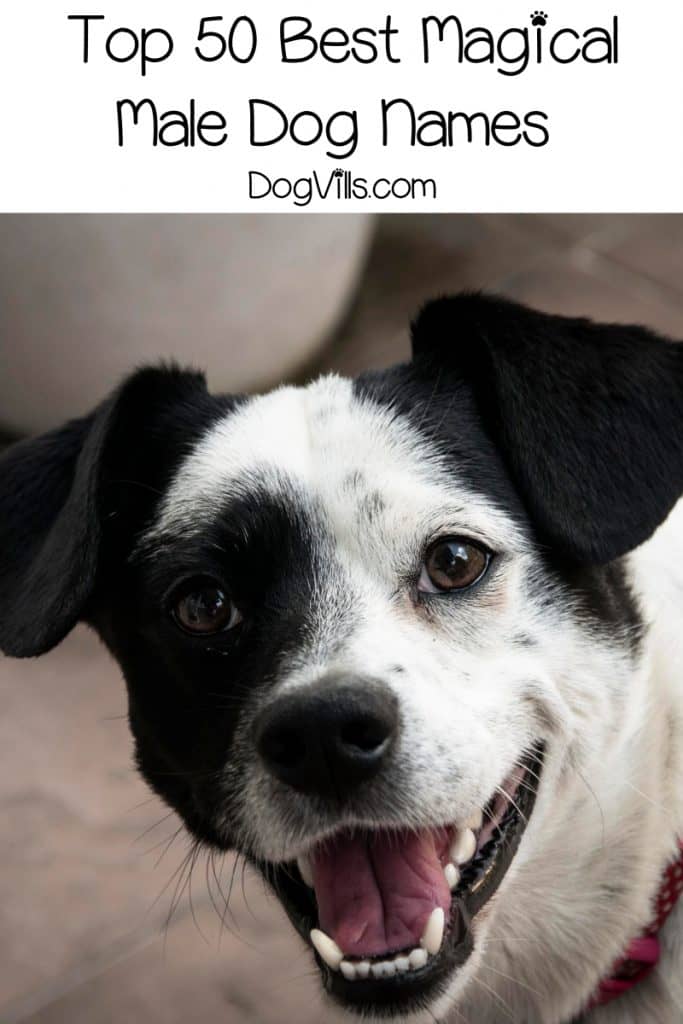 We turned to movies, books, and even popular role playing games to find the best magical dog names for your sweet boy! Take a look at what we came up with.
Magic – Quite literal, but at least no one will ever mistake the meaning of this name!
Gandalf – Great for dogs who are grey.
Sarumon – The powerful white wizard in Lord of the Rings, it's a fierce name for white pups!
Hocus – A part of a make-believe spell that children all know.
Pocus – The other half of the spell mentioned above.
Abra – We also learn this three-part "spell" as kids, with this word as the first part. It's also the name of the mighty little girl in Doctor Sleep. Oh, and it's also a Pokemon!
Kadabra – The second part of the spell above, and it's the evolved form of Abra the Pokemon.
Alakazam – The last part of the three-part spell, and the final evolved form of Abra.
Merlin – Arguably the greatest and most famous wizard of all time.
Albus – You don't need to be a Harry Potter fanatic to know who this is.
Copperfield – Arguably the greatest magician of this half-century.
Houdini – The father of all magicians.
Amazo – It just sounds like it would be a magician's name, and is quite a generic one we often hear in movies.
Strange – For Dr. Stephen Strange, the Sorcerer Supreme.
Dormammu – Dr. Strange's worst nemesis and greatest foe.
Wonder – Not for Wonder Woman, but the general wonderment magic brings to people's lives.
Shaman – A medicine man/woman or healer often seen among tribes of indigenous people of North America and Asia.
Oz- Can't forget this Great and Powerful wizard, now can we?
Mage – Basically a magician.
Trick
Gryffindor – Harry's house in Harry Potter. Feel free to name him after the other houses too.
Spell – Quite a literal word to use, as a dog does cast a spell on your with their cute puppy dog eyes.
Hex – A bad spell, similar to a curse.
Wizard – A male person who practices magic.
Bru (Brew) – A potion.
Jafar- He may have been the big bad in Aladdin, but you have to admit he has a cool name!
Hallow – This one is for Halloween when all the magic and witchcraft is at a peak.
Shazam – Have you seen the movie? This character is all about magic.
Fortune
Prospero- From Shakespeare's "The Tempest"
Warlock – A male who practices witchcraft
Alchemy- Is it magic or science? You decide!
Sorcerer
Riddle- Voldermort's real last name!
O'Roarke- Flashback to the early 80s and head to Fantasy Island for this one!
Pallando the Blue- From Tolkien's universe, a fab name for a blue nose
Dresden- From "The Dresden Files" by Jim Butcher
Grimm – For the Brothers Grimm who created all these stories for our delight.
Allanon- Fans of the Shannara know who this brooding wizard is!
Dumbledore- If Albus doesn't do it for you, perhaps his last name will!
Faegan – From "The Chronicles of Blood and Stone"
Divayth Fyr – Or perhaps just Fyr since Divayth is a mouthful!
Moody- After Mad Eye Moody from Harry Potter.
Morin – From Robert Jordan's "The Wheel of Time."
Balefire – An important ritual bonfire in Pagan religions.
Magus
Gwydion – From Welsh mythology
Abaris- From Greek mythology. He was a healer, among other things.
Flamel- As in Nicholas Flamel, the alchemist best known for creating the sorcerer stone.
Cauldron
So many great names! Can you list all the other houses in Harry Potter? We thought our list was quite cool, to be honest, and we haven't even gotten to the female names yet!
You will love these 60 Beautiful Native American Dog Names
Female Magical Dog Names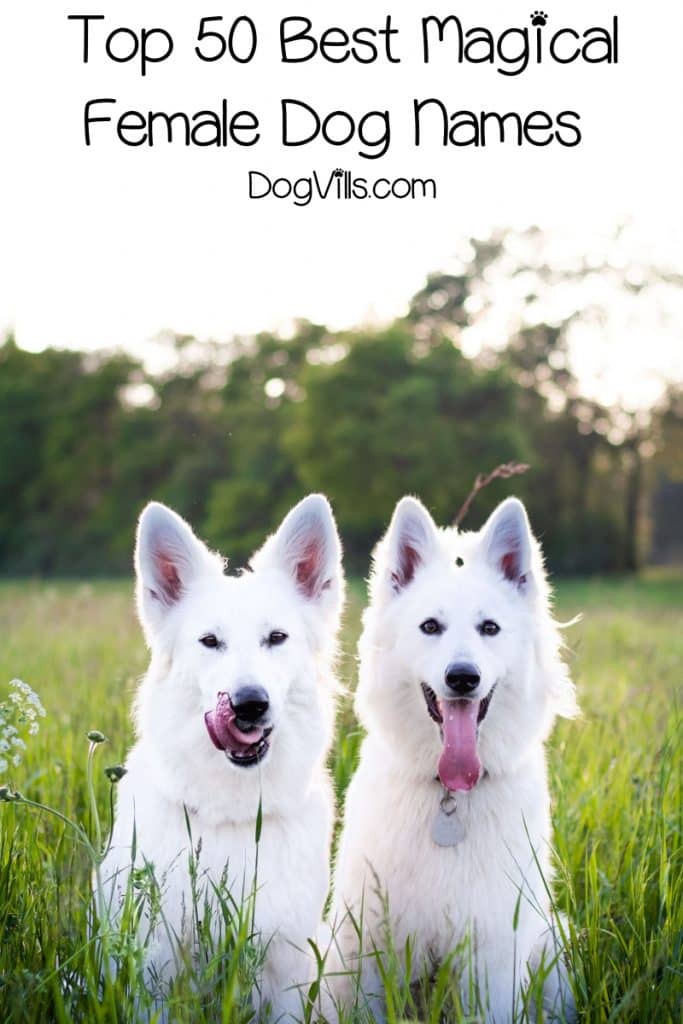 Buffy – The vampire slayer, a slayer of magical creatures.
Sabrina – The teenage witch of course!
Hilda – Sabrina's aunt.
Glinda – The beautiful and kind good witch of Oz.
Ursula – Perhaps the evilest witch in Disney.
Maleficent – We spoke too soon. This mistress of evil is the most powerful and dark one.
Aether- Considered to be the 5th element by the magical community.
Bellatrix – Lestrange. The evil follower of He Who Shall Not Be Named.
Elsa – The beautiful princess who really grew into her powers.
Enchantress – A Marvel supervillainess who has magical powers.
Doesil- Means "clockwise" in magical terms, but it's a cool name!
Nico- Sorceress from Marvel's Runaways.
Zatanna – Another magician in the comic book world.
Gem- Gemstones are very important in magic!
Scarlett – For the scarlet witch.
Bonnie- The powerful witch from Vampire Diaries.
Akasha- This cool name is the "universal etheric field in which a record of past events is imprinted."
Wanda – You can't cast a spell without a wand.
Sorceress – Literal, but why not?
Celeste- Short for celestial!
Enchantra
Ariana- Dumbledore's sister in Harry Potter.
Piper- My favorite Charmed One!
Genie – For the genie in the bottle that grants wishes.
Magik – With a "k". This is actually the name of a powerful superheroine.
Voodoo Mama Juju – The Office fanatics will know what this is about.
Tarot
Incanta – A name derived from the word "incantation".
Divine – For divination, a form of magic for seeing into the future.
Jynx/Jinx – Not the weird-looking Pokemon, but a cute little spell.
Raven – For some reason, when we think about witches and dark magic, a raven bird also comes to mind.
Morgan – For Morgan Le Fay.
Dream – There was always something magical about dreams and the dream world.
Midnight/Midnite – The witching hour, when magic is practiced.
Myst/Mystic
Karma
Aurora- A common witch name throughout literature and movies.
Zatara – Even though this is a man in comic books, we found this name to be very pretty for a girl. He is the father of Zatanna, the powerful sorceress we mentioned above.
Fortuna – Female form of Fortune.
Blair – For The Blair Witch Project
Zodiac – There was always something mystical and unexplainable about zodiac signs. Do they really determine our fate?
Flora – A fairy in Sleeping Beauty
Fauna – Another one of the fairies in Sleeping Beauty
Merryweather – We'll toss you an extra one from Sleeping Beauty.
Luna- Short for lunar, or the quirky witch from Harry Potter.
Circe- Greek goddess of magic.
Gaia- The Greek personification of Earth.
Nyx
Charday – After Adriane Charday from Avalon:Web of Magic
Freya- Norse goddess, but also the name of a powerful witch in the show The Originals.
Do these names creep you out or fill you with a sense of wonder? Which one did you like and which one would you absolutely not use? Let us know in the comments!