If you love the idea of Native American dog names but don't really know where to start, we've got you covered.
Below, we'll take a look at some beautiful ideas for both male and female dogs.
I know you'll enjoy them as much as we do!
You will also love: 59 Fantastic Dog Names That Mean Loyal 
Native American Dog Names
Native Americans know the balance of the ecosystem and the circle of life better than anyone.
Their furry companions were not only their best friends but also equal partners that helped them get through day to day life.
No matter the tribe, Native Americans have always had a profound respect for all animals and life itself.
Out of respect for your doggo, the name Native American name that you choose should reflect that.
They are not only intriguing, but the Native American names we picked out for you also sound very elegant.
60 Wonderful Alaskan Dog Names To Choose From
Male Native American Dog Names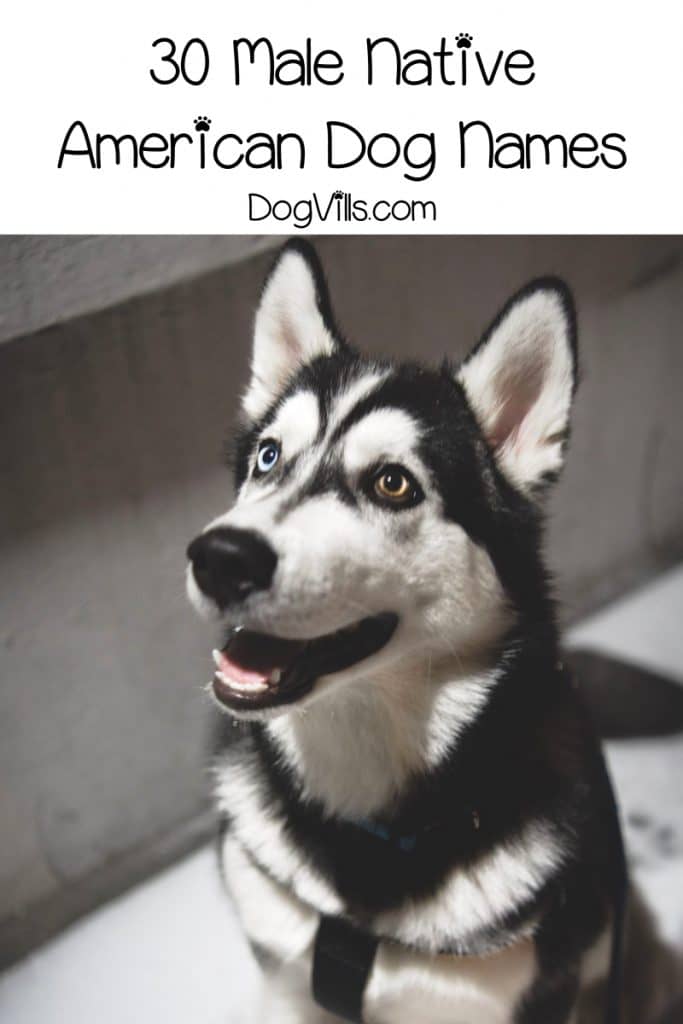 Akando – It means "ambush." I don't know about you, but my dog often ambushes me when I have food in my hands.
Chaska – If your dog is your first dog, Chaska means "firstborn son".
Dyami – Eagle.
Ahote – This is great for those overactive puppies. Ahote means "restless one".
Aditsan – A dog always lends his furry ear to listen to our problems. It's only fitting that you name him "the listener".
Alo – If you feel your dog is your spiritual guide.
Tokala – For those dawgs that look like foxes.
Hakan – Your dog warms you like a hearth, and some may even have personalities full of fire, like the word Hakan.
Iye – For the grey and white dogs meaning "smoke".
Aranck – Stars. For the star of your life.
Maska – A "strong" dog.
Odakota – Meaning "friend", which is exactly what your dog is to you.
Skah – For all the white dogs.
Wahkhan – Meaning sacred, just like the bond you and your fur baby share.
Yahto – For the crystal blue-eyed pups out there.
Annawan – Chief. The one with the most power.
Etu – For the sun that lights up your life.
Menewa – For the great warrior your dog can be to protect his favorite human.
Waya – Meaning "wolf" in Cherokee.
Honiahaka – Little wolf.
Makwa – The Algonquin word for "bear." Lots of poofy little dogs look like bears nowadays.
Kohana – A boy and girl name, it means "swift".
Kitchi – Most dogs are brave creatures that are selfless when it comes to protecting their human.
Wakanda – We're aware it's the fictional nation from where Black Panther originates, but it actually means "possesses magic" in Sioux.
Nikan – Meaning "my friend". No truer statement can be made about a dog.
Koko – Meaning "night".
Calian – The warrior of life.
Enapay – Brave and powerful, which is what you hope your dog will be.
Raini – The creator.
Tattuye – Another one for "fox".
As you would have noticed, we chose a lot of names that depict what a dog means to you, and the ideal characteristics they embody.
There are also a few cute ones thrown in that describe their physical resemblance to foxes and wolves.
Now read on to find out what beautiful female names we have gathered.
Female Native American Dog Names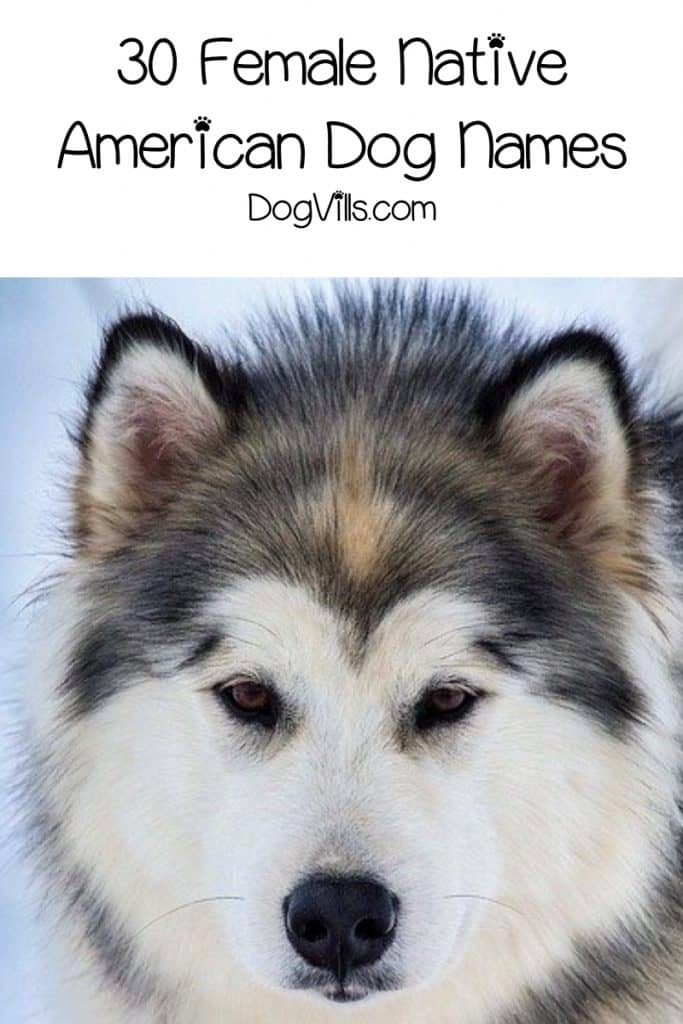 Makaya – Meaning eagle hunter.
Taima – Meaning thunder.
Catori – The literal female spirit.
Winona – Who knew Winona Ryder's first name actually means "firstborn daughter"?
Naira – Meaning a "girl with large eyes". Who else here has fallen victim to the famed puppy dog eyes?
Wyanet – Meaning "beautiful".
Nina – For the strong ladies out there.
Waapi – For the beautiful and white arctic dogs.
Nayeli – It means "I love you". What sweeter thing than to say I love you to your dog every time you say her name?
Chepi – Meaning "fairy". Because it's as if a fairy godmother brought your dog to you.
Onida – An important child. How very true!
Tala – This Sioux word for "wolf" is perfect for these dogs that look like wolves!
Kiyaya – A howling wolf. Great for those husky puppies or other dogs who howl.
Elan – A friendly and lovely person.
Luta – Meaning "red", for the rusty colored pups, or it could mean "beautiful".
Adila – Blossom. If your female pup embodies the beauty of blossoms.
Aponi – Butterly. Among the most beautiful creatures, a butterfly is also one that undergoes the most change.
Awendea – Beautiful morning. Not a lot of us look beautiful in the mornings, but your dog probably does.
Halona – Your happy fortune, exactly what your dog is.
Hinto – If your dog's eyes are as deep and blue as the deep blue ocean.
Meli – Quite literally means "daughter" a perfect fit for your fur child.
Nizhoni – Beautiful one. For all the beautiful dogs out there.
Tanis – Another one that means "daughter".
Aylen – Meaning "joy", very fitting since your dog is the joy of your life.
Kachina – The dancing spirit. For dogs who walk like they are dancing.
Pipaluk – If you have a small or toy breed, this name means "little one".
Pocahontas – Ever wonder what this name means? It means "frisky one".
Zonata – Trusted one. It may take a while for you to trust your dog fully in the house, but hopefully this name will facilitate the process.
Koa – Brave
Atim – Quite literally means "dog".
And there you have it, our top 60 names for either sex to make sure you are fully equipped to find the best name for your little pup.
Native American names always sound so elegant and even peaceful. We loved Koa and Aylen for little girls, and Tokala and Iye were among our favorites for little boys.
Tell us your favorite Native American dog names below!