When it comes to Harry Potter dog names, there's no shortage of epic ideas.
As a total Potterhead, though, I'm reaching beyond basics and digging deep into the Wizarding World.
The ideas below are inspired by everything from supporting characters to spells & potions to fantastic beasts!
Let's start with boy names, then we'll check out ideas for girl pups.
You may also love these 100 Truly Epic Dog Names After Book Characters
Harry Potter Dog Names for Males
I'm sure you already know about Harry & Ron, but the Wizarding World is full of other fantastic names for dogs! Let's look at some, then I'll share my favorites!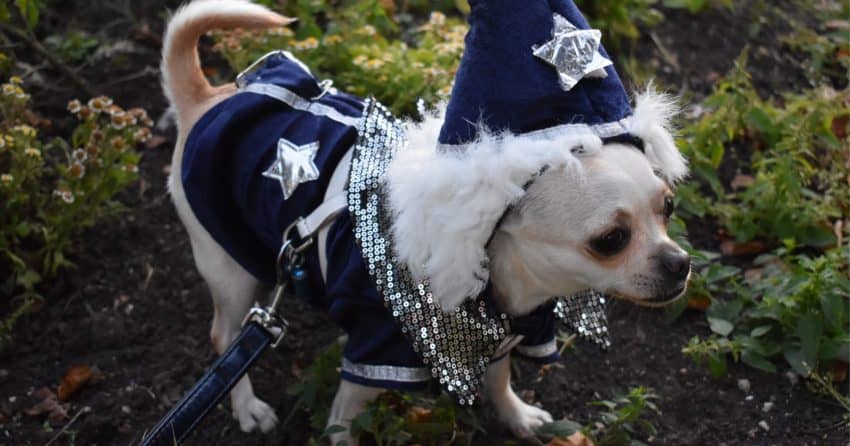 Aberto– spell to open objects, great for a dog that gets into everything!
Amycus- sure, this Death Eater was a baddie, but the name is cool!
Antioch– one of the Peverell brothers from the Deathly Hallows tale.
Auror– a witch or wizard that hunts and arrests Death Eaters.
Aragog– the ginormous spider, "friend" of Hagrid.
Bane– the less-than-friendly leader of the Centaurs.
Boggart– creatures that can make you see your worst fears (cool name, though!)
Cadmus-another Peverall brother.
Cedric– the Hufflepuff hero and Triwizard Champion who dies at Voldemort's hand.
Chaser– this Quidditch is one of the best Harry Potter dog names, don't you think?
Cuthbert – first name of Professor Binns, the ghostly History of Magic teacher.
Dawlish-after the auror, John Dawlish.
Dirk– after Dirk Cresswell, the head of the Goblin Liaison Office.
Dumbledore– can't forget him, even if it is kind of an obvious choice.
Elphias – after Elphias Doge, Dumbledore's friend.
Errol– the Weasley's owl.
Fang– Hagrid's dog, a boarhound.
Fawkes– Dumbledore's beloved Phoenix.
Fenrir – one of the biggest bads (aside from Voldy, of course), he's a werewolf.
Firenze– a kind centaur who becomes a divination professor.
Goyle– Malfoy's Slytherin pal (again, bad character but good name!).
Gryff– after Gryffindor, of course!
Horace– after Horace Slughorn, the Potions Master.
Ignotus-Peverell brother, original owner of the Cloak of Invisibility.
Kingsley –after Kingsley Shacklebolt , Auror and member of the Order.
Kreacher– a rather shifty house elf, who redeems himself in book 7!
Krum– after legendary Quidditch player and Durmstrang Triwizard champion.
Ludo – after Ludo Bagman, head of the Department of Magical Games.
Lupin– Remus Lupin, Harry's mentor & friend, also a werewolf.
Moody– after Alastor (Mad-Eye) Moody. Any part of his name is perfect, though!
Nargle– Luna claims they are expert thieves, but no one ever actually sees them.
Newt– Magizoologist who wrote Fantastic Beasts and Where to Find Them.
Niffler– the super cute little creatures that find treasure.
Norbert– Hagrid's baby dragon.
Oliver– after Oliver Wood ,Gryffindor Quidditch Keeper and one-time captain.
Peeves– the mischievous poltergeist that roams Hogwart's halls.
Percy– Ron's uptight older brother.
Phineas – Phineas Nigellus Black was Siruis' uncle.
Potter– a bit obvious, I know, but I couldn't leave it off!
Riddle– part of Voldemort's real name (Tom Marvolo Riddle)
Rubeus– Hagrid's first name.
Seeker– a Quidditch position, in charge of finding the Golden Snitch.
Severus– Snape's first name.
Siruis– Harry's uncle, an Animagus who could become a dog.
Sly– a good way to shorten Slytherin into a fun dog name.
Stan– after Stan Shunpike of the Knight Bus.
Teddy– Tonks' and Sirius' son, named after Tonks' dad.
Thes– short for Thestral.
Weasley– Last name of Ron, Fred, George, Ginny, et al.
Vipertooth – the smallest and fastest of the dragons.
When it comes to Harry Potter male dog names, you never can go wrong with the obvious. I love Potter, Lupin, and Sirius.
Personally, though, I tend to go for the slightly more unique ideas.
Not dog related, but we have feral kittens outside. I just named one "Thes" because his markings make him look like a Thestral!
Niffler is another name equally as adorable as the creature from which it comes (see video below)!
Harry Potter Dog Names for Females
Again, while a few of the ideas below are somewhat obvious and common, I tried to mix in some more original ideas as well.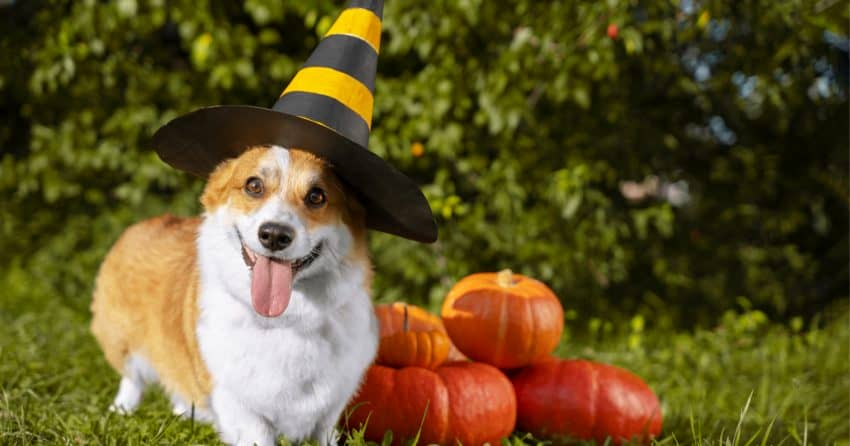 Alecto– Amycus' sister and an all-around bad lady.
Alicia – Gryffindor Quidditch Chaser and member of Dumbledore's Army.
Amelia Bones– or just Amelia, but I think the witch's full name sounds better!
Amortentia – a love potion
Ariana– Dumbledore's sister.
Aurora– after Aurora Sinistra the astronomy professor at Hogwarts.
Avis– the spell that creates a flock of birds, great for a bird dog!
Bathilda– after the writer of A History of Magic, of course.
Bertie– Bertie Botts is a wizard, but I like it as a girl's name, too!
Charity– after Charity Burbage, professor of Muggle Studies at Hogwarts.
Chimaera – A fantastic beast, perfect for a mixed-breed dog!
Cho– Harry's first love interest and Ravenclaw Quidditch Seeker
Crookshanks– Hermione's cat is a boy, but I think it makes a better girl name
Demelza -after Demelza Robins Gryffindor Quidditch Chaser.
Doxy– nasty little creatures, but super cute name!
Episkey – a spell to fix minor injuries, like a broken nose.
Evanesco– a vanishing spell, good for dogs that love to hide!
Fleur– Beauxbatons' Triwizard champion and, later, Bill Weasley's wife.
Ginny– only Weasley daughter, Harry's future wife.
Granger– Hermione's last name, a little less common a dog name than her first.
Griselda -Governor of the Wizarding Examinations Authority and Wizengamot elder.
Hedwig– Harry's loyal and faithful owl, great for a white dog!
Hufflepuff– this Hogwarts house makes a great name, too.
Lavender – Ron's first girlfriend and fellow Gryffindor student.
Lily– Harry's mom.
Luna– after Luna Lovegood, the quirky Ravenclaw student and Harry's friend.
Molly– Mom to Ron, Fred, George, Ginny, etc.
Minerva – Head of Gryffindor House, member of the Order of the Phoenix.
Myrtle– after the ghost, Moaning Myrtle. Great for a vocal dog!
Nagini– Voldemort's snake (she wasn't always bad, just watch Fantastic Beasts!)
Norberta– Hagrid's dragon, after discovering Norbert was a girl.
Padma– one of the Patil twins, she's in Ravenclaw.
Parvati – Padma's twin in Gryffindor.
Penelope – Ravenclaw prefect and Percy's girlfriend.
Olympe– headmistress of Beauxbatons, half giantress (great for a giant breed dog!).
Pomona– Prof. Sprout's first name. She teaches Herbology.
Poppy– Hogwart's school nurse.
Puffskein – A popular pet, cute name for a Pomeranian or other fluffy dog!
Raven– for Ravenclaw.
Rita– after Rita Skeeter. A great name for a nosy dog!
Romilda – Gryffindor girl who tries to give Harry a love potion but gets Ron instead!
Rose– Ron and Hermione's daughter.
Rosmerta– owner of The Three Broomsticks in Hogsmeade.
Septima -– Arithmancy professor at Hogwarts.
Sinistra– Aurora's last name is just as great an idea as her first.
Sybill – after Sybill Trelawney , the spacey Divination teacher.
Tonks– Auror, wife to Lupin, Harry's friend, member of the Order of the Phoenix.
Veela– beautiful harpies that can enchant men with their voices.
Winky– the Crouch family's house elf.
Zabini-after Blaise Zabini, a Slytherin girl.
As far as girl names go, again, there's nothing wrong with the common or obvious. I adore Luna (both the character and the name).
Sometimes, though, it's fun to give your dog a "villainous" name. Nagini is fantastic for that. If you've watched Fantastic Beasts, you know she wasn't always a big bad.
What are your favorite Harry Potter dog names? Share below!