Chances are, you've confused German Shepherds and Belgian Malinois for each other at least once in your life.
If you watched the movie Max, for example, you might have thought you were watching a flick about a German Shepherd.
You'd be wrong, though!
Max is a Belgian Malinois!
So, do German Shepherds and Belgian Malinois descend from each other, or is it just a coincidence that they look the same?
Today, we're going to explore that answer!

Content & Quick Navigation
The Link Between German Shepherds and Belgian Malinois
Are German Shepherds and Belgian Malinois as closely related as they look?
The "long story short" answer is "no."
It is true that these two breeds are very similar in appearance, yet they don't really descend from one another.
The answer lies in the locations of origins.
Let's explore.
Why They May Look Similar
If we were to go back into any major breed's lineage, we would most likely find that it has been around for centuries – we've just refined and standardized them in the last several decades.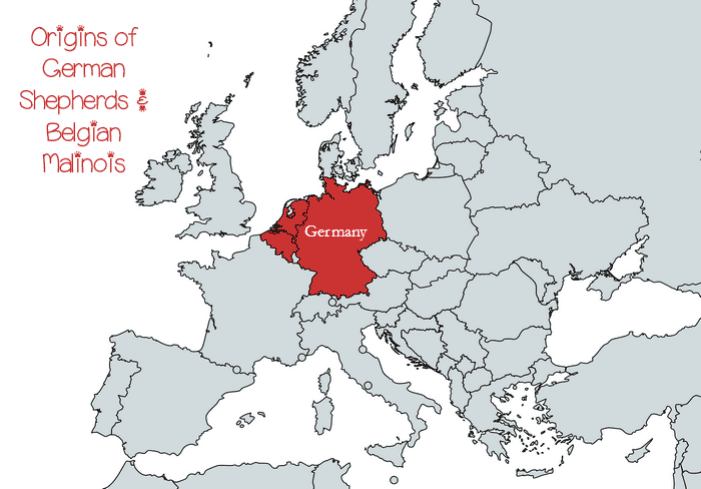 When you look at  German Shepherds and Belgian Malinois, you will discover that they both descended from a region that interconnects – this being Germany, Belgium and the Netherlands. 
So it only makes sense that as people traveled with their dogs and the fact that these geographical boundaries touch, the German Shepherd, and Belgian Malinois would interbreed, resulting in two dogs that have the same basic features.
How Did the German Shepherd and Belgian Malinois Separate?
As dog breeding gained popularity, people started setting standards as to what each type should be (i.e., size, coat, personality etc.).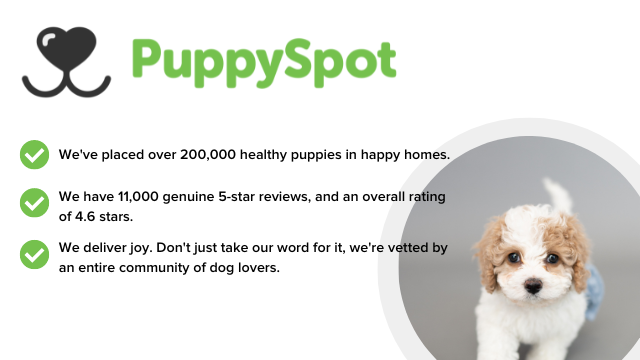 The German Kennel Club opted to keep the features we see today in the German Shepherd:
Larger,

Heavier build,

Longer over tall.
The Belgians, on the other paw, choose the appealing features we see today in the Malinois;
Smaller,

Faster, and

More square in build.
The German Shepherd at a Glance
The German Shepherd (aka Alsatian) is one of the most popular breeds today.
It has been around since 1899 and owed its existence to Captain Max von Stephanitz. This man was a career captain in the German cavalry with a goal of creating a German breed that would be the ultimate herding dog.
The Captain would be proud today, as the German Shepherd isn't just a "herding" dog, but is widely used in search and rescue, the military, leading the blind, therapy work and detecting bombs and other illegal substances.
German Shepherd Fast Facts
Height:

Up to 26 inches at the shoulder

Weight: 75 to 95 pounds
Lifespan: 10 to 14 years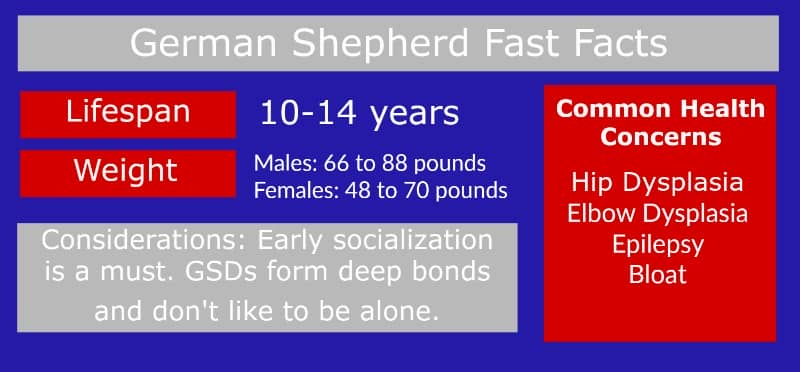 German Shepherd Personality
A GS that is ignored by his family will become bored and destructive, so regular attention and exercise are required for this breed.
German Shepherd Care
When it comes to

grooming

the German Shepherd, this breed's thick double coat will need regular brushing (2 to 3 times a week).

His nails will need to be trimmed once-a-month and his ears checked weekly to ensure there is no dirt, redness, or odor present.

I recommend this professional nail trimmer to make easy work of those nails, and this shampoo for bathing your GSD!
Overall, the German Shepherd is a great breed but like any dog be sure his temperament, exercise and grooming needs can be met.
The Belgian Malinois at a Glance
The Belgian Malinois (aka Pastor Belga Malinois) was developed in the late 1800s as a sheep herding dog.
However, it took until 1892 (by Professor Reul) to write the first Belgian Shepherd Dog standard.
The Belgian Malinois FACTS
Height:

Up to 26 inches at the shoulder

Weight: 40 to 60 pounds
Lifespan: 12 to 14 years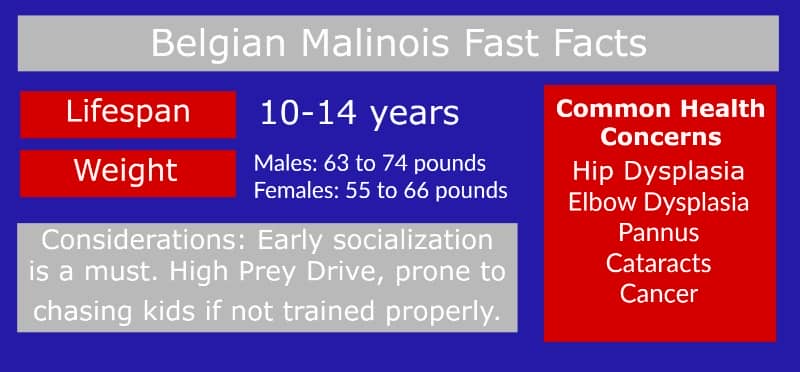 The Belgian Malinois Personality
Today, this little-known canine makes a confident and protective pet.
He is affectionate and loving with his family but reserved towards strangers.

Outside of the family, the Belgian Malinois make great police and military service dogs.
The personality of the Malinois is one that makes a great watchdog.
He needs regular exercise and early socialization to be a well-rounded adult canine companion.
The Malinois is a sensitive pooch and does not respond positively to harsh training tactics.
The Belgian Malinois Care
When it comes to grooming, the Belgian Malinois short, straight hair and dense undercoat will shed all year long, so regular brushing is a must.
Trim the nails on a regular basis and brush his teeth (daily if possible) to prevent tartar buildup and gum disease.
Watch this video about Belgian Malinois to learn more about this breed.
Overall, the Belgian Malinois makes a good family dog; however, if you have children, know that his herding tendencies may play out with nipping at their heels to "keep them in line."
German Shepherds and the Belgian Malinois – Similar But Different
The German Shepherd and the Belgian Malinois may share similar traits, but overall, I think we can agree that they are their own dogs.
The German Shepherd is in the top ten of the most popular breeds, while the Malinois is less likely to be seen at your local dog park.
However, despite their similarities and differences, each of these dogs will make a great canine companion to the right person or family.
Before you adopt any dog, do your research to ensure you are ready for everything the breed entails.
Whether it be a German Shepherd, a Belgian Malinois or a different dog altogether, knowing your facts will make you a prepared pet parent. 
Have you ever confused a German Shepherd and Belgian Malinois for each other? Do you have one of these wonderful dog breeds? Share below!