How long do German Shepherds live? Their life expectancy is something that all owners of the breed are interested in. Of course it is. Honestly, one of the first things I think about in my pets is how long we'll have together before I have to say goodbye. It's a tough thing to go through, so it's a question worth asking.
I recently came across a question about German Shepherd life expectancy in one of the forums from a woman who's Shepherd was already about 13. That made me very sad because, on average, German Shepherds life between 11 to 13 years. Thankfully, she made no mention of any specific health issues, which gives me hope that she and her faithful companion will still have several years together. Remember, 11 to 13 years is just a general range most commonly found. It can be longer, or it can be shorter, depending on other factors.
German Shepherd Health
While generally regarded as being a terribly unhealthy breed in the past, responsible breeding is changing that. Many of the issues once common in the German Shepherd are now rarely seen due to the cessation of breeding animals with those genetic conditions. However, German Shepherds are still prone to two very serious problems: hip dysplasia and degenerative myelopathy – a progressive deterioration of the spinal cord. While neither of these conditions directly determine German Shepherd life expectancy, they do play a secondary role in lifespan due to quality of life issues.
Hip Dysplasia
Hip dysplasia is a condition in which the head of the femur doesn't properly seat in the socket of the hip bone. At first, there are no signs, but over time this changes. As the malformed ball and socket interact, they rub and grind, causing stability and motor issues as well as pain. In mild cases, the disorder can be treated and controlled with medications, while severe cases often require surgical repair. It's important to have your German Shepherd examined by a vet to determine if your dog was born with this congenital defect.
Degenerative Myelopathy
This one has a more direct effect on German Shepherd life expectancy because it severely limits a Shepherd's quality of life. In addition to that, as large breeds, they can be hard for owners to maneuver them out the door for going potty and cleaning – no matter how much the owner wants to do it.
This disorder is common in German Shepherds and often presents in the latter stages of life. Degenerative myelopathy is a progressive deterioration of the spinal cord. It begins with ataxia – difficulty controlling limbs – and by the end of it, the dog is unable to control his hind end. Although not all Shepherds will experience this, it is common in the breed. And there's no test for it. Your Shepherd will either get it, or he won't.
How Long Do German Shepherds Live?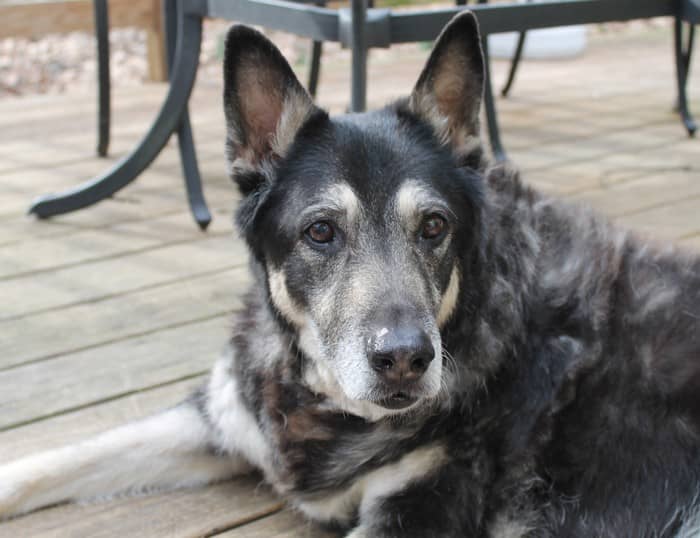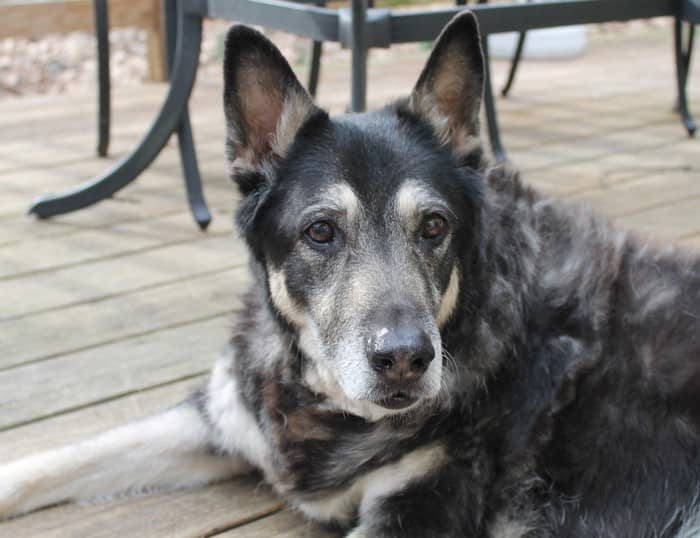 While the average life expectancy may be 11 to 13 years, I have seen some Shepherds still up and walking around reasonably well at as old as 17. Then again, I have seen young Shepherds succumb to diseases at as young as 5 years of age. When it comes to German Shepherd life expectancy – like any dog's lifespan – there are a few things you can do to ensure your dog lives as long as possible by keeping him as healthy as possible.
Proper Diet – Feed your dog a high-quality dog food with only a few treats in a day for training rewards or to help keep teeth clean.
Proper Weight – Closely related to proper diet. Do not allow your Shepherd to get fat. This will only increase the likelihood of developing joint issues, which the breed is already prone to.
Regular Exams and Bloodwork – No matter what breed of dog you have, regular exams and bloodwork are key to their good health. Exams and bloodwork help spot problems before they explode into something untreatable
Exercise – One of the best things for joint health is movement. So keep your German Shepherd active, even as he ages to keep those joints working.
Fish Oil – The fatty acids found in fish oil have been shown to help join health as well as contribute to overall health.
Glucosamine – The jury is still out on this one. Some studies say it helps with joints. Some say it doesn't. I know I have witnessed improvement in joint function among patients who've taken it and among two of my dogs, as well.
If you have a German Shepherd, you've probably already asked yourself about German Shepherd life expectancy. I hope this post helps you in that regard, as well as in helping you extend that life for as long as possible. Remember, they key to increasing German Shepherd life expectancy – or any breed, frankly – is proper care both at home and at the vet.
Did you have a German Shepherd who exceeded the life expectancy for the breed? How long did your GSD live?