Looking for emotional dog tattoos to help inspire your own memorial to your lost friend?
Take a look at some of our favorites from Instagram.
Each one beautifully reflects the deep and unending love we feel for our faithful canine companions.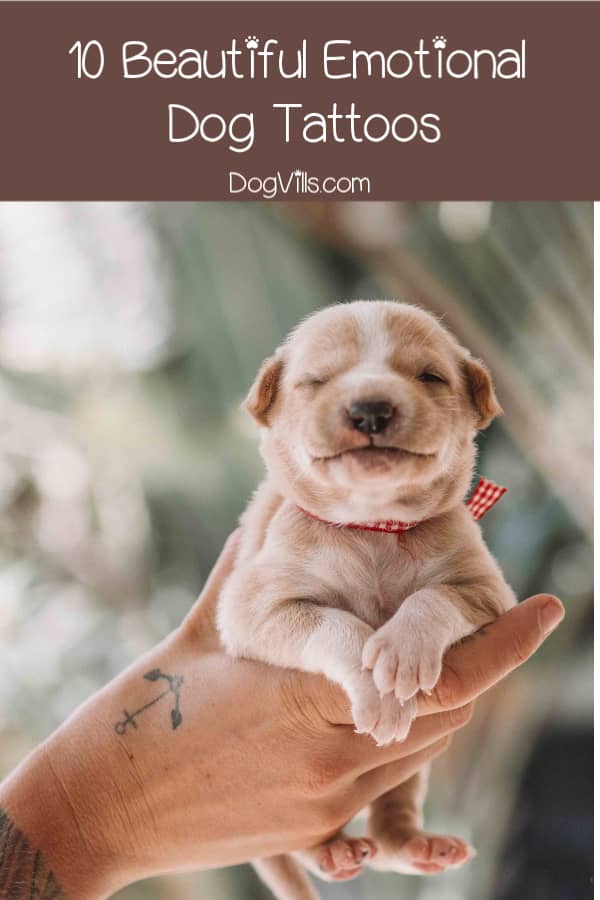 I hope you adore them as much as we do!
Emotional Dog Tattoos
Sometimes you may feel the only way to honor best canine friend that's gone is to have him or her forever with you.
A way to do this is to have them forever on your body in the form of a pretty tattoo.
They serve as a reminder of all the great times you have had and all the joy your fur baby has brought into your life.
It could bring tears to your eyes every time you look at it for the first several years, but it will bring bittersweet memories and a feeling of longing afterwards.
Let's take a look at some great tattoo ideas, and we will admit, it even brings tears to our eyes.
1. Cute Cartoon Form
To not have to see your dog's sweet face whenever you look down at your arm or leg, you can opt for a cute cartoon version!
This is a great idea and also with a cute caption or dog loss quote that helps you remember all the good times and what a good boy/girl your fur baby was.
Take your time and think about what words should accompany your cute cartoon tattoo of your dog.
2. A Paw Portrait
If you would rather have a more realistic portrait to commemorate your dog, this is a very unique take on it.
You can have their face tattooed on in the same shape as their paw print! It's quite subtle and takes a longer glance to see what is actually in the paw print.
For those looking for individuality, you can consider this!
3. Holding Paws
We're glad to help you in this difficult process of finding a memorial tattoo, but we're not going to say it's not difficult and our vision is slightly blurred with the tears welling up.
This next idea forgoes your dog's face altogether, this is a cute idea showing that your dog will always be with you, holding your hand and you his.
You can choose to decorate the frame however you wish, and even add or subtract little details.
4. Just a Paw
For the more minimal and subtle individuals, maybe a simple paw print will suffice.
Except, what makes special is the fine details and every pore the artist captures.
Gone are the days of muddy footprints, but what once annoyed you to no end will be something you miss dearly today. So why not plaster one yourself forever?
5. Just the Collar and the Tag
The collar with the name tag will bring back memories of all the fun daily walks you went on and perhaps even all the trouble your dog got into that you had to clean up after.
Make sure you get the tag in there so his name is apparent and it's clear who you are memorializing. Maybe even include the leash for added detail.
6. A Full Portrait
You can decide to get your dog's face plain and simple. Some opt for a more realistic sketch, but a cartoonish take that's sort of whimsical and cute could be more up your alley.
You could do as this person did and include a paw print (sort of like a signature) at the bottom left corner. Maybe even scrawl in a short caption.
7. Imagination is the Key
Why not dress your dog up and tattoo him the way he was to you? Maybe your dog was a little angel, quiet, loving and sweet.
In that case, you can sketch him or her with wings. This particular individual decided to go with the costume of a general.
It's a great opportunity to really embody your pet's spirit.
8. A Plaque
Simply stating the name, and birth year and last day on earth could be the perfect addition to your skin.
Also, you can decorate it with any color you want and embellish it with suitable designs such as your dog's favorite treats, toys, and many other things.
If you don't want the tattoo to be too blatant, this is a great choice too!
9. Less is More
Simple designs that are constructed with just a few lines, shapes and colors could but what that empty space in your heart is looking for.
Transfer the longing of your fur baby to just a few simple strokes and come out with a piece that's remarkably beautiful, like this one!
10. Cosmic Dog
All dogs go to heaven, or so the cartoon claims. WE can only imagine all the fun and games he or she is getting up to up there.
We're sure when you call their names they look down for just a second to check that you're there, and off to play they go again.
Paint the picture you see in your heart of your dog having fun in heaven.
We hope there isn't a dry eye in the house because we'll look silly with tears streaming down.
Let us know which design you would consider to honor your beloved fur baby. Are there any other unique ones we should know about?
Tell us all about your favorite emotional dog tattoos below!