Get ready for 25 cute dog quotes & sayings that will totally make you say "awww!"
We've covered literally every other kind of quotes about pups, from touching words to ease grief to hilarious t-shirt worthy one-liners.
Today, we're going after the "oh, isn't that sweet?" factor in a major way!
Enjoy!
Cute Dog Quotes & Sayings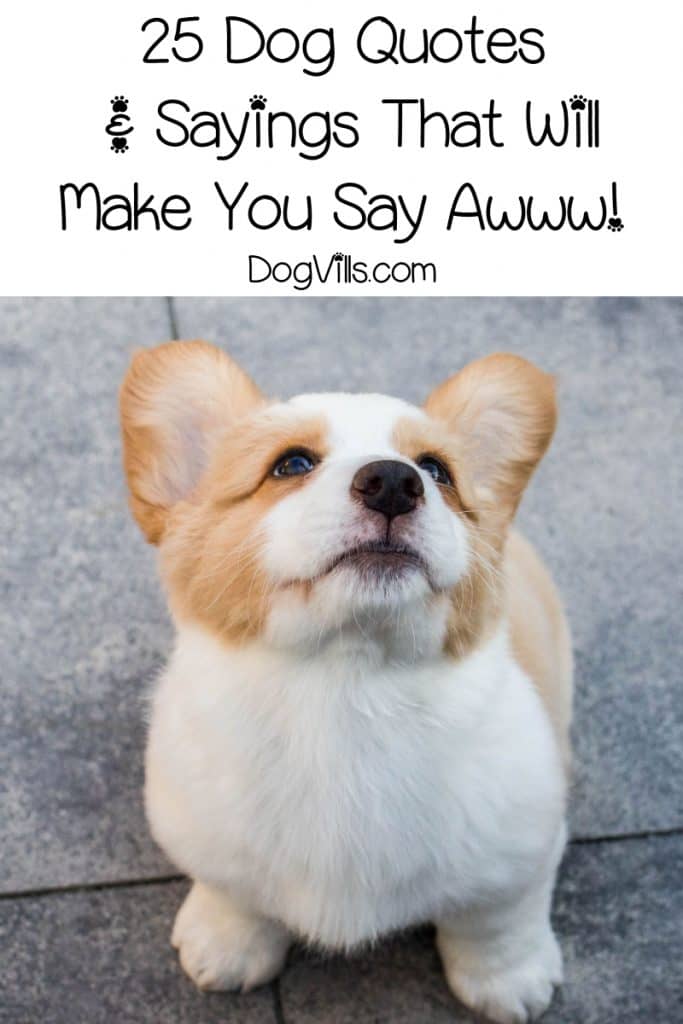 I headed to all my favorite dog quote sites to round up my top 25 picks for the most adorable & sweet sayings. I hope you love them as much as I do!
1. Sorry, I can't come to work today!
Sorry, but once my dog gets comfy on me, it's all over for the day. I'm not moving!
2. They deserve so much
Dogs deserve so, so much more than they ask for. It's our responsibility to give it to them!
3. No psychiatrist in the world
There is no psychiatrist in the world like a puppy licking your face.
—Ben Williams
Can you think of anything that would make you feel better than sweet puppy kisses?
4. It was a good day…
It just means it was a day well spent! I actually have a dog that doesn't smell at all. Seriously, Pharaoh Hounds have no doggy odor.
5. A house without a dog
In other words, it's not really much of a house at all, is it?
6. They don't need to know why
One reason a dog can be such a comfort when you're feeling blue is that he doesn't try to find out why. —Unknown
They don't need a long explanation of why you feel down, they just know that you need them.
7. Wink back…just in case!
Aww, me too! Hey, you never know, it just might be!
8. Money doesn't wiggle!
My dog wiggles her whole body like a gummy bear. It's the best thing in the world to come home to!
9. Dogs Mend Broken Hearts
A dog is the only thing that can mend a crack in your broken heart.
—Judy Desmond
Before my son came along, this was absolutely true. Now, of course, I'd add my son to that list.
10. Christmas Every Day
Yet more proof that we should be more like our dogs!
11. Note from a rescue dog
Now that just gives me all the warm and fuzzy "awwws."
12. Nature's remedy
"Puppies are nature's remedies for feeling unloved, plus numerous other ailments of life." – Richard Allan Palm

Dogs are the best natural remedy of all, don't you think?
13. Some people just don't get it!
If they don't understand, that's on them. Your dog knows, and that's what really matters!
14. Always find hope
No matter what they've been through, no matter how hard life gets for them, a dog's eyes are always full of hope.
15. Hard to feel sad!
"When an 85 pound mammal licks your tears away, and then tries to sit on your lap, it's hard to feel sad." — Kristan Higgins

My aunt has an Irish Wolfhound. I imagine it's hard for her to feel anything at all when he sits on her in all of his 200+ pound glory!
16. My sunshine…
Now that's a major "awwww!" I totally agree!
17. My one wish
If I had three wishes, the first would be for my son, but the second would be a wish to spend eternity with my dogs. I wouldn't need the third!
18. I see a friend…
When I look into the eyes of an animal I do not see an animal. I see a living being. I see a friend. I feel a soul. ​- AD. Williams
I think all dog lovers feel the same way. They are no more "just animals" than we are. After all, we hail from the animal kingdom, too!
19. Rescue love
This is why "rescue" is one of the very best breeds of all.
20.
21. The only thing on earth…
"A dog is the only thing on earth that loves you more than he loves himself." ― Josh Billings
This one belongs on every cute dog quotes & sayings list. It's a reminder that we should be worthy of such love.
22. I found your paw
If you ask me, a paw is even better! My dogs have always gotten me through rough times.
23. The road to my heart
Forget food! The road to my heart is paved with paw prints & wet noses!
24. Everything I know
"Everything I know, I learned from dogs." ― Nora Roberts, The Search
Well, everything worth knowing, anyway!
25. Change the world for one dog
Not only will you change his life forever, but yours as well!
What are your favorite cute dog quotes & sayings? Share below!